News
March 12, 2018
From the Fellows: Travel Journal from Medellín, Colombia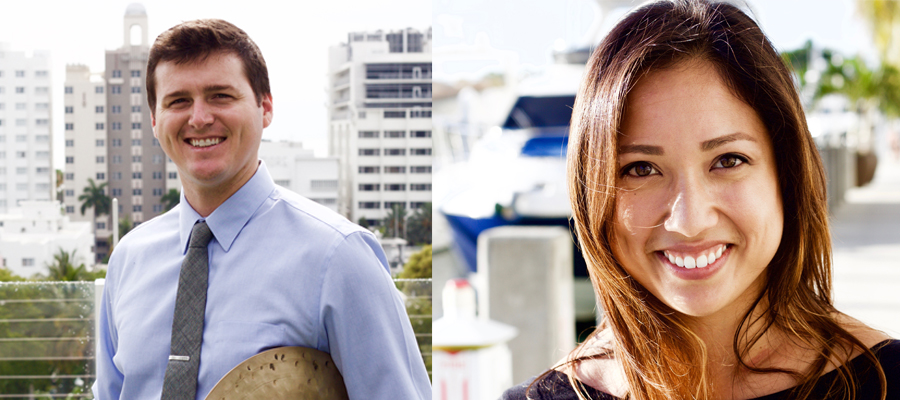 On February 26, four New World Symphony Fellows traveled to Medellín, Colombia as part of a unique cultural and musical collaboration between Colombia's Iberacademy and New World Symphony. Two of the Fellows on this trip, second-year Violin Fellow Rachel Sandman and third-year Percussion Fellow Stephen Kehner journaled daily to share the cultural, artistic and musical immersive experiences they shared throughout the week as part of the program. 
Monday, February 26:

Rachel: After weeks of excitement and anticipation, I was so happy to be finally on my way to Colombia! The other three Fellows on the trip were Stephen Kehner (percussion and the co-author of this journal), Elizabeth Oka (viola) and Nick Castellano (horn). I was so exhausted on our travel day that I mostly slept through everything... it actually became a running joke that every time we got in a car I'd fall asleep. In the U.S., I'm usually the one driving, so I took advantage of the luxury! Stephen made sure to take really attractive pictures of my car sleeping habit every single time…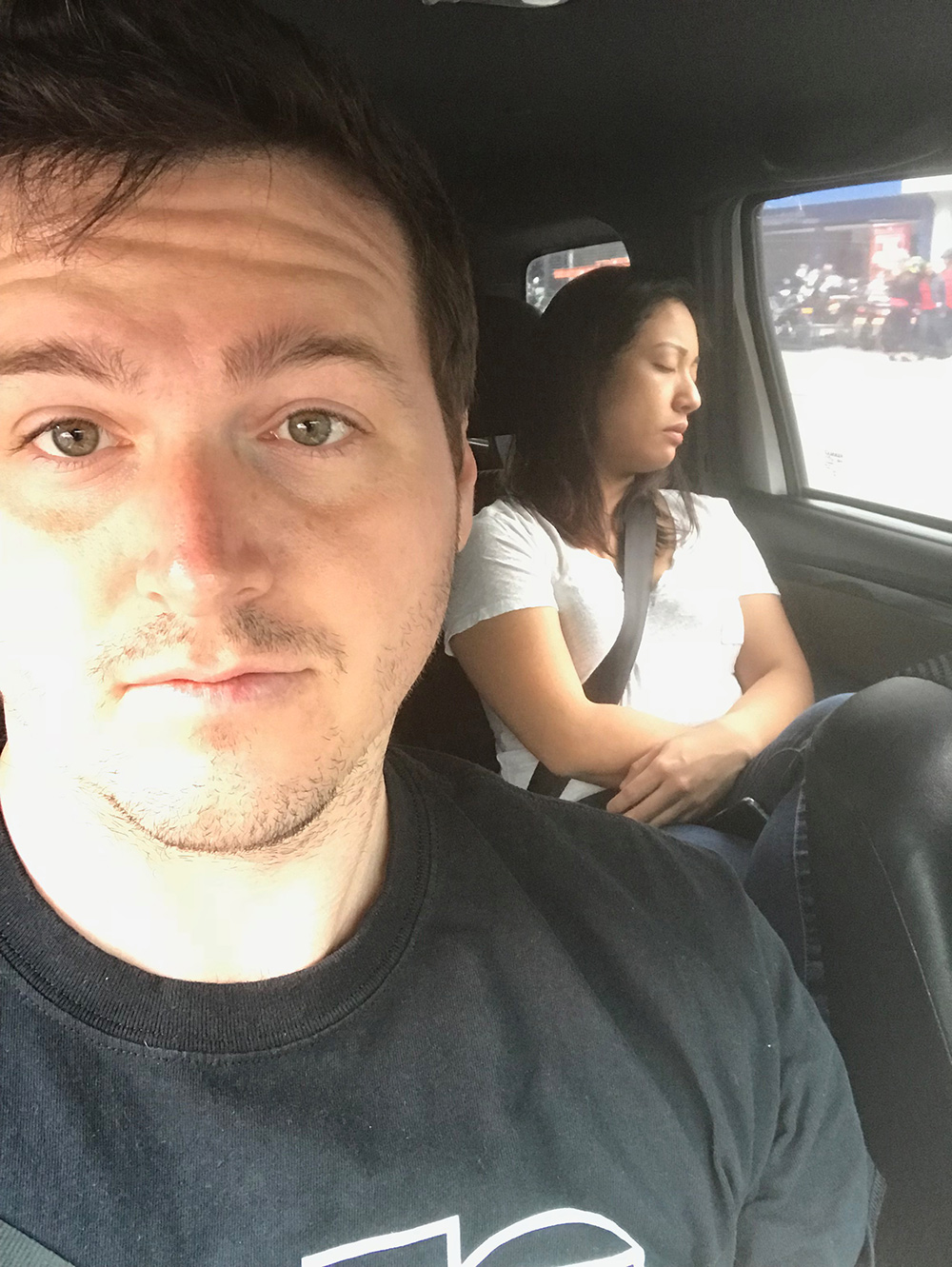 Stephen: After triple-checking that we all had our passports, we headed to Miami International Airport for our flight to Medellín! We landed in Colombia at about 9:00 PM and met two drivers holding "NWS" signs in the arrivals lobby. We piled our bags and instruments into their cars and they took us on a windy drive through the mountains and down into the valley towards Medellín. Attempting to shake the dust off my high-school-level Spanish, I told the driver that "the air outside felt so crisp and fresh." He smiled and replied, "Medellín is the city of eternal spring."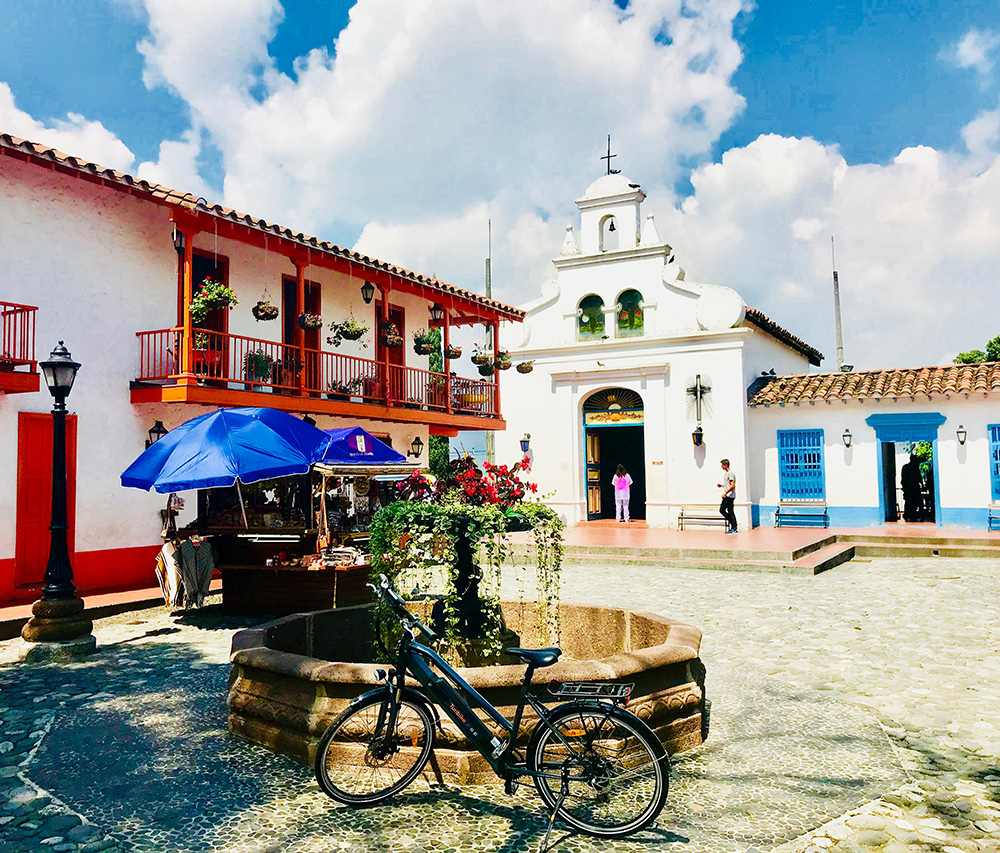 Tuesday, February 27 
Rachel: On our first day in Medellín, the only scheduled activity was a short orchestra rehearsal in the evening, so we used the day to explore the city a bit! We received tips from previous Fellows who had taken this trip and decided to do some of the things they suggested. This included a visit to the Museo de Antioquia and Palacio Cultural Rafael Uribe, where we learned a bit about the cultural history of the region. At orchestra rehearsal that evening, we had to catch on quickly as everything was in Spanish! Luckily, my stand partner Julian was able to do some translating for me. 
Stephen: We felt it was really important to explore the city and gain an understanding of the culture before diving into our responsibilities with the Iberacademy for the week. I particularly enjoyed visiting the Museo de Antioquia and viewing hundreds of pieces of art by the famous local artist Fernando Botero. His sculptures and paintings were beautiful and diverse, and really illuminated the lifestyle we were about to experience for the next week in Medellín.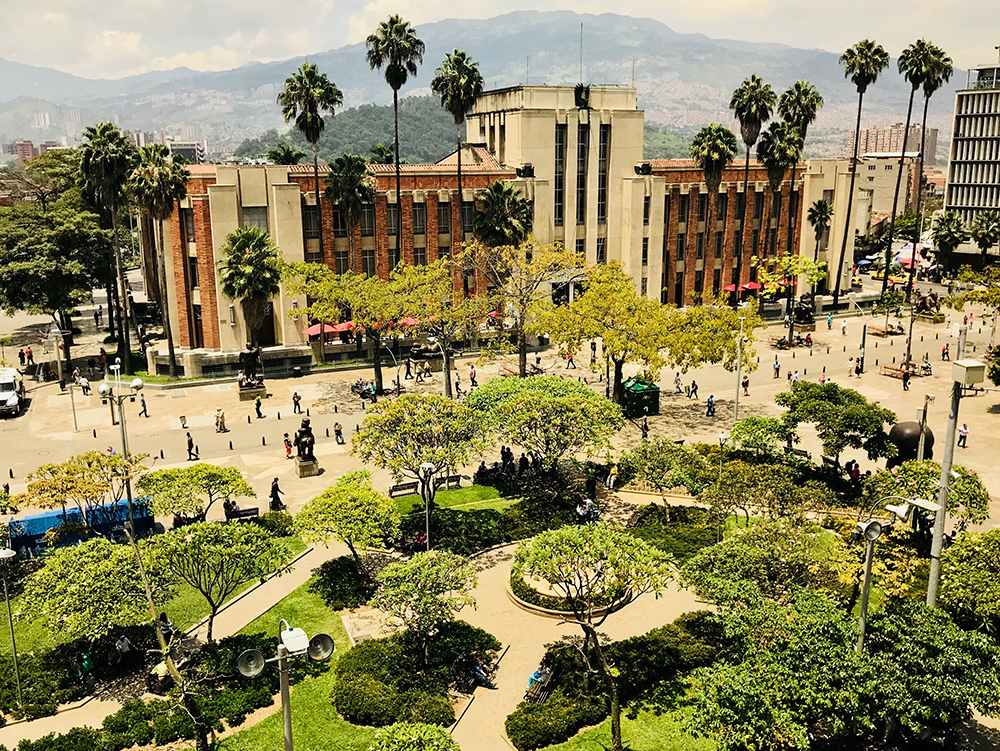 Wednesday, February 28
Stephen: In the morning, I was introduced to four percussion students at Universidad EAFIT. They played some symphonic percussion excerpts for me and asked my advice on how to practice them. Together, we worked on some exercises I use in my daily practice, and they even videotaped me playing through some xylophone exercises so that they could have a point of reference after I left. 
Rachel: My first student in Colombia was actually a violist, Daniel, who was studying a Bach fugue written for violin. It's a very complicated piece so it's the job of the performer to guide the listener through the repeated statements of the fugue theme and the voicing of the harmonies. It reminded me of when I was learning the piece in high school for my own college auditions. The other highlight of the day was eating at Tal Cual, an amazing Colombian fusion restaurant, and stopping by Pergamino, where I learned that Colombian coffee truly is exceptionally good! 

Thursday, March 1
Rachel: The commitment of the students at Iberacademy is inspiring. Detailed, meticulous questions about technique and how to practice were asked by every student I taught; they're just craving information and I felt like I had so much to give but only a short amount of time! In my attempt to communicate everything I could without overwhelming each student, I resorted to having students pull out their phones to video my demonstrations, which they could then refer back to later on their own time. 
In the afternoon, the four of us explored the local grocery store, Carulla's. While we'd all been on the same page so far about wanting to try new foods, we learned that Elizabeth's foodie obsession far surpassed ours; she had pre-researched traditional Colombian snacks and the best grocery brands of coffee! Personally, I was just fascinated by the huge mangos and avocados, although I did stock up on dark chocolate and coffee beans. 
Stephen: As the week went on, we all commented on the amazing level of dedication the students of Iberacademy display. They each have college classes during the day, at their respective universities. Some of the percussionists even told me they had exams this week. Then in the afternoons, many students take a combination of city buses and trains to reach the campus of Colegio Aleman, which is where Iberacademy rehearsals are held. The school is quite far from the city center, causing many students to spend multiple hours a day on public transportation. This shows how dedicated they are to their musical development, and also how important Iberacademy is in their lives. Rachel and I agreed that we won't complain about our short bike ride to the New World Center anymore!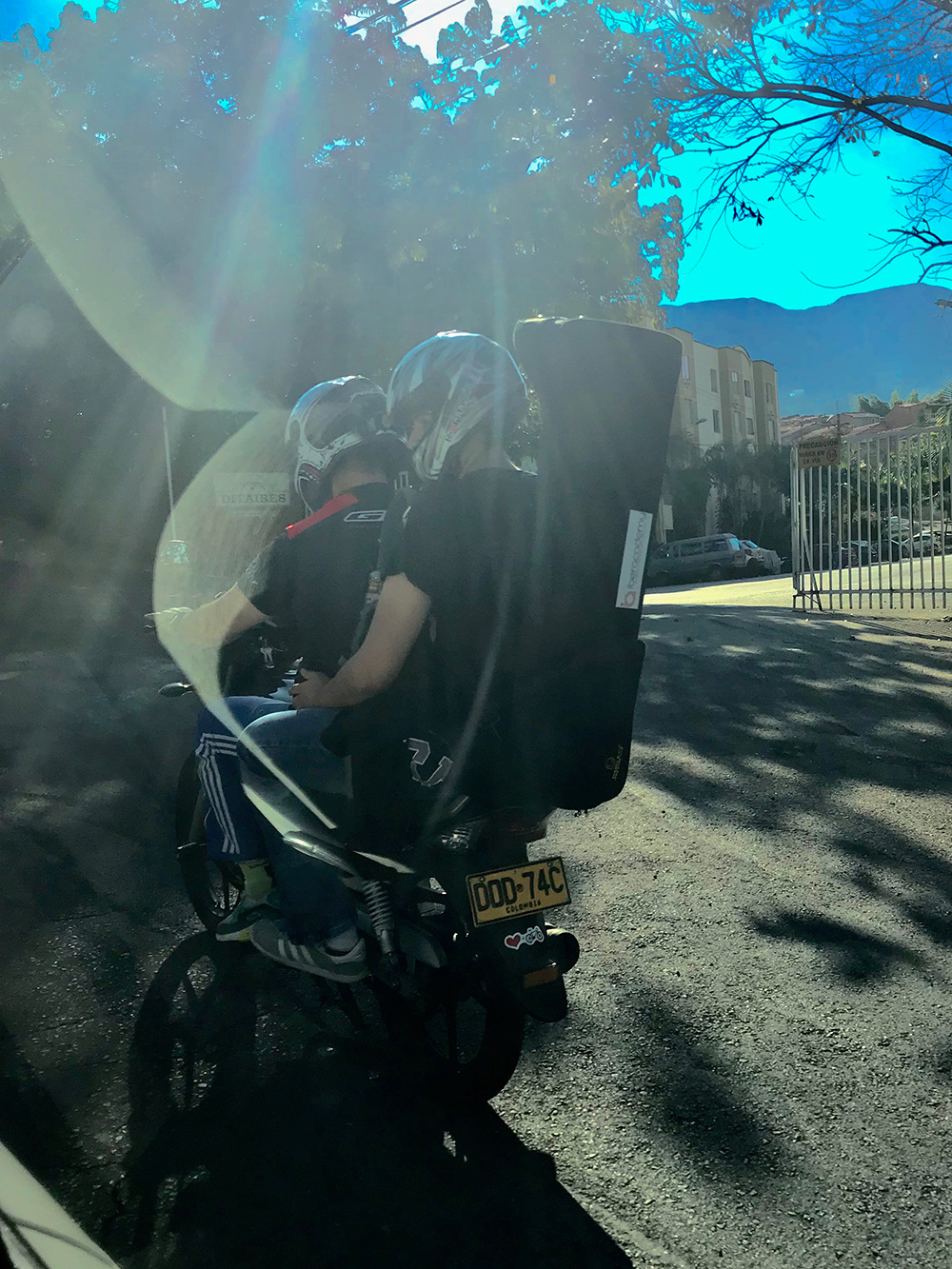 Friday, March 2
Stephen: Friday was our last day of teaching at the university, which was difficult for me because I felt there was still so much I wanted to work on with the students. Miguel, a percussionist I've known since he participated in NWS's 2016 Side-by-Side program, played a few solos for me to start off the day. I already knew Miguel had really fast hands, but he still really impressed me with his dexterity and energetic playing. We explored some musical ideas to add to his interpretations, and he plans to give final performances at a recital in December. Another student, Santiago, played a snare drum solo for me which I had never seen before. I really liked the solo and so I went on a bit of a tangent, taking us on a deep dive into snare drum technique. I really wanted him to focus in on exactly what his hands were doing to create different effects. But I found it difficult to discuss such intricate kinesthetic ideas in my below-average Spanish, so another percussionist named Esteban helped translate to Santiago for me. 
Rachel: Friday at Universidad Eafit was sad for me, as it was our last day teaching. I worked through the first movement of the Mendelssohn Violin Concerto with Sebastien, and then the Bach Chaconne with Danielle, an exchange student from Cuba. I hadn't realized until today that Iberacademy has an amazing exchange program with students from all over Latin America. There were four students from different countries there that week and they'd be joining Iberacademy on their European tour as well. I also hadn't realized that there was classical music being played at such a high level in Cuba. After teaching, Gustavo, Iberacademy's director, took us out for a traditional Colombian lunch and told us a lot more about the program and the future he sees for it. He called himself Iberacademy's "Papa" and proceeded to list off the names, ages and backgrounds of anybody we asked about, particularly those who had graduated and were pursuing their careers at advanced institutions abroad, of which there are dozens! I felt honored to be in his presence and so incredibly lucky to have been able to be a very small part of something so big.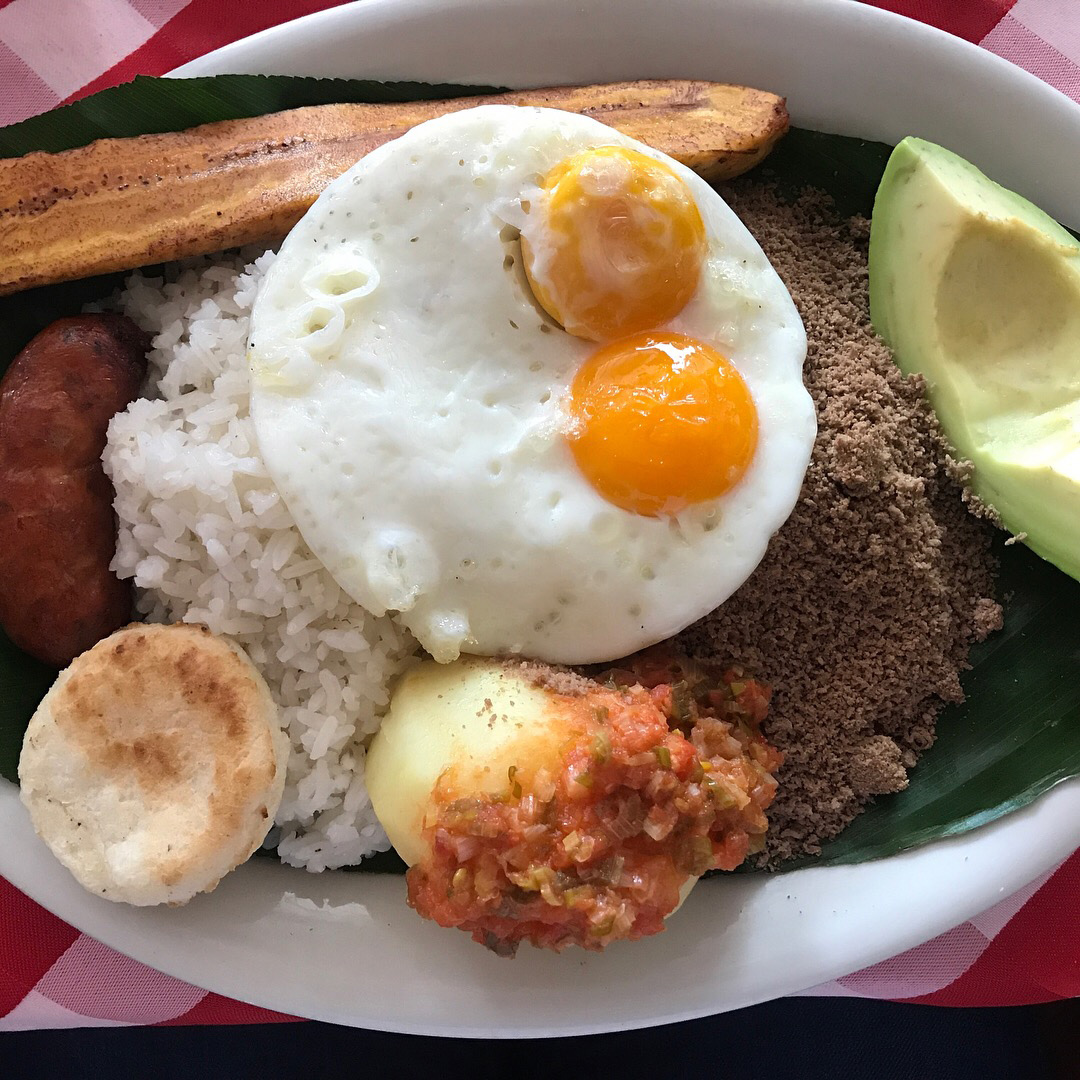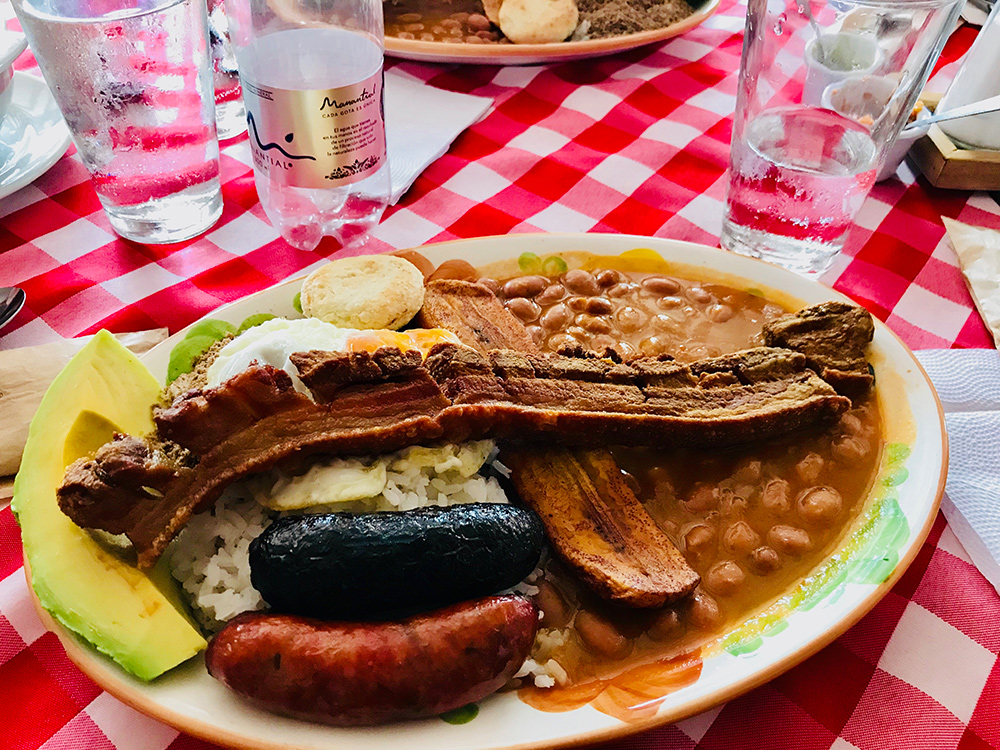 Saturday, March 3
Rachel: In the morning, we took the Metro line all the way up to Parque Arvi, which is reachable by gondola as part of Medellín's public transit system. The views were absolutely breathtaking, and we hiked part of an archeological history trail at the top and ate empanadas and chorizo. After stopping back at our hotel to make a quick change into concert attire, we headed to the Colegio Aleman, where we had our final dress rehearsal and then the concert, which was an all-Latin American program. The audience's energy was unlike anything I've ever seen in the states; they cheered and applauded so loud in between every piece! When we went to perform Marquez's Danzon No. 2, my friend Walter in front of me turned around and said "we are choreographing, just follow." Our whole section then proceeded to sway to the music and I can honestly say it was the most fun I've ever had performing in my life. I was so sad to say goodbye to everybody after the show until I realized we'd all be meeting up at a local dive known for their salsa dancing. When we arrived, dozens of musicians from the orchestra were already there. We (okay fine, just me) danced until 3 in the morning! I couldn't think of a better way to end such an incredibly life-changing week.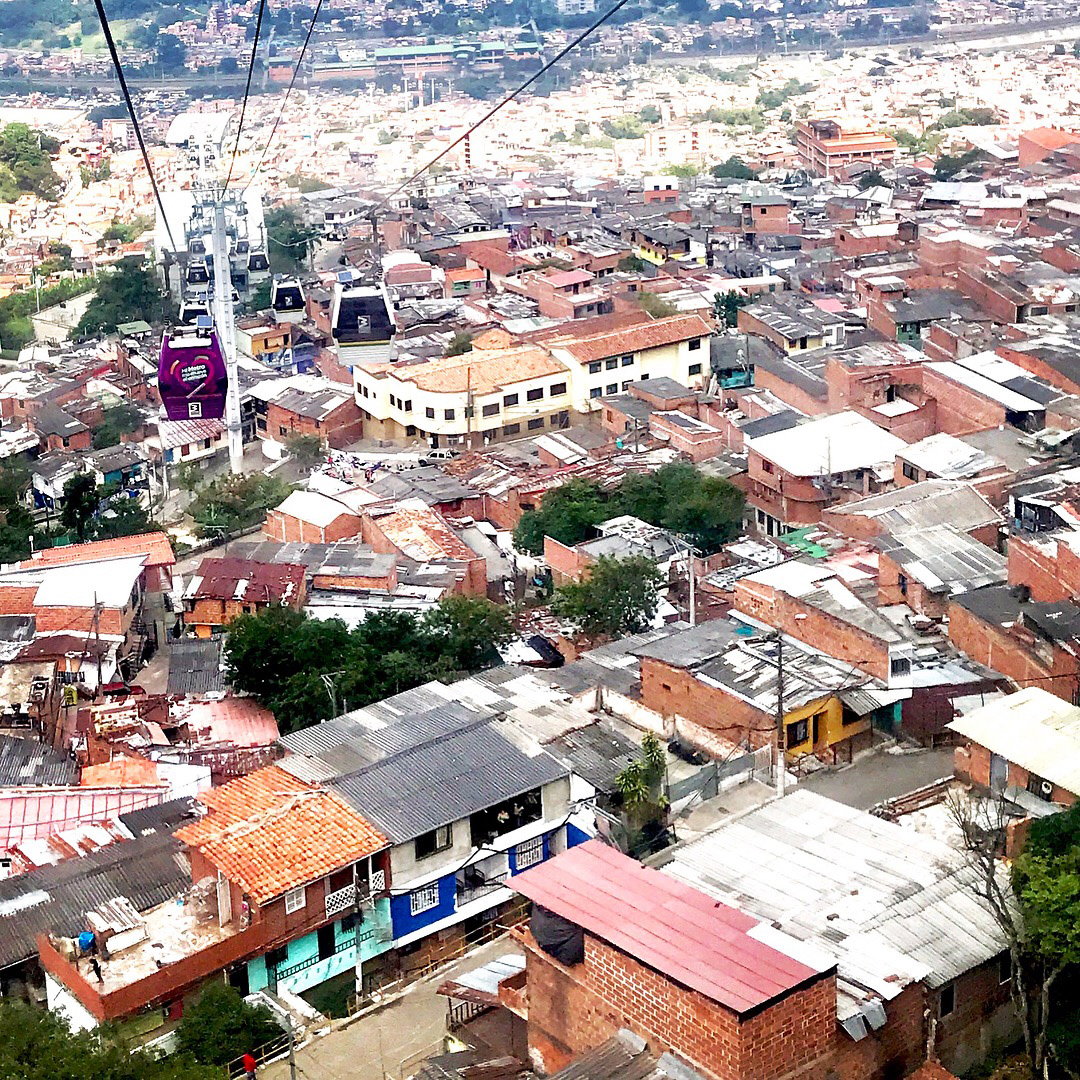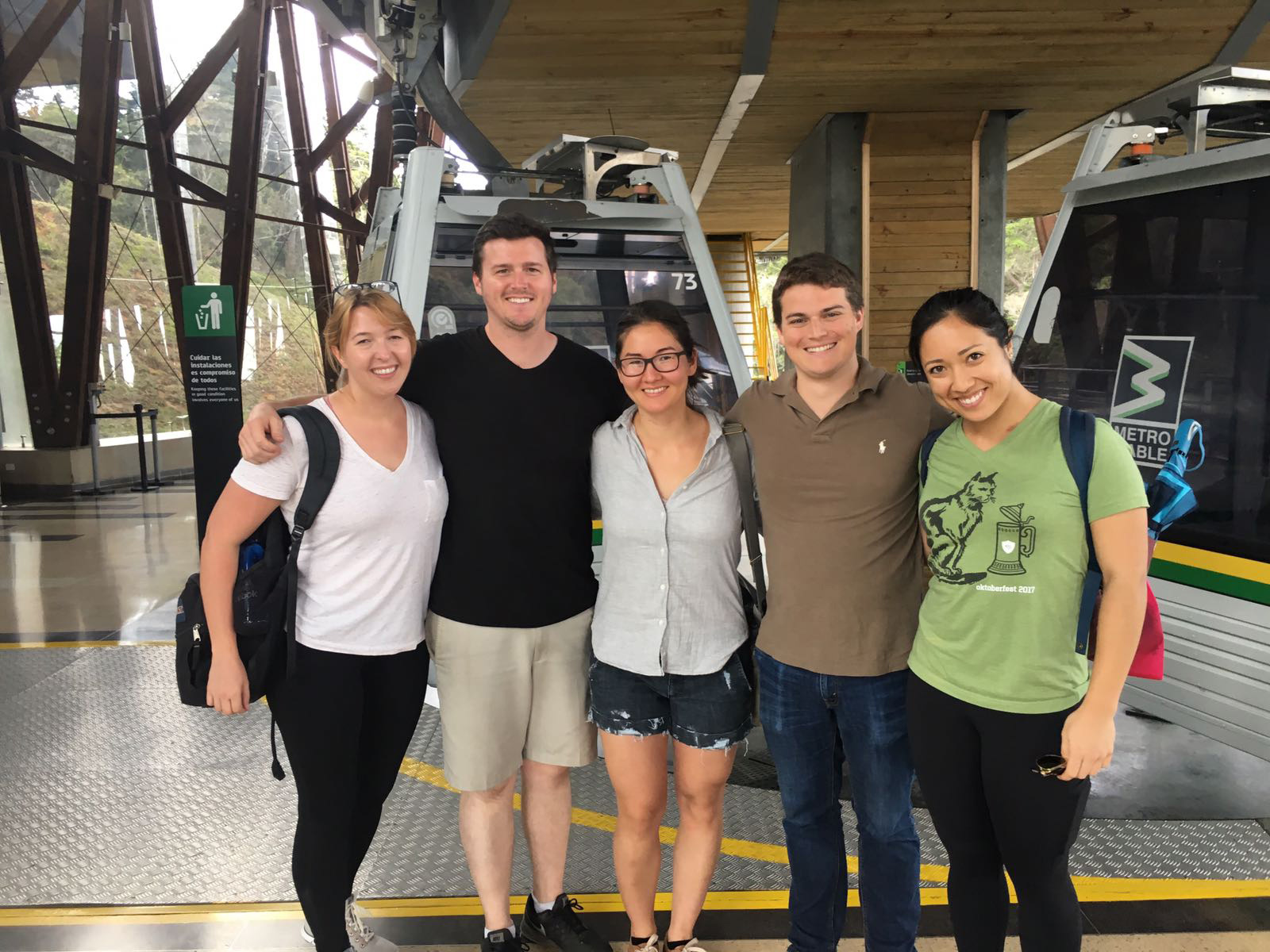 Stephen: We finally reached concert day! Before we started the show, I watched the auditorium fill up with tons of family and friends of the students—it was easy to tell the energy level for the performance was going to be pretty high. After the final huge bass drum note by Esteban to end Villa-Lobos' Choro No. 6 on the first half of the concert, there was a huge raucous applause! I didn't expect to feel so invigorated by the spirit of the musicians and the appreciation of the audience. 
The second half of the program was really fun for me, as I got to watch the percussion students play their parts on Marquez' Danzon No. 2 and Kalamary by Pinedo. It was really special for me to play Latin-American music with them, because their natural capabilities on the congas, guiro, maracas and bongos were so pure and fluid. I can only dream of playing these instruments at such a high level! And I might never again have the chance to play in a percussion section that plays together with such style and ease. The concert truly felt like a celebration!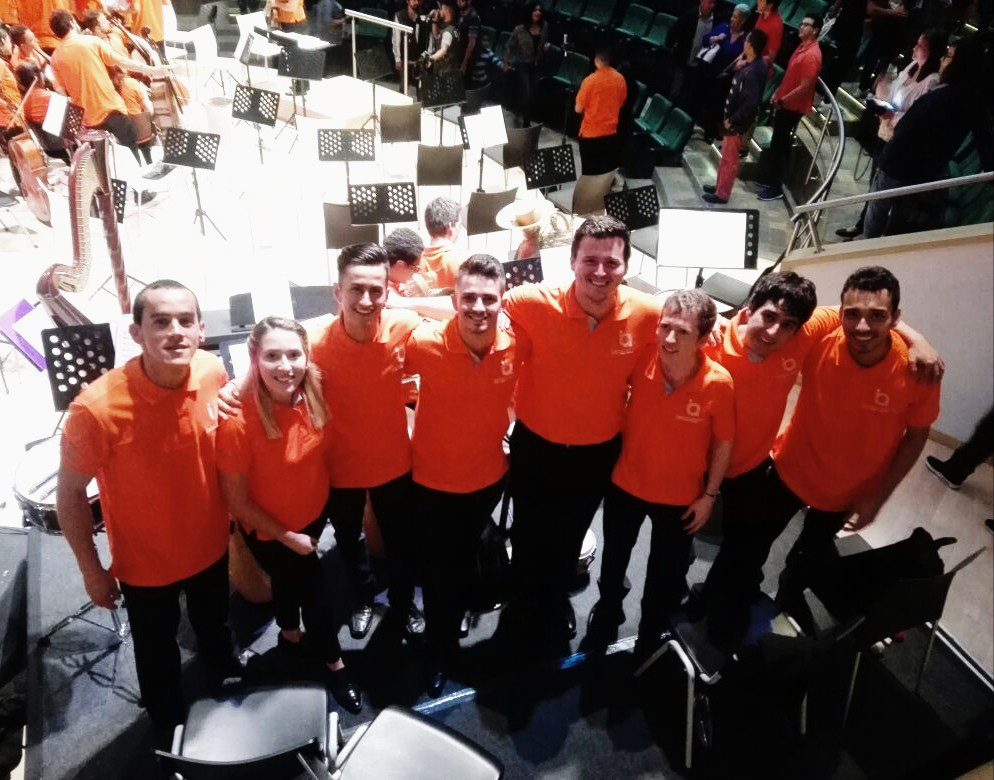 Sunday, March 4
Rachel: Elizabeth, Nick, Stephen and I went out for one last brunch to reminisce about our week. The four of us really bonded during this trip and agreed we were so lucky to have been selected to travel together. We packed as much activity as we could into the week, there was definitely no time wasted! We headed to the airport with suitcases overflowing with Colombian souvenirs … I think I have enough coffee for months! 
Stephen: Exhausted from a late night out with some of our new friends, we packed up and checked out of Hotel Casa Laureles. We were sure to fill our bags with plenty of Colombian treats like guayaba, whole coffee beans, aguardiente, Santander dark chocolate and more to remind us of this incredible week. We were so sad to get in the car and head to the airport, but I know I'm already thinking about when I might be able to return to visit this wonderful city and all of the special people we met.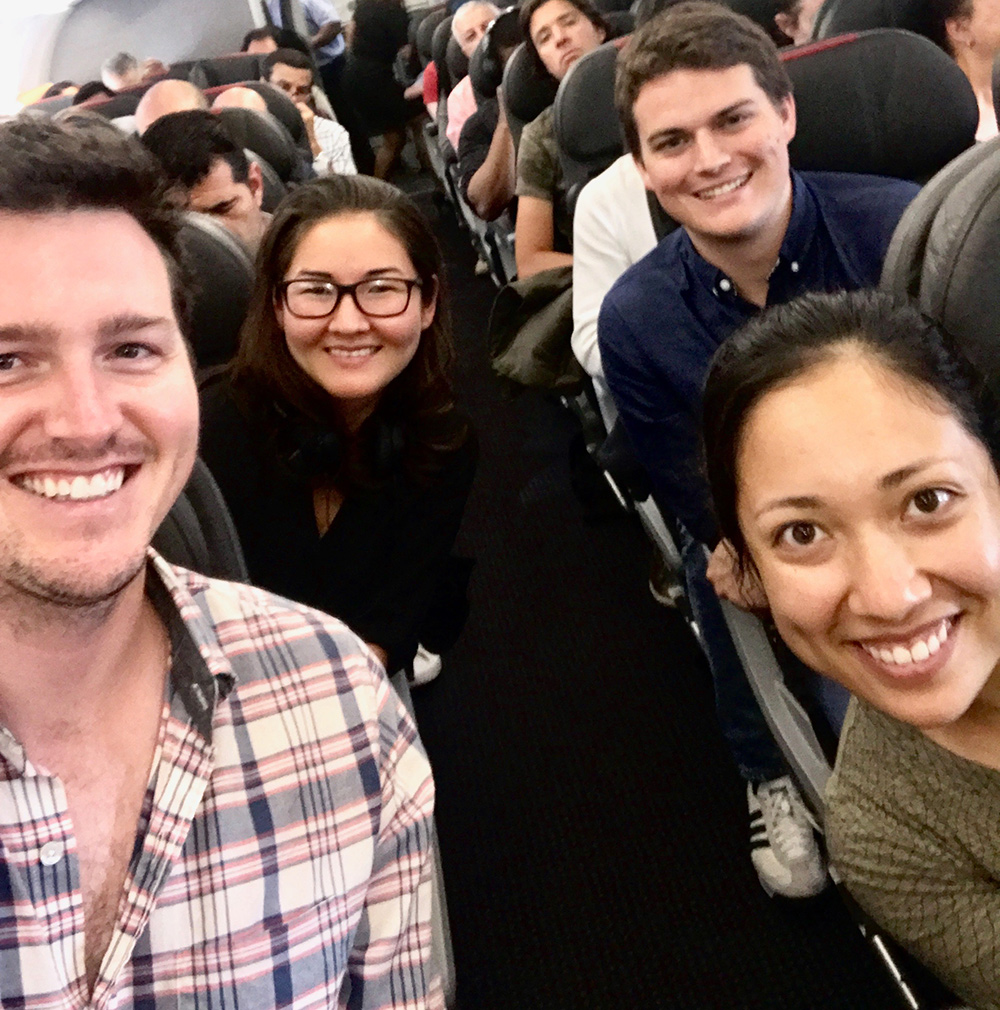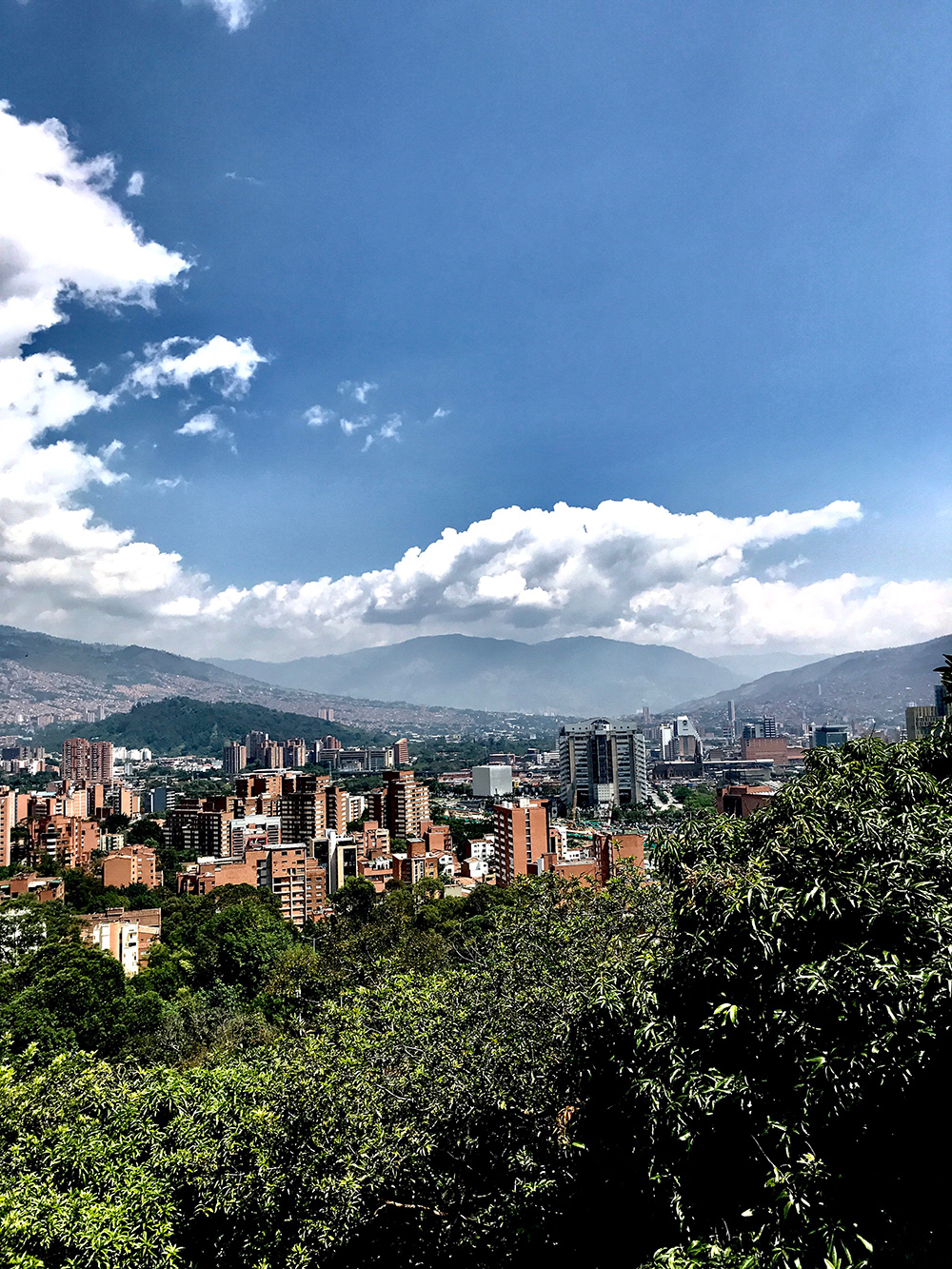 Posted in: Fellows, Travel Journal
---