News
December 16, 2016
Happy Birthday Ludwig van Beethoven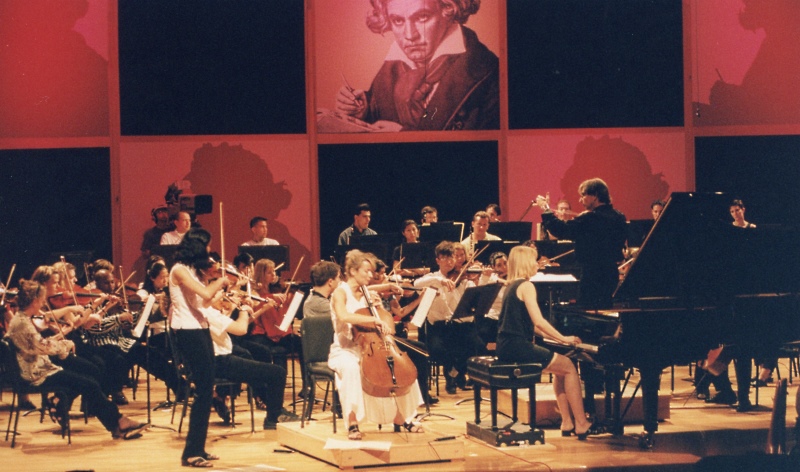 MTT conducts rehearsal with guest artists The Eroica Trio for Beethoven Festival, April 1998


Among the most enduring and famous of all classical composers, Ludwig van Beethoven was born in Germany on or about this day, December 16, in 1770 (d. 1827).

His popularity is represented throughout the past 29 years of the New World Symphony's existence. During the NWS Inaugural Season, Artistic Director Michael Tilson Thomas conducted Beethoven's Fifth Symphony at the World Premiere Concert of February 4, 1988; guest conductor John Nelson led the orchestra in the Leonore Overture No. 3 on March 25, 1988; the Violin Concerto was performed in July 1988 on the Southern California tour; and the Seventh Symphony in August 1988 during the summer residency at Big Sky Music Festival, Montana. Even before the first New World Symphony season began, some of the first Fellows to arrive in Miami played for Beethoven's 217th birthday party on December 16, 1987 at Vizcaya.

For the third season, works by Beethoven helped NWS open/debut two important venues. Symphony No. 7 was played at the first concert at the Lincoln Theatre on October 14, 1989, and for New World's Carnegie Hall debut in New York on December 14, 1989.

The New World Symphony has held a number of Beethoven festivals over the years. The first was in October 1990. It was described in the NWS newsletter of the time: "Ludwig van Beethoven's figure overshadows the whole of 19th century music. His genius expanded and enhanced every musical form it touched, leaving a legacy of works without parallel in this or any other century."

The Beethoven In-Context™ Festival was held in April 1998. It included a simulcast of one of the concerts on Lincoln Road and at Bayside Park. It was also recorded for television and broadcast as a PBS special "Beethoven Alive" the following December.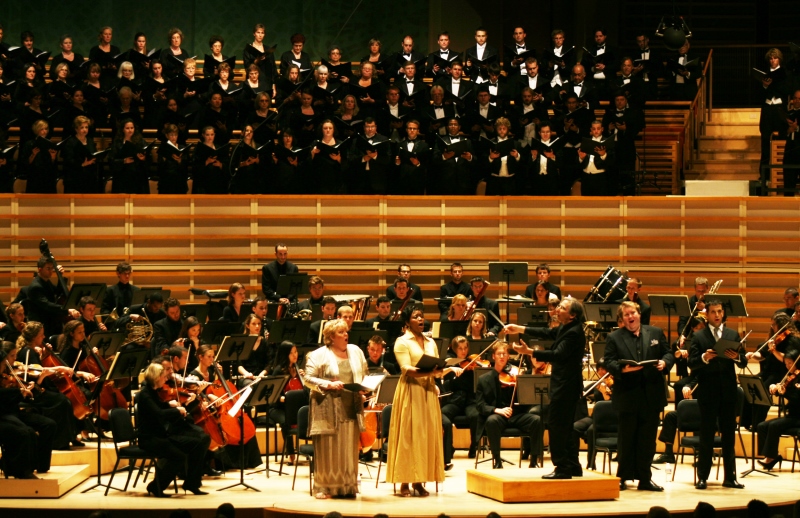 MTT conducts NWS in Beethoven's Symphony No. 9 at Arsht Center, October 24, 2009

More exclusively Beethoven concert series were "Viennese Musical Traditions: Beethoven the Master" in January 2003; the February 2005 Florida Tour; "Fate and Fury: Beethoven's Fifth" in December 2008; and "A Beethoven Journey" in October 2011.

Beethoven's popularity in the repertoire is also demonstrated as NWS has performed every one of his nine symphonies, from 1988 through to this season. Well-known guest artists who have performed or led Beethoven's works with NWS over the years included Emanuel Ax, Pinchas Zukerman, Yefim Bronfman, Roberto Abbado, Paula Robison, Anne-Sophie Mutter, Jamie Bernstein, Garrick Ohlsson, Sir Neville Marriner and many more.

Beethoven will be heard again during the second half of this NWS season at the New World Center. On March 25 and 26, 2017, "Symphonic Giants" will feature Beethoven's Symphony No. 2, conducted by James Conlon. The program for the chamber music concert of April 2 will include a Beethoven piano trio. The Inside the Music presentation of May 7 is entitled "Interpreting Beethoven's Symphonies." And the Season Finale concerts of May 6 and 7 will feature Michael Tilson Thomas conducting Beethoven's "Eroica" Symphony No. 3.

Happy 246th birthday, Ludwig van Beethoven!
---
Photos courtesy of the New World Symphony Archives
Posted in: Composers, Concerts, From The Archives
---