News
January 27, 2016
Happy Birthday Mozart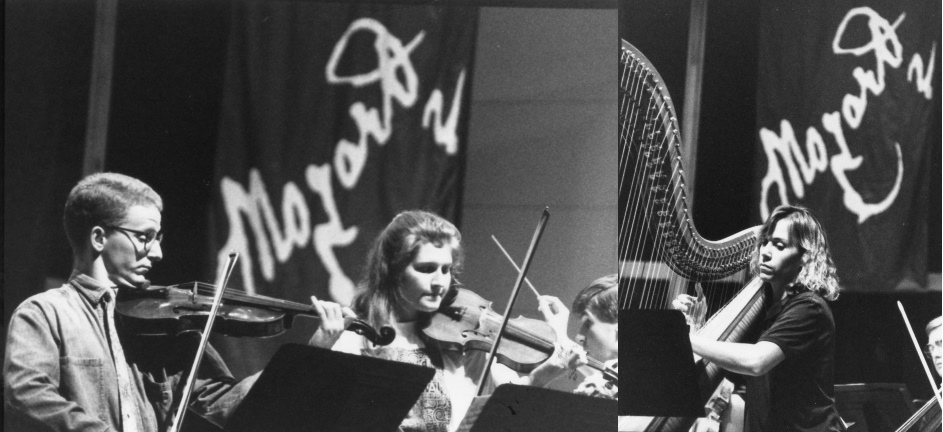 Leg­endary com­poser Wolf­gang Amadeus Mozart was born this day - on Jan­u­ary 27, 1756.

The New World Sym­phony first per­form­ed works by Mozart mere weeks after begin­ning the very first sea­son. On Feb­ru­ary 28, 1988, in a "run-out" concert for the Chopin Foun­da­tion gala, NWS Fel­lows per­formed the over­ture to Mozart's opera Le Nozze di Figaro. A few days later, NWS held an open rehearsal at Miami-Dade Com­mu­nity Col­lege, per­form­ing his Sym­phony No. 29, and then per­formed it at the con­cert of March 4 at the Gusman Center, under the baton of Neal Stulberg.

New World Symphony has performed the music of Mozart in every season of its existence, with dozens and dozens of his works in the repertoire. And over the years NWS has featured those works in many festivals and concerts devoted to his musical oeuvre.

In a description of one of those festivals, the NWS newsletter of the time said "In his short life of only 35 years, Wolfgang Amadeus Mozart left a musical legacy the world will treasure for centuries to come."

The first NWS Mozart Festival was held in April 1989, in the second season. Another Mozart Festival in October 1991 commemorated the 200th anniversary of his death. October 1994 saw a join Mozart and Mendelssohn Festival; and the Mozart In-Context™ Festival took place in November 1998. In January 2006, NWS held another Mozart In-Context™ Festival to celebrate the 250th anniversary of his birth.

Mozart-specific concerts have included "Mozart and the Height of Classicism" in December 2003; "Mozart on Jupiter," the Concert for Kids in March 2005; "Mozart Cubed" in November 2009; the "It's a Family Affair" concert of February 2011; and "A Mozart Journey" in February 2013.

Among the noted guest artists who have performed Mozart with New World are Christian Tetzlaff, Pinchas Zukerman, Itzhak Perlman, Vladimir Feltsman, Barry Tuckwell, Christoph Eschenbach, Katia & Marielle Labèque, Hilary Hahn, and Dudley Moore, as well as NWS Artistic Director Michael Tilson Thomas as pianist.

This weekend will see the next Mozart work to be performed at the New World Center. Guest artist Jeffrey Kahane will be playing the Piano Concerto No. 22 at the Saturday and Sunday concerts. Interestingly, Mr. Kahane actually debuted that same piece with New World Symphony 24 years ago at the concert of October 5, 1991.

Happy 260th birthday, Wolf­gang Amadeus Mozart!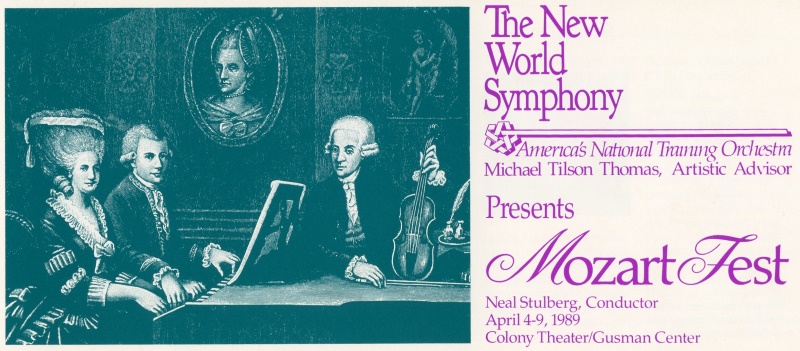 Images courtesy of the New World Symphony Archives
Photos at top: rehearsal for 1991 Mozart Festival, by Todd Levy
Posted in: Composers, Concerts, From The Archives
---