News
December 2, 2020
In Conversation: James Ehnes talks Bach with Aaron Grad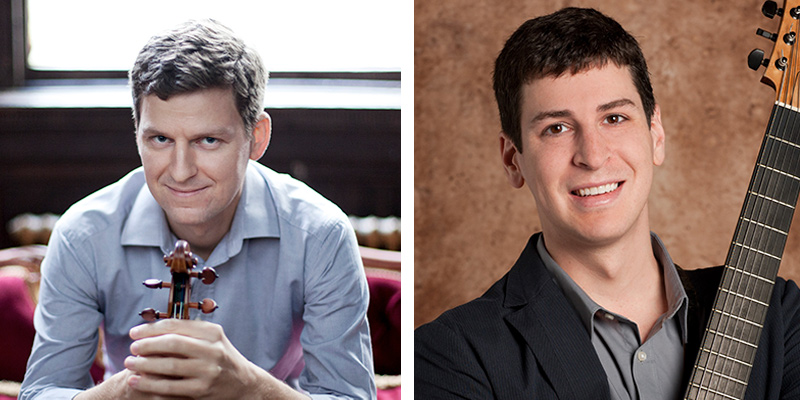 James Ehnes and Aaron Grad
On Saturday, December 12, violinist James Ehnes will join MTT and NWS Violin Fellows for Cornerstones: The Bach Project, an exploration of the solo violin works of J.S. Bach. Ehnes, who considers these works the cornerstones of the violin repertoire, revisited them in the early days of the pandemic and wanted to continuing exploring through a partnership with NWS. He has been coaching NWS Violin Fellows on Bach's six Sonatas and six Partitas, with each Fellow preparing a solo movement or section. Click here for tickets to Cornerstones on Saturday, Dec. 12. 
Ehnes recently sat down with NWS program annotator Aaron Grad to discuss the project and his long history with NWS.
What has your relationship been with the New World Symphony?
I feel very lucky to have had quite a lengthy relationship with the New World Symphony. I remember performances back in the old Lincoln Theatre, and I was there to see MTT on an excavator when they were breaking ground on the New World Center. Just in the past year, I played Mozart's Fifth Concerto, and then in January I did a wonderful project with the New World Symphony and the Miami City Ballet, where I played the Stravinsky Violin Concerto. It was a fun way to see that incredible facility used in an unusual way.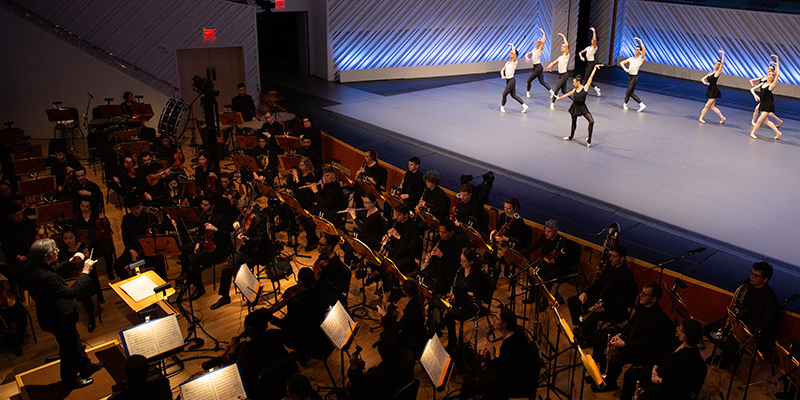 James Ehnes performs with NWS, MTT and the Miami City Ballet at the New World Center, January 2020
Photo by Alexander Iziliaev
From your perspective as a soloist, what impact has the New World Symphony had on the orchestral world?
I can't say enough about how incredible that organization is for the growth of music and musicians, and also for what it has meant in terms of our understanding of that crucial transition phase between advanced student and young professional. I don't think there is anybody better suited than MTT for encouraging these very gifted young people in finding their own voice, and learning how to be a part of a major symphony orchestra. It has been incredible for me to work with the Fellows in Miami, and then over subsequent seasons see them in major positions in orchestras all over the country and all over the world.
As you partner with the New World Symphony on a remote project in the midst of a pandemic, what do you make of the current reality for young musicians?
For players that are in this very crucial stage of development, it is incredibly sad. For me, one year is like any other year. For these players, they are in a moment that could not be more crucial. The New World Symphony has done an amazing job of keeping their Fellows active, keeping them involved, keeping them inspired. From my perspective of working on them with these Bach collaborations, I find it incredibly inspiring. With the whole group of Fellows, we will be covering the entire volume of the Bach Sonatas and Partitas. That is a major accomplishment—that they have pushed through and turned this terrible time into an opportunity to learn and grow and expand their horizons.
How would you describe the significance of Bach's Sonatas and Partitas for solo violin?
I think that the Sonatas and Partitas are so central to the experience of being a violinist that it is almost difficult to speak of them objectively. The technical demands form a very nearly complete textbook of things that you need to be able to do on the violin, so from a pedagogical standpoint, they are crucial to any violinist. For many years, that was the role they were assigned, as this pedagogical treatise. As time went on, violinists realized this music is far too great to be thought of in such a dry, academic way, and it became more and more a part of the performing repertoire, to the point now where it is central to that aspect of violinists as well. There couldn't possibly be a more perfect time for violinists to be diving into Bach, as we are forced to make music on our own, away from our colleagues. What a luxury to have this music that is so complete at our disposal!
How do you see your role as you coach the Fellows on their Bach interpretations?
They all come at these movements from slightly different vantage points. It's my role to talk about things that work particularly well, or things I think could maybe work a little better, but I very much hope not to stifle that individual voice that each one of them has. They have all accomplished something quite extraordinary by becoming a Fellow of the New World Symphony, so I want to respect that, and respect the musicians that they already are, while also hopefully adding a little something to the picture that can continue their growth. It is a very rewarding role for me to play.
Can you describe your own exploration of Bach that transpired earlier this year, and how it has informed your work with the Fellows?
Bach has been a constant throughout my career, but it has also had these bubbles of intensity where I have really taken a fresh look at everything, and tried to tear down whatever thoughts I had built up before and start from scratch. Inertia can be such a powerful thing, and you don't ever want to say, "This is how I do it, because that's how I've always done it." When things shut down back in March and April, and I was really just home, I created this project that I called my "Recitals from Home," where I took the six Bach Sonatas and Partitas, and the six Sonatas by Eugene Ysaÿe, and created six programs. I filmed and recorded them and became my own little impresario, and put them on my website and Vimeo. Artistically, it was a way to stay really engaged, and I learned about the whole process of filming and recording. As far as how that relates to my experiences with the New World Symphony fellows, my thoughts are very fresh, and that has been a good thing. All the questions that come up in the music, they are all things that I have been questioning very recently, and I have come up with answers that I feel confident in right now.


Saturday, December 12, 2020 at 7:30 PM
Online event available to ticketholders for 72 hours from concert start
*Current NWS subscribers may RSVP for this performance by emailing tickets@nws.edu or calling the Box Office at 305.673.3331. RSVP is required by Friday, December 11, 2020 at 12:00 PM.
Posted in: Concerts, Events, Fellows, MTT
---