News
November 2, 2016
Inside the Music: Improv & You
Hannah Nicholas is a third-year Viola Fellow at New World Symphony. On Monday, November 7 at 7:00 PM, she presents "Inside the Music: Improv & You" in the New World Center's SunTrust Pavilion. Along with Hannah, the other Fellows performing will be Kelton Koch, Nathaniel Wolkstein, John Wilson, Julia Coronelli, Dima Dimitrova, Kevin Gobetz, Ansel Norris and Michael Jarrett.
In April 2015 Hannah presented a Solo Spot­light recital entitled "In Honor of Home," which featured works by musi­cians who have strug­gled with social and polit­i­cal tur­moil in their home­lands. In October 2015 she presented "Inside the Music: Folk(s) in our Lives", an intersection of folk and classical music, poetry and family.

This past summer, Hannah participated in the Lakes Area Music Festival. She regularly performs around Miami with her acclaimed trio alt Default. The group won a grant from the Knight Foundation last year to hold music workshops for local middle-schoolers. Click to read more about it. And finally, Hannah put together a unique event featuring Middle Eastern music and literature last spring for O, Miami Poetry Festival, entitled "Shadows of Home."

We asked Hannah to share her thoughts on this concert experience.
---
Two years ago, I participated in the World Music Residency at the Banff Centre, Canada. Two of our instructors were classical musicians from India: tabla player Yogesh Samsi and sarangi player Dhruba Ghosh. It was my first time hearing these instruments performed live, and what struck me the most was that improvisation was truly the heart of the music. Yogesh and Dhruba hardly had to look at one another while they played. They were so close, and so familiar with one another as musicians, that everything they played was completely fluid and felt as though it could go on forever.

During the first week, I discovered the importance of my role as a listener during these extensive and complex improvisations. Along with the other musicians in the residency, I would sit out in the audience (though we were barely separated from the performers; we sat close to each other) with my viola on my lap. My reactions and my responses both in demeanor and sometimes in my playing, if I was called upon to join in the music, influenced the way the improvisation would unfold.

I love this mode of communication, both between the performers themselves and between the performers and the audience. Everything that occurs is part of an unspoken language that is very intimate. It is this dynamic that I want to explore in my "Inside the Music." The program includes pieces from the Western Classical repertoire that are based on improvisation at their core, as well as folk tunes that are open and flexible in their nature. To get a feeling for what the concert is all about, imagine a double bass, viola, harpsichord, trombone, guitar and trumpet sharing the stage together!
---
While this event is currently listed at capacity, some seats may be available at the door just before 7:00 PM. Seating is subject to availability and is not guaranteed.

*Please note: This concert will also be live streamed on MUSAIC: Click here to watch it on Monday evening starting at 7:00 PM (ET)*

---
Click here for concert information

Click here for Hannah's full blog from the Banff Residency
Click here to check out Hannah's 'Indie-folk trio' The alt Default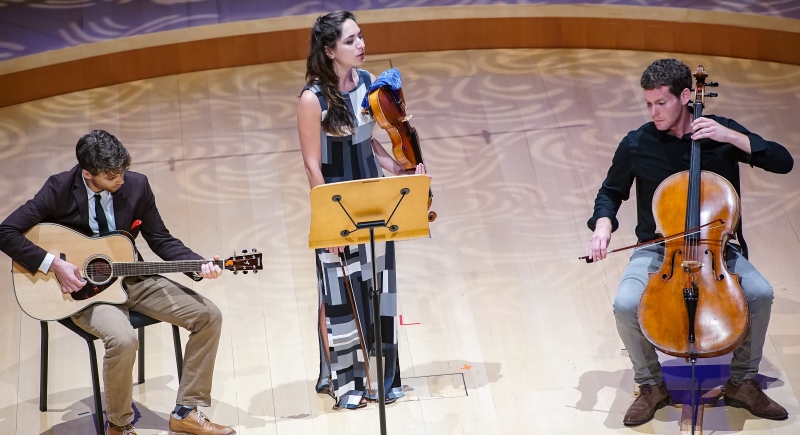 All photos courtesy Hannah Nicholas
Posted in: Community Engagement, Concerts, Fellows
---