News
February 3, 2016
It's Kids' Week at New World Symphony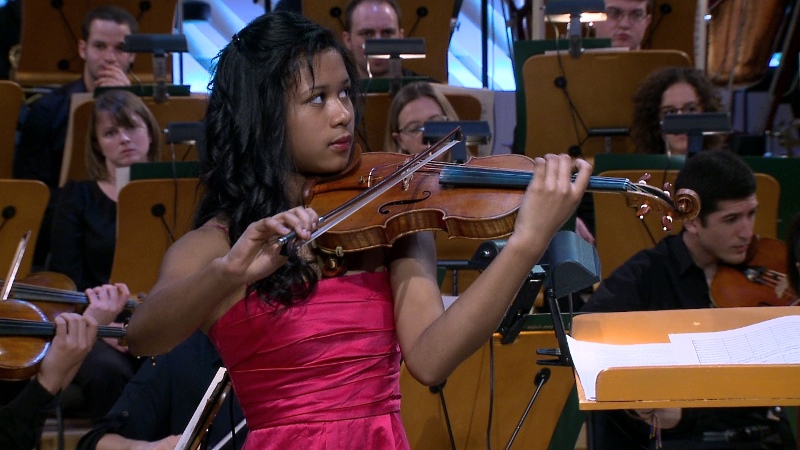 This week, the New World Symphony devotes its performing talents to the youth of Miami and beyond.

The annual NWS Education Concerts - four concerts on Wednesday, February 3, and Friday, February 5 - are designed to be an inspirational experience outside the classroom for grades 4-12. These thematic daytime concerts introduce major orchestral works and composers to students from Miami-Dade and Broward counties. A program/study guide is sent in advance to all participating classes and round-trip bus transportation is provided free of charge. The duration of each concert is  one hour.

The works presented this week are centered around the theme of love, in honor of the upcoming Valentine's Day. The pieces include Romeo and Juliet by both Tchaikovsky and Prokofiev, the Brahms Lullaby, and excerpts from Beethoven's Ninth Symphony. Special guest artist for these concerts is 16-year-old violinist Hannah White, playing Massenet's Meditation from Thaïs. Click here and here to read more about Hannah.

Students from 31 schools are attending the concerts: Apple Tree Montessori School, Arvida Middle School Band & Choir, Bridgeprep Academy of Arts and Minds, Conchita Espinosa Academy, Coral Springs Charter School, Dr. Michael M. Krop High School, Fisher Island Day School, iMater Charter Middle/High School, Jack D. Gordon Elementary, Kendall Christian School, Key Point Academy, Kinloch Park Middle School, Mater Academy East Charter School, Mater East High School, Miami Northwestern High School, Pinecrest Academy North, Ransom Everglades, Richmond Heights Middle, Ruth K. Broad/Bay Harbor Elementary, Scheck Hillel, South Florida Montessori Academy, South Miami K-8 Center, South Miami Middle School, St. Stephen's Episcopal Day School, Suzuki Music Academy, The Cushman School, United Cerebral Palsy of Miami, Vineland K-8 Center, Westminster Academy, Westminster Christian School, and Weiss School.
---
This Sunday, February 7, sees the season's second series of NWS Kids' Concerts. These interactive and engaging hour-long concerts are for families with children ages 4-12. For one hour before the morning and afternoon concerts, children can meet New World Symphony Fellows at the popular Instrument Petting Zoo, where they are given the opportunity to touch and play various instruments including percussion, piano, strings, wind, and brass.

While this event is currently at capacity, some seats may be available at the door just before scheduled start times.
Seating is subject to availability and is not guaranteed.
Click here for more concert information
Posted in: Community Engagement, Concerts
---