News
November 19, 2015
Jamie Bernstein: Host/Narrator Extraordinaire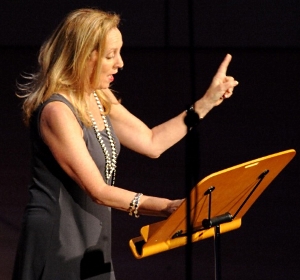 This weekend's Encounters con­certs "Copland and Ives: Homespun Threads in the American Musical Quilt" fea­ture the wel­come return of clas­si­cal music go-to per­son Jamie Bern­stein. She brings her expert con­tex­tu­al­iza­tion back to New World Sym­phony for her eleventh visit as con­cert narrator.
Ms. Bernstein's NWS debut was in the Fam­ily con­certs of March 2004 where she led her own pre­sen­ta­tion of "The Bern­stein Beat" fea­tur­ing the music of her father Leonard Bern­stein. Since the intro­duc­tion of our Encounters series dur­ing the 2010-11 sea­son (then called "Sym­phony With A Splash"), Ms. Bernstein has served as the de facto 'queen of the Encounters con­certs' at NWS. She has hosted them bian­nu­ally every sea­son (but one) since. She has explained the works of such com­posers as Ravel, De Falla, Stravin­sky, R. Strauss, Tchaikovsky, and Shostakovich, including her rev­e­la­tory nar­ra­tion of Beethoven's Leonore Over­ture No. 3 last year.
---
The November 20/21 concerts feature works of American composers Aaron Copland (1900-1990) and Charles Ives (1874-1954).

Cop­land cre­ated many iconic works that are part of the New World Sym­phony repertoire. His work debuted with NWS in its Inau­gural Sea­son. In the 2nd con­cert on February 11, 1988, NWS per­formed El Salón Méx­ico. His Clar­inet Con­certo was played by guest soloist Richard Stoltz­man in the 4th con­cert 3 weeks later. Another NWS Cop­land high­light was the first New York per­for­mance of the com­plete bal­let score from Appalachian Spring at NWS' Carnegie Hall debut on Decem­ber 14, 1989.
This week­end's fea­tured works are Copland's "Hoe-Down" from Rodeo and selec­tions from Billy the Kid. Per­formed many times over the years by NWS, these works expe­ri­enced a marathon on NWS tours dur­ing the 1990s. Billy the Kid was played in 15 con­certs on 4 tours in 1991 and 1992 alone - Japan and the United King­dom, Mid­west­ern uni­ver­si­ties, and around Florida. "Hoe-Down" was played on tours in Japan and the UK, North­east­ern uni­ver­si­ties, Argentina, New York City, and Paris. The cen­ten­nial of Copland's birth was cel­e­brated by NWS with an Aaron Cop­land In-Context™ Fes­ti­val held in Novem­ber 2000.
Charles Ives' work debuted with New World in its sec­ond sea­son. His Largo was per­formed at the Colony The­atre on Miami Beach, Decem­ber 18, 1988. While NWS has per­formed many of his works, they were mainly con­cen­trated in two spe­cial events devoted to Ives. The New Music con­cert of Octo­ber 19, 1996 fea­tured a dozen orches­tral pieces and songs, led by renowned Ives scholar and con­duc­tor James Sinclair. Feb­ru­ary 2009 saw "Charles Ives, Pio­neer Mod­ernist: An NWS In-Context™ Fes­ti­val" - and return­ing to guest con­duct along­side MTT was James Sin­clair; also NWS alumni Kazem Abdul­lah and Steven Jarvi, plus Con­duct­ing Fel­low Teddy Abrams. With con­certs, panel dis­cus­sions, lec­tures, and a film, the fes­ti­val pre­sented all-Ives pro­grams with per­for­mances of some ten of his works.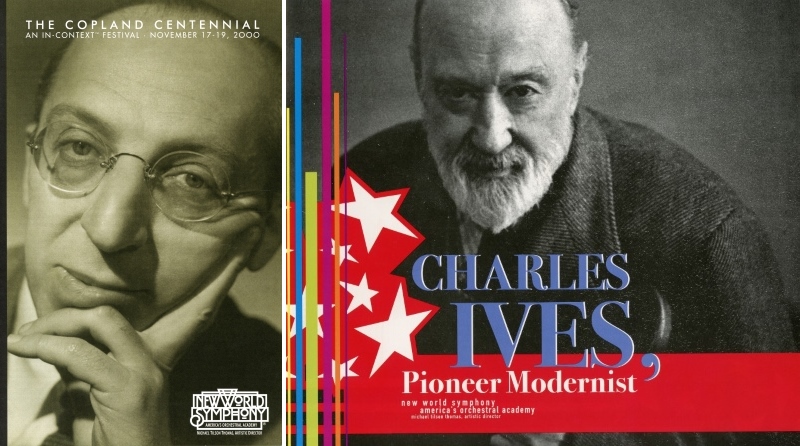 Click here to buy tickets to Encounters
Click here to visit the Library of Con­gress Aaron Cop­land Collection
Click here to visit the Aaron Cop­land Fund for Music
Click here to visit the Charles Ives Society
Click here to visit Jamie Bernstein's website
Images courtesy of the New World Symphony Archives
Photo of Leonard Bernstein & Aaron Copland from Library of Congress
Posted in: Composers, Concerts, Guest Artists
---