News
November 15, 2015
Jarrett McCourt: Inside the Music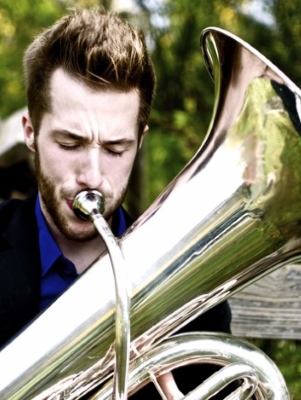 Canadian tubist Jarrett McCourt is a first-year Tuba Fellow at the New World Symphony. On Tuesday, November 17, at 7:00pm, he presents "Inside the Music: The Romantic Tuba: Sharing Through Song" in the SunTrust Pavilion at New World Center. We asked Jarrett to share his thoughts on this concert experience.
---
"Music is all around us - music that makes us happy, sad, and everything in between. But what is it about music that can make us recall vivid parts of our existence? Why is it that Beethoven's Pastoral Symphony feels like a gentle stroll through the countryside, whereas the music of Arvo Pärt can make us recall the simplest times of our childhood? The goal of this concert is to discover what kinds of music make you feel different emotions, and to shine light on the musical elements that are at the foundation of those emotions.
"Composers imbue music with emotion by knowing what our expectations are, then control the thrills, chills and tears we experience through the use of familiar chord progressions and melodies. This setting up and manipulating of expectations is the heart of music, and is accomplished in countless ways, including harmony, melody and rhythm.
"The ways that composers manipulate our emotions don't stop there. The suspension and softening of pulse or beat, the insertion of non-conventional harmony and the appearance of familiar melodies are just a few ways that composers make us feel various emotions. This concert experience is all about discovering what kinds of sounds make you feel happy and sad, and witnessing how each individual reacts to different pieces of music.
"In an attempt to bring out a wide variety of emotional responses, this program has been selected to showcase the tuba in a number a different musical contexts, and includes a few pieces written for the instrument and some written for other instruments. The program begins with Anthony Plog's rhapsodical Nocturne, followed by Bruce Broughton's joyful but brisk composition entitled Oliver's Birthday. Arvo Pärt's contemplative Spiegel Im Spiegel (Mirror in Mirror, originally written for cello) follows, in addition to John Stevens' colorful piece called Autumn. The program concludes with Piazzolla's Oblivion, one of his most popular tangos, arranged for tuba and piano by Greg Anderson."
---