News
September 30, 2020
Knight Foundation releases arts study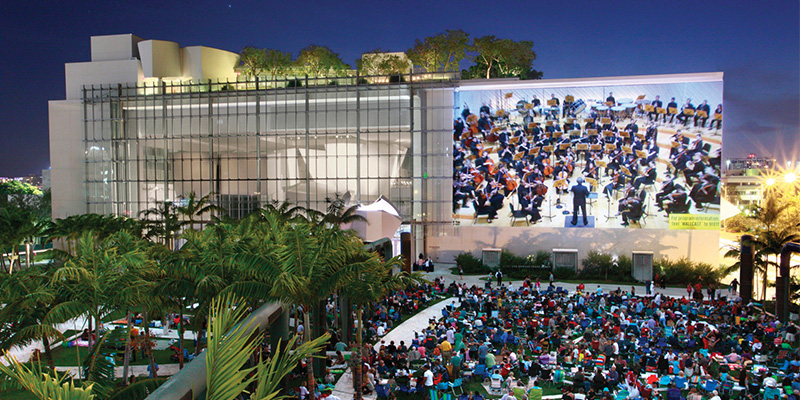 On September 11 the John S. and James L. Knight Foundation released Leveraging Momentum: A Study of Strategic Shifts Among Eight Major Arts Institutions. Knight Foundation commissioned the study to explore the evolution of eight institutions, including New World Symphony, to which Knight Foundation has provided substantial support over the past decade. TDC, a Boston-based nonprofit research and consulting firm, completed the study.
The study's Executive Summary says, "While the study was conducted prior to the COVID-19 pandemic and the ongoing, nationwide protests against police violence and systemic racism reignited by the brutal and unjustified police killing of George Floyd, its implications are highly relevant to the current context, in which arts institutions and those who support them need to change in the face of a radically new operating environment."
Key Findings
NWS was highlighted under the segment on Audience Engagement. "NWS has significantly enhanced its technological capacity and community engagement. New World Center is now seen as a civic icon, and their use of technology has broadened access and helped to change perceptions of classical music."
Other key findings include an increase in relevance to an institution's community.
NWS Case Study
TDC reviewed a focal grant Knight Foundation awarded to NWS in 2007 to support its role as a cultural icon by capitalizing on technology and exploring new performance formats. The study states:
Innovation has been a part of NWS's DNA since its founding as an organization offering a new approach to music education. Two specific areas of transformation since its founding could be identified as technology and audience engagement.
NWS has significantly improved its position as an arts institution since the 2007 focal grant, in terms of its technological capacity and approaches to thinking about community engagement. The New World Center and its lawn are a new civic space and provide a backdrop to NWS's multifaceted approach to audience engagement. Particularly important is NWS's impact as a trainer of orchestral professionals who go on to practice NWS methods throughout the country and the world, a unique type of impact among the study grantees.
Posted in: Knight
---