News
October 8, 2021
Latin American Classical Music in the United States
An Enduring Legacy beyond Hispanic Heritage Month
Every year, between September 15 and October 15 we celebrate Hispanic Heritage Month in the United States. If the odd date (mid-September to mid-October) seems confusing, you can read about the rationale behind it here. In the world of classical music, most artists and ensembles program more works by Latin American and Latinx composers during this month, bringing visibility to repertory that has historically been neglected or excluded from mainstream concert programming. While these efforts are effective at promoting this music, oftentimes they do not lead to more consistent inclusion and presentation of works by Latin American and Latinx composers beyond Hispanic Heritage Month. In contrast, the New World Symphony and its Fellows have consistently programmed these types of works, such as the Alma Latina concert of February 2020; and this 2021-22 season will include Gabriela Montero's own Latin Concerto, Inocente Carreño's Margariteña, Fernanda Navarro's Parthenogenesis, Gabriela Frank's Concertino Cusqueño, and commissions by Marcos Balter and Dafnis Prieto. 
In this post I share some highlights from a nearly 200-year-old history of encounters, exchanges, and collaborations between Latin American and Latinx composers and their counterparts, ensembles, and cultural institutions in the United States. These cases demonstrate the enduring (and sometimes problematic) tradition of classical musical connections between Latin America and the United States. These examples also show that exchanges are ongoing and vibrant, with ideas and influences flowing in multiple directions and fostering not only localized national musical traditions but also hemispheric unity through both shared values and an acceptance of difference and diversity. 
Beginning with mid-19th-century we encounter the figures of Louis Moreau Gottschalk (Louisiana), Manuel Saumell (Cuba), Ignacio Cervantes (Cuba), Manuel Gregorio Tavárez Ropero (Puerto Rico), Juan Morel Campos (Puerto Rico), and Teresa Carreño (Venezuela). These composers all worked with social dance music genres, mostly derived from the European contradance, codifying some of the rhythmic and melodic elements that made this music from the Circum-Caribbean different from its European predecessors. Their compositions are Creole or criollo works because they fused elements from European, African, and indigenous traditions into something new and local. The result was the development of contradanza in Cuba and danza puertorriqueña in Puerto Rico. New Orleans native Louis Moreau Gottschalk travelled through the Caribbean and Latin America, composing works inspired by local music genres, such as Souvenir de Puerto Rico, La nuit des tropiques, and Ojos criollos. Responding in kind, Manuel Saumell wrote Louisiana. Many of these works were salon piano pieces and were printed and sold throughout the Caribbean and the United States. Yet, Gottschalk's activities went beyond music composition, as he raised funds to support public education efforts and for local musicians (such as Cuban violinist José White and Venezuelan pianist Teresa Carreño) to continue their musical studies in Europe. 
Good Neighbor Policy 
In the first few decades of the 20th century communication between composers from the United States and Latin America increased. Their exchanges included basic correspondence, music scores, official affiliations in new music and composer organizations, programming concerts of music by composers from the entire hemisphere, as well as visits and tours, commissions of new works, formal studies in composition, and scholarships and fellowships for Latin American composers to study in the United States. These efforts were led by US-based composers, such as Edgard Varèse (yes, he was French, but relocated to the United States at various times in his career) and Henry Cowell, who sought to establish an American sound in composition, as opposed to a European one. They founded the New Music Society and the Pan-American Association of Composers, which included among its membership composers from the US, Canada, and Latin America. In 1933, Cowell published a collection of essays by and on living composers of the Americas, American Composers on American Music, which articulated a shared hemispheric vision for the future of classical music. In the first half of the 20th century, some composers took advantage of certain US interests, such as the "Mexico Vogue" of the 1920s and 1930s. Mexican composer Carlos Chávez had close friendships and professional relationships with Aaron Copland and Leopold Stokowski, having premiered his ballet Horse Power (1932) as well as his Sinfonía India (1936) in the United States.
These were also the years of the Good Neighbor Policy; and, although we may initially think of economic and political policies, the US government also promoted cultural exchanges to facilitate cross-cultural and cross-national understanding. The Department of State sent music ensembles, artists, and composers from the United States to tour Latin American countries. For example, in 1941, 1947, 1962, and 1963 Aaron Copland toured Latin America (read one of his reports originally published in The New York Times here) and established ties with prominent composers in several cities throughout the region. He also extended invitations to Latin American composers to spend their summers at the Berkshire Music Festival in Tanglewood to further their compositional and conducting studies. Some of the most prominent Latin American composers to study at Tanglewood later received invitations to continue formal music studies in academic institutions in the United States as well as prestigious prizes, such as the Guggenheim Fellowship. These included Harold Gramatges (Cuba), Julián Orbón (Spain-Cuba), Roque Cordero (Panama), Carlos Fariñas (Cuba), Héctor Tosar (Uruguay), Carlos Chávez (Mexico), Blas Galindo (Mexico), Juan Orrego‐Salas (Chile), Antonio Estévez (Venezuela), and Alberto Ginastera (Argentina). The influence was not unidirectional and US composers were also inspired by the musics of their Latin American counterparts. Copland's visits to Latin America materialized in works such as El Salon Mexico and Danzón Cubano. Other composers to have been similarly influenced include George Gershwin and Leonard Bernstein.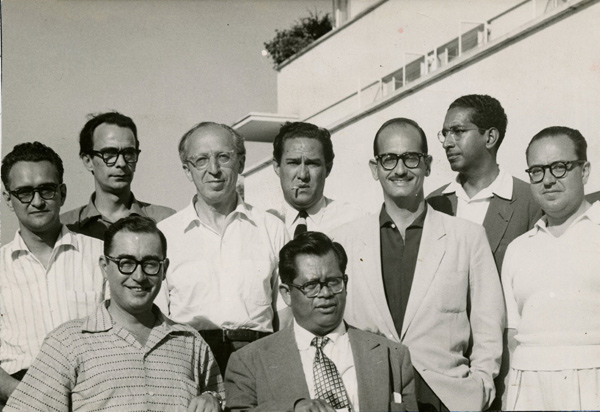 Back row, left to right: Julián Orbón (1925-1991, Cuba), Juan Orrego-Salas (b. 1919-2019, Chile), Aaron Copland (1900-1990, U.S.A.), Antonio Estevez (1916-1988, Venezuela), Harold Gramatges (1918-1998, Cuba), Roque Cordero (1917-2008, Panama), Alberto Ginastera (1916-1983, Argentina). Front row: Héctor Campos Parsi (1922-1998, Puerto Rico) and Blas Galindo (1910-1993, Mexico). Photo courtesy of the Latin American Music Center.
Cold War Efforts
After World War II and the height of the Good Neighbor Policy (1930s)  there was a proliferation of music commissions, festivals, and centers to facilitate Latin American-US music cooperation but with an even more politicized undertone. After the mainly nationalist modernist and populist compositions of the 1930s and 1940s, works from the 1950s and 1960s shifted in aesthetic predilections to the seemingly technological use of twelve-tone and serial compositional techniques and electroacoustic composition, reflecting the scientific pursuits of the atomic age. The composers who most emblematically exemplified this shift include Aaron Copland, Alberto Ginastera, Juan Orrego-Salas, Roque Cordero, and Mario Davidovsky. Ginastera spent long residencies in the United States and was director of the Centro Latinoamericano de Altos Estudios Musicales (CLAEM), the music unit of the Torcuato Di Tella Institute in Buenos Aires, Argentina. Chilean Juano Orrego-Salas moved permanently to the United States to serve as director of the Latin American Music Center at Indiana University also serving as composition faculty, with Roque Cordero joining him as assistant director. Both the CLAEM and the LAMC were developed and funded by the Rockefeller Foundation, an institution known for mixing cultural philanthropy with politics. Davidovsky also moved to the United States, joining the compositional faculty at the Columbia-Princeton Electronic Music Center. These years were also marked by more commissions of works by Latin American composers by US patrons, including the Elizabeth Sprague Coolidge Foundation and the Louisville Symphony Orchestra, as well as the Inter-American Music Festivals hosted in Washington, D.C. (which had precursors in the Caracas Music Festivals).
In later decades, internal political and economic tensions in various Latin American countries compelled many composers to permanently resettle in the United States. Some of these composers did so not because of political persecution or dissention, but rather in search of better professional opportunities, given that the resources to support local classical music ensembles throughout much of the region were (and still are) scarce. Because of the region's long history of music exchanges, many Latin American composers have gone on to have extremely successful careers, gaining acceptance in the US classical music scene (although not without challenges and hurdles). Currently, no one exemplifies this better than Cuban-American composer Tania León,* who, after decades of composition, conducting, and mentoring younger generations of musicians and composers, received the 2021 Pulitzer for Music for her orchestral composition Stride. León has worked tirelessly to promote the music of contemporary composers from the Western Hemisphere, most visibly through the Sonidos de las Americas music festival, held in New York City and organized with Dennis Russell Davies. One of the festival's main goals was "to respond to the increased presence of Latin American culture and musical production in the United States...as a call to broaden and diversify the repertoire of U.S. orchestras and chamber groups" (Avíla, "Sonidos de las Américas"). 
The breadth and depth of interactions between composers from the United States and Latin America is far too vast to fully explore here. My aim has been to give readers a brief introduction to this topic, these composers, and their works with the hope that you will follow the hyperlinks and the sources for further reading. I also hope that conductors and performers also seek out these and many other works for programming, not only during Hispanic Heritage month but all year round.
⤉ This piece is based on research conducted by the author for a forthcoming chapter "Exchanges: Modernist Approaches across Oceans and Borders" for Vol. 6 The Twentieth and Twenty-First Centuries edited by William Cheng and Danielle Fosler-Lussier, in A Cultural History of Music in the Modern Age (Bloomsbury). The author is grateful to the editors for their guidance and feedback on this project and support of this version for NWS.
*Aside from winning the Pulitzer for Music this year, León is Distinguished Composer in Residence at the University of Miami Frost School of Music, where her music will be featured in Ensemble Ibis's concert this Saturday, and where she will have a public conversation via Zoom webinar on her forthcoming biography with its author, musicologist Alejandro L. Madrid, and Frost musicology professor, Marysol Quevedo on Thursday.
Listen to works by all of the composers mentioned: Spotify Playlist
For Further Reading
Campbell, Jennifer L. "Shaping Solidarity: Music, Diplomacy, and Inter-American Relations, 1936–1946." Ph.D., University of Connecticut, 2010. 
Fosler-Lussier, Danielle. Music in America's Cold War Diplomacy. Oakland, California: University of California Press, 2015. 
Gibson, Christina Taylor. "The Reception of Carlos Chávez's Horsepower: A Pan-American Communication Failure." American Music 30, no. 2 (2012): 157–93. 
Herrera, Eduardo. "The Rockefeller Foundation and Latin American Music in the 1960s: The Creation of Indiana University's LAMC and Di Tella Institute's CLAEM." American Music, 35, no. 1 (2017): 51–74.
Hess, Carol A. Representing the Good Neighbor: Music, Difference, and the Pan American Dream. New York: Oxford University Press, 2014.
Mead, Rita H. Henry Cowell's New Music, 1925-1936: The Society, the Music Editions, and the Recordings. Ann Arbor, Mich.: UMI Research Press, 1981.
Quevedo, Marysol. "Experimental Music and the Avant-Garde in Post-1959 Cuba: Revolutionary Music for the Revolution." In Ana R. Alonso-Minutti, Eduardo Herrera, and Alejandro L. Madrid (eds.), Experimentalisms in Practice: Music Perspectives from Latin America. Oxford University Press, 2018. 
Root, Deane L. "The Pan American Association of Composers (1928-1934)." Anuario Interamericano de Investigación Musical: Yearbook for Inter-American Musical Research/Anuário Interamericano de Pesquisa Musical, 8 (1972): 49–70.
Saavedra, Leonora. Carlos Chávez and His World. Princeton University Press, 2015.
Shadle, Douglas. "Louis Moreau Gottschalk's Pan-American Symphonic Ideal." American Music 29, no. 4 (2011): 443–71..
Stallings, Stephanie N. "Collective Difference: The Pan -American Association of Composers and Pan-American Ideology in Music, 1925–1945." Ph.D., The Florida State University, 2009.
About the Author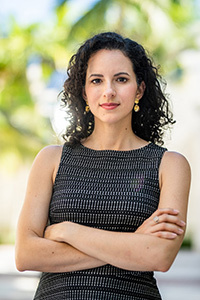 Marysol Quevedo is Assistant Professor of Musicology at the University of Miami's Frost School of Music. Her research focuses on art music in Cuba before and after the 1959 Revolution. She also works on cultural diplomacy during the Cold War and art music networks during and after the Second World War. Quevedo holds a PhD in musicology from Indiana University. With a minor in ethnomusicology, she favors an interdisciplinary approach that combines the methods of both historical musicology and ethnographic fieldwork. Quevedo has presented her research at academic conferences around the world and is an active member of the American Musicological Society, the Society for Ethnomusicology, and the Society for American Music. Her current book project, Cuban Music Counterpoints, examines the classical music scene of Cuba from 1940 to 1989, tracing the complex networks that composers, musicians, and state officials navigated during times of political upheaval. For more information visit marysolquevedo.net
---