News
November 10, 2019
Life Cube project brings interactive art to SoundScape Park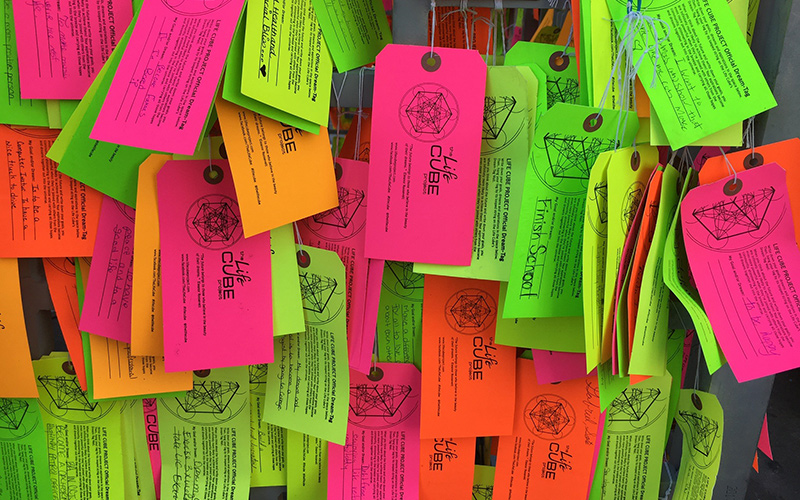 The Life Cube Project will come to Miami Beach's SoundScape Park, creating a 12-foot high metal Life Cube art installation in front of the New World Center. This interactive, collaborative art project will be open to the public from Wednesday November 20th through Sunday morning, November 24, 2019. Dovetailing with NWS's Education Concerts (November 21-22) that serve over two thousand local students, NWS's free Mind, Body and Music open house in partnership with Baptist Health (November 23) and featured as an attraction on Miami Beach's Culture Crawl (Thursday evening, November 21), the Life Cube will be a beacon for artistic engagement for young and old alike.
During the installation, visitors to the Life Cube are encouraged to write their goals, dreams and aspirations on Life Cube 'Dream-Tags' (also available printed in Spanish), and can hang them on the Cube's Dream-Tag Wall. Participants read what others have written as they add their goals and dreams to those of their community. The public is welcome to come and be a part of the art, day or night, exploring the art as the murals and tapestry walls change over time, interacting with the Cube and expressing themselves.
Local artists from Miami Beach will be 'live-painting' murals on the Life Cube during the installation. In addition, students and local residents will draw or paint hundreds of smaller canvases, which are being distributed free to schools and community centers as part of the Life Cube's community outreach program, arranged in collaboration with the region's school districts, the Bass Museum and New World Center.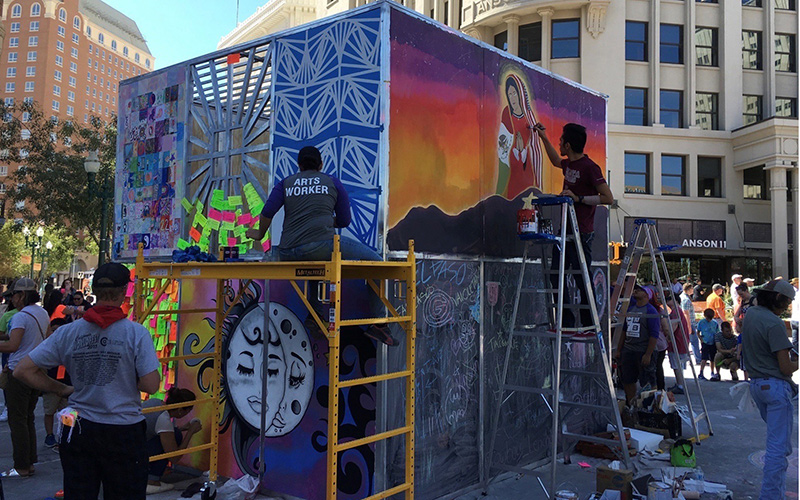 Cassidy Fitzpatrick, NWS's Vice President for Musician Advancement, is enthusiastic about the possibility for creative synergies, stating that "New World Symphony is pleased to partner with Life Cube for this installation in November. NWS's mission is to prepare pre-professional musicians for leadership roles in the field of classical music and the Fellows have spent their young careers setting goals and achieving excellence. Inspiration is part of our DNA and we're grateful that Life Cube offers the chance to Miami youth and community members to share their own dreams and goals."
The Life Cube Project emphasizes a dual mission: inspiring participants to write down their goals and dreams, and connecting art with community, involving as many people as possible. The Life Cube Project was born and first presented at the Burning Man Festival in 2011, culminating in its selection and installation as a 24-foot high Honorarium Project in 2015. Concurrently, the Life Cube Project transitioned to connecting art and community in civic environments, and was featured as a major public art installation in downtown Las Vegas in 2014 and 2016; in addition, 12-foot metal Life Cubes were designed and presented for El Paso's (Texas) Chalk the Block Festival in 2017, Reno's Sculpture Fest, and in the Bronx, among other locations.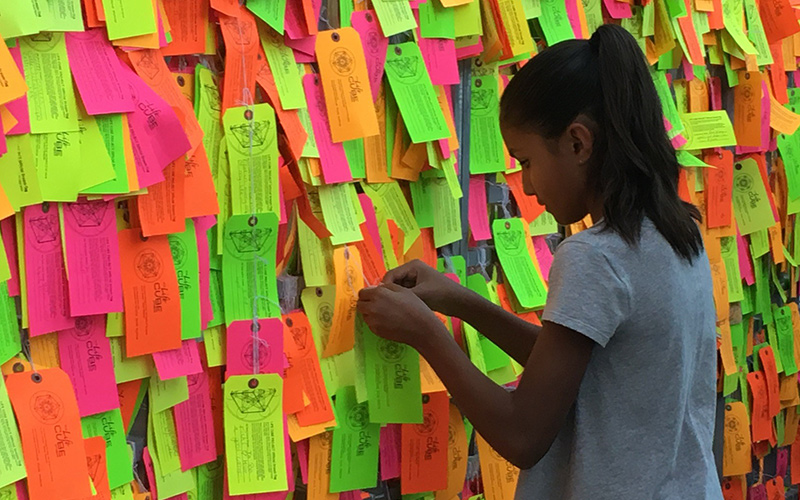 Over the past months, Scott Cohen, the Project's artist, and his team have designed a unique happening to share with the City of Miami Beach. From the artist's perspective, Scott says "This is an incredible opportunity for us to use materials like brushed-metal framing, expressing our creativity in fresh, exciting ways for the Miami Beach Life Cube. We're including all the elements most intrinsic to our project mission: interactivity to the max, helping the public experience art-in-process with live painting, and the social impact from the community writing down their goals and dreams and sharing them on the wall of dream tags."
Scott will be presenting to area schools and civic groups, talking about the importance of setting goals and connecting art with community. Presentations are already scheduled for the Miami Beach Regional Library (Saturday 11/16, 2-3 PM), Florida International University (Thursday, 11/14, 5:30 PM) and hundreds of Miami Dade students during the run-up days before the installation is erected in SoundScape Park.
Posted in: Community Engagement, Events, SoundScape Park
---