News
February 19, 2019
Listen up, the movie's about to start!

Before experiencing the final installment of the John Williams Comes to Miami film series on Thursday, February 21, go behind the scenes of John Williams' wondrous and iconic film music with NWS's resident movie-music guru, Eduardo Delgado! 
All February long we've been celebrating music's starring role in film as part of the New World Symphony's film festival "John Williams Comes to Miami." The series is gearing up for NWS's free WALLCAST® Concert of "A Celebration of John Williams" on March 2, where NWS will perform music from Williams' best known scores including Star Wars, Close Encounters of the Third Kind, Jurassic Park, Raiders of the Lost Ark, Harry Potter and more!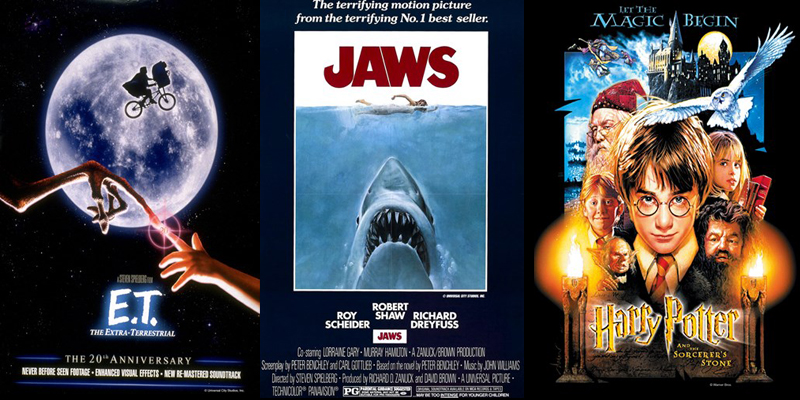 Earlier this month in SoundScape Park as part of the film series, we've shown E.T. The Extra-Terrestrial and Jaws. Sitting under the stars, I've been able to reflect on some of my favorite moments from these two films both audibly and visually, and wanted to share with you one or two musical nods from each movie that really caught my attention.
Rewind the movie for one second
Feb. 9: E.T. The Extra-Terrestrial
We already know the force is strong between E.T. The Extra-Terrestrial and the Star Wars universe. Some classic examples from E.T. are when Eliot is showing E.T. Boba Fett and Lando Calrissian, both characters from the Star Wars franchise, and when we see E.T. (or relatives of his) in the senate room in The Phantom Menace. In the Halloween scene in E.T. The Extra-Terrestrial, we see a young child dressed up as none other than Yoda from Star Wars, who E.T. seems to recognize. There's also a musical nod to Yoda's character! Take a listen to Yoda's theme and then listen to this scene from the movie.
Feb. 15: Jaws
Nothing to get you scared like watching a movie in Miami Beach about a shark unleashing chaos on a beach resort. It was just so much fun listening to that two-note menacing theme surrounded by SoundScape Park's massive sound system. Nothing quite like it! Did you know that this theme makes an appearance in another Spielberg/Williams collaboration? Whether intentional or not, this Jaws theme receives its musical nod in Spielberg's Close Encounters of the Third Kind towards the end of the communication scene.
Your Listening Guide for Thursday, February 21
As we've seen, or rather heard, John Williams has a masterful way of making musical nods to some of his other works. Harry Potter and the Sorcerer's Stone is no exception. 
Here's how it'll work. I really want you to keep an ear out for these nods, so I'll show you the clip of music we're listening for and where it is in the film. All you have to do is come out this Thursday, February 21 to SoundScape Park with your family and friends, and you'll have a musical note to share with them. Deal? Okay, let's apparate on over to two different scenes of the movie!
Platform 9 3/4 Scene
As soon as Harry Potter crosses over to Platform 9 3/4, he quickly realizes something incredible has happened. While he is taking in the entire scenery, the camera points to the Hogwarts train and we're given a musical nod to the opening theme to Star Wars. Could this be intentional as we travel to a land "far, far away?" I'll let you be the judge!
Pay attention to that first phrase after the opening fanfare a few seconds in: 
Sorcerer's Stone Reveal Scene
Follow me on this one. It's not exact, but it has a similar sentiment. After visiting Harry's bank in Gringotts, the goblins take Harry and Hagrid to another vault to retrieve a very secret and mysterious item. I am instantly taken back to Raiders of the Lost Ark's mysterious theme for the Ark of the Covenant. The sorcerer's stone is revealed with this mysterious three note motif just as the ark was revealed in the map room scene during Raiders of the Lost Ark. Take a listen to both and see if you can hear the resemblance of these two very mysterious items being revealed.
This movie is bound to have more musical nods, so keep your ears open and listen for others. If you do find some, be sure to let us know!
See You Soon!
I hope you join us on February 21 in SoundScape Park for Harry Potter and the Sorcerer's Stone,and again on March 2 for our free WALLCAST® concert  "A Celebration of John Williams," where the Fellows will perform music from his best-known scores, including some of the titles mentioned in this blog, with Michael Tilson Thomas and John Williams himself on the podium. The concert will be followed by a screening of Jurassic Park.
Posted in: Events, SoundScape Park, Wallcast Concerts
---