News
February 5, 2019
Mad King George III comes to life in Royal Portraits
On Sunday, February 10, NWS will present a chamber music concert that features a staging of one of the most explosive and important works in the 20th century. Peter Maxwell Davies' Eight Songs for a Mad King is a searing portrait of King George III's madness. The mono-drama, sung in stream-of-consciousness, uses the King's own words and text from Handel's Messiah.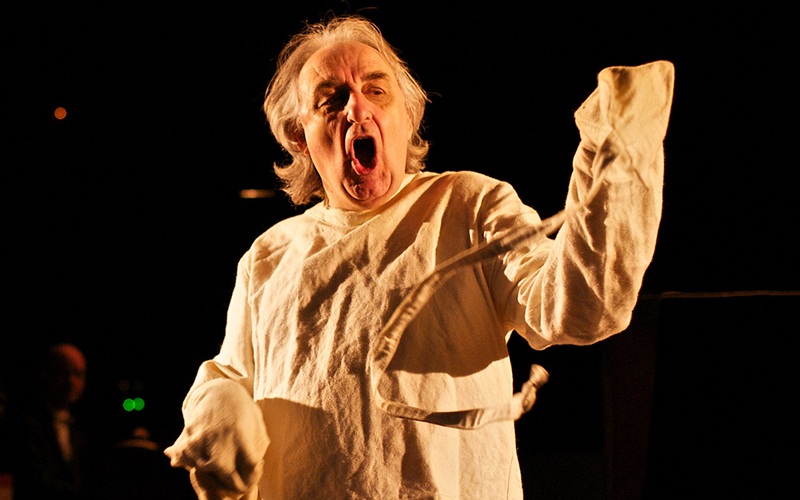 Kelvin Thomas, courtesy of Psappha
At the center of this work is baritone Kelvin Thomas in his most famous role, who The Guardian calls the work's "veteran protagonist" and who composer Davies chose to record the work before his own death.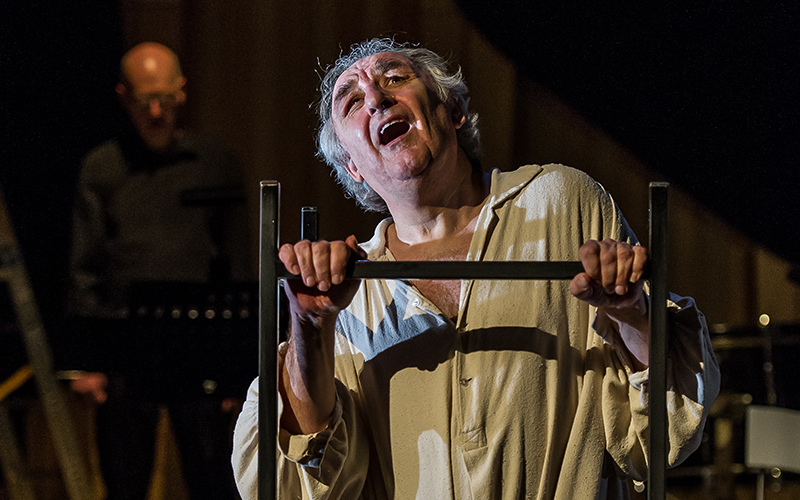 Kelvin Thomas, photo by Clive Barda courtesy of Music Theatre Wales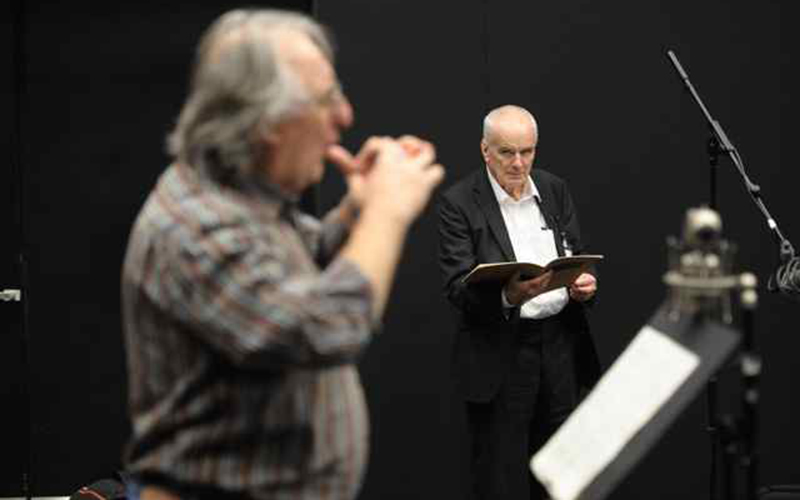 Recording session with Kelvin Thomas and Peter Maxwell Davies, courtesy of Psappha
"Kelvin Thomas' performance is one of the most compelling I've seen. A lumbering, shambling mountain of a king,. . . [his] portrayal of the deranged George III moves from horror to pity with a hundred nuances of human affliction in between. And his vocal virtuosity is so closely integrated with the voices of the instrumental ensemble that they seem a single nerve system — sentient, shattered, always in shock." – The Times

50TH ANNIVERSARY OF WORK
This year marks the 50th anniversary of Eight Songs for a Mad King. South African actor Roy Hart gave its world premiere in 1969, which The Guardian hailed it as "one of the major events of the year."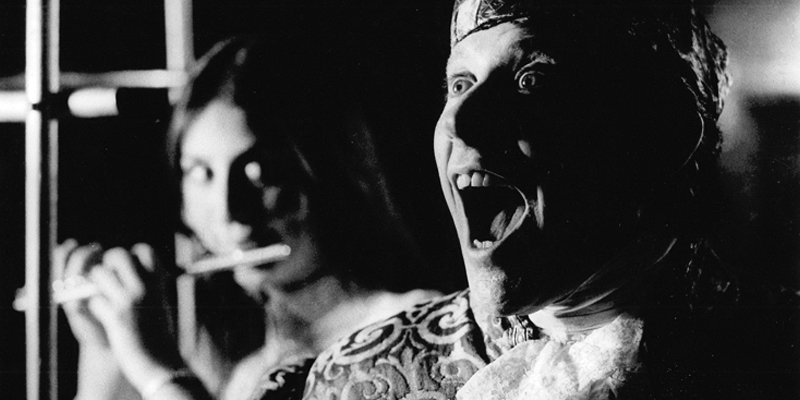 Roy Hart in 1969 production © Anthony Crickmay / Boosey & Hawkes
"There are so many levels of imagination at work in this piece it is hard to define them." – The Guardian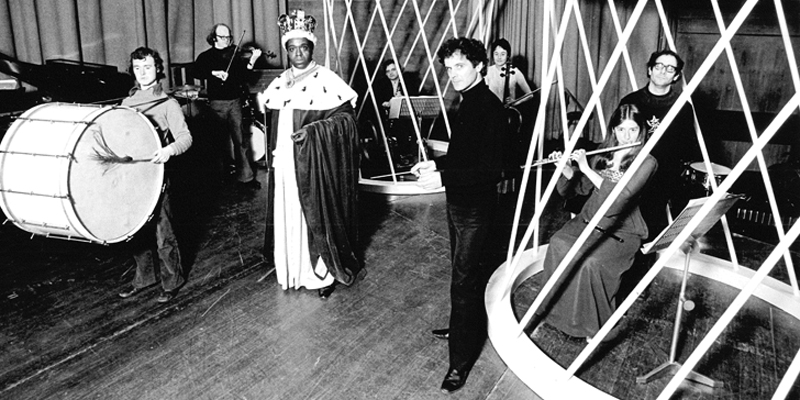 William Pearson with The Fires of London and Peter Maxwell Davies © Keith McMillan / Boosey & Hawkes
The work was later famously performed and recorded by composer, musician and vocalist Julius Eastman.
Each production of this work is different with sections oscillating between humor and heartbreak. To Kelvin, "it's about finding within the emotional response to the text and what the composer has written, and finding a way of expressing that."
NWS'S PRODUCTION
This will be the first time Eight Songs for a Mad King has been performed at NWS. Kelvin Thomas and NWS's Dean of Chamber Music and Fellow Development Michael Linville have shared the staging and musical direction for Sunday's performance, that will have Fellows in costume and performing in bird cages designed and built by NWS's Production Technician Jason Miller.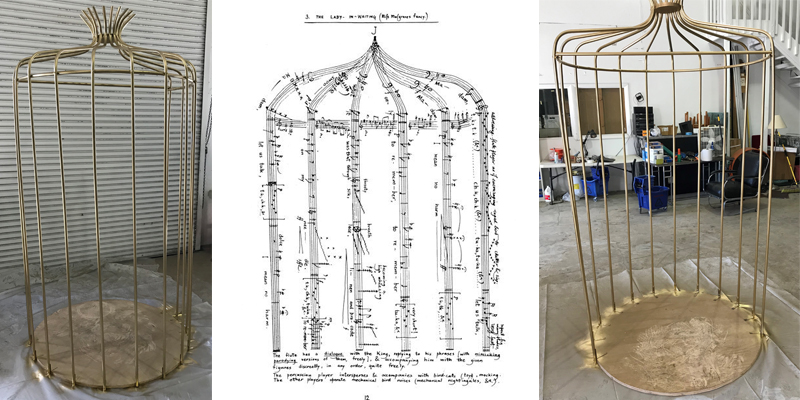 The production of NWS's bird cages alongside image from musical score
Why bird cages? The musicians, at times, represent pet birds that the King was teaching to sing using a mechanical organ. 
Costumer Victoria Olson, whose credits include the recent tour of Hamilton and Saturday Night Live, collaborated with Michael Linville to mesh the work's historical setting with the modern day.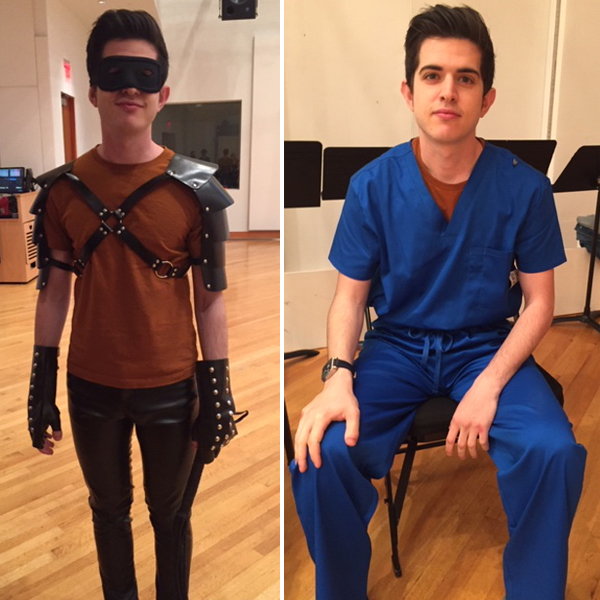 Percussion Fellow Charlie Rosmarin trying on his costumes for the performance.
Visually, the work will be a feast fit for a king with dynamic lighting and video projections using hand-drawn illustrations by Miami artist and illustrator Kristina Rodriguez.
"The performers will be flanked on three sides with set pieces designed by Luke Kritzeck, NWS's Director of Lighting/Resident Lighting Designer suggesting windows which are also rear-projection screens," said Clyde Scott, NWS's Director of Video Productions and Resident Projection Designer. "We decided early on that we wanted the projections to somehow mirror the fractured landscape of the King's mind, and so chose to focus on a visual palette of collage and manic, scribbled illustrations. Kristina created a series of paintings and drawings using acrylic, ink and pencil which will be layered into the final projection designs. The resulting imagery will create a strange, haunting shell for the musicians and vocalist to perform inside."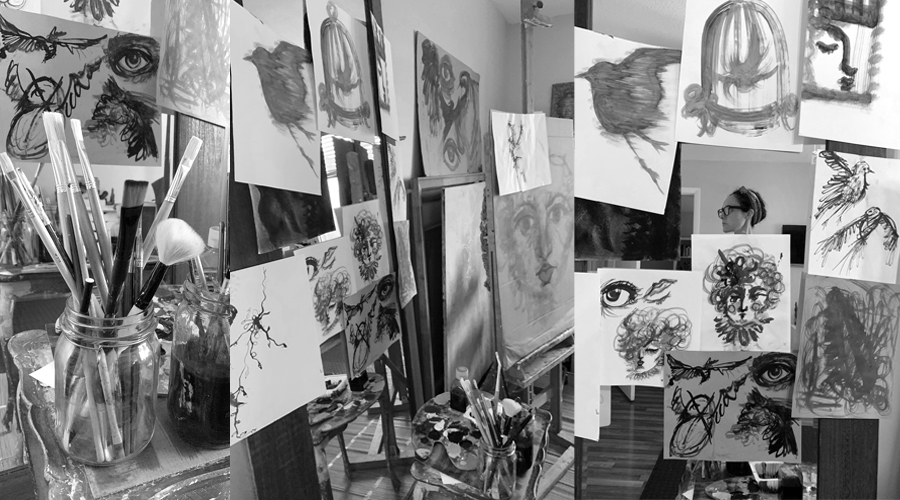 Hand-drawn illustrations by Kristina Rodriguez
TICKETS AND MORE INFORMATION:
ROYAL PORTRAITS
Sunday, February 10 at 2:00 PM
New World Center
---