News
November 12, 2015
Making connections through classical music in South Florida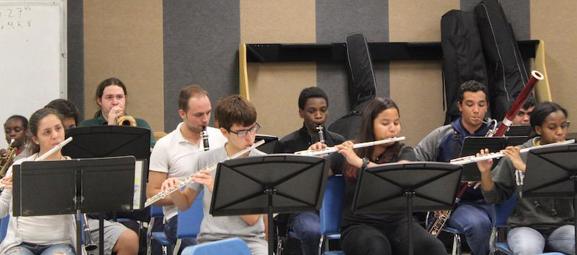 New World Symphony Fellows play alongside Miami Music Project students.

On Tuesday, Oct. 27, three New World Symphony Fellows visited the Miami Music Project at their Little Havana site for the first MusicLab visit of the 2015-16 season.

New World Symphony Fellows Miles Jaques (clarinet), Kristin Baird (violin), and Hye Jin Koh (violin) worked with students of the Miami Music Project's Leaders Orchestra in sectionals, where they worked on repertoire including Mozart's Marriage of Figaro Overture and Wagner's Der Meistersinger Overture -- challenging music even for professional orchestras.

During MusicLab sessions, Fellows work with South Florida students on technique, musicality and intonation. They also play along with the students to demonstrate how the music and the students' instruments should sound. By working with individual instrument groups, the Fellows are helping to better improve the ensemble as a whole, while also advancing each individual student's musical ability.


The MusicLab program currently serves students of four public schools and programs in the Miami-Dade area. 
Ruth K. Broad K-8 Center
Miami Music Project
Miami Beach Senior High School
Miami Northwestern Senior High School 
Students of all participating schools will perform and share the stage at the New World Center on Friday, May 13, 2016 during our MusicLab Finale Concert.  

MusicLab is just one of the free NWS Community programs you can support with your gift on #GiveMiamiDay, Nov. 19. For more information on the New World Symphony MusicLab program, click here.


---