News
December 11, 2019
Meet Chad: NWS's newest Conducting Fellow
In his fellowship's first four months, conductor Chad Goodman has already made an incredible impact with NWS musicians and audiences. From sharing the podium with MTT  and interviewing guest conductors live online, to designing Concerts for Kids and NWS's Education Concerts for thousands of students, he is inspiring and connecting with audiences of all ages – and no one can get enough!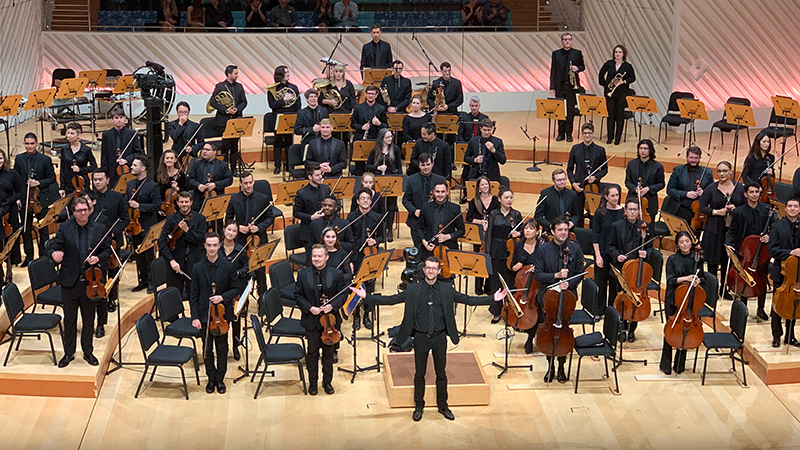 Tell us about your first time on the NWS podium.
My first time taking the podium at NWS could not have been more exciting, because it happened very unexpectedly! On a few days' notice, I was asked to step in and lead the orchestra in the first set of pre-season rehearsals. The program was a conductor's dream: Wagner's Overture to Rienzi, Richard Strauss' Don Juan and Rachmaninoff's Symphonic Dances.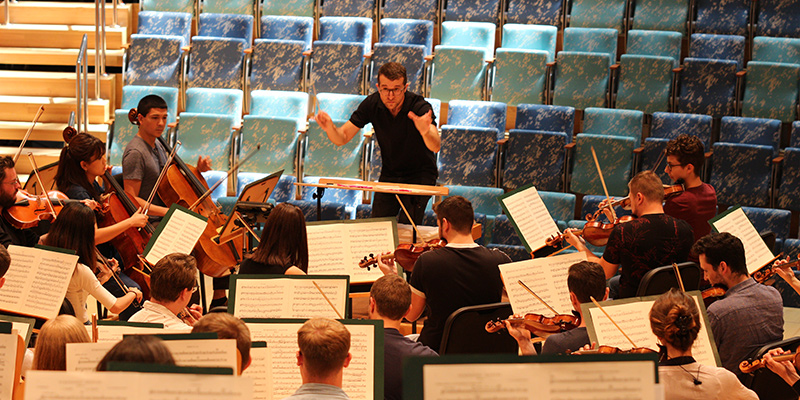 The connection I felt with the orchestra was extraordinarily strong from the first downbeat. There was a natural rhythm and flow to the rehearsals. It felt as if we had been making music together for years! I knew from those first minutes on the podium that these musicians would quickly become family and that NWS would be my new home.
What is it like working with MTT?
Working with MTT has been an unbelievable privilege. He not only encourages me to connect with the music at the deepest possible level, but to explore how it connects with the art, philosophies and historical events taking place when it was composed. This exploration of context adds new dimensions to the emotions found in the music we are performing.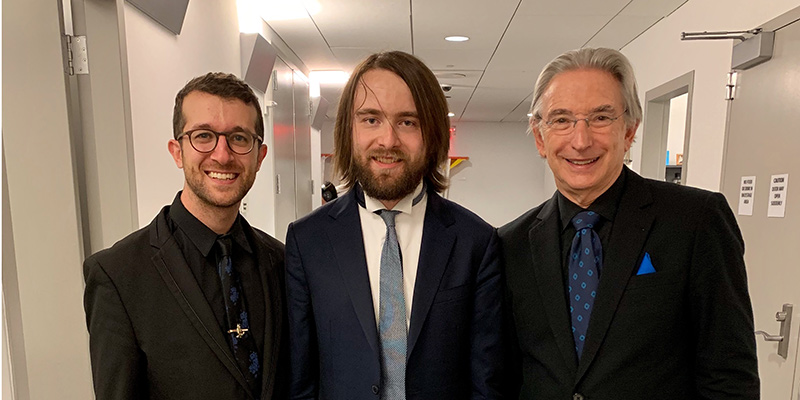 Chad with MTT and pianist Daniil Trifonov after Season Opener concert, October 2019
During nearly a dozen of my rehearsals, MTT sat on stage behind the orchestra, providing incredible feedback and insight for both me and the orchestra. He holds me to the highest standards, which has dramatically elevated my music-making in a few short months. MTT teaches me that every piece of music is multifaceted, that every conductor has to make a thousand decisions about how to present a piece and which moments to emphasize.
What is one of the highlights so far from your first season with NWS?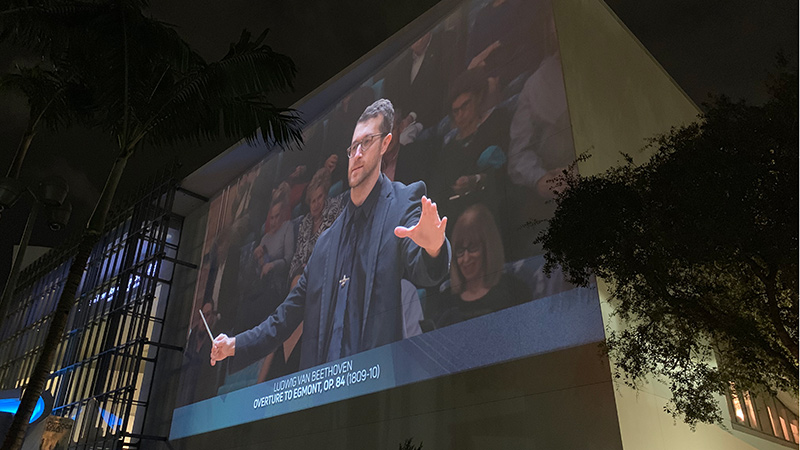 One of my most memorable experiences was sharing the podium with MTT on the New World Symphony's 2019-20 Season Opener Concert. Getting to perform on the same program as MTT, an artist I have looked up to since I first fell in love with classical music, was a surreal experience. What made this even more memorable was the fact that it was part of NWS's WALLCAST® concert series. Having a packed crowd in SoundScape Park was a reminder that the community feels such a strong connection to the art and music we are performing here.
Chad's Upcoming NWS Appearances
Sounds of the Season: NWS's Annual Holiday Concert
Saturday, December 21 at 7:30 PM
New World Center / SoundScape Park
Thibaudet and Pictures at an Exhibition
Saturday, January 11 at 8:00 PM
Adrienne Arsht Center
Connect with Chad
Visit his personal website at https://www.chadgoodmanmusic.com/
Follow him on Facebook and Instagram for a behind-the-scenes look at his time with NWS.
Posted in: Community Engagement, Concerts, Events, Fellows, MTT, Wallcast Concerts
---