News
September 8, 2022
Meet the 2022-23 new Fellows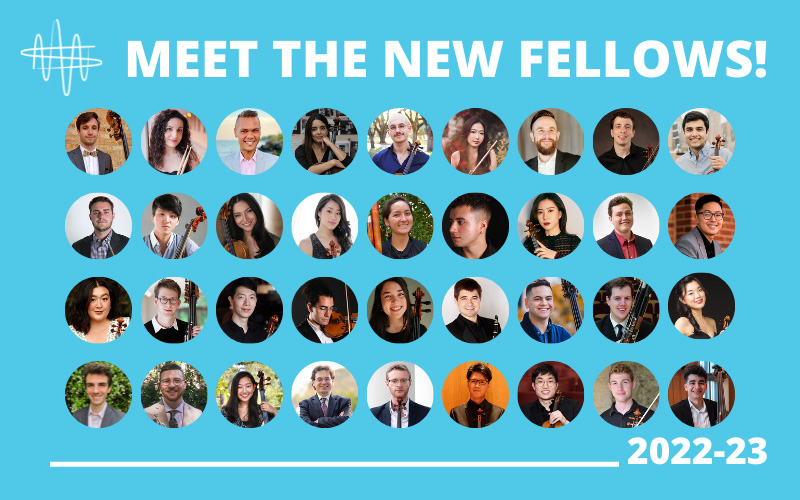 Jakob Gerritsen ● Jennifer Marasti ● Benjamin Cruz ● Kamila Dotta ● Nicholas Pelletier ● Minha Kim
David Olson ● Nash Ryder ● Shomya Mitra ● Henry Bond ● Justin Park ● Allison Taylor ● Beatrice Hsieh 
Maggie O'Leary ● Ben Cornavaca ● Jingyi Rebecca Hou ● Caleb Breidenbaugh ● Toby Winarto
Sabrina Parry ● Bryan Bailey ● Hyunjae Bae ● Ayrton Pisco ● Hana Cohon ● Jakob Lenhardt ● Logan May 
Brandon Sill ● Ye Jin Min ● David Alexander ● Alan Tolbert ● Jessica Hong ● Noah Sonderling
 Jacob Buhler ● Yu-Chia Hsu ● Jaewon Seo ● Seth Van Embden ● Matthew Peralta

This season NWS welcomes 36 first-year Fellows to its ranks! Get to know these new faces to the NWS Family before seeing them on stage.
A few stats on our incoming class:
They come to NWS from the U.S., Brazil, Canada, China, South Korea, Taiwan and Venezuela.


The Fellow closest to home is Violin Fellow Allison Taylor, who is a native of West Palm Beach, Florida, a mere 73 miles from the New World Center.


The Fellow farthest from home is Violin Fellow Yu-Chia Hsu from Taipei City, Taiwan, a whopping 8,662 miles from the New World Center.


In addition to the 36 new Fellows, six joined in early 2022: Minglun Liu, violin; Emily Bieker, flute; Tanavi Prabhu, oboe; Julianna Darby, clarinet; Kyle Thompson, horn; and India Hooi, audio/video


They've studied all over the world, but the most-attended program is The Juilliard School in New York City.
While many Fellows are settling into Miami Beach, others are starting new adventures. Several recent Fellows have won positions. We congratulate the newest members of the NWS alumni family: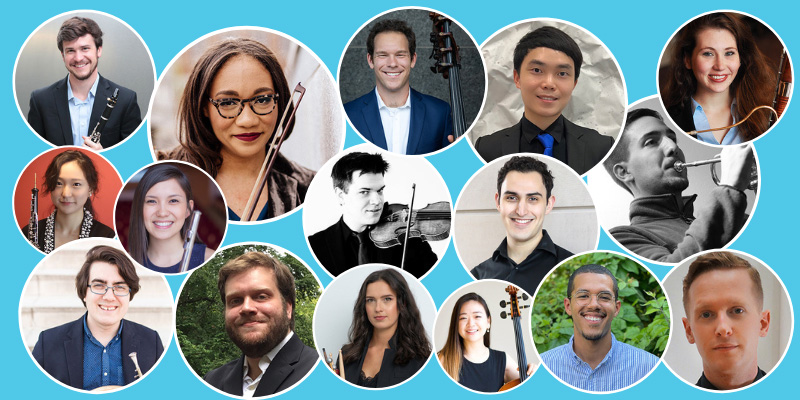 Daniel Carson, Bass, Chicago Symphony,
Amelia del Caño, Second Bassoon, Louisiana Philharmonic (one-year)
Emilio Carlo, Viola, Cincinnati Symphony (one-year)
Victoria Chung, Adjunct Faculty (oboe), University of Richmond
Gianluca Farina, Principal Trumpet, Sarasota Orchestra
Ben Fryxell, Associate Principal Cello, Jacksonville Symphony
Alexandria Hoffman, Associate Principal Flute, Auckland Philharmonia Orchestra (six-month)
Isabel Kwon, Cello, Cincinnati Symphony (one-year)
Scott Leger, Assistant Principal/Third Horn, Louisville Orchestra
Zhengdong Liang, Violin, National Arts Center Orchestra (Ontario)
Gabe Napoli, Viola, Cincinnati Symphony
Angelo Quail, Clarinet, U.S. Marine Band
Michael Rau, Violin, Baltimore Symphony
Kevin Ritenauer, Associate Principal Timpani/Section Percussion, St. Louis Symphony
Marlea Simpson, Viola, Minnesota Orchestra
Marcelina Suchocka, Principal Percussion, Sarasota Orchestra
Click here to get to know all the new and returning Fellows!
Reunited at the New World Center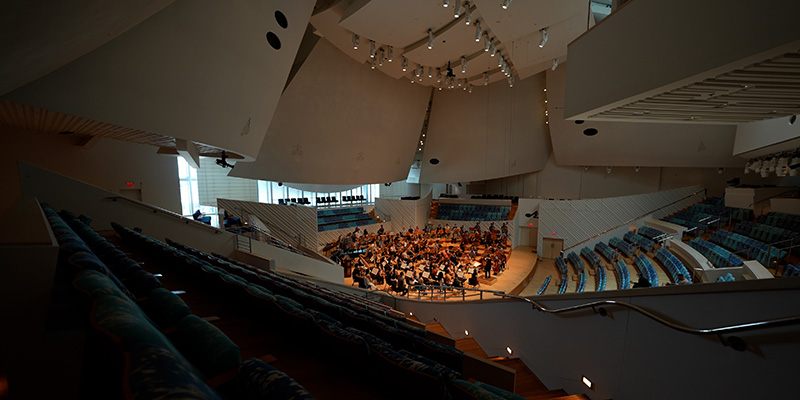 This week, new and returning Fellows gathered at the New World Center's Michael Tilson Thomas Performance Hall for their first rehearsal. At the helm was Valentina Peleggi—Music Director of the Richmond Symphony, who led the full ensemble through readings of Carlos Simon's The Block, Antonín Dvořák's Carnival Overture, Wolfgang Amadeus Mozart's Symphony No. 36 and Sergei Prokofiev's Suite No. 2 from Romeo and Juliet.   
Fellows met with NWS leadership, including Artistic Director Laureate Michael Tilson Thomas and NWS President and CEO Howard Herring, and Musician Advancement staff to kick off the new season.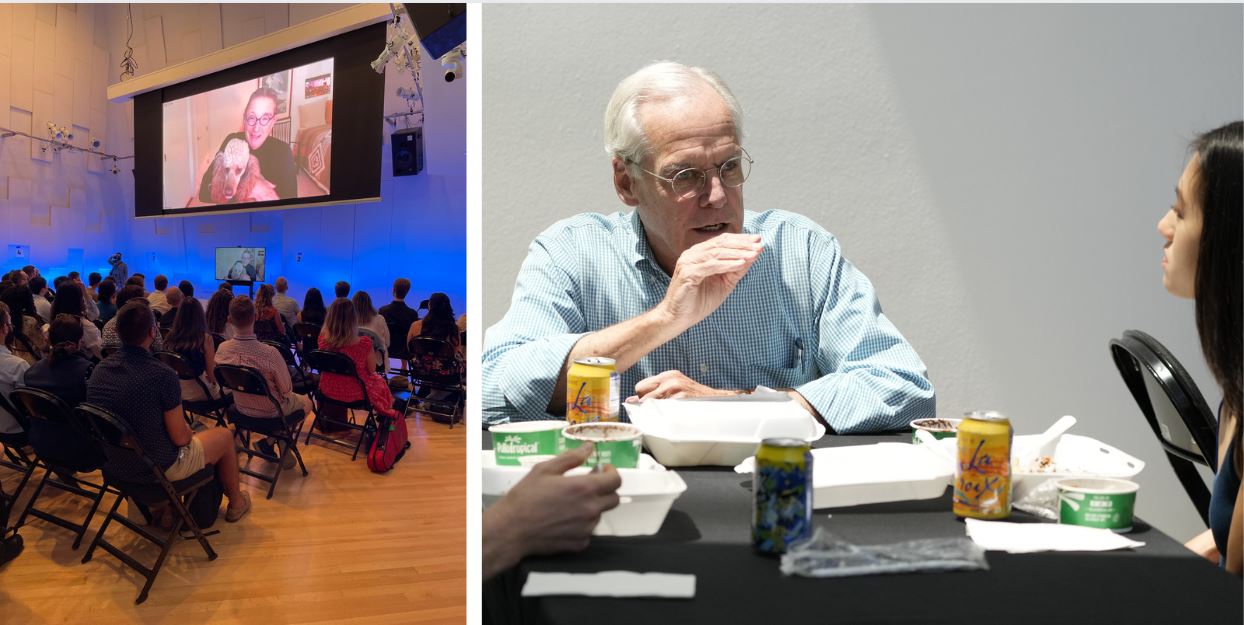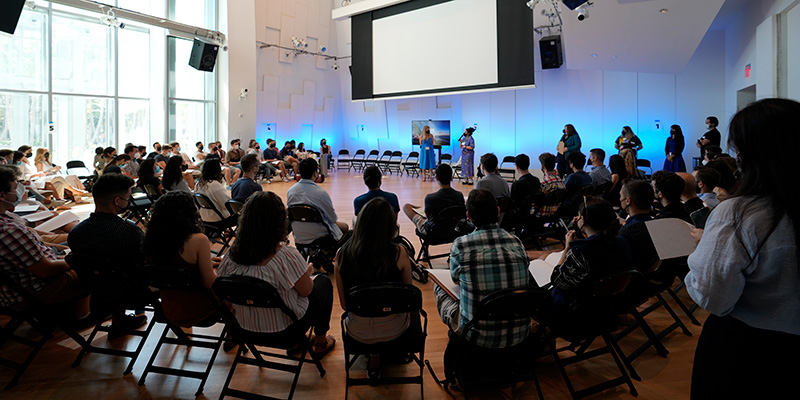 Twelve other NWS alumni also returned as visiting faculty for a Coaching Residency, providing an intense schedule of individual lessons, section classes and joining rehearsals. They mentor Fellows on creating a cohesive sound, ensemble playing, leadership and orchestra etiquette.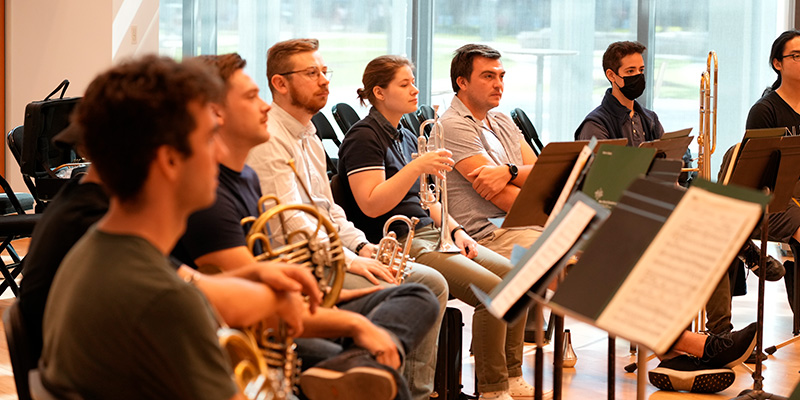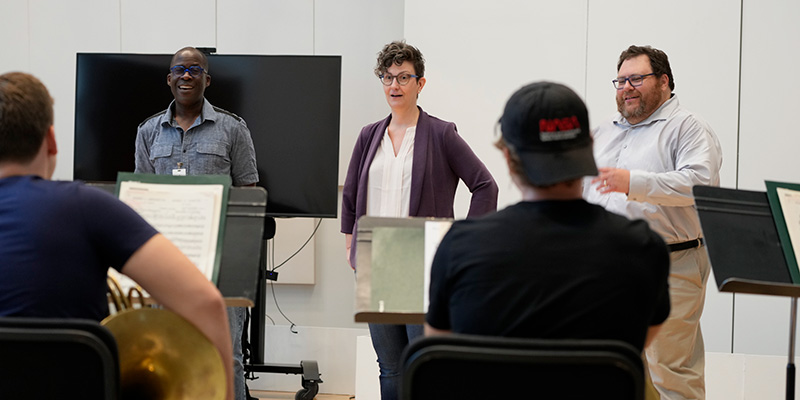 Left to right: Kenneth Thompkins, Denise Tryon and Justin Bartels
The full roster of returning alumni includes Sunho Kim (violin), Kansas City Symphony; Kathryn Sievers (viola), Boston Symphony; Susie Yang (cello), Kansas City Symphony; Jeremy Kurtz-Harris (bass), San Diego Symphony; Kelly Zimba Lukić (flute), Toronto Symphony; Cally Banham, (oboe), St. Louis Symphony; Miles Jaques (clarinet), Toronto Symphony; Jenni Groyon (bassoon), Naples Philharmonic; Denise Tryon (horn), University of Cincinnati College-Conservatory of Music; Justin Bartels (trumpet), Colorado Symphony; Kenneth Thompkins (trombone), Detroit Symphony; and Jeremy Branson (percussion), Pittsburgh Symphony.
Click here to plan your next visit to see the NWS Fellows. 
Photos by Siggi Bachmann, Rafael Baldwin, Cassidy Fitzpatrick Carlson and Mariah Forde
Posted in: Alumni, Fellows, MTT
---