News
May 25, 2022
MTT Celebration marks historic NWS moment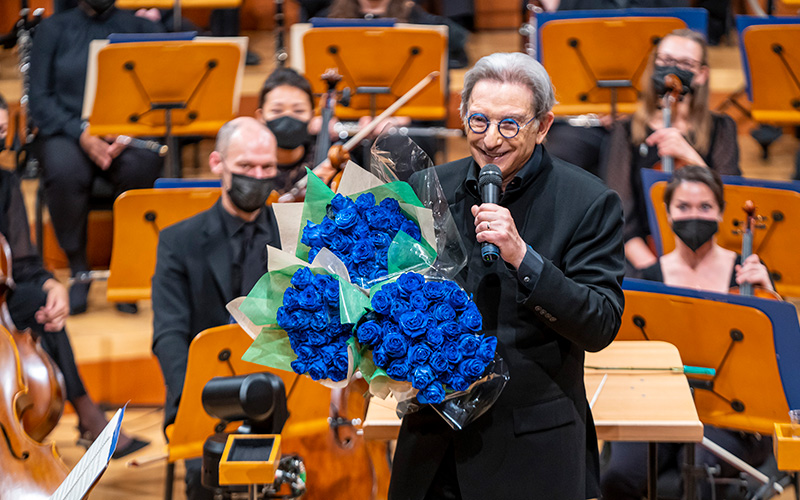 Michael Tilson Thomas at An MTT Celebration, photo by Alex Markow
A historic moment took place on May 6 and 7, 2022 at the New World Center as the New World Symphony celebrated its Co-Founder Michael Tilson Thomas (MTT) in his final performances as Artistic Director. To mark the occasion and celebrate MTT's legacy, fellow NWS Co-Founder Lin Arison announced a $30 million endowment gift that names the New World Center's concert space the Michael Tilson Thomas Performance Hall. In the newly named space, surrounded by Fellows, alumni, patrons and staff, MTT took the podium to lead a rousing performance of Gustav Mahler's Fifth Symphony in his last NWS appearance before assuming the new role of Artistic Director Laureate on June 1, 2022.
The concerts, which also featured MTT's longtime friend and collaborator violinist Gil Shaham, honored MTT's vision for and leadership of the New World Symphony over the last 35 years. It also celebrated MTT's monumental legacy in shaping the future of music through shepherding nearly 1,200 NWS Fellows to careers around the globe. Marking the occasion were audiences in the New World Center, in SoundScape Park through a WALLCAST® concert and online around the world through a live webcast.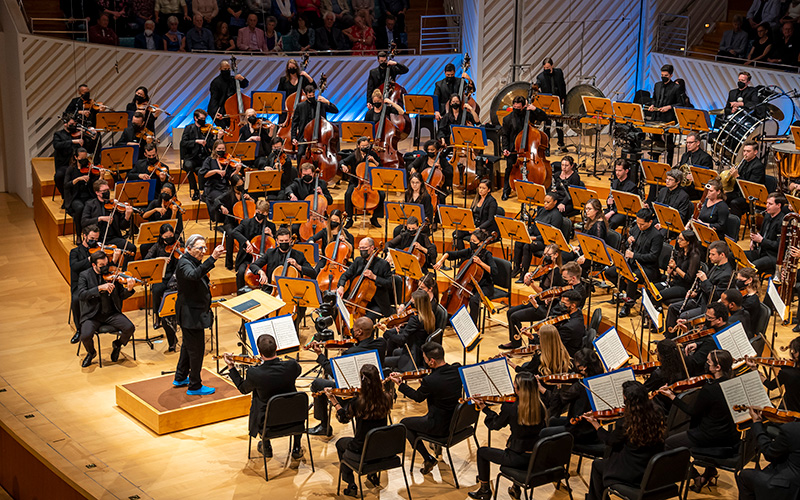 Michael Tilson Thomas conducts New World Symphony Fellows and alumni, photo by Alex Markow
Before MTT came on stage, a photo slideshow depicting "The MTT Years" featured over three decades of artistic and educational highlights, including many of the guest artists he brought to Miami Beach. Following the final celebratory notes of Mahler's Fifth Symphony, each evening's audience erupted into an extended ovation where MTT was presented with roses in his signature blue color.
Since the concerts, there has been an outpouring of support congratulating and thanking MTT. NWS invites you to share your favorite MTT memories or well wishes by using the hashtag #ThankYouMTT or emailing pr@nws.edu.
Alumni Return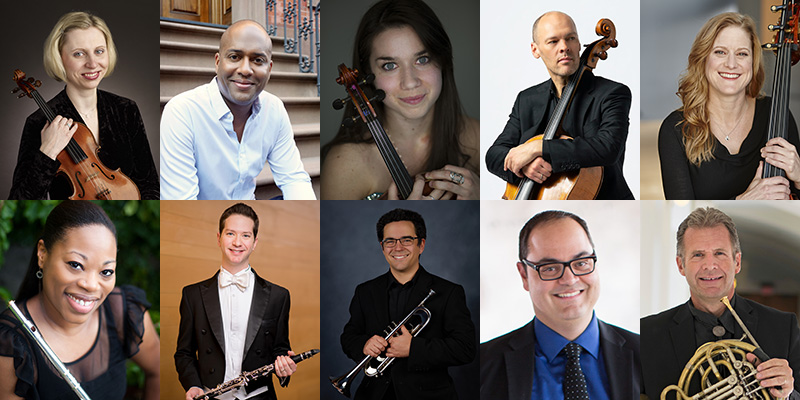 Joining MTT and the Fellows for these memorable performances were 10 NWS alumni who perform and teach across North America. The returning alumni represent nearly all 35 years of NWS's fellowship program.
                Katherine Bormann, First Violin, The Cleveland Orchestra; NWS Fellow 2006-10
                Philip Payton, Violin, New York City Freelance Artist; NWS Fellow 1998-2002
                Caroline Gilbert, Principal Viola, Buffalo Philharmonic; NWS Fellow 2014-17
                Brant Taylor, Cello, Chicago Symphony; NWS Fellow 1997
                Kristen Bruya, Principal Bass, Minnesota Orchestra; NWS Fellow 2000-04
                Ebonee Thomas, Assistant Professor of Flute, University of Missouri—Kansas City Conservatory;
                NWS Fellow 2004-08 
                Todd Cope, Principal Clarinet, Montreal Symphony; NWS Fellow 2007-10
                Mark Grisez, Principal Trumpet, Columbus Symphony; NWS Fellow 2016-19
                Alberto Suarez, Principal Horn, Kansas City Symphony; NWS Fellow 2002-06
                Gregory Miller, Director of the School of Music and Professor of Horn, University of Maryland;
                NWS Fellow 1991-94 
"It had been 12 years since I left the New World Symphony before returning to Miami Beach for MTT's last concerts as Artistic Director," said alumnus Todd Cope. "The week was one of the most heartwarming and musically moving experiences I have ever had. I was flooded with memories of all the special times I spent with my colleagues and friends from my three-year fellowship. So much has changed in the last decade, yet the spirit of NWS remains the same. I feel incredibly fortunate and have a great deal of gratitude to be part of the NWS family. Thank you, MTT."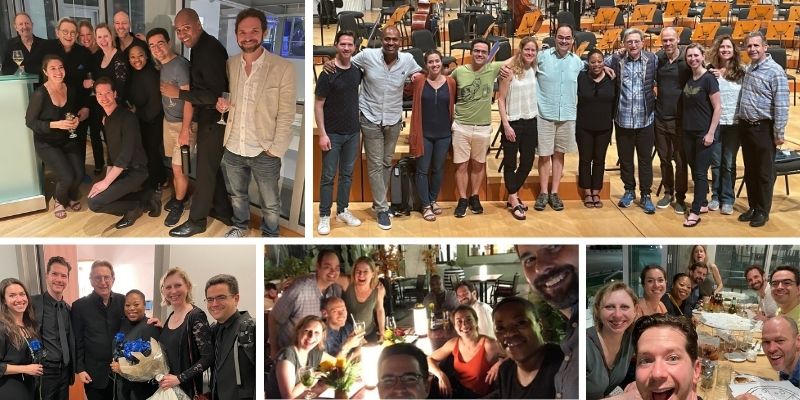 Performance alumni and MTT with additional alumni Michael Linville, Micah Hays, Gabriel Beavers and Laura Hilgeman Miller. Photos courtesy of Ana Maria Estévez, Kathleen Drohan and alumni.
Endowment Gift
Before the Saturday, May 7 concert, NWS Co-Founder Lin Arison and her granddaughter Sarah (NWS Trustee and President of the Arison Arts Foundation) appeared via video to congratulate MTT and announce a $30 million endowment gift that names the New World Center concert space the Michael Tilson Thomas Performance Hall. "I am deeply touched by this extraordinary gift from Lin and her family," shared Michael Tilson Thomas. "Our collaboration has allowed young musicians to find their paths and has allowed my artistic life to grow and to flourish. I am so grateful that Lin and the Arison family have been my friends and partners for over 35 years."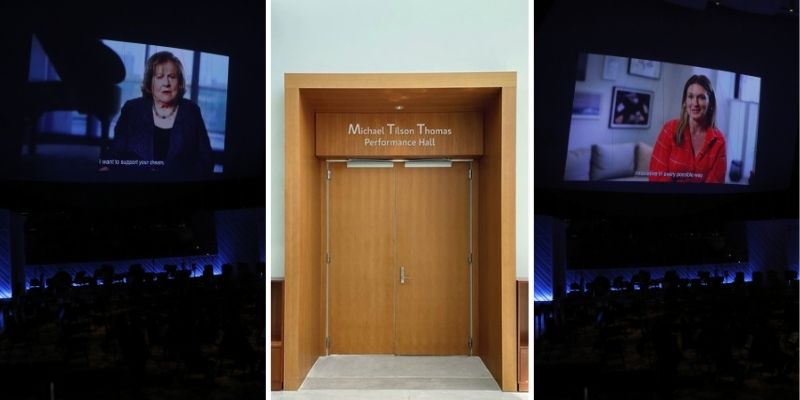 Lin and Sarah Arison speak at NWS's MTT Celebration on May 7, photos by Rui Dias-Aidos, REDAV, Inc.
Praise for MTT
"Indisputably, Tilson Thomas is a remarkable conductor, a brilliant scholar, a charismatic personality and more. He co-founded and for 35 years was artistic director of an orchestra of the most promising young musicians imaginable...To me, his greatest legacy will always be this building, a philosophic and architectural triumph. It marks a major moment in the democratization of the arts…The New World Center changed the trajectory of classical music in Miami, and let's hope, much of the world." – Miami Herald
"In nearly three-and-a half decades at the helm of the New World Symphony, Tilson Thomas has given audiences many nights of great music-making while training several generations of orchestral players. His legacy is monumental and will continue to energize and advance the performing arts both locally and globally for years to come." – South Florida Classical Review
"While he has given many outstanding performances of a wide and diverse repertoire in Miami, Tilson Thomas' readings of the Mahler symphonies have always been special. Like his mentor Leonard Bernstein, he seems to feel this composer's music very deeply. While less interpretively idiosyncratic than Bernstein, his performances are more than a mere musical event. They are an experience that encompass Mahler's world in all of its emotional chaos and complexity." – South Florida Classical Review
"The end of the season exceeded the expectations of the announced 'Grand Finale'. How could it be otherwise, the last concert of 2021-2022 and formal farewell to Michael Tilson Thomas, creator and director of the New World Symphony, the American orchestral academy based in Miami Beach since 1987, had high-voltage connotations artistic and emotional. …The best concert of the season also marked the end of an era." – Sebastian Spreng
Posted in: Alumni, Concerts, Events, Fellows, MTT, Patrons
---