News
October 18, 2018
MTT hosts national Flute Forum on Oct. 23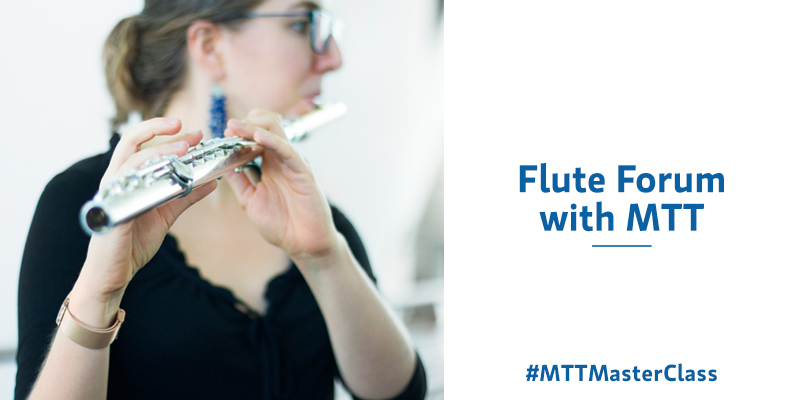 On Tuesday, October 23, from 7:30 - 9:00 PM (Eastern) / 6:30 – 8:00 PM (Central), Michael Tilson Thomas (MTT) and the New World Symphony (NWS) will convene an online Flute Forum, a gathering of flutists from around the country, with the opportunity to connect and explore topics related to the flute.
In the first hour, MTT will teach a flute master class with three performers in different locations – one each at the New World Center in Miami, Northwestern University's Bienen School of Music in Chicago and Berklee College of Music in Boston – followed by a half hour or so of discussion. He will be assisted by three NWS alumni emcees, one in each location: Ebonee Thomas in Miami; John Thorne, Associate Professor of Flute at Northwestern University, in Chicago; and Marisela Sager, formerly of the Cleveland Orchestra, in Boston.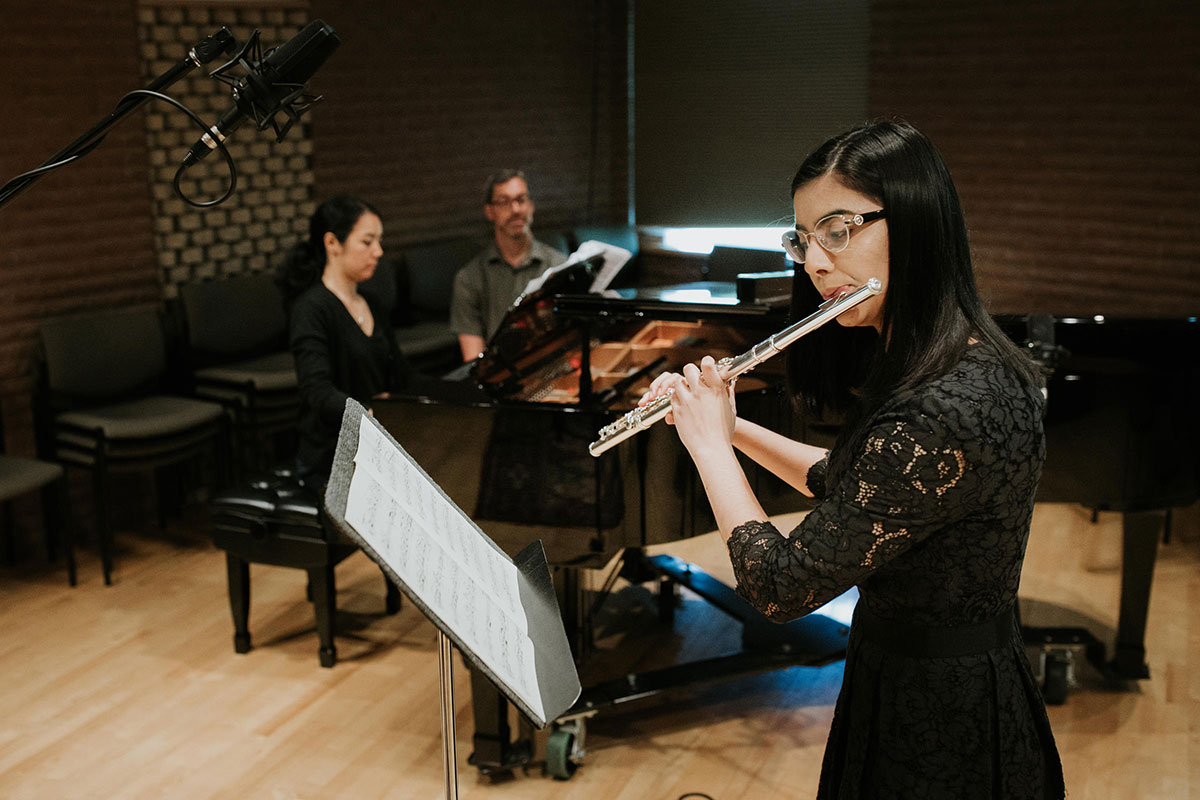 Aalia Hanif performing on Live in Studio C  (Photo by Kara McLeland / Nashville Public Radio)
The live master class participants include:
Chicago: Ann Green performing Reinecke's Flute Sonata
Ann Green is currently pursuing her master's of music degree at Northwestern University under the direction of John Thorne. In May 2017 Ann earned a bachelor's degree from The Ohio State University, studying with Katherine Borst Jones. She has enjoyed performing with Westerville Symphony, Opera Project Columbus and the American Wind Symphony.
Boston: Jisun Oh performing Mozart's Flute Concerto in G major
Jisun Oh received her bachelor's and master's of music degrees with honors at the New England Conservatory. She has studied with Elizabeth Rowe, Cynthia Meyers, Renée Krimsier and Julie Ranti. Jisun is currently pursuing a doctoral of musical arts degree at Boston University under the tutelage of Linda Toote.
Miami: Aalia Hanif performing Debussy's Syrinx
Aalia Hanif, a senior at Central Magnet High School in Murfreesboro, Tennessee, is in the Nashville Symphony's Accelerando program and performs in the Nashville Youth Orchestra Program. She studies privately with Leslie Fagan. She performed in the New World Symphony's Side-by-Side Concert and attended Boston University Tanglewood Institute in 2018.
How to Watch
This event will be streamed on Facebook Live, to encourage participation from many people in different locations, and to invite others to watch. The Facebook event will allow you to confirm your participation, and easily share the event with others. If you don't use Facebook, you can also join the event on MUSAIC, the New World Symphony's online resource for practicing classical musicians.
How to Participate
Use the hashtag #MTTMasterclass on Twitter to submit questions for the discussion in advance or post them in the discussion for this event on Facebook to have them answered during the broadcast!
FLUTE FORUM WITH MTT
Tuesday, October 23 at 7:30 PM Eastern
#MTTMasterclass
The Flute Forum with MTT is supported in part by New World Symphony's Fund for New Ventures.
Posted in: Alumni, MTT, Technology
---