News
November 11, 2016
Musicians' Forum Monday: Mozart & A Modern Tuba Concerto
When the Musicians' Forum concerts were initiated by NWS in 1990, they were described as: "A series of free recitals organized and performed by members of the New World Symphony. The Musicians' Forum provides our orchestra members with opportunities to hone their solo and small-ensemble skills… while concert-goers get an inside look at the unique blend of talent and dedication these musicians bring to the challenge of developing into the professionals of tomorrow."

This Monday, November 14, 2016, at 7:00 PM in the Performance Hall, the first Musicians' Forum of the season will present three works not previously performed by NWS. Wolfgang Amadeus Mozart bookends the concert. First up is his Divertimento in D major, which was composed when Mozart was 16 years old, and last is the String Quartet No. 21 in D major, composed when he was 33.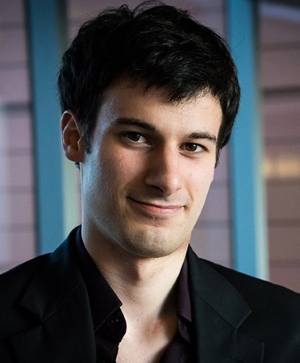 The Divertimento will be played by a 15-member string ensemble consisting of mostly first-year Fellows, and even including Conducting Fellow Dean Whiteside on the viola. But it is first-year Violin Fellow Greg Cardi who will be conducting the small chamber orchestra. We asked him to share his thoughts on leading a performance instead of playing in it. 
---
Since I was a little kid it was always my dream to conduct. I remember sitting in the car waving my hands around to classical music on the radio, having the time of my life. This will be my first time conducting in public, and it is sure to be a challenge! Regardless, I have had a wonderful time working with the Fellows who have generously dedicated their time to help with this project. They, along with Michael Linville and Dean Whiteside, have helped me considerably and I can't thank them enough.

There is something about the physical motion of conducting that fascinates me. In comparison to violin, I feel as if holding an instrument and focusing on numerous technical aspects distract me from giving a truly great performance. Conducting is different. It is extremely liberating to feel the music without my instrument and to experience music as someone who is simultaneously an "insider" and an "outsider."

The New World Symphony provides extraordinary and rare opportunities, and I could not be more grateful that they are giving me the chance to turn a childhood dream into reality.
---
The exciting middle piece on the program is the NWS premiere of Arild Plau's Tuba Concerto. Second-year Tuba Fellow Jarrett McCourt is the soloist. Performing that same work, he won the top prize in the brass category of the Orchestre Symphonique de Montreal's prestigious Standard Life Competition in 2014, becoming the first tubist to do so in the competition's 75-year history. In February Jarrett will be performing the work again in his hometown, as guest soloist with the Windsor Symphony Orchestra.

We asked Jarrett to talk about the composer and the concerto.
---
Arild Plau was a Norwegian composer who studied composition and piano at the Oslo Conservatory. He was imprisoned by the Germans during World War II as hostage for his four brothers who fled to Sweden, and he wouldn't have been released until 1974 had the Germans won the war. After being released, he decided to learn the bassoon, and shortly afterwards won a position with an orchestra in Bergen. When the Norwegian Opera was founded in 1958, he got a job with that orchestra and continued to play with them until 1990, when he was 70. He passed away at 85 in 2005. 

Although most of the music he composed isn't very well known, he wrote a slew of pieces for string quartet, a brass quintet and a few pieces for solo trumpet. His Tuba Concerto, which was recorded in 2003 by Norwegian tuba soloist Øystein Baadsvik, is a highly lyrical and virtuosic work for the tuba. The middle movement ("Canzone") is an ode to Plau's wife, who died of cancer shortly before the work was composed. Because the tuba is a relatively new instrument in the orchestra (it wasn't invented until after Beethoven and Mozart had passed), there truly isn't a lot of good repertoire written for the tuba as a solo instrument. I find the Plau concerto to be a stunning piece that showcases what the tuba has to offer as a solo instrument.
---
Click here to reserve your free tickets to the concert.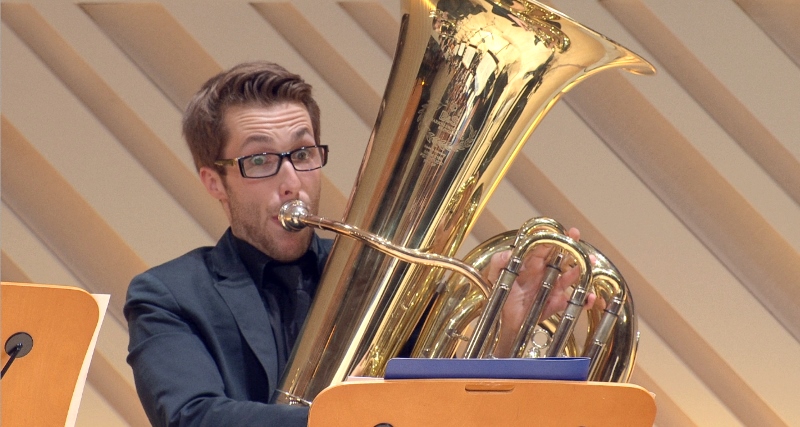 Click here to read about Jarrett McCourt's Inside the Music concert of last season
Posted in: Composers, Concerts, Fellows
---