News
May 8, 2019
MusicLab celebrates with finale concert and new partnership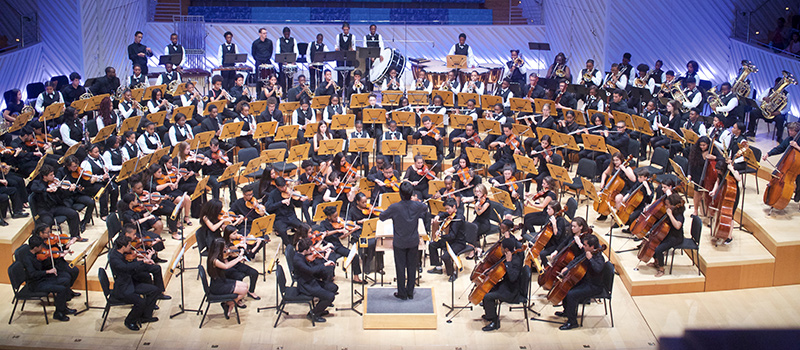 Combined MusicLab ensemble at the New World Center in 2017, photo by Gregory F. Reed
On Friday, May 10, over 170 student musicians will perform together at the New World Center as part of the Epstein Family Foundation MusicLab Finale Concert, a celebration of the year-long collaboration between the students and the 28 NWS Fellows who served as their mentors. The MusicLab participants, ranging in age from 10 to 18, are from Ruth K. Broad Bay Harbor K-8 School, Miami Beach Senior High School, Miami Northwestern Senior High School and Miami Music Project (Little Havana Chapter).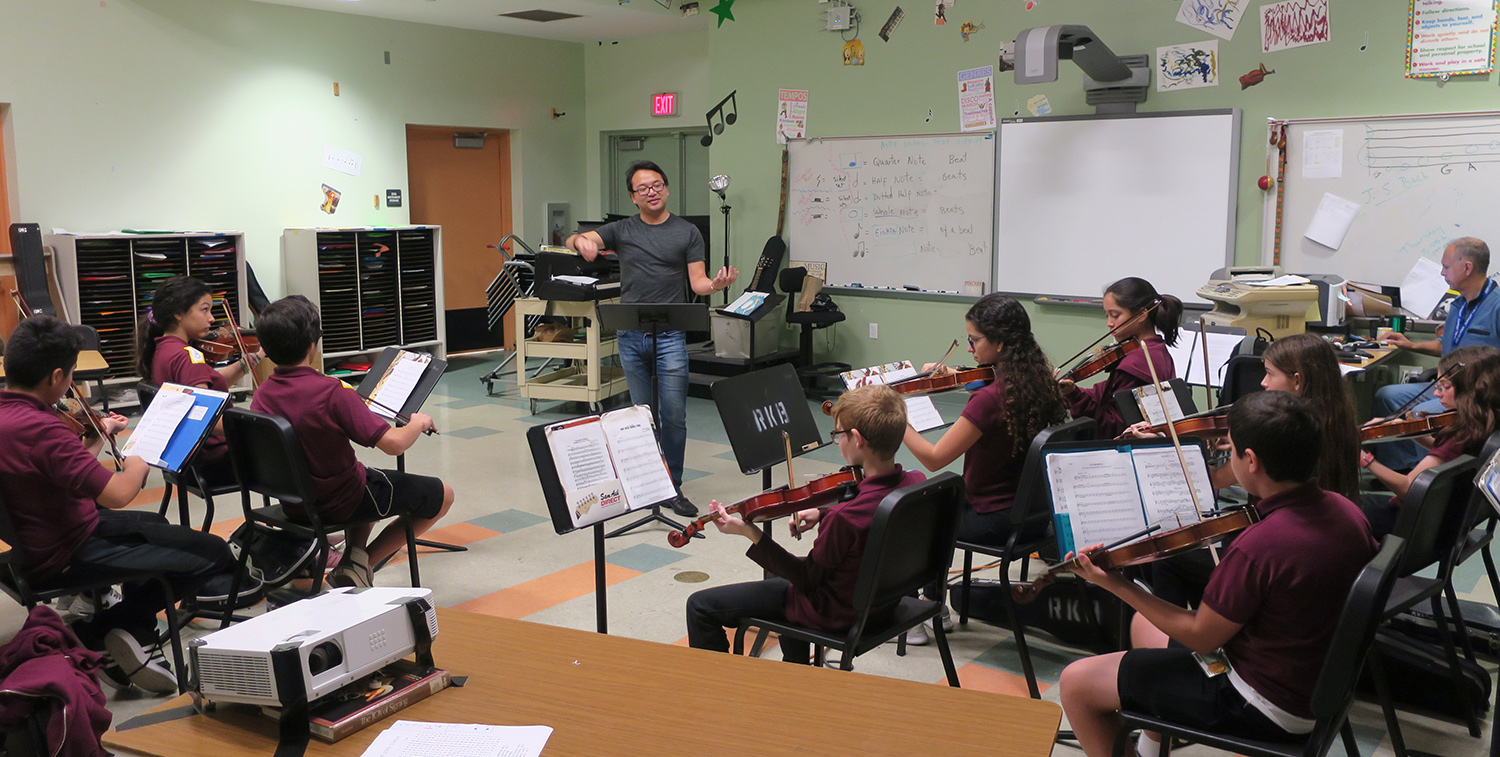 NWS Violin Fellow Kevin Chen working with students at Ruth K. Broad Bay Harbor K-8 School
Introduced during the 2009-10 season, Epstein Family Foundation MusicLab is changing the way students in Miami-Dade County experience music education. This program brings NWS Fellows into the classroom, giving students a hands-on experience in music performance, alongside a variety of supportive activities for personal enrichment. As mentors, NWS Fellows gain knowledge that will enhance their future capacity as teachers, community leaders and advocates as they go on to win jobs in orchestras and ensembles following their Fellowship. In providing this service, NWS is building a better community–one that values the benefits of arts education as part of the public-school experience.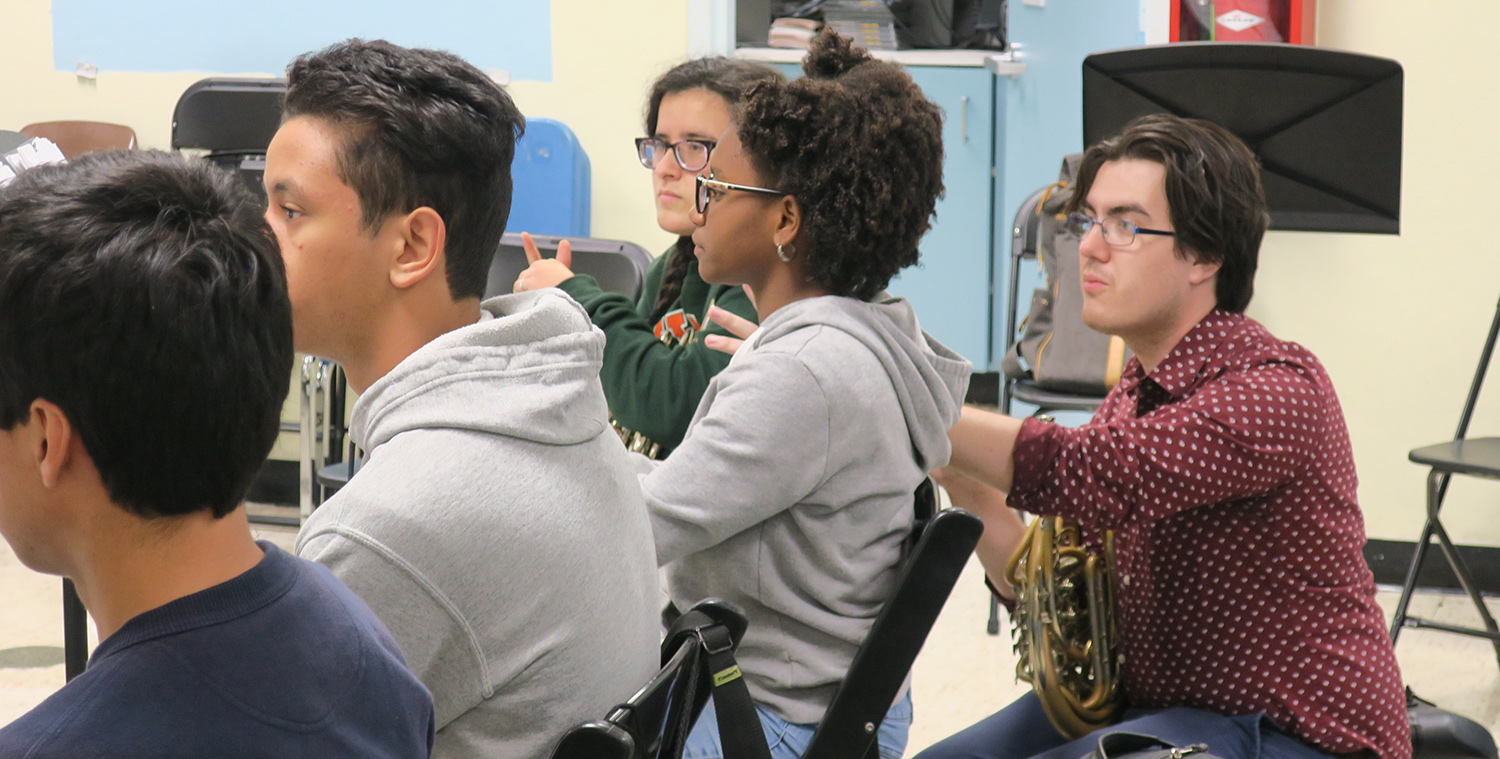 NWS Horn Fellow Scott Leger working with Miami Music Project participants
"The Epstein Family Foundation MusicLab program is one of our most important Community Engagement programs here at New World Symphony. NWS acts as a cultural convener in Miami-Dade and our Fellows are visiting these MusicLab programs adding their own expertise and knowledge of instrumental instruction to what the schools and programs are already able to provide."
                -- Cassidy Fitzpatrick, Vice President for Musician Advancement, New World Symphony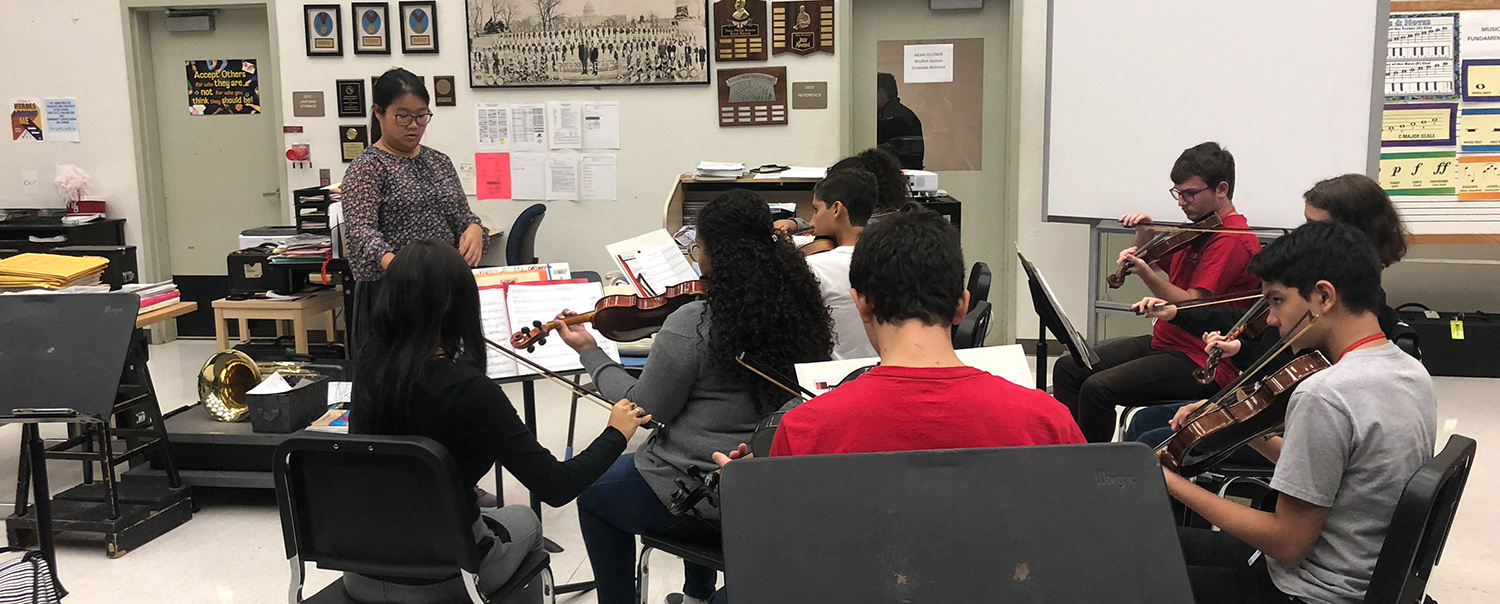 NWS Violin Fellow Yada Lee working with students at Miami Beach Senior High School
MusicLab's 2018-19 season was its first to be generously supported by the Dan J. Epstein Family Foundation, a Chicago-based organization dedicated to providing youth the opportunity to realize artistic potential through education and early intervention. 
"Our goal is to provide the opportunity for youth to discover and foster their artistic potential that would not be possible without our support," said Dan Epstein. "The MusicLab program is a perfect fit for our mission as it educates young high schoolers who now can study (and perform) with fine New World Symphony musician/mentors—education that simply wouldn't happen without MusicLab. This exposure, at an early age, can change their lives. Among these students may be the next Emanuel Ax or Anne Aniko Meyers—former Epstein scholars, whose genius blossomed with our early support. We thank the mentors for their generous work, and are very proud to partner with New World Symphony in developing this great program."
With the Epstein Family Foundation's support, NWS provided over 40 in-school visits, repaired instruments, arranged for members of the Sphinx Virtuosi—a chamber orchestra comprised of the nation's top Black and Latinx musicians—to visit two of the four schools, and provided mentor-coaching for the Fellows by Mary Javian, Chair of Career Studies at the Curtis Institute of Music.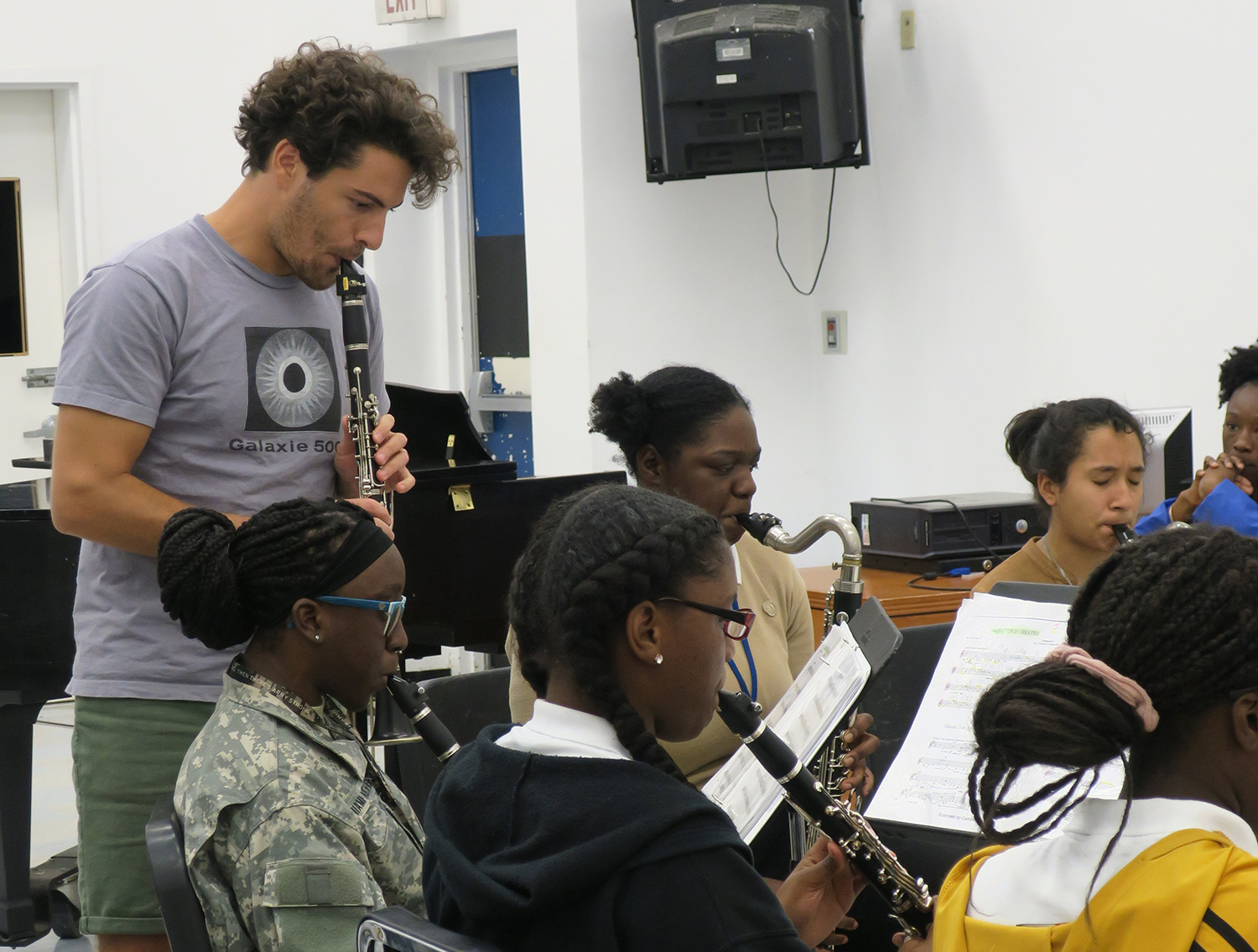 NWS Clarinet Fellow Giovanni Bertoni working with students at Miami Northwestern Senior High School
"We strongly believe that artists today need to be more than just musicians; they need to be role models, they need to be leaders of society. Through Epstein Family Foundation MusicLab, the New World Symphony Fellows actually visit our students and give them intense and targeted training that normally the students would not have access to."   
                -- Anna Klimala, Executive Director, Miami Music Project
Throughout the 2018-19 season, MusicLab was also supported in part by these sponsors.

Posted in: Community Engagement
---