News
August 12, 2019
NAAS initiative sees success in first year
In 2018 the New World Symphony (NWS), The Sphinx Organization and the League of American Orchestras formed the National Alliance for Audition Support (NAAS), an unprecedented national initiative to increase the diversity in American orchestras.
Supported by a four-year, $1.8 million grant from The Andrew W. Mellon Foundation, along with additional financial and programmatic contributions from America's orchestras, the NAAS offers a holistic and personalized array of support to Black and Latinx musicians to develop their audition skills, increase their participation in auditions, and ultimately, increase their representation in orchestras.
"The New World Symphony envisions a strong and secure future for classical music," said NWS President Howard Herring. "We believe that is possible only if the orchestras of this country are representative of their communities. New World is committed to diversifying its Fellowship with the support of our alumni, who have won positions in orchestras and ensembles around the world. We are honored to partner with Sphinx and the League in forming this Alliance dedicated to making equity and inclusion part of the future for American orchestras."
Learn more about the NAAS at auditionalliance.org and nws.edu/NAAS.

NAAS's First Year
The NAAS provides long-term support to Black and Latinx orchestral musicians. NAAS directly supports resources and logistical needs for musicians and conductors pursuing careers in orchestral performance.
In the 2018-19 season, the NAAS:
                Awarded 140 grants totaling over $170,900
                Partnered with 44 orchestras in the League of American Orchestras
                Formed an advisory Artist Council comprised of seven principal players from orchestras across the country, including NWS alumnus and Principal Horn of the Kansas City Symphony, Alberto Suarez
                Held four Audition Intensives for 53 musicians
                Hosted the Sphinx Orchestral Partners Audition at Sphinx Connect 2019, where 47 Bank of America Fellow musicians participated in mock auditions in front of a panel representing 35 major orchestras and organizations
                Celebrated job wins of its participants, such as Francisco Joubert Bernard – Second Bassoon, Louisville Orchestra (NWS alumni); Kalena Bovell – Assistant Conductor, Memphis Symphony; Shantanique Moore, Flute, Pittsburgh Symphony EQT Orchestra Training Program for African American Musicians and Bill Neri – Viola, Central City Opera Orchestra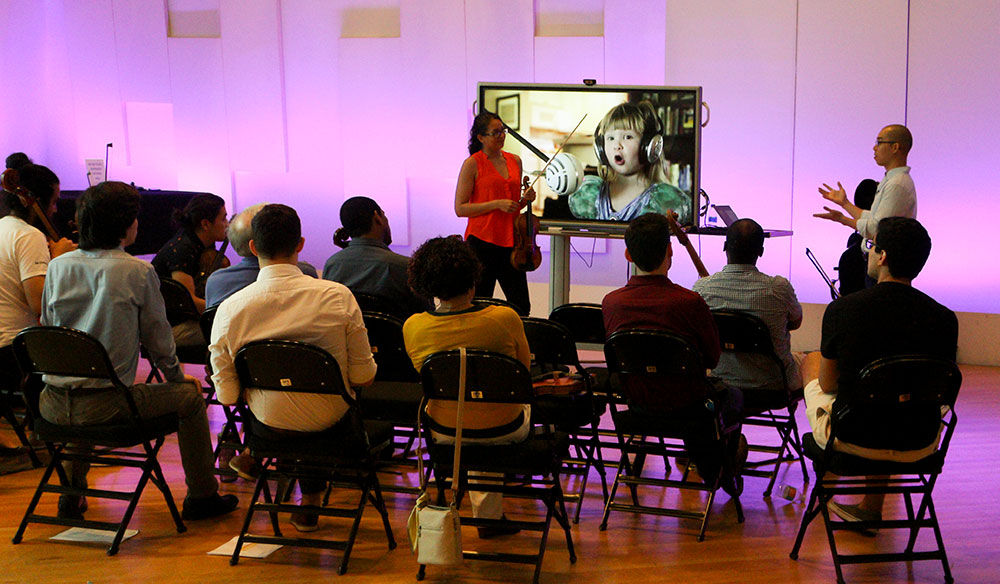 Performance Psychology Training with Dr. Noa Kageyama at the New World Center
Audition Intensives at New World Center
NWS hosted all four of the NAAS's 2018-19 Audition Intensives, welcoming 53 musicians and 14 faculty comprised of professional musicians and performance psychologist Dr. Noa Kageyama. Instrumental faculty included NWS alumni Joy Payton-Stevens, Cello, Seattle Symphony; Jennifer Snyder Kozoroz, Viola, Brevard Music Center; Alexander Laing, Principal Clarinet, Phoenix Symphony; and Alberto Suarez, Principal Horn, Kansas City Symphony.
Mimicking the audition training that NWS offers its Fellows, NAAS Audition Intensives give participants the opportunity to work in group and individual settings with professional musicians who understand the audition process. Sessions include peak-performance psychology training, mock auditions, individual lessons and a faculty panel to discuss the audition process and the faculty's own career paths. Participants are selected through a competitive application process open to a range of musicians—from recent conservatory graduates to early- and mid-career professionals seeking to advance their careers.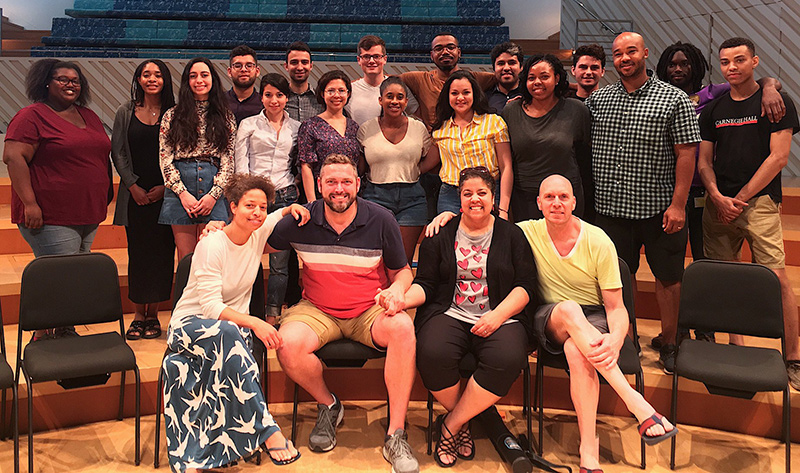 Audition Intensive participants and faculty at the New World Center
Join the NAAS Database
The NAAS is building a national database of professional Black and Latinx orchestral musicians to create a centralized directory of musicians and connect musicians of color with orchestras and other artistic institutions for engagement opportunities. The database is intended for those who are:
                At least 18 years of age
                Able to legally work in the U.S.
                Have at least one year of professional or semi-professional orchestral performance experience
Click here to join the NAAS database.
---