News
February 14, 2020
Nathaniel Wolkstein: Composing for the Cosmos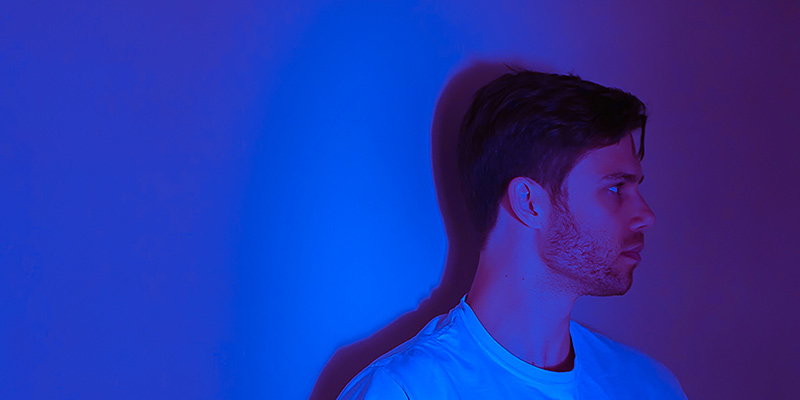 Nathaniel Wolkstein (NWS 2013-17) is a king of all trades: multiple-instrument musician, performer, songwriter, producer, teacher of orchestra and music appreciation/songwriting at Sedona Red Rock Jr./Sr. High School in Sedona, Arizona, and composer. It's truly impressive.
While a NWS Fellow, Nathaniel led Encounters concerts, won a Knight Arts Challenge with his band (comprised of two other NWS Fellows) for a song-writing residency in Miami schools, and later composed for a short film that also featured NWS Fellows and played at the Cannes Film Festival.
In the last few years, Nathaniel has composed and produced works for Miami's own Frost Science Museum—its planetarium and deconstructed laser show. He also composed and produced an original score for the Imagine the Moon documentary for Chicago's Adler Planetarium.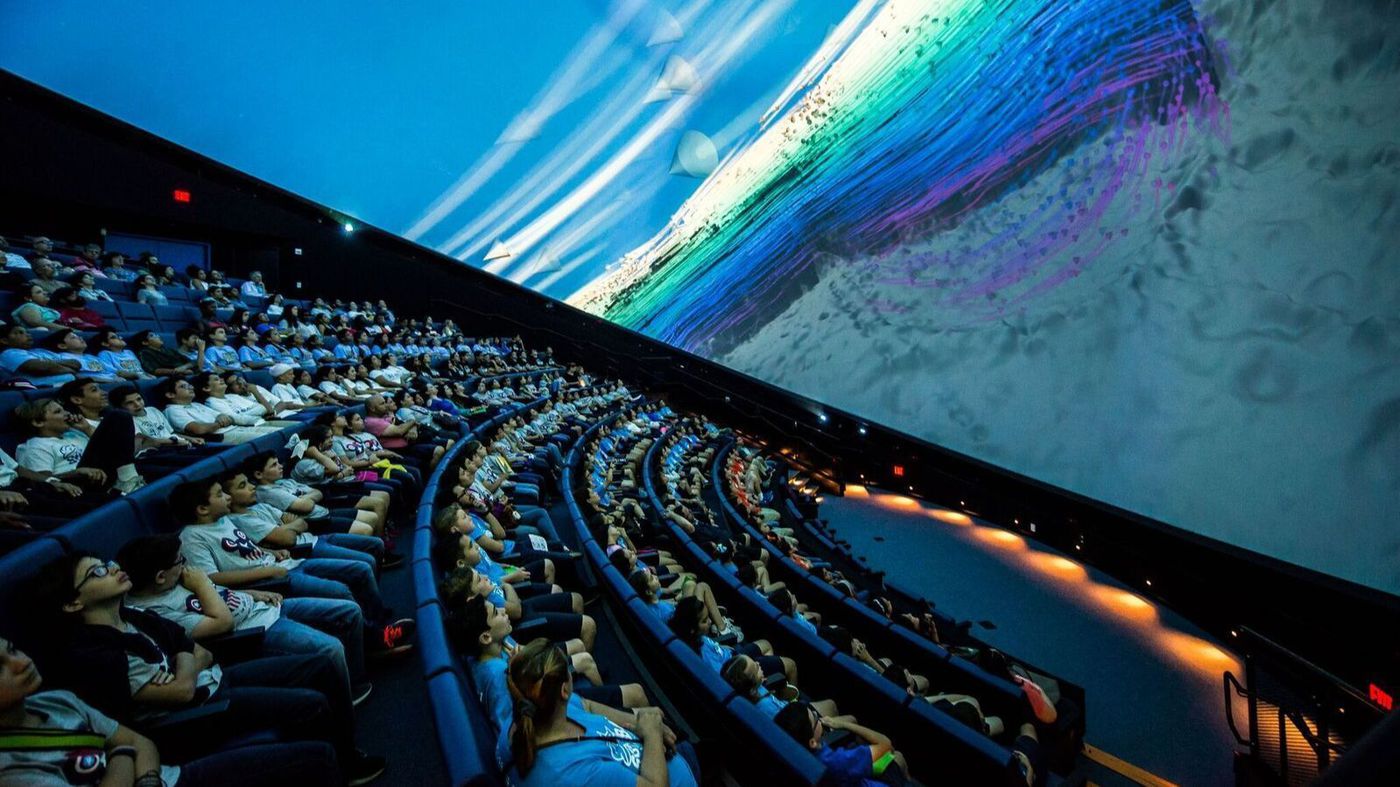 Photo courtesy of Frost Science
Soundtracks of the Unknown
Ahead of NWS's Music of the Spheres: A Space Concert, Nathaniel shared how he has been drawn to space and how he reflects it in his work.

Studying and learning about astronomy has always been important to me. The vastness of time and distances associated with the cosmos is incredibly humbling and it helps put daily struggles and frustrations into perspective.
I first became involved with the Frost Science Museum through NWS President and Chief Executive Officer Howard Herring, who graciously introduced me to Dr. Jorge Perez-Gallego, the Resident Astronomer, Curator & Exhibition Developer. Jorge and I met for coffee and started speaking about how I could be involved in the composition and production of an original score for both the museum's Planetarium and the grand opening Laser Exhibition. It was a wonderful experience working with Jorge, and he gave me an incredible amount of artistic freedom which was very exciting and liberating. The score included string orchestra, acoustic and electric guitar, electric bass, percussion, drum set and synthesizers. The score I wrote and produced for their planetarium plays before every show as part of their intro trailer.
Later, I contacted the director of theaters at the Adler Planetarium, Mark Webb, regarding if he had any upcoming projects at the science museum that would necessitate original music. Luckily enough, my timing was perfect! He and his team were just starting pre-production of their upcoming original film, Imagine the Moon, a 25-minute show which explores how the Moon has inspired human creativity, learning and exploration ever since humans began to look to the stars. After multiple phone calls and music samples sent, my writing and production partner, Drew Jurecka, and I were hired to compose, record, mix and produce an original modern orchestral score. We played everything in the score, utilizing a huge amount of multi-tracking and layering so that we could create a full symphonic and orchestral sound, even though there was only two of us. We personally recorded violins, violas, percussion, piano, synthesizers, clarinet, bass clarinet, accordion, saxophone and sound FX. The show is still playing in theaters and is set to run for a few years.
Composing and producing music to documentaries and films about space is particularly exciting because of the amount of artistic license one has. The concepts typically covered in films regarding the cosmos are so monumental and boundless that there is almost an infinite amount of directions you could take with the score. Interestingly enough, this is both the best part and most challenging part of composing for the cosmos, because if you don't have a clear idea of what you would like to say musically, it can feel almost too open to the point that you don't know where to start. Luckily, when I look to the stars and the cosmos, I almost always hear some music or melody in my head.
Gustav Holst's The Planets has always been one of my favorite pieces in relation to the cosmos. I love to be taken on a journey by music and getting to take an epic auditory journey through our solar system as we do in Holst's work is my ideal cosmic experience.
Next for Nathaniel
Mike Mrazek, the Director of Research, Center for Mindfulness & Human Potential at UC Santa Barbara reached out to me about creating an original "breath syncing" piece of music for a digital mindfulness course. The goal is to help students learn how to focus their minds and reduce their stress. One of the best ways to help students practice mindfulness is through music. In one type of exercise called breath syncing, students sync the rhythm of their breath to the rhythm of a song while closing their eyes and giving their complete attention to the music.
As mindfulness and meditation has been an important thing in my life for quite some time, this was a real pleasure to work on. I based my composition on many violin and viola layers (I would multi-track my strings to create a full string orchestra sound). Creating the music was a meditation in itself. I synced my own breath to each bow I used, so for each up bow I would breathe in for five counts and for each down bow I would breathe out for five counts. The soundtrack I created has been and continues to be heard by millions of students across the country.
Stay Connected
Follow Nathaniel:
Friday-Saturday, February 21-22 at 7:30 PM
New World Center
Tickets: nws.edu/space
Join NWS for an extraordinary journey through the cosmos and into the unknown with special musical guests and scientists from NASA. With galactic imagery illuminating the performance hall, conductor Edwin Outwater leads an unforgettable voyage to Mars and Jupiter in Gustav Holst's The Planets, worlds beyond in John Williams' iconic film scores and much more. Grammy Award-winning composer and conductor Eric Whitacre will take the stage for his Deep Field, inspired by the world-famous Hubble Telescope. Through a new film by 59 Productions, it vividly portrays the wonders of the universe by pairing orchestra with chorus and audience, who join the performance by using an app.
Ticketholders will enjoy activities from the Frost Science Museum, including a mobile planetarium, and are invited to join a post-concert discussion with the artists.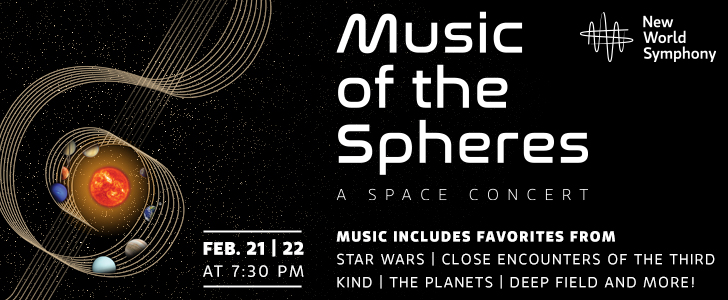 Posted in: Alumni, Concerts, Events
---