News
August 14, 2020
New World Center, Here For You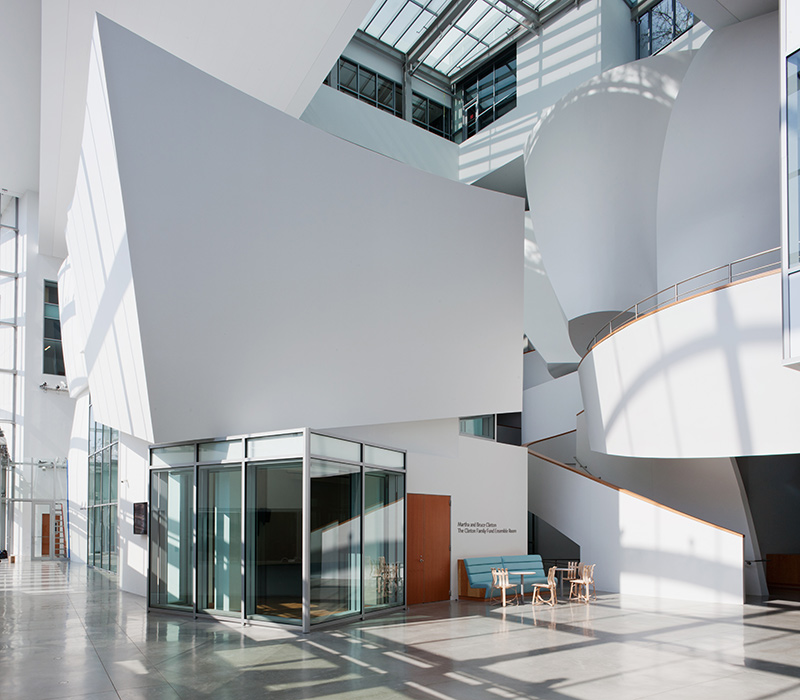 The New World Center is one of Miami's premier event venues, providing guests with a stunning, fully-customizable setting; advanced technological capabilities; and—especially in these unprecedented times—the highest health and safety standards.
In the interest of your safety, as well as the safety and comfort of your guests and our staff, we have updated our protocols to reflect expert guidance and state recommendations. You and your guests will be able to enjoy an outstanding event in an incredible setting, while knowing the New World Center has gone above and beyond to preserve the health and safety of all staff and guests.
Prioritizing Your Safety and Comfort
The New World Center events team has implemented a safety plan in line with CDC, City and County governmental requirements and community efforts, working diligently to marry both excellent event quality and attention to safety – giving our guests the best of both worlds.
We have taken every detail into consideration, adapting our standard protocols to go above and beyond new health standards. Moving forward, we are continuing to refine our protocols to safeguard the health and safety of all guests. From maintaining our spaces to the highest standard of cleanliness to implementing clear, well-defined staff procedures, the New World Center is dedicated to hosting extraordinary event experiences that are safe and healthy.
Our goal is to preserve both the safety and comfort of your guests and our staff through the implementation of best practices. We encourage anyone considering an event at the New World Center to discuss any concerns or priorities with our events team so that we are able to meet your unique expectations.
Event Planning Made Safe and Simple
When you choose the New World Center as your Miami event venue, your planning process becomes dramatically less complicated. Our professional team is well-prepared to help you select a space that is suited for your event vision, size and purpose, as well as make expert suggestions for your preparation and event day.
In line with our expanded efforts to support guest safety, as well as our consistent dedication to top-quality events, the New World Center is proud to provide the following:
Virtual tours: We offer the option of virtual tours of our event spaces, supporting recommendations for social distancing during planning. You can get a feel for each one of the venue's specific spaces, seeing them in 360-degree views. A virtual tour is a perfect way to select a space from the comfort of your own home, offering the benefit of both convenience and safety.


Top-of-the-line technological capabilities: If you need to downsize your guest list in the interest of health and safety, our tech-savvy spaces ensure that you can still achieve all your event goals. Live stream your event to make it available to additional participants or film the occasion to preserve and share the experience for years to come.


Exceptional caterer: Save yourself the time, hassle and risk of meeting with various Miami caterers – instead, enjoy delicious dishes prepared by our catering partner, Thierry Isambert Culinary and Event Design. Thierry and his team have been preparing and serving an incredible variety of food and beverages at New World Center events for years and has implemented additional safety precautions in light of current events and in alignment with the New World Center's health and safety protocols.
The option to book far in advance, or with a shorter lead time: We understand that you may want to have the security of booking a future event, or the flexibility to plan quickly as conditions improve in the world. The New World Center team is ready to help you through this process and nimble enough to get your event up and running with a few weeks of notice.
It's already challenging enough to plan an event during these times, so why not make the experience as simple and straightforward as possible? At the New World Center, planning an event has never been easier.
Adapting Your Event to Suit Safety Recommendations
The New World Center team can help with creative solutions to celebrate your special occasion, including socially-distanced room layouts, uni-directional event flow, covered as well as pre-packaged food, beverage and table setting options, to name a few.
For example, micro-weddings in Miami have become widely popular. A micro-wedding contains the event to an intimate group of loved ones, while maintaining an experience worthy of one of life's most important milestones. Expand your guest list to include friends and family near and far to share the joy via live stream technology.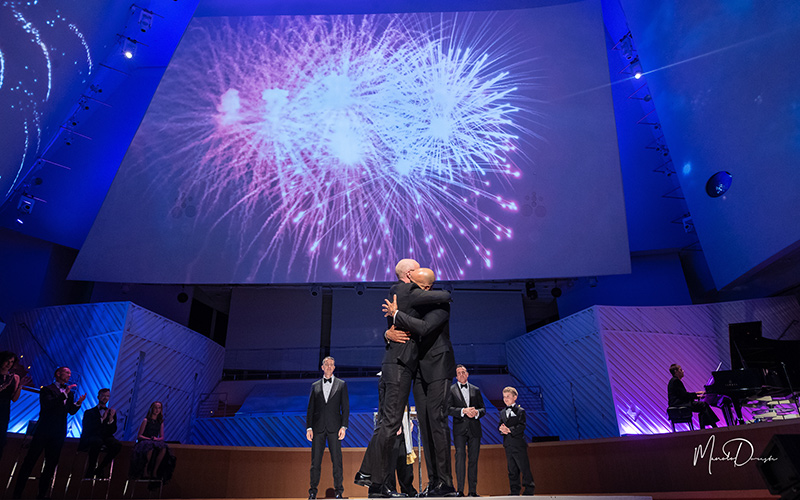 Photo by Manolo Dureste Photography
Guests can tap into the technological capabilities of the New World Center, taking a modernized approach to hosting a safety-conscious event. Our spaces are equipped with advanced equipment and resources, enabling you to live stream or record events to reach an off-site audience of hundreds, or even thousands.
If you have a Miami conference planned in the near future, you may decide to limit the guest list to presenters only, inviting attendees to join via an online conference platform. We are happy to work with your choice platform or make recommendations.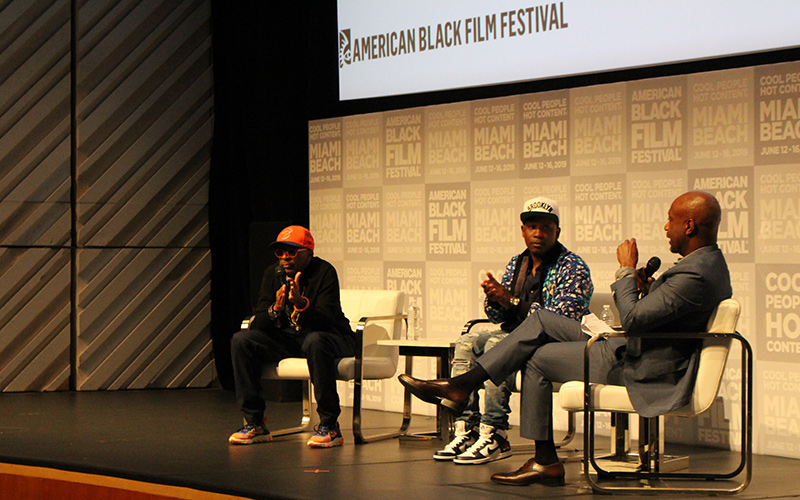 The New World Center Team is here to work with conference planners to produce an exceptional virtual conference experience in an environment like no other with production capabilities that are unmatched. We are ready to help you up-your-game from the living room to the production stage.
The technological capabilities available in our various spaces include:
Multimedia enabled
Projection
Audio enhancement
Audio and video recording
Live-streaming/webcasting
Real-time web interaction
Customizable lighting
Acoustic isolation
The New World Center also presents an exceptional architectural backdrop for filming and photoshoots. Picturesque locations throughout the facility include the rooftop garden with ocean and bay views, a soaring atrium with six stories of natural light and Frank Gehry's signature sculptural features, and the incredibly versatile and expansive performance hall.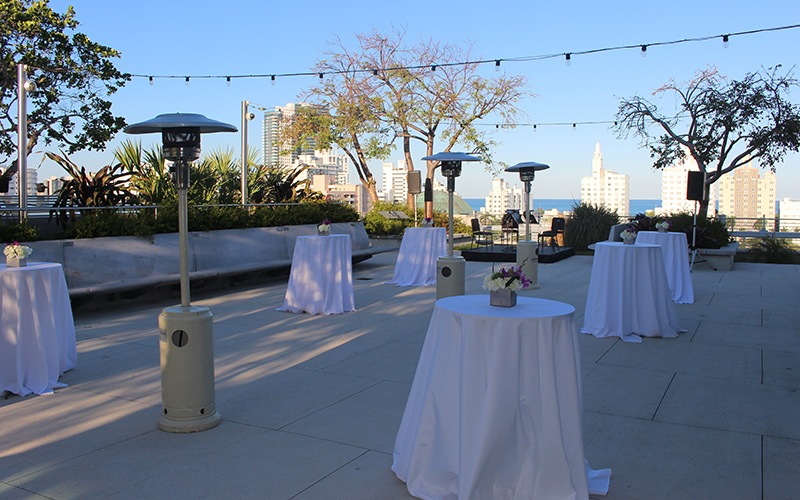 Host Your Next Event at the New World Center
Event venues have had to dramatically shift their approach to event hosting, and the New World Center is proud to be a city leader in both event safety and quality. Knowing that the New World Center's heightened health and safety protocols are in place provide the working and guest environment our clients expect and deserve. 
Whether you opt to adapt your event size, delivery, or space, you can be confident that our staff and venue will accommodate the occasion beautifully. 
While there are many aspects of our world that have shifted in recent times, the New World Center's commitment to our guests remains the same. With a series of stunning event spaces, boasting top-of-the-line technological capabilities, gorgeous architectural details, and versatile features, the New World Center is easily one of the best venues in South Florida.
For more information about hosting your event at the New World Center, including the health and safety standards to which we adhere, please contact our events team today using this inquiry form.
Posted in: New World Center
---