News
March 2, 2021
NWC at 10: A Decade of Impact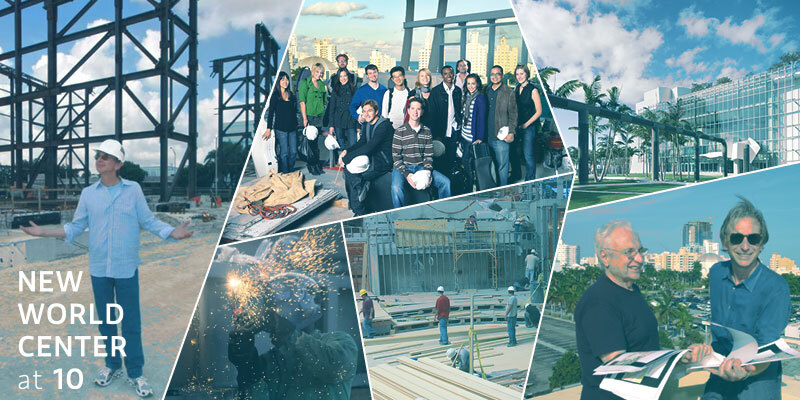 January 25, 2021 marked the 10th anniversary of the New World Center's opening. In honor of the occasion, this NWC at 10 blog series reflects on how the campus came to be and its impact over the last decade. Click here to read the full series.
The New World Center was designed as an intersection of music, technology, education and community and in its first 10 years has served as a cultural and social centerpiece of Miami Beach. When the campus opened in 2011, former City of Miami Beach Mayor Neisen Kasdin predicted that "no building in recent years will have as profound an effect on so many fields of endeavor and so many aspects of society and culture as this." Today, current Mayor Dan Gelber calls the New World Center one of Miami Beach's cultural crown jewels.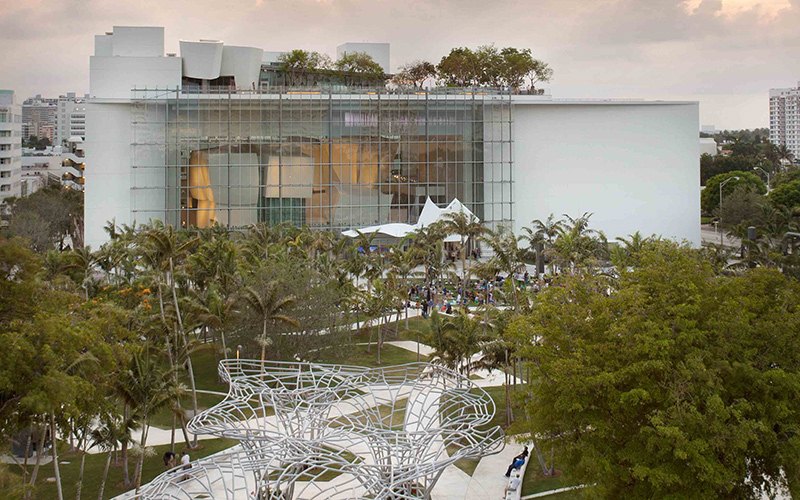 Photo by Emilio Collavino

For the Community
Each year, the New World Center attracts thousands of community members to free WALLCAST® concerts, open houses, monthly yoga classes and more. Audiences flock to the campus and adjacent SoundScape Park seeking not only culture, but connection.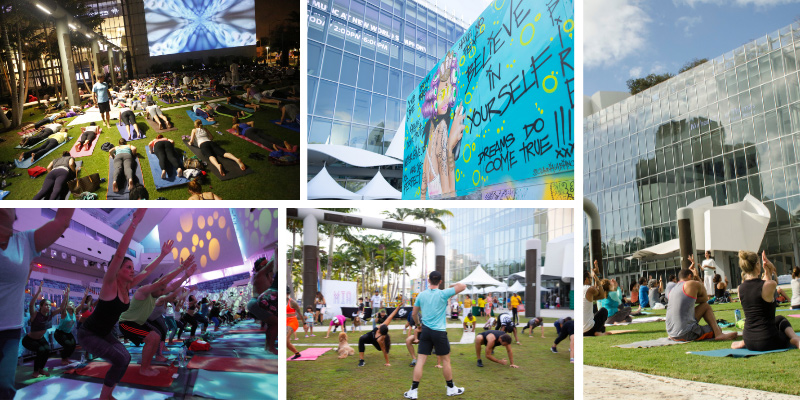 Photos by Rui Dias-Aidos, REDAV, Inc; Ezekiel Williams/Moment77.com; and Eduardo Delgado
NWS's most popular community offering is its WALLCAST® concert series. In 2015 NWS commissioned a yearlong independent study to assess the impact and role of its WALLCAST® concerts in the community, and the effectiveness in attracting and engaging new audiences for classical music.
In the report, WALLCAST® concert audiences named social fulfillment and a sense of belonging as a top attraction to the series. The audiences also better reflect the diversity of the South Florida community and is younger than NWS's traditional concert audiences. Click here to read The WALLCAST® Concert Experience report.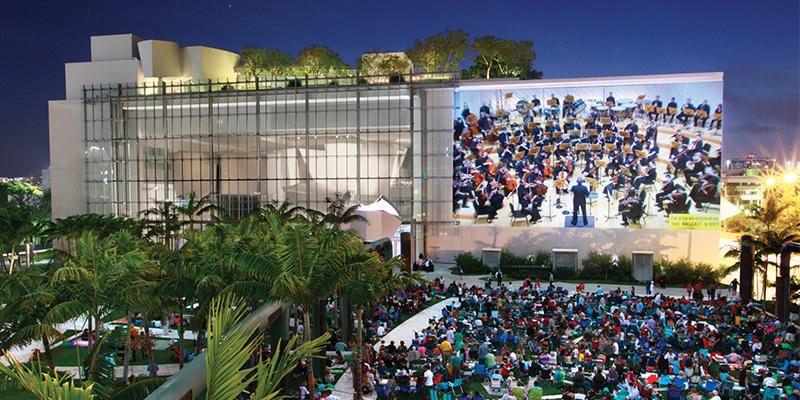 Photo by Rui Dias-Aidos, REDAV, Inc.
NWS has also used the New World Center to share and celebrate community stories, like with its Project 305. In 2017 NWS invited its fellow citizens to capture and upload digital audio and video samples of their Miami. These submissions formed the source material that fueled the imaginations of filmmaker Jonathan David Kane and composer Ted Hearne. Integrating music and film, the result was Miami in Movements, a symphonic documentary and an authentic representation of our city, that embraces issues of race, class, ethnicity, wealth disbursement, sea level rise, natural disasters and community well-being.

Project 305's Miami in Movements, photo by Siggi Bachmann

The Global Ripple
The New World Center's state-of-the-art technical capabilities and NWS's experimentation with concert formats has garnered international attention. In the decade since it opened, NWS has welcomed to the New World Center over 1,000 cultural and educational leaders from hundreds of organizations around the world who come to witness the building's transformative power.
As an innovative campus for music education and performance, the New World Center inspires numerous institutions in planning their new or improved venues. Many orchestras and presenting organizations are replicating the outdoor simulcast format in public spaces around the globe.
Organizations, some of which have directly consulted with NWS, that explored their own format include the Minnesota Orchestra, Vienna State Opera, The Kennedy Center, Louisville Orchestra, Detroit Symphony, Pacific Symphony, Salzburg Festival, University of Michigan, Oklahoma State University and more.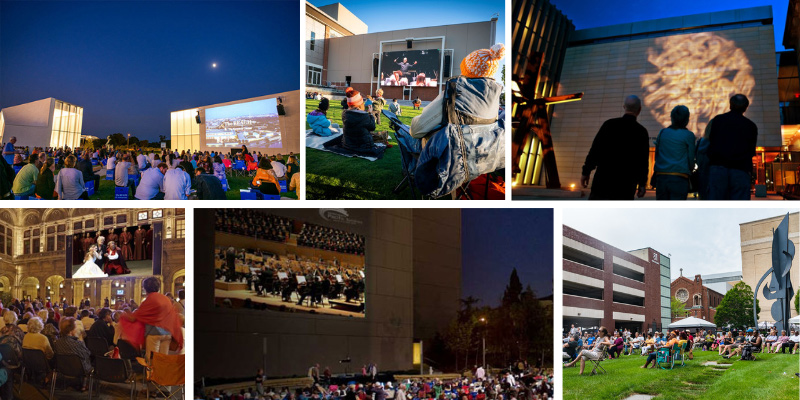 Clockwise: Kennedy Center's REACH (Nicholas Karlin), Oklahoma State University McKnight Center for the Performing Arts (Chris Lee), University of Michigan Museum of Art; Detroit Symphony's Sosnick Courtyard (Doug Coombe), Pacific Symphony's Plazacasts, and Vienna's State Opera House (Ellen Rosewall/Artini). 

The Jacksonville Landing took direct inspiration from the New World Center:
And, in a recent article by The New York Times, New York Philharmonic Chief Executive Debra Borda revealed that the renovations to the orchestra's David Geffen Hall will include an expanded lobby that houses a wall for screening performances. The article's author, Anthony Tommasini, said, "When imaging how orchestras could thrive in the future, the spaces they perform in are pivotal."
We agree.
The New World Center has transformed and amplified New World Symphony's vision to redefine, reaffirm, express and share classical music's traditions with as many people as possible. Thank you for being part of its first ten years. Here's to the future.   
Posted in: Alumni, Fellows, MTT, New World Center, NWC at 10
---