News
February 2, 2021
NWC at 10: Construction Milestones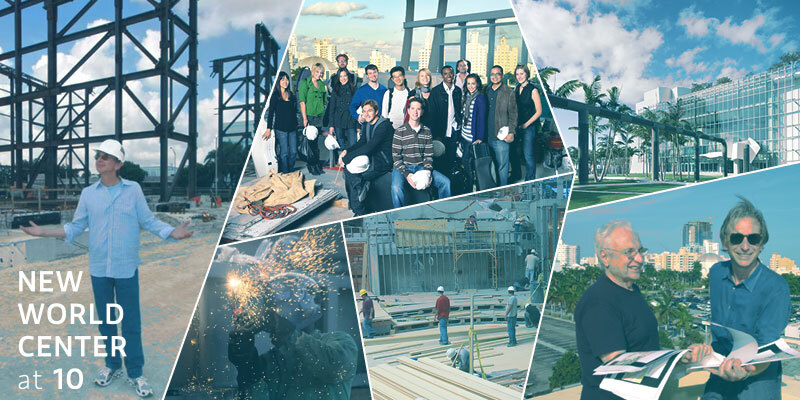 January 25, 2021 marked the 10th anniversary of the New World Center's opening. In honor of the occasion, this NWC at 10 blog series reflects on how the campus came to be and its impact over the last decade. Click here to read the full series.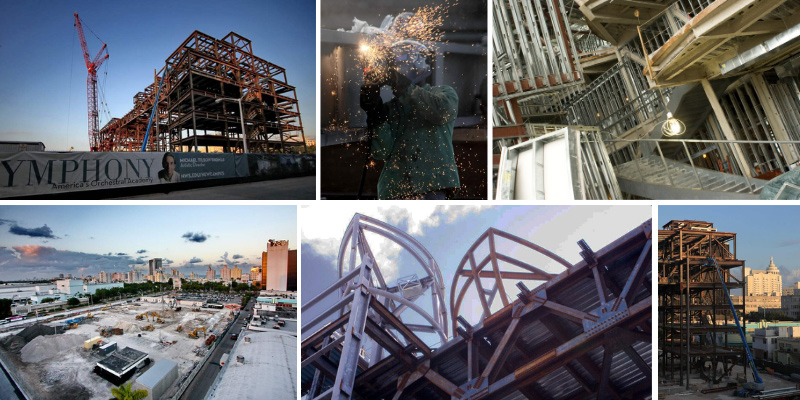 The New World Center's 106,000 square feet took three years and $167 million to complete. From breaking ground in January 2008 to the grand opening in January 2011, here are the milestones that marked the New World Center's construction years.

Groundbreaking Ceremony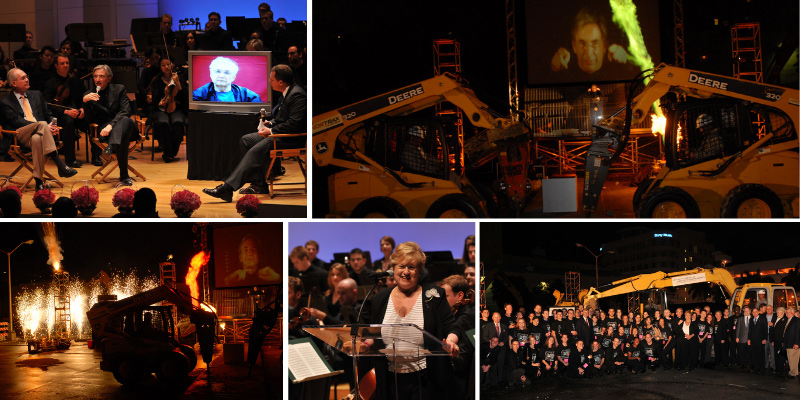 NWS held a Groundbreaking Ceremony on January 23, 2008. The event—titled The New Landmark: Brilliance in the Making—included a performance at the Lincoln Theatre; discussion with MTT, architect Frank Gehry (via Internet2), and Chairman of the Capital Campaign Howard Frank; speeches by NWS Co-Founder Lin Arison and Knight Foundation President Alberto Ibargüen; and an outdoor reception on the future site of the New World Center.
The highlight of the evening was a choreographed dance of the bulldozers with pyrotechnics and fireworks set to Alberto Ginastera's Malambo from Estancia, conducted by MTT. Click here for a video captured by former Bass Fellow Jory Herman.
Topping-Off Ceremony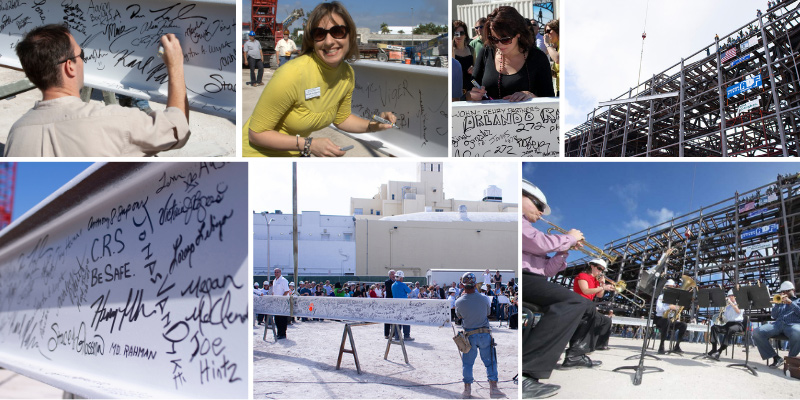 One year after its groundbreaking celebration, NWS held a celebratory Topping-Off Ceremony on January 28, 2009. A ritual for architectural projects celebrating the safe completion of the structural phase of a project, the ceremony included the signing of the final steel beam by the project's construction crews, NWS staff and Fellows and City of Miami Beach leaders. Brass Fellows performed as the beam was raised into place atop the New World Center's structure.
The New World Center's backbone is steel--strong enough to withstand South Florida's elements, meet the project's acoustical demands and support Frank Gehry's signature curvilinear shapes. No U.S.-based steel mill could fabricate the five giant trusses the building required, so the raw steel was ordered from Luxembourg and shipped to Montreal. There, ADF Group assembled each section of the building before disassembling and shipping to Miami Beach. In order to execute the complex steel fabrication of the project, ADF used leading-edge Tekla Structures 3-D software for their engineering and detailing needs.  

Testing 1-2-3
2010 was a year for testing. Every space, from performance hall and practice rooms to the exterior projection wall underwent a series of assessments leading up to the New World Center's opening in January 2011. After performing his final concert at the Lincoln Theatre in December 2010, MTT led the orchestra across the street for the first of several late-night sound checks inside the New World Center (top left) with acoustician Dr. Yasuhisa Toyota. Testing of the exterior wall featured clips of Bugs Bunny cartoons and scenes from Casablanca.
Posted in: MTT, New World Center, NWC at 10, Wallcast Concerts
---