News
February 5, 2021
NWC at 10: Grand Opening Fanfare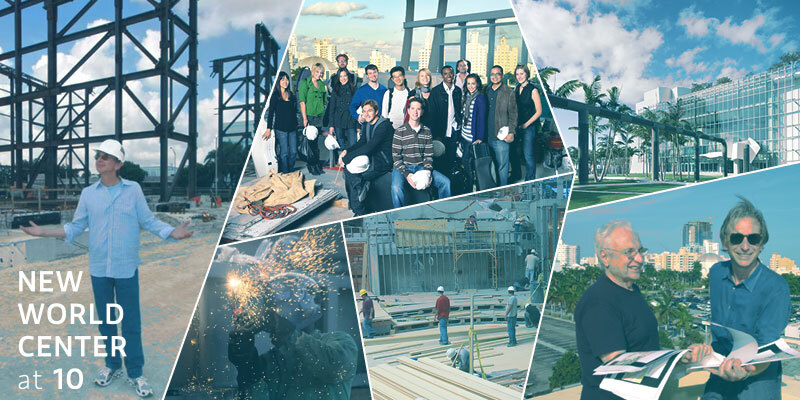 January 25, 2021 marked the 10th anniversary of the New World Center's opening. In honor of the occasion, this NWC at 10 blog series reflects on how the campus came to be and its impact over the last decade. Click here to read the full series.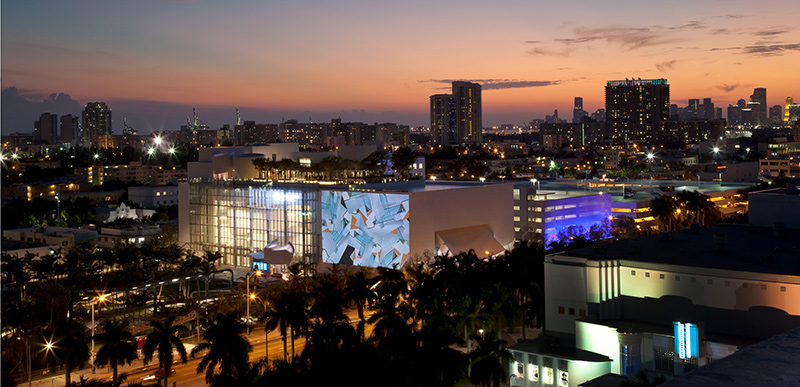 New World Center with Chronograph playing on the exterior wall
In January 2011 music lovers, architecture aficionados, Miamians and press watched as the New World Symphony opened the doors of its new campus, the New World Center. Over the course of six days, NWS put Frank Gehry's magical design on full display with a series of events and performances, including the debut of two new performance formats: WALLCAST® and Journey concerts.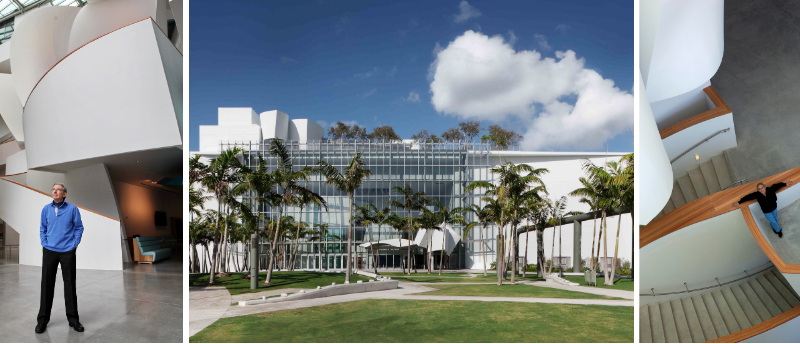 MTT and the New World Center; photos by Tomas Loewy, Emilio Collavino and Todd Eberle

"In the New World Center, we will be able to present classical music in new and engaging ways," said Michael Tilson Thomas (MTT) in 2011. "It encourages us to think differently about our relationship with our audience. It offers us the opportunity to communicate with musicians around the world, sharing the different perspectives we have about our musical traditions and imagining together what the future may be. This is a pioneering building and we are looking forward to exploring its potential."

Neisen Kasdin—NWS's 2011 Chairman of the Board and former City of Miami Beach Mayor—knew the campus would be a game changer, not just for music, but for the Miami community. "With the opening of the New World Center, Greater Miami sets itself apart from other global cities. No building in recent years will have as profound an effect on so many fields of endeavor and so many aspects of society and culture as this. We are at the forefront of innovation and change in this most dynamic of global cities."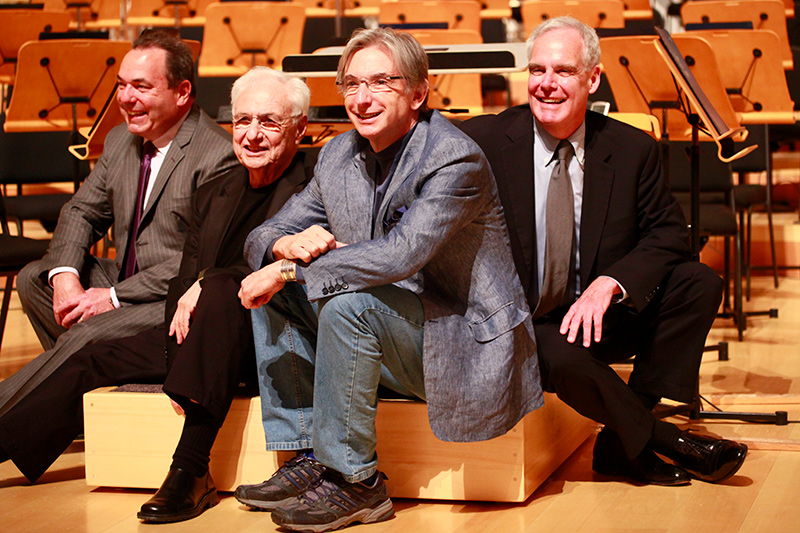 Neisen Kasdin, Frank Gehry, MTT and NWS President and CEO Howard Herring, photo by Rui Dias-Aidos, REDAV, Inc.

When Frank Gehry first stepped into the completed building, he told reporters he wept as he watched the Fellows rehearse with MTT. "It took three notes before I started to cry because I knew it was special," Gehry said. "Birthing anything is an agony, but today this is ecstasy." (Miami Herald)

Other eyes were on NWS that week as well: international guest artists who frequently work with NWS Fellows and understood the impact the New World Center would have on NWS's educational mission and the future of classical music.

"Between Michael Tilson Thomas' vision and Frank Gehry's creation, a new era of learning, performing and creating has begun, sowing the seeds of a cultural output that will benefit and enrich the lives of future generations." – Yo-Yo Ma

"The New World Symphony's beautiful new home is a cause for joy and celebration throughout the music world. Frank Gehry's innovative design goes hand in hand with Michael Tilson Thomas' bold vision of the future of American classical music. All of us can take great pride in knowing that a noble idea has become a reality." – John Adams
The 2011 Grand Opening Events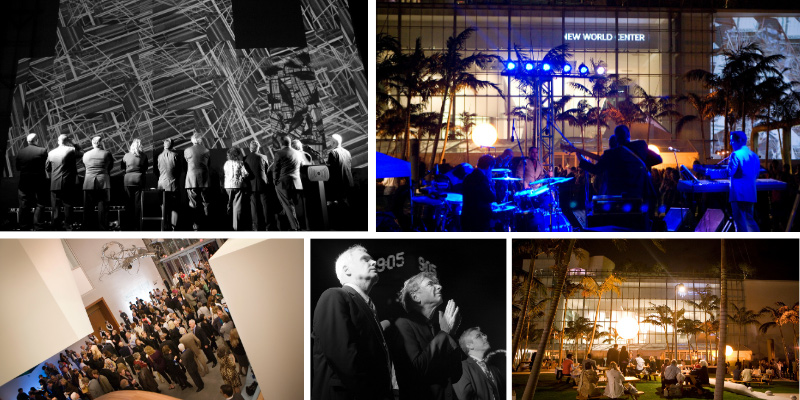 Grand Opening Ceremony, photos by Richard Patterson
Tuesday, January 25: The Grand Opening Ceremony
The formal opening of the New World Center campus included an indoor inauguration and an outdoor community celebration in SoundScape Park, where MTT, NWS staff and City of Miami Beach leaders unveiled the building's exterior projection wall with the premiere of Chronograph by Tal Rosner and C.E.B. Reas.

Wednesday, January 26: The Opening Concert
Friday, January 28, 2011: The Opening Concert, A Reprise and WALLCAST® Concert
MTT led the first concert in the New World Center that included the world premiere of Polaris: Voyage for Orchestra by Thomas Adès with accompanying film by Tal Rosner.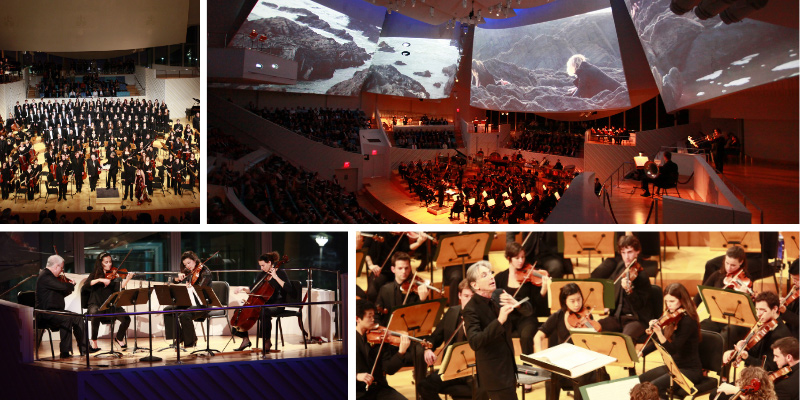 Opening Concert and Journey Concert, photos by Rui Dias-Aidos, REDAV, Inc.
Thursday, January 27: A Schubert Journey Concert
MTT demonstrated the unprecedented versatility of the New World Center by taking the audience on a journey through Franz Schubert's music. It marked the first Journey Concert—a new performance format designed to showcase flowing explorations of a composer or type of music, making use of the New World Center's main stage and ancillary platforms to envelop audiences in the music itself.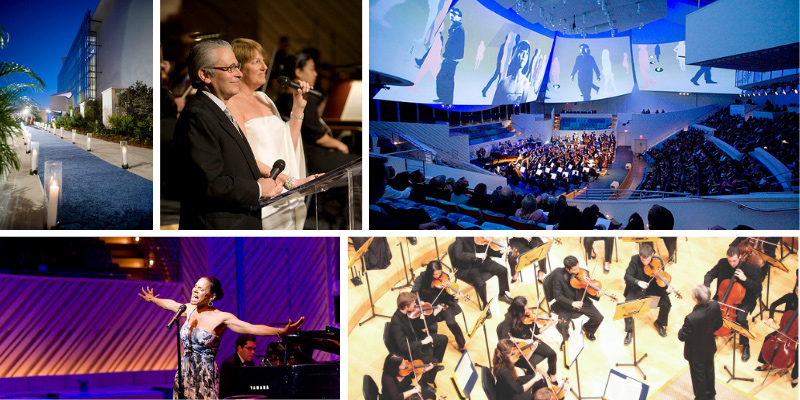 Grand Opening Gala, featuring chairs Edward Manno Shumsky and Susan D. Kronick, and Audra McDonald
Photos by Richard Patterson and Rui Dias-Aidos, REDAV, Inc.
Saturday, January 29: The Grand Opening Gala
NWS's current Board Chairman Edward Manno Shumsky and Susan D. Kronick chaired the first gala in the New World Center. The evening's highlight was the world premiere of animations to accompany the orchestra's performance of Pictures at an Exhibition. Commissioned by NWS, the animations were created by a team of student, alumni and faculty artists at the University of Southern California School of Cinematic Arts in collaboration with MTT. Soprano Audra McDonald gave a post-dinner recital on stage.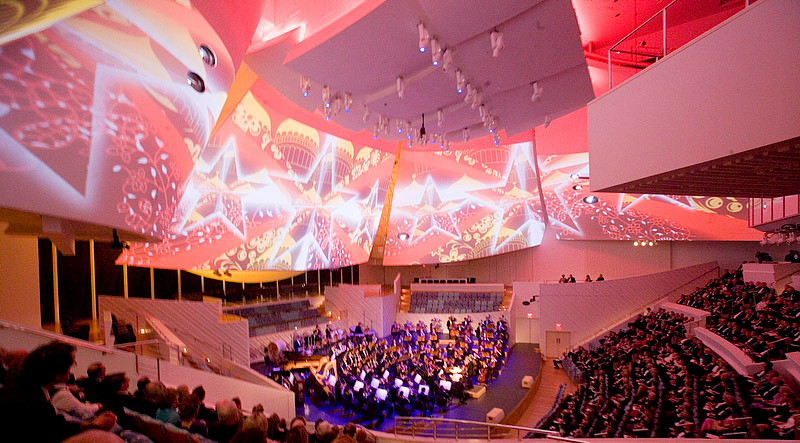 NWC Community Concerts featuring Pictures at an Exhibition with animations by USC artists, photo by Richard Patterson
Sunday, January 30: Community Concerts
The New World Center opened its doors to the community with two free performances that included the animated Pictures at an Exhibition.
Grand Opening Accolades: The Press Reacts
"At Frank Gehry's New World Center, in Miami Beach, the fusion of live music and film is so seamless that it almost heralds a new genre…Classical music is a living art. The entire New World complex is engineered to send such a message." – Alex Ross, The New Yorker


"The story reflects Mr. Gehry's belief that music, like other creative endeavors, should be more than an aesthetic matter. As a shared experience, one that reaches each of us at our emotional core, it helps unite us into a civilized community. This is probably why it's the first Gehry building I have fallen in love with in years — not because it is perfect but because of the values it embodies." – Nicolai Ouroussoff, The New York Times


"Gehry's concert hall for the New World Symphony, an elite training orchestra that is one of the most innovative musical organizations in the country, is the first American concert space built from the ground up to include sophisticated video, theatrical-style lighting and flexible stage space. Rather than hide the control booth, the way projectionists are hidden in a movie house, the architect has created a visual reminder of the depth of the New World Symphony's investment in technology, which also includes wiring the entire building for Internet2, the new generation of Internet connecting educational, nonprofit and research institutions. For the first time, that technology does not feel like an invasion into the 19th-century concert space, but an essential element of a newly emerging entertainment form. The fourth wall, whatever remained of that supposedly off-putting imaginary barrier between audience and spectacle, is now entirely shattered." – Philip Kennicott, The Washington Post


"[The New World Center] has the potential to be a game changer in classical music." – Anthony Tommasini, The New York Times


"Still, nothing can match the experience of unamplified music close up and loud, which is what the concert hall of the New World Center offers in spades." – Mark Swed, Los Angeles Times


"The New World Center can be like an enticing new form of transport back in time to these old standbys. It can also be a rocket to the moon, musically speaking." – Mark Swed, Los Angeles Times
Posted in: Alumni, Fellows, MTT, New World Center, NWC at 10
---