News
October 26, 2015
NWS Alumni at Houston Symphony Take Full-Time Music Education To The Schools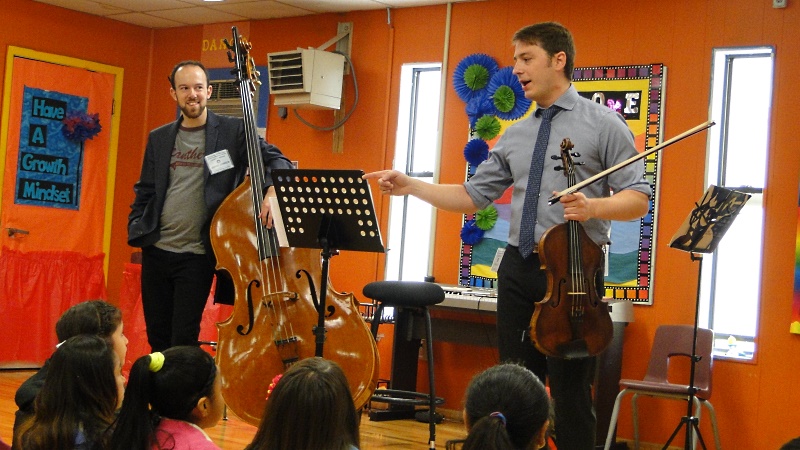 New World Symphony alumni David Connor (double bass 2013-2015) and Anthony Parce (viola 2011-2015) were hired last summer as Houston Symphony Community-Embedded Musicians, helping to lead a new initiative focused on enhancing the institution's educational and community engagement activities, while also performing with the orchestra.

Click here to read the July 2015 post about the appointments

A three-year pilot program has begun at fine arts magnet school Crespo Elementary, designed to make classical music accessible to students, parents, school staff and faculty and to deepen the level of music understanding within this school community. Tony and David will visit each fine arts classroom on a bi-weekly basis so that students receive the Houston Symphony residency curriculum. All lessons will take place in school and during school hours and include music appreciation, recorder instruction and composition lessons.

The program will bring students and their families outside of the school and into full concert experiences as part of the Houston Symphony's family and student concert series. Additionally, the Houston Symphony will also bring ensembles to Crespo for Family Chamber Concert Nights. The residency at Crespo aims to weave orchestral music into the fabric of the school community, including the families of the students.
Posted in: Alumni, Community Engagement
---