News
December 8, 2019
NWS alumni reunite at Kennedy Center Honors for MTT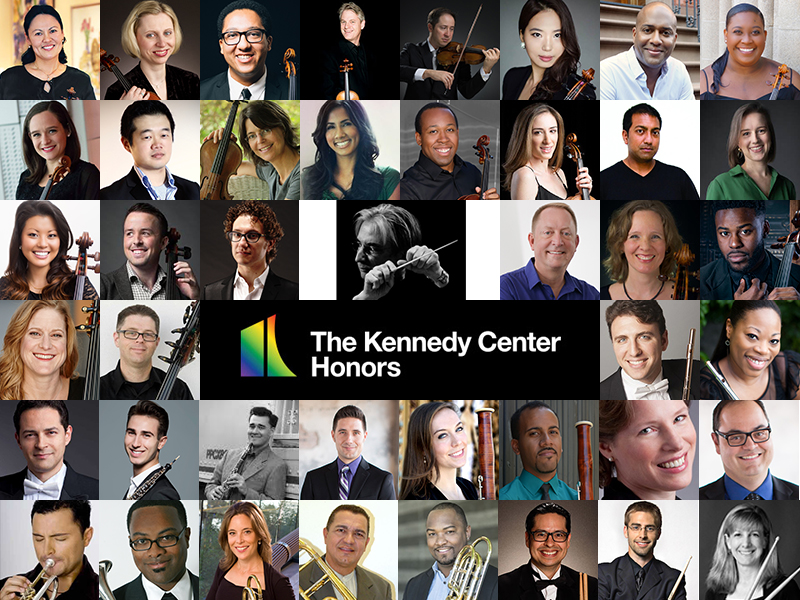 On Sunday, December 8, the Kennedy Center Honors celebrated NWS Co-Founder and Artistic Director Michael Tilson Thomas. Performing as part of his tribute was an orchestra comprised entirely of NWS alumni. The 42 musicians, whose fellowship years range from NWS's first season to today, now play in the country's top orchestras and are transforming the communities in which they now live. Click here for the alumni orchestra's full roster.  Other artists joining MTT's tribute include pianist Yuja Wang, singer/actress Audra McDonald, actress Debra Winger and Metallica's Lars Ulrich. 
When MTT was selected as a 2019 honoree, he knew friends and colleagues would be part of the ceremony's tribute, but in customary fashion he was kept in the dark of the event's specifics until the alumni surprised him at a breakfast on Friday, December 6.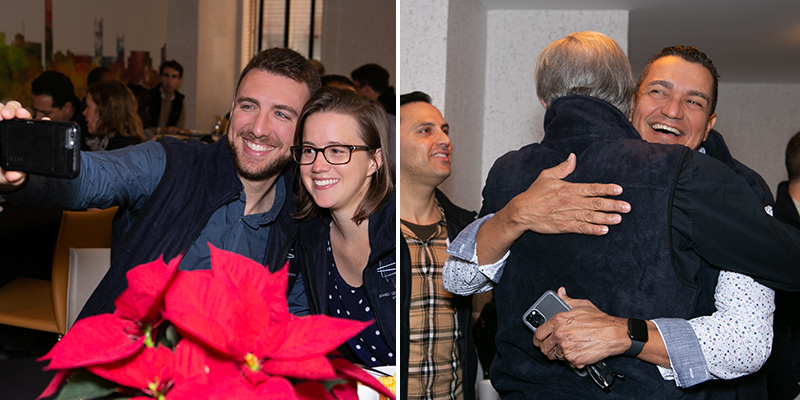 Alumni reunite to surprise MTT, photo by Judy Licht Photography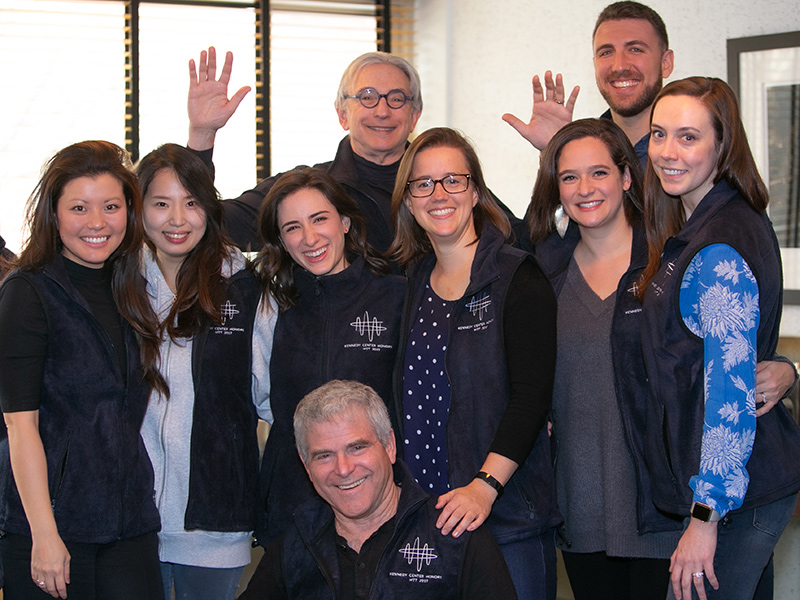 MTT and Joshua Robison with NWS alumni, photo by Judy Licht Photography
The NWS alumni orchestra performed under the baton of former Conducting Fellow Teddy Abrams, who now serves as the Music Director of the Louisville Orchestra. Teddy was in Washington, D.C. earlier in the week to lead a Michael Tilson Thomas Journey Concert on the Kennedy Center's Millennium Stage. He was joined there by other NWS alumni: Bob Rearden (Second Horn in National Symphony, NWS 2006-10), Kevin Businsky (Trumpet in U.S. Navy Band, NWS 2009-11) and William Timmons (Trombone in U.S. Air Force Ceremonial Brass, NWS 2009-11).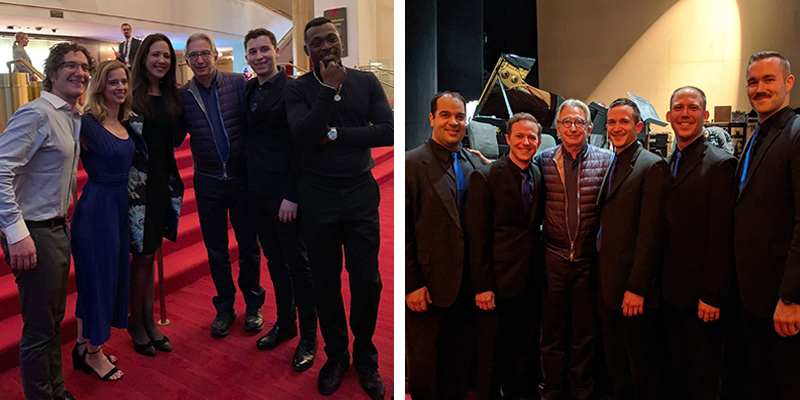 MTT with artists from the Michael Tilson Thomas Journey Concert
Dec. 15: Watch the Kennedy Center Honors Broadcast with NWS
The broadcast of the full Kennedy Center Honors ceremony will air on CBS next Sunday, December 15 at 8:00 PM Eastern. To celebrate MTT's honor with the Miami Beach community, NWS and CBS4 will host a free viewing party of the ceremony in SoundScape Park. The viewing party in SoundScape Park will be emceed by CBS4 Entertainment Reporter Lisa Petrillo and include performances by NWS Fellows and remarks by NWS President and CEO Howard Herring. Click here for more information.
In the News
The Washington Post: Michael Tilson Thomas was once the 'bad boy of classical music.' Now at 74, he still conducts with childlike delight. 
"The New World Symphony is one of the orchestra world's success stories."
"The NWS organization is a concrete expression of some of Thomas's central interests. Working with young musicians sustains him, he says. And disseminating music through technology — videos or audio, the YouTube symphony or the Internet — has been a theme of his career. The New World Center, with its state-of-the-art technology, makes both of these things possible on a grand scale, archiving every performance and master class in the building, newly equipped to record and broadcast everything in 4K HD."
The Washington Post: Kennedy Center Honors: It's a boogie wonderland
"the show offered some tender and exhilarating interludes,... Among the better segments: Audra McDonald, pianist Yuja Wang and alumni of Miami's New World Symphony — which Thomas co-founded — saluting the conductor with a rousing version of the Gershwins' "I Got Rhythm"
"The New World Symphony alumni distinguished themselves in Thomas's honor with a performance of compositions by Aaron Copland, Leonard Bernstein and Igor Stravinsky."
About the Kennedy Center Honors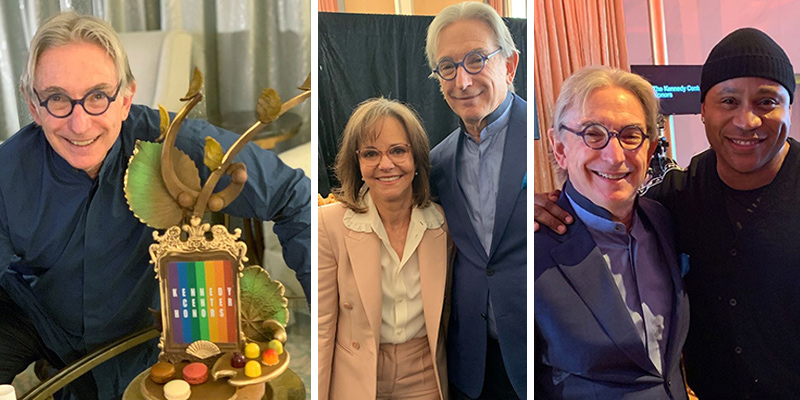 MTT in Washington, D.C. with fellow honoree actress Sally Field and ceremony host LL Cool J, photos courtesy of MTT
MTT is one of five 2019 Kennedy Center Honorees. "The Kennedy Center Honors celebrates icons who, through their artistry, have left an indelible stamp on our collective cultural consciousness," stated Kennedy Center Chairman David M. Rubenstein. Joining MTT in the 42nd class of honorees is actress Sally Field, singer Linda Ronstadt, R&B collective Earth, Wind & Fire and Sesame Street—the award's first TV show.
"In this class of honorees, we are witnessing a uniquely American story: one that is representative of so many cultural touchstones and musical moments that make our nation great," said Kennedy Center President Deborah F. Rutter. "When I look at this class, I see the hopes, aspirations, and achievements not just of these honorees, but of the many generations they have influenced and continue to influence. We're not just looking back; these honorees are urging us to look forward as well."
MTT joins the ranks of past honorees such as John Williams, Itzhak Perlman, Luciano Pavarotti, Elton John, Mikhail Baryshnikov, Gloria Estefan and Yo-Yo Ma. Click here for a full list of past honorees.
"The life of an artist, or of an arts institution, has essentially two moments," says MTT. "The first is inventing yourself which takes vision and gumption. The second is going the distance, sustaining the vision and sharing it. I was fortunate to grow up around people who did both. My family and my devoted teachers lived every day reaffirming the highest standards and ideals of the arts and of our nation. They understood that the arts really matter when they have a creative role in a living tradition. I am honored that the Kennedy Center, which is a living center of both arts and ideals, has chosen to recognize my work. I hope that I can be thought of as a representative for all American classical musicians at this remarkable event."
Posted in: Alumni, Events, Fellows, MTT, SoundScape Park, Wallcast Concerts
---