News
November 21, 2016
NWS Alumni Serving Their Country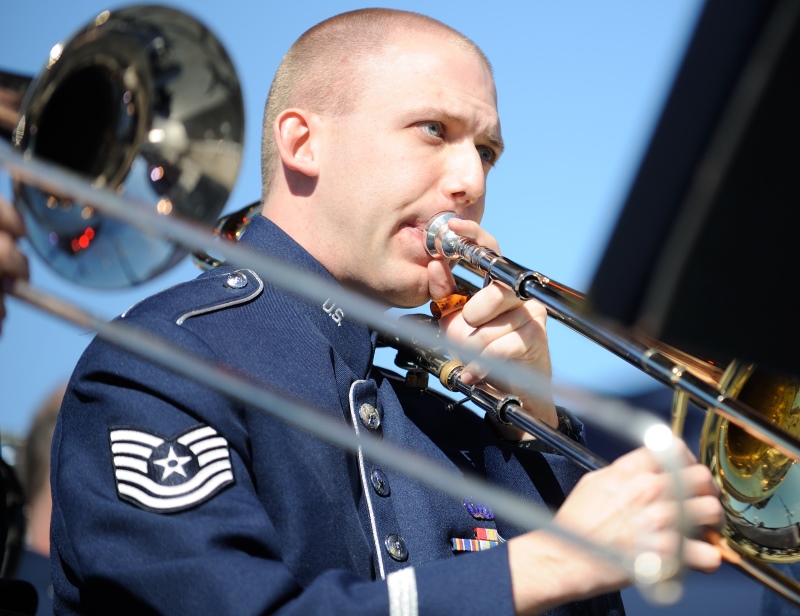 The four main branches of the United States Armed Forces offer classically trained musicians a different career option from the otherwise expected symphony orchestra or chamber ensemble jobs that many aspire to. Whether it's due to patriotism, stability, the activities specific to military bands, the variety of ensembles they can play for or the service they provide to the public, the bands of the Army, Air Force, Marines and Navy have attracted about a dozen New World Symphony Fellows/alumni to their ranks – literally.

NWS counts eleven alumni currently performing in military bands, plus one more who retired after serving for two decades. They are considered active duty military personnel. They have gone through months of basic training to acquire the same abilities as other soldiers, sailors, airmen and Marines. They are given an official military rank while they serve. These NWS alumni who serve the nation musically have been NWS Fellows from the 1988 second season through just the past season, men and women, playing strings, winds and brass. The bands are headquartered in the Washington, D.C. area, but performances are given all over the country and abroad.

At a recent WALLCAST™ concert NWS featured a Veterans Day themed video portraying the work of the U.S. Air Force Band, featuring three NWS alumni. Violinist MSgt Mark Dorosheff (2003) plays for the Air Force Strings; Trumpeter MSgt Karl Sweedy (2003) and trombonist TSgt William Timmons (2011) for The Ceremonial Brass.





The older main U.S. Army Band is known as Pershing's Own. Violinists SFC Annette Chang Barger (2000), SSG Catherine Miller Gerhiser (2011) and SSG Derek Powell (2014) are all members of The U.S. Army Strings. Clarinetist SFC Marlena Palma Dillenbeck (2000) plays for the U.S. Army Field Band, The Concert Band.





Trumpeter PO1 Kevin Businsky (2011) is the only alum in the Navy. He is a member of the U.S. Navy Band, Concert and Ceremonial Bands.





The U.S. Marine Corps Band is known as The President's Own. Cellist SSgt Caroline Bean Stute (2011), trumpeter MGySgt Matthew Harding (1997) and recent violin alumnus SSgt Foster Wang (2016) are all current members. French horn player MSgt Kristin Davidson (1991) retired in 2013 after 20 years' service. She served as assistant section leader, assistant principal and co-principal. She performed during the inaugurations of Presidents Clinton, Bush and Obama, and also for the State Funeral of President Reagan. Davidson also served as the Marine Barracks Washington, D.C. uniformed victim advocate from 2007-08.



Photos courtesy of New World Symphony Archives, except
Caroline Bean Stute - U.S. Marine Corps photo by Gunnery Sgt. Amanda Simmons
Will Timmons - U.S. Air Force photo by Master Sgt. Adam M. Stump
Kristin Davidson - U.S. Marine Band
Karl Sweedy  - U.S. Air Force photo by Technical Sgt. Matthew Shipes

Posted in: Alumni
---