News
December 3, 2019
NWS and CBS4 host WALLCAST® of Kennedy Center Honors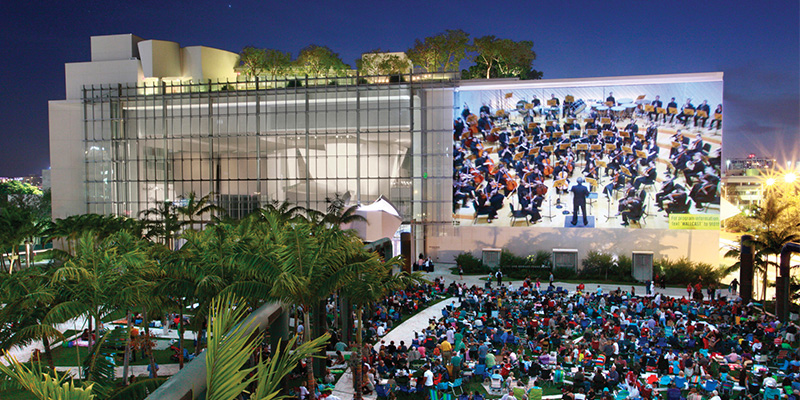 NWS Co-Founder and Artistic Director Michael Tilson Thomas is a 2019 Kennedy Center Honoree for his lifetime artistic achievements. To celebrate MTT's honor with the Miami Beach community, NWS and CBS4 will host a free viewing party of the Kennedy Center Honors ceremony in SoundScape Park on Sunday, December 15 at 8:00 PM. Attendees can watch the ceremony's telecast projected onto the 7,000-square-foot façade of the New World Center in full 4K Ultra-High-Definition.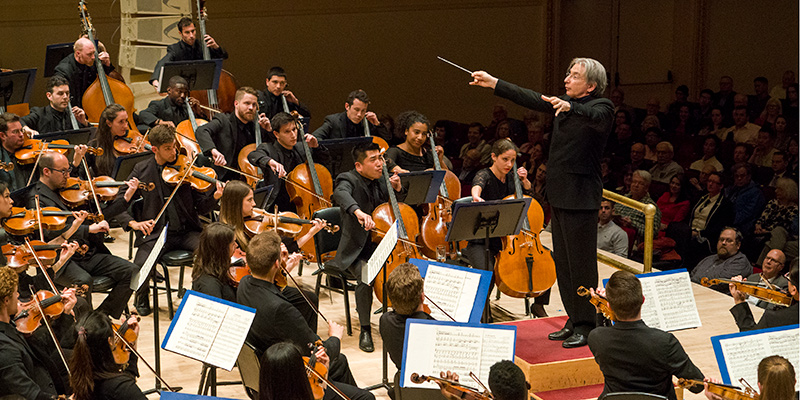 MTT conducting NWS at Carnegie Hall in May 2019, photo by © 2019 Richard Termine
Joining MTT in this 42nd class of honorees are actress Sally Field, singer Linda Ronstadt, R&B collective Earth, Wind & Fire and the TV show Sesame Street. Each will be recognized by peers through performances and tributes, all of which are surprises to the honorees. Click here to read more.  
The viewing party in SoundScape Park will include the two-hour telecast emceed by CBS4 Entertainment Reporter Lisa Petrillo, performances by NWS Fellows and remarks by NWS President and CEO Howard Herring.
MTT's Tribute at the Kennedy Center Honors
Performing as part of MTT's tribute in the Kennedy Center Honors ceremony is an orchestra comprised entirely of NWS alumni. The 42 musicians, whose fellowship years range from NWS's first season to today, now play in the country's top orchestras and are transforming the communities in which they now live. Click here for the alumni orchestra's full roster.  Other artists joining MTT's tribute include pianist Yuja Wang, singer/actress Audra McDonald, actress Debra Winger and Metallica's Lars Ulrich. 
What are WALLCAST® concerts or events?
New World Symphony WALLCAST® concerts, allow you to experience live classical music performances or events in SoundScape Park through a striking use of 4k visual and audio technology on the soaring, 7,000-square-foot projection wall of the New World Center. WALLCAST® events are free and do not require a ticket.
What should I bring?
Bring a blanket, share a picnic dinner, and enjoy time with family, friends and even dogs!
Where should I park?
There are several parking garages near the New World Center and SoundScape Park. Click here for more information.
When's the next WALLCAST® concert?

Upcoming WALLCAST® concerts this month include Ehnes Plays Mozart on Saturday, December 14 and NWS's annual holiday concert Sounds of the Season on Saturday, December 21. Join the WALLCAST® Concert Club to receive event updates.
In the News
The Washington Post: Michael Tilson Thomas was once the 'bad boy of classical music.' Now at 74, he still conducts with childlike delight. 
"The New World Symphony is one of the orchestra world's success stories."
"The NWS organization is a concrete expression of some of Thomas's central interests. Working with young musicians sustains him, he says. And disseminating music through technology — videos or audio, the YouTube symphony or the Internet — has been a theme of his career. The New World Center, with its state-of-the-art technology, makes both of these things possible on a grand scale, archiving every performance and master class in the building, newly equipped to record and broadcast everything in 4K HD."
The Washington Post: Kennedy Center Honors: It's a boogie wonderland
"the show offered some tender and exhilarating interludes,... Among the better segments: Audra McDonald, pianist Yuja Wang and alumni of Miami's New World Symphony — which Thomas co-founded — saluting the conductor with a rousing version of the Gershwins' "I Got Rhythm"
"The New World Symphony alumni distinguished themselves in Thomas's honor with a performance of compositions by Aaron Copland, Leonard Bernstein and Igor Stravinsky."
Posted in: Events, Fellows, MTT, SoundScape Park, Wallcast Concerts
---