News
September 7, 2022
NWS and GBH present national broadcast of Harlem Renaissance festival
I Dream a World: The Harlem Renaissance and Beyond, photo by Gregory Reed
In a first-ever collaboration with the New World Symphony, Boston-based public media producer GBH will present I Dream a World: The Harlem Renaissance and Beyond  beginning Sunday, September 18, 2022 at 7:00 PM on CRB Classical 99.5 in Greater Boston and streaming on-demand on the CRB Classical website. 
Through a kaleidoscope of music and spoken word, the two-part radio program celebrates the history and influence of the Harlem Renaissance in the 1920s and 30s. Hosted by GBH arts and culture reporter James Bennett II, the program features music, poetry and interviews recorded at the New World Symphony's Festival in the New World Center in Miami Beach in February 2022.
"I Dream a World is a remarkable opportunity for listeners to explore the legacy of the Harlem Renaissance through a brilliant interweaving of music and words," said Anthony Rudel, General Manager of GBH Music. "This collaboration between GBH Music and New World Symphony allows us to bring such beautiful expressions of Black music and culture to a wide and engaged audience."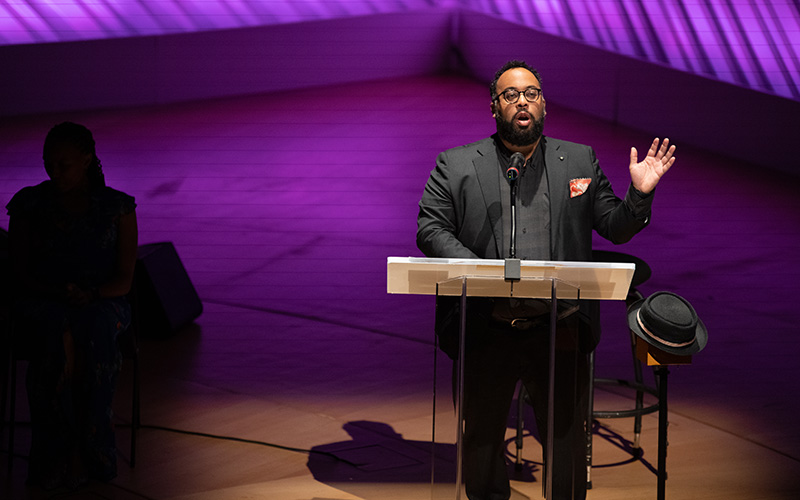 Kevin Young at the New World Center, photo by Gregory Reed
I Dream a World: The Harlem Renaissance and Beyond features poet Kevin Young, The New Yorker poetry editor and Director of the Smithsonian National Museum of African American History and Culture, pairing poetry by figures such as Langston Hughes and Pauli Murray with choral arrangements and small combo performances by The Ambassador Chorale of Florida Memorial University and New World Symphony Fellows. Listeners will also hear pianists Wesley Ducote and Thomas Steigerwald present Black American keyboard music. The full program concludes with celebrated conductor Thomas Wilkins leading the Fellows in "Victory Stride: The Orchestral Legacy of the Harlem Renaissance," featuring colorful orchestral expressions by composers including Duke Ellington, Florence Price and William Grant Still.
"New World Symphony is a laboratory for generating new ideas about the way music is taught, presented and experienced. Intense curiosity informs this work and produces inclusive programming like I Dream a World," said New World Symphony President and CEO Howard Herring. "We thank GBH for bringing this festival to their audience and for being strong partners in the expansion of American culture."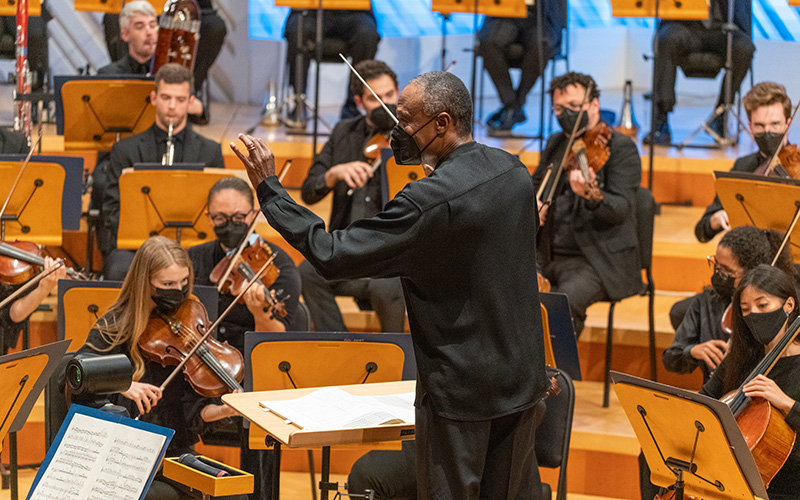 Thomas Wilkins leads the New World Symphony, photo by Gregory Reed
I Dream a World: The Harlem Renaissance and Beyond will be presented in two parts airing back to back on CRB Classical 99.5 in Greater Boston at 7:00 PM on Sunday, September 18. The program will also be available for on-demand streaming on the CRB Classical website. The two-part program will be made available to public media stations nationally to air in full or separately through PRX beginning on September 15. The program was co-produced by Alan McLellan and James Bennett II with Brian McCreath serving as executive producer.  
The radio program draws from recordings made at the New World Symphony's festival, I Dream a World: The Harlem Renaissance and Beyond, which took place February 1-5, 2022, at the New World Center on Miami Beach. This festival of orchestral music, talks, recitals, poetry readings and chamber music was designed by NWS Founder and Artistic Director Laureate Michael Tilson Thomas in collaboration with musicologist Dr. Tammy Kernodle, Distinguished Professor of Musicology at Miami University of Ohio. 
The Harlem Renaissance marked a turning point in American history, helping to establish the authority of Black artists over the representation of Black culture and experience and setting the stage for contemporary Black artists shaping American culture. It was significant in linking 19th-century Black intellectual culture to the radical form of Black art that extended out of the Black civil rights movement during the 1960s. The Harlem Renaissance was also the foundation for contemporary Black art. The GBH Music broadcast seeks to capture and celebrate the fullness of this legacy. 
I Dream a World: The Harlem Renaissance and Beyond was produced in the New World Center's Knight New Media Center. Knight Foundation and New World Symphony: Reimagining Classical Music in the Digital Age.
About GBH
GBH is the leading multi-platform creator for public media in America. As the largest producer of content for PBS and partner to NPR and PRX, GBH delivers compelling experiences, stories and information to audiences wherever they are. GBH produces digital and broadcast programming that engages, illuminates and inspires, through drama and science, history, arts, culture and journalism. It is the creator of such signature programs as MASTERPIECE, ANTIQUES ROADSHOW, FRONTLINE, NOVA, AMERICAN EXPERIENCE, Arthur and Molly of Denali and a catalog of streaming series, podcasts and on-demand video. GBH's television channels include GBH 2, GBH 44, GBH Kids and national services WORLD and Create. With studios and a newsroom headquartered in Boston, GBH reaches across New England with GBH 89.7, Boston's Local NPR; CRB Classical 99.5; and CAI, the Cape and Islands NPR station. Dedicated to making media accessible to and inclusive of our diverse culture, GBH is a pioneer in delivering media to those who are deaf, hard of hearing, blind and visually impaired. GBH creates curriculum-based digital content for educators nationwide with PBS LearningMedia and has been recognized with hundreds of the nation's premier broadcast, digital and journalism awards. Find more information at gbh.org.
Posted in: Concerts, Events, Press
---