News
February 4, 2020
NWS and Miami City Ballet honor Stravinsky and Balanchine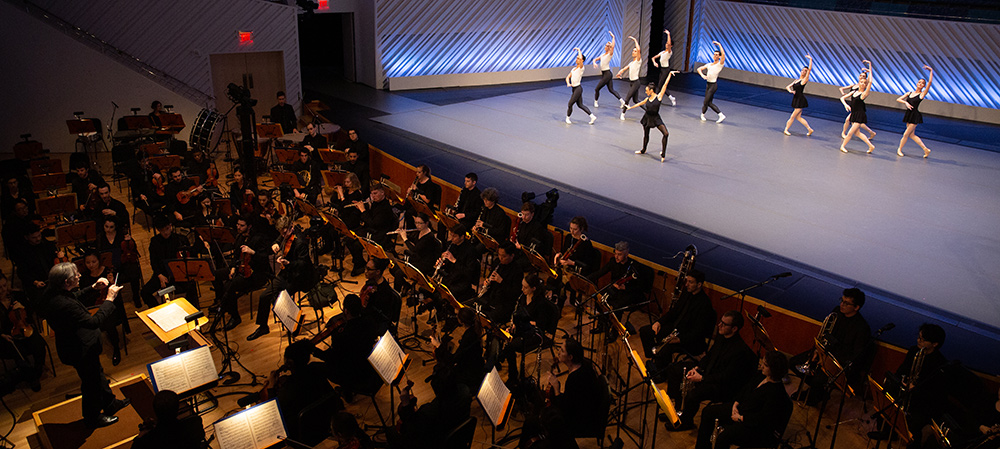 Miami City Ballet Company Dancers in Stravinsky Violin Concerto. Choreography by George Balanchine © The George Balanchine Trust. Photo © Alexander Iziliaev.
On January 31 and February 1, two of South Florida's preeminent cultural institutions—the New World Symphony and Miami City Ballet—joined forces in their first large-scale collaboration to honor choreographer George Balanchine and composer Igor Stravinsky. In a performance hailed as "exhilarating and artistically fulfilling," the two institutions highlighted the fruitful partnership of the 21st-century titans by performing their first collaboration—Apollo—and one of their last—Stravinsky's Violin Concerto.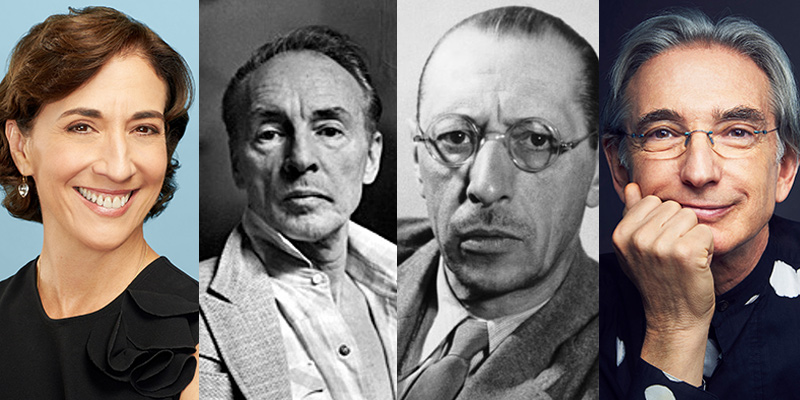 Miami Beach's own connections to Stravinsky and Balanchine were also center stage. NWS Co-Founder and Artistic Director Michael Tilson Thomas (MTT) worked with Stravinsky in Los Angeles during the later years of the composer's life and Miami City Ballet Artistic Director Lourdes Lopez was a member of the New York City Ballet under Balanchine and later served as Executive Director of the George Balanchine Foundation. Together they honor their mentors' legacies and empower a new generation of musicians and dancers in Miami Beach.
The performances were made possible by the generosity of the John S. and James L. Knight Foundation, whose Vice President of Arts, Victoria Rogers, said: "This is a wonderful example of collaboration between two long-term Miami institutions recognized internationally for artistic excellence and innovative approaches to their respective classical art forms. That Lourdes and MTT continue to explore new ways of making art accessible, keeping true to their training and using their personal experiences with the masters to interpret and evolve ballet and classical music, keeps things relevant and fresh."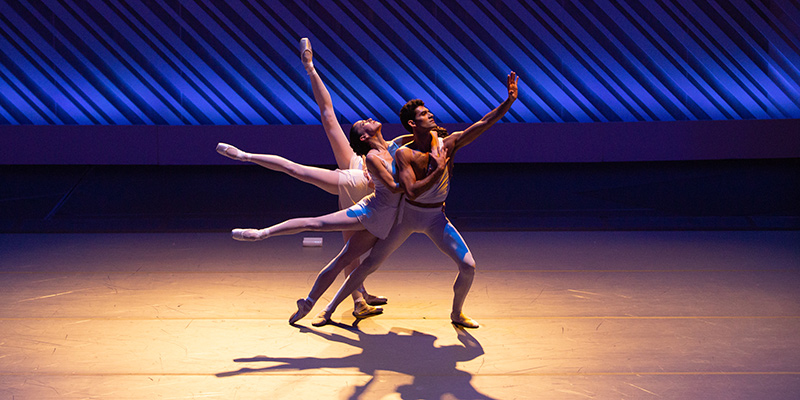 Miami City Ballet Company Dancers in Apollo. Choreography by George Balanchine © The George Balanchine Trust. Photo © Alexander Iziliaev.
Michael Tilson Thomas + Igor Stravinsky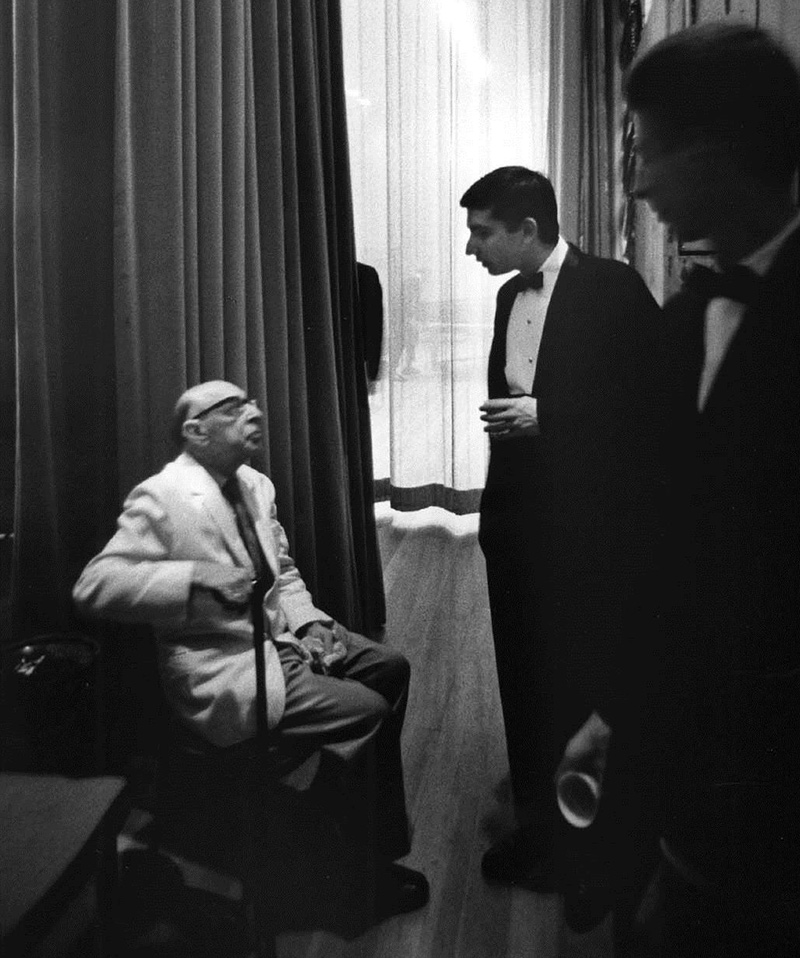 MTT with Igor Stravinsky, photo by Arnold Newman
MTT was a young boy when he first heard Igor Stravinsky conduct his own music, and as a teenager and young adult, he had the privilege of working with the composer in a variety of settings—from rehearsals to recording sessions. His first collaborative experience with Stravinsky came in his late teens, in rehearsals for the Huxley Variations. MTT soon began performing in Los Angeles' Monday Evening Concerts, which afforded him more opportunities to work with Stravinsky and become acquainted with his circle.
"I grew up in Los Angeles and I saw Stravinsky conduct for the first time when I was about 10 or 11," said MTT. "I began attending rehearsals of his new music with some of my teachers and had these wonderful experiences of hearing him sing and demonstrate, in his own kind of fractured solfege, exactly the way he thought the music should go. Hearing the music sung in the composer's own voice gives you a perspective that can come from no other."
From the San Francisco Classical Voice: While attending rehearsals in Los Angeles and eventually playing in the concerts, MTT drew benefit from hearing Stravinsky sing sections of the score. The conductor would ask musicians to discover different shapes in the music, to find purpose and character in each note, to maximize the quality of sound, be it caressing, aggressive, or otherwise. "He was very elegant. He spoke precisely and with great sophistication about what he wanted. All the phrases were to be very turned out, very gestural, as if choreographed." To that end, MTT says his primary task in leading the musicians is "to encourage the orchestra to play with as much courage and freedom and personality as possible." That, he concludes, "is something to achieve."
Stravinsky also later coached MTT as he and fellow pianist Ralph Grierson made the first recording of The Rite of Spring arranged for piano four hands. These experiences have informed MTT's approach to the music of Stravinsky throughout his career as a conductor, which includes seven recordings of Stravinsky's music and a Keeping Score episode dedicated to The Rite of Spring.
Lourdes Lopez + George Balanchine

Courtesy of Miami City Ballet

Lourdes Lopez with George Balanchine, photo by Steven Caras
Lourdes Lopez was personally invited by George Balanchine to join the corps de ballet of New York City Ballet at only 16 years of age. She was featured in countless leading roles in seminal Balanchine works, including Firebird, Serenade, Symphony in C, Agon and The Four Temperaments. She also danced and was coached by Balanchine in Stravinsky Violin Concerto and Apollo. After retiring from the stage, Ms. Lopez went on to serve as the Executive Director of the George Balanchine Foundation for four years.
George Balanchine – Balanchine – or Mr. B, to those fortunate enough to have worked with him, is widely considered the person responsible for bringing contemporary ballet to the forefront of American audiences. But, to those who worked with him, he was much more than an innovative choreographer and teacher. More than 35 years after his death, his legacy and immense body of work continues to touch countless lives, inspiring dancers and choreographers throughout the world.
There is a quiet tenderness when Lourdes Lopez speaks about her memories working with Balanchine. She recalls fondly, "Balanchine knew his dancers were his greatest instrument and he was exceptionally respectful to us. A true gentleman. When I was promoted to soloist at New York City Ballet, I went to thank him. His response to me was, 'You know dear, I didn't do the work. You did.' That was a hugely impactful moment, because he moved that gift of the promotion right back to me and it was empowering."
As the son of a composer, it is no secret that Balanchine considered music to be the essence of choreography and his famous quote, "See the music, hear the dance," fully embodies this approach, especially when it comes to his sublime relationship with Stravinsky. In 1928, a 24-year-old Balanchine premiered Apollo to Paris audiences. It was then the young choreographer knew his life was changed forever and a formidable partnership between choreographer and musician was born. Balanchine said of the pivotal moment, "The score was a revelation. It seemed to tell me that I too could dare to not to use all of my ideas, that I too could eliminate."
Lourdes adds, "Looking back, it's quite a marvel, how these two Russian geniuses, have been so fully recognized by American artists and audiences as leading masters of 20th-century ballet and classical music. When you understand the significance of their relationship, when you truly step back and take it all in, you understand the great pride we take in partnering with the immensely talented musicians of the New World Symphony and the importance of our shared desire to bring these masterful works to the public."
Press
South Florida Classical Review: New World Symphony, Miami City Ballet make inspired partners in Stravinsky
Miami Magazine: Rhythm & Melody: The Miami City Ballet and New World Symphony join artistic forces in a performance for all of Miami.
Miami Herald: Miami City Ballet, New World Symphony unite for 'A Monumental Collaboration'
Dance Informa: Miami City Ballet and New World Symphony: A monumental collaboration
Sponsors
The New World Symphony and Miami City Ballet graciously thank the following sponsors whose support made this collaboration possible.
Presenting Sponsor: Knight Foundation
Supporting Sponsors: Karen Bechtel and Will Osborne, Jay Franke and David Herro, Dr. and Mrs. David F. Frankel, Ann and Graham Gund, Kristi and Dean Jernigan, Mr. and Mrs. William L. Morrison, Mr. and Mrs. Edward J. Nicoll, PwC, Ms. Judith Schalit, Susan D. Kronick and Edward Manno Shumsky, Jean and Eugene Stark, and Verity Partners & Friezo Foundation.
Posted in: Concerts, Events, Knight, MTT
---