News
September 21, 2020
NWS announces Fall 2020 academic and artistic season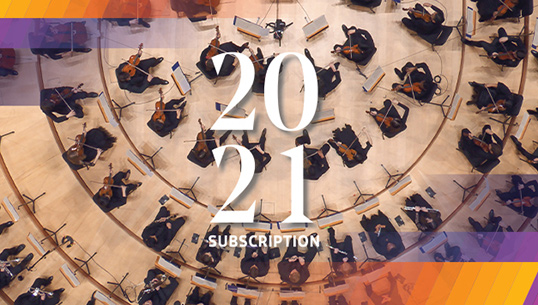 Artistic Director Michael Tilson Thomas and the New World Symphony announce an innovative virtual fall season for Fellows and audiences featuring leading-edge distance learning, media training, musician-led activism and entrepreneurship, livestreamed concerts, and WALLCAST® concert special events. Click here to subscribe to the 2020-21 season. 
The unprecedented pandemic and the resulting economic impact cut short the Spring 2020 season at the New World Symphony, as it did for arts organizations around the globe. Additionally, classical music, as an art form, has been challenged to address its traditional lack of inclusion. The New World Symphony has heard this call and is committed to ensuring inclusion both on stage and off. 
NWS is a laboratory for generating new ideas about how music is taught, presented, and experienced.  Digital capabilities, pandemic restrictions, and a commitment to a new level of diversity and inclusion are defining the 2020-21 fellowship season.  
Of the Fellowship season, NWS President and CEO Howard Herring said, "The one room schoolhouse disappeared when better roads were built. That is an analogy that can be applied to the New World Symphony.  Our original home, the proud but limited Lincoln Theatre, resembled a one room schoolhouse.  Our New World Center provides digital paths to experts who expand the imaginations of our Fellows and distribution systems that carry our artistic expressions further - locally and globally. The pandemic is accelerating our experimentation along these digital paths.  It is also prompting reflection and action in the area of equity, diversity, and inclusion. With MTT's leadership, we will apply our resilience and invention to these opportunities."  
NWS is the beneficiary of two funding initiatives established by trustees and in support of innovation. The Fund for New Ventures invites philanthropic investment in forward-looking strategies for education and musical performance. The Resilience Fund gives donors the chance to support current and future programs that will make NWS more responsive and inventive.
For press inquiries contact Kathleen Drohan at 917-309-3100 or Kathleen.Drohan@nws.edu.
THE FELLOWSHIP
As the fellowship season begins, all training and performance will be online. NWS is uniquely capable of providing a robust fellowship in this digital environment. The Fellows are working from disparate locations, Miami Beach, across the U.S., Asia, Europe, and Australia. The programs anticipate that all Fellows will be in Miami by January 1, 2021 based on the lifting of pandemic restrictions.
Mentorship from Michael Tilson Thomas
Each Fellow will begin this season in one-on-one working sessions with Michael Tilson Thomas, New World Symphony's artistic director, to identify their personal needs and goals and jointly make an individualized plan for the season.
"Back in March, when we had to halt our season, none of us fully appreciated the enormity of the challenges we were confronting - not only for the New World Symphony, but for the entire world," said Michael Tilson Thomas. "Though we are still in the midst of these challenges, it has been inspiring to see how dedicated and resourceful our Fellows, visiting faculty, and staff have been in keeping the music alive. This fall, as we welcome a new class of Fellows, we will expand upon those efforts, exploring new ways to learn and collaborate together, while also continuing to bring music to the community as a source of comfort and inspiration."
Fellow Training
As a laboratory for musical education and expression, New World Symphony offers its Fellows a wide range of performance and instructional activities to develop in them the full complement of skills and qualifications required of musician leaders and agents of change. Under the artistic direction of Michael Tilson Thomas, the program offers in-depth exposure to traditional and modern repertoire with the active involvement of leading guest conductors, soloists, and coaches. The relationships with these artists are extended through NWS's pioneering experimentation with distance learning via Internet2. NWS provides opportunities for Fellows to create their own performance opportunities and projects.
During the Fall 2020 season, Fellows will participate in instrumental group coaching and master classes from musicians including members of the Minnesota, Cleveland and Metropolitan Opera orchestras, as well as the Boston, Kansas City, Milwaukee, and San Francisco symphonies.  Additionally, each musician is able to schedule up to 10 online lessons from coaches of their choice anywhere in the world. 
Media Training
Long acclaimed for its use of technology in its concert presentations and learning opportunities, the New World Symphony will offer all Fellows enhanced media training this season. This includes video and audio production sessions with members from the New World Symphony's award-winning production team; discussions with NWS alumni Francisco Joubert Bernard (bassoon, @vg_bassonist) and Mark Grisez (trumpet, The Curious Musician) on creating online communities; and storytelling and media training with veteran journalist and media expert, Tamika Bickham. 
NWS BLUE Projects
Each season, Fellows of the New World Symphony participate in entrepreneurial NWS BLUE Projects, which give the musicians an opportunity to Build, Learn, Understand and Experiment while exploring topics that are significant to them individually. The 2020-21 season is the first in which NWS Alumni can join Fellows in creating BLUE projects.  
Highlighting Fall 2020 BLUE Projects, first-year Fellow Michael Martin, a bass player from Allentown, Pennsylvania, curates a series of conversations exploring race in the classical music world. "Black Reflections: Three conversations on Racial Justice in music" is a three-part panel discussion series on Black artistry in concert music hosted by Oberlin Conservatory and the New World Symphony. Conversations will focus on the historical and social context of Black musicians' participation in concert music, the personal experiences of Black musicians, and re-imagining a just and equitable future for Black artists in concert music. Panelists include Black artists, activists, scholars, and executives in classical music and jazz. Black Reflections is a partnership funded and hosted by Oberlin Conservatory of Music and the New World Symphony and has received promotional support from the Sphinx Organization and the Gateways Festival.
Community Engagement
Due to COVID19, NWS is reimagining its Community Engagement programs for the virtual space. Community Engagement is an important part of the New World Symphony's mission to prepare graduates of music programs for leadership roles in orchestras and ensembles around the world. This year further helps prepare Fellows to engage with local and global communities in an online environment.  NWS's yearly community engagement programs including MusicLab, Education Concerts, and performances at local partner organizations will be presented online, providing a unique opportunity for audiences to interact with Fellows and for Fellows to expand their experiences collaborating and presenting to the community. This includes more online collaborations with Miami Music Project, a completely virtual education concert hosted by Fellows, and various digital performances for non-profit organizations that serve children and adults.
NWS will continue to provide online lessons and master classes to our partners outside of South Florida, including Iberacademy in Medellín, Colombia, through NWS Connect and individual online coaching between Fellows and students. The expanded online experience will include instrumental lessons as well as audition training seminars, and master classes curated by MTT.
NWS Fellows will also have access to coaching specific to online community engagement in the areas of online pedagogy, digital engagement, and virtual music education events. This year's coaches include Susanna Loewy, Program Director and Lead Teaching Artist for Project 440; Justin Hines, Senior Composition Mentor for the New York Philharmonic Very Young Composers Program; Anthony Parce, Viola, Nashville Symphony and NWS alum, who has  extensive experience in classroom and community embedded work.
Inclusion
The New World Symphony is committed to diversity and inclusion, believing that the viability and vitality of the performing arts depends on their being reflective of the communities which they serve. This season, NWS programming will include a minimum of 11 composers who identify as women and 15 who identify as BIPOC.
For the second year in a row, Crossroads Antiracism Organizing & Training will engage staff, Fellows, and board members in an Introduction to Systemic Racism workshop, designed for institutions who want to understand the systemic nature of racism and the role institutions play in its maintenance. Additionally, NWS has created an Equity, Diversity, Inclusion, and Belonging Committee made up of members of the staff, Fellows, and Trustees.
Health and Wellness
NWS offers a variety of health and wellness initiatives for the Fellows to ensure holistic growth during their Fellowship. These include virtual training in the Alexander Technique, Feldenkrais method, and yoga, as well as the opportunity to meet with an audiologist. Additionally, this season, New World Symphony is offering mental health support through BetterHelp, an online counseling platform, at no cost to the Fellows. Each NWS Fellow is allowed a budget to cater their wellness training to suit their personal needs.  
PERFORMANCE SCHEDULE
NWS performances begin in online formats.  As pandemic restrictions are lifted, Fellows and, ultimately, audiences will return to the New World Center.  
The Knight New Media Center
The John S. and James L. Knight Foundation is a strong partner in exploring digital networks for fellowship training as well as capture and distribution of NWS performances.  Acknowledging their financial commitment and professional encouragement, all NWS digital expression originates in the Knight New Media Center.  While NWS leadership has always envisioned an expanding digital presence, the pandemic restrictions have hastened that work.  Beyond the pandemic, NWS anticipates that programs of the Knight New Media Center will continue to have high value for Fellows, alumni, music students – local and global, and audiences for classical music. 
IDAGIO Partnership
New World Symphony is proud to have partnered with the IDAGIO Global Concert Hall, a new online concert venue made available to audiences worldwide. NWS will use this audiovisual platform to offer exclusive digital concerts, and audiences will be able to enjoy performances by NWS directly from the comfort of their own homes. The concerts are streamed live and are available across the globe for 48 hours following the initial broadcast. Many programs will allow audiences to remain online following the performance to chat directly with artists and Fellows in a Virtual Green Room, allowing them the opportunity to ask questions and to collectively reflect on the performance. Further interactive features are being developed.
Live from our Living Room
The New World Symphony had to close the doors to the New World Center and cancel in-person concerts on March 12. By the following Friday, March 20, the New World Symphony Fellows had created a new kind of chamber concert. They performed solo and in duos, socially distanced, in live concerts streamed on Facebook and archived on the New World Symphony website. Those concerts, among the only offerings of live music available at the time, continued weekly through June and ultimately more than 20,000 households worldwide watched them either live or on the NWS website.
Entirely programmed by Fellows, Live from our Living Room allowed the musicians to explore musical and social ideas. In each concert, the works were personalized with introductions by the musicians. On June 19th, the Fellows curated an evening in support of the Black Lives Matter movement and in tribute to the many lives lost to racial violence.
This popular and powerful series gets a Living Room upgrade and moves to the New World Center but remains true to its original concept. Programmed by the Fellows, these bi-monthly Friday evening concerts will feature solo and duo chamber performances, with ensemble size growing if conditions allow, and will be available free through Facebook Live, YouTube, and NWS.edu.   
NWS at Dezerland Park Drive-In Theater and Hard Rock Stadium
Subscribers to the New World Symphony Season are invited to experience the Symphony in a new way. The groundbreaking New World Symphony WALLCAST® concert experience, traditionally limited to audiences in SoundScape Park, will be on the big screen at the Dezerland Park Drive-In Theater on October 17 and at the Hard Rock Stadium on November 14. The subscriber-only limited audience can experience New World Symphony led by Michael Tilson Thomas and guest conductors from the comfort and safety of their cars.
The Dezerland Park event marks the season's first in-person event and will be a celebration of the communal concert-going experience, one of the great traditions of classical music, in a safe, socially distanced setting. Attendees will enjoy NWS performance highlights on Dezerland Park's 13 x 36-foot LED screen.  
At the Hard Rock Stadium in Miami Gardens, guests will be treated to a completely furnished "outdoor park" created with artificial turf, where they can sit in socially distanced groups.  Content will include highlights from past NWS events, in addition to content recorded specifically for this event and live appearances by NWS Fellows. 
Adams x Adams
Pulitzer and multiple Grammy Award-winning composer John Adams will work with Fellows on a program of his chamber works, including Hallelujah Junction, Shaker Loops, as well as the works of living composers whom he champions. This will culminate in a concert program, curated by Adams, on November 7.   
James Ehnes Bach Project
One of the most sought-after violinist of his time, James Ehnes undertook a monumental task as the pandemic silenced many performing artists – mastering and recording all six of J.S. Bach's works for unaccompanied violin (3 Sonatas and 3 Partitas), cornerstones of the violin repertoire and considered to be amongst the most profound and challenging works written for the instrument. In partnership with Michael Tilson Thomas, Mr. Ehnes will guide the NWS Fellows in a deep-dive exploration of these works, coaching them one-on-one. All 22 Violin Fellows will participate, most in the live masterclasses, and a few who are based internationally, virtually. This project will culminate in a performance by Fellows on December 12.
Chamber Concerts
Two afternoons of chamber music will be streamed live and feature composers in conversation about their works.
On Sunday, November 1, the program will include works by Schubert and Slovenian composer Nina Šenk, who will participate in the concert remotely.
The Sunday, November 15 concert features the Dvořák Piano Quartet alongside works by Errollyn Wallen and Pulitzer Prize-winner Caroline Shaw. Both women will offer recorded comments on their works.
Percussion Consort
Curated by Dean of Chamber Music and Fellow Development Michael Linville, the Percussion Consort is consistently one of the most dynamic events of the New World Symphony season.
This season's first all-percussion evening, October 10, will feature works by Tania León, Lou Harrison, Bartók, and more. The concert will be highlighted with a video performance of Henry Cowell's Ostinato Pianissimo featuring New World Symphony Fellows and Alumni.
Educational Concerts
NWS will stream its annual Education Concert on December 15 and 16. This season's concert is titled Voices of Nature and designed by NWS Fellows to introduce major orchestral works and composers to students grades 4-12. Registration deadline is October 16 at nws.edu/EducationConcerts.   
Holiday Concert
The New World Symphony's Holiday Concert, Sounds of the Season, is its thank-you to the community. This year's concert, to be held on December 19, will feature highlights from past performances with live introductions by the NWS Fellows. The evening will be hosted live by NWS Conducting Fellow Chad Goodman and will celebrate the season with festive classics featuring a Miami twist. 
Health and Wellness Programs
The New World Symphony continues to offer health and wellness programs free to our community.
NWS Fellows Chelsea Sharpe, violin, and Marlea Simpson, viola, perform as a live accompaniment to Baptist Health's Virtual Tai Chi class on September 26 at 11:30 AM.
Yoga Mornings from the New World Center will continue with a virtual vinyasa class beginning on October 3 at 9:00 AM. Yoga Mornings are presented by Jackson Health System.  
Public Health and Safety
The New World Symphony is committed to maintaining a safe environment for Fellows, staff, and audiences. NWS strives to comply with the MB Standard, a set of enhanced safety measures put in place by the City of Miami Beach. All NWS Fellows and staff who wish to enter the New World Center must test negative for the Covid-19 virus and must be retested every month. All visitors to the NWS administrative offices must have a temperature check before entering the building. Masks are required in the New World Center at all times. The building is cleaned daily, and high-touch areas are cleaned multiple times daily.
2020-21 Season Sponsors
NWS would like to recognize the following institutional partners: Knight Foundation and New World Symphony: Reimagining Classical Music in the Digital Age; Carnival Corporation is the Premier Sponsor of the New World Symphony; NWS concerts are presented with the support of the Miami-Dade County Department of Cultural Affairs and the Cultural Affairs Council, the Miami-Dade County Mayor and Board of County Commissioners; NWS concerts are presented with support of the City of Miami Beach, Cultural Affairs Program, Cultural Arts Council; Hitachi is a Technology Partner of the New World Symphony; Yamaha is the Official Piano of the New World Symphony; IDAGIO is the Official Audio Streaming Partner of the New World Symphony.
For more information about the New World Symphony's 2020 Fall Season contact Kathleen Drohan, Vice President of Public Relations,
at Kathleen.Drohan@NWS.edu or 917-309-3100.
As possible, and in accordance with County and City regulations, New World Symphony will allow limited in-person, socially distanced audiences.  
All programs and schedule subject to change. For ticket and viewing information visit NWS.edu.
Posted in: Alumni, Community Engagement, Concerts, Events, Fellows, MTT, News, Wallcast Concerts
---