News
June 8, 2022
NWS announces its 2022-23 Season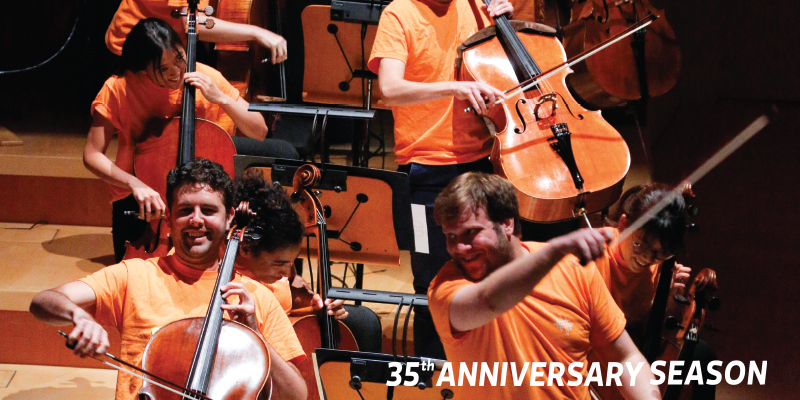 The New World Symphony (NWS) announces its 2022-2023 concert season. This 35th Anniversary season builds on New World Symphony's mission to prepare young musicians for leadership roles in orchestras and ensembles around the world, and its vision of an inclusive and dynamic future for classical music. The 2022-23 season demonstrates NWS's commitment to collaboration, partnership and inclusion.    
Subscriptions to NWS's 2022-23 season will be available starting mid-June. Click here to browse subscriptions. Single tickets will become available in early September. Join NWS's mailing list to be among the first notified of these on-sale dates. 
About the Season
The 2022-23 season marks the first New World Symphony concerts in the Michael Tilson Thomas Concert Hall, named for the celebrated NWS co-founder, who assumed the role of Artistic Director Laureate in June 2022. The season features celebrated classical artists including cellist Alisa Weilerstein, violinist Randall Goosby, and pianist Yefim Bronfman alongside artists making their NWS debuts including pianist Isata Kennah-Mason, and sopranos Jeanine De Bique and Heidi Melton.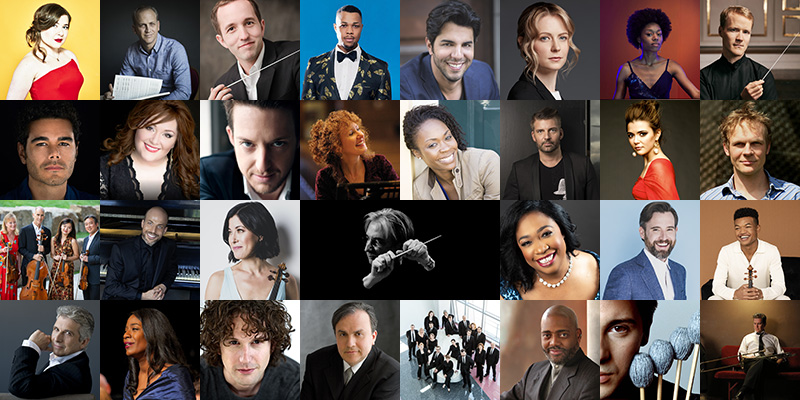 NWS's 2022-23 season guest artists and conductors
As Artistic Director Laureate, Michael Tilson Thomas (MTT) takes the podium to lead the New World Symphony in three concerts this season. Other conductors featured include Jeannette Sorrell, Carlos Miguel Prieto, William Eddins, David Robertson, Domingo Hindoyan, Nicholas Collon, Matthias Pintscher and Gemma New.   
Season highlights include a multi-day, multi-disciplinary festival in February celebrating the work of Black artists; a season-long exploration of the work of Mexican composer Gabriela Ortiz; a multi-media Wagnerian evening; and a return of the much-loved Late Night at New World Symphony concert. The 2022-23 season is marked by collaborations and partnerships with leading-edge arts ensembles from Miami and around the world.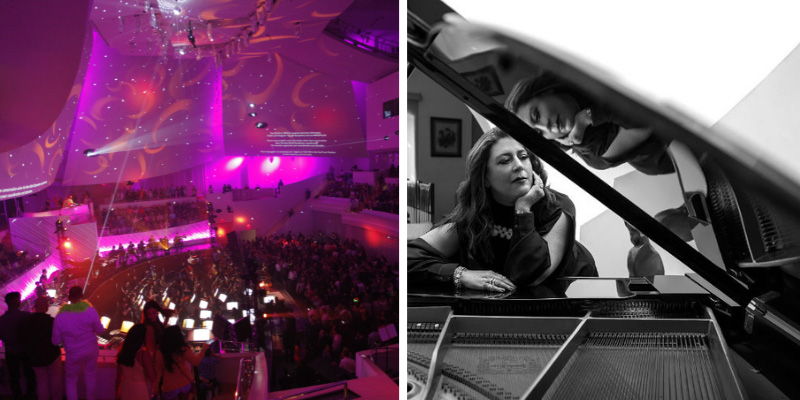 Late Night at New World Symphony and Gabriela Ortiz
The New World Symphony redoubles its commitment to accessibility with streaming concerts presented by partners including Quincy Jones's Qwest TV, as well as a digital membership program for patrons unable to come to the New World Center. Additionally, 12 season concerts will be presented as free WALLCAST® Concerts and streamed onto the New World Center's iconic 7,000-square-foot projection wall. NWS will unveil a new Mobile Wall in Fall 2022. This 23x13 foot projection wall and a state-of-the-art sound system will extend the viewing areas in SoundScape Park during WALLCAST® concerts and will serve neighborhoods across Miami with WALLCAST® content and Fellows as ambassadors.   
Of the upcoming season, New World Symphony President and CEO Howard Herring said, "Michael Tilson Thomas' revolutionary idea for the New World Symphony, embraced by philanthropic partners Ted and Lin Arison, put music education and expression at the center of community. The coming season brings this idea to life. Collaborations link our Fellows with some of the most adventuresome cultural organizations, locally and globally. Defined through our continued exploration of digital connectivity, musicians and audiences join us online. The newly named Michael Tilson Thomas Performance Hall is the center of all this activity."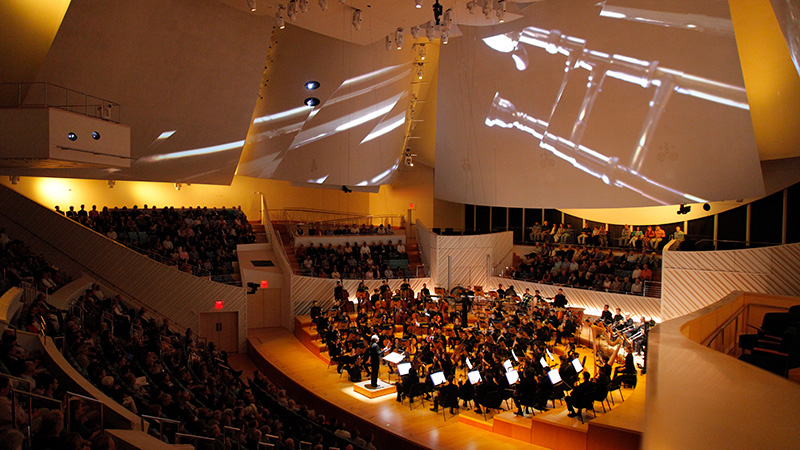 The Michael Tilson Thomas Performance Hall
2022-23 Season Highlights   
MICHAEL TILSON THOMAS  
As New World Symphony Artistic Director Laureate, Michael Tilson Thomas leads the NWS in three concerts during the 2022-23 season. On October 22, MTT opens the New World Symphony's series at the Adrienne Arsht Center with pianist Yefim Bronfman in an all-Rachmaninoff program. He returns to the Arsht stage on November 4 and 5 leading The Cleveland Orchestra and New World Symphony side-by-side in works by Debussy and Mahler. Taking the podium at the New World Center on May 6 and 7, MTT leads an evening of music and dance with the NWS and Miami City Ballet.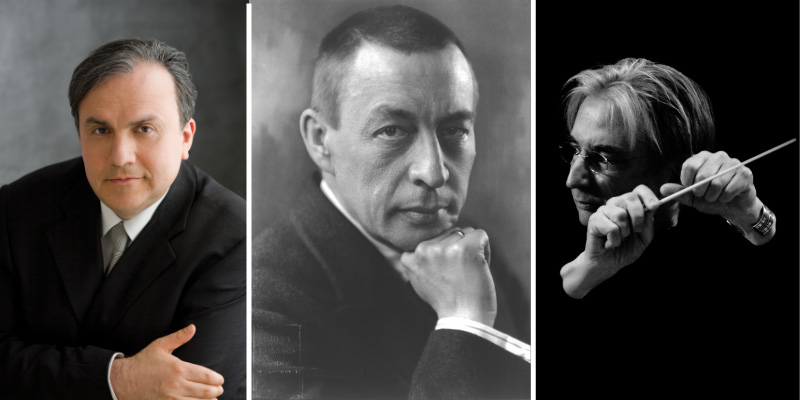 MTT + Rachmaninoff at the Arsht Center on October 22
BLACK HISTORY MONTH FESTIVAL  
This two-week-long multi-disciplinary festival will celebrate and explore the works of Black-American artists who found success in Europe between 1917 and 1946. The Festival will explore the impact of World War I, the rise and spread of Nazism, and World War II on the spread of the Harlem Renaissance ideology and Black music in Europe (February 1-12). Musicologist Dr. Tammy Kernodle, with whom NWS worked in the highly successful I Dream a World: The Harlem Renaissance and Beyond festival in February 2022, will serve as artistic consultant for this project.   
INNOVATIVE PROGRAMMING  
New World Symphony concerts feature some of the most beloved works and composers in the classical canon alongside works and artists who are heard less often in the concert hall. The 2022-23 season features music by Felix Mendelssohn (September 24, October 9), J.S. Bach (April 8), Ludwig van Beethoven (March 11 and 13, April 8), and Edward Elgar (April 14, 15), and contemporary composers including Bright Sheng (January 29), Valerie Coleman (January 21, 22) and Joan Tower (April 14, 15), as well as a season-long focus on the works of Latin Grammy-nominated Mexican composer Gabriela Ortiz (September 17 and 24; December 9, 10; February 17, 18).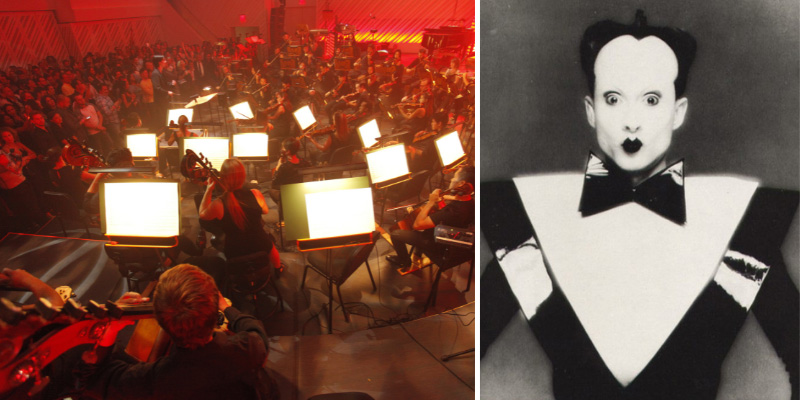 Late Night at New World Symphony and Klaus Nomi
LATE NIGHT AT NEW WORLD SYMPHONY 
New World Symphony's popular Late Night concerts return on March 31 with an homage to the visionary performer Klaus Nomi, known for his theatrical performances that influenced the East Village arts scene in the late 1970s and early 1980s.   
NEW AUDIENCE FELLOW INITIATIVES  
Each season, the Fellows of the New World Symphony craft concerts designed to expand the boundaries of classical music and engage new audiences. These concerts allow Fellows to take the lead in programming and presenting music in a way that is meaningful to them and to our community (November 12 and April 7).   
COLLABORATIONS 
The New World Symphony's 2022-23 season is marked by partnerships and collaborations. In addition to the MTT-led concerts with The Cleveland Orchestra (November 4,5) and Miami City Ballet (May 6, 7), the 2022-23 season brings collaborations with vocal group Seraphic Fire and choruses from around South Florida (January 14), the string principal musicians from the New York Philharmonic (February 17, 18), and chamber ensembles like the Catalyst Quartet (January 29), the International Contemporary Ensemble (March 26) and Ensemble intercontemporain (March 31 and April 1). These concerts are supported by the New World Symphony Collaborations Fund, which was established in 2021.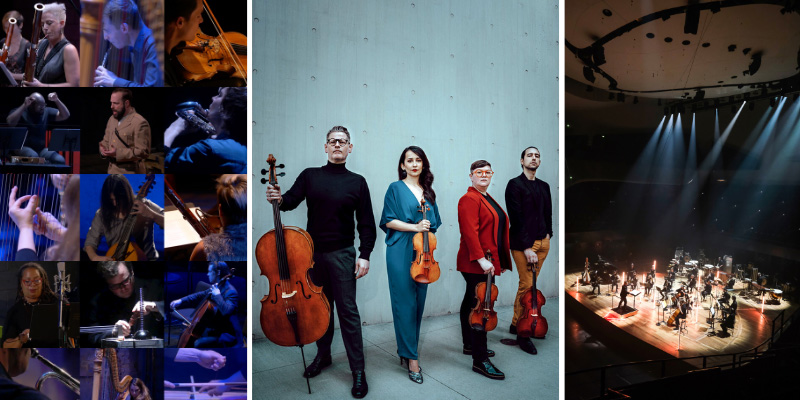 International Contemporary Ensemble, Catalyst Quartet and Ensemble intercontemporain
SPECIAL CONCERT EVENTS  
The beloved annual Percussion Consorts feature guest composer Nathaniel Stookey performing his Junkestra (September 30) and Svet Stoyanov performing Michael Tilson Thomas' Island Music (February 25). NWS celebrates the holidays with Sounds of the Season (December 16 and 17).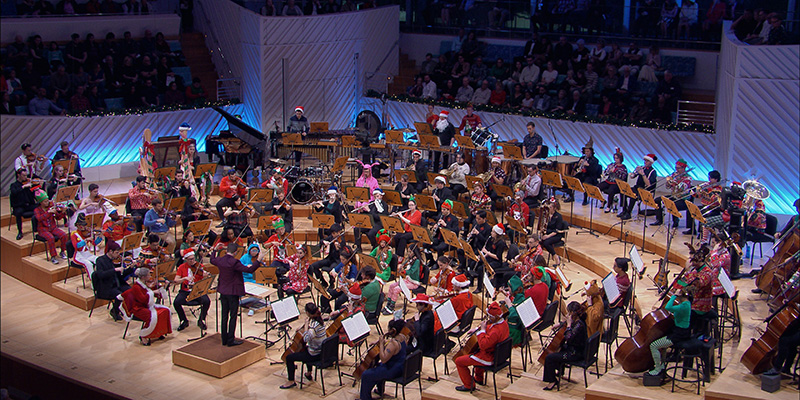 NWS's annual Sounds of the Season holiday concert
NWS EDUCATION AND FAMILY CONCERTS 
New World Symphony continues its commitment to serving music lovers of all ages. The Concerts for Kids brings young music lovers into the New World Center (October 2 and February 12).   
Local high school musicians receive intensive mentorship and a special opportunity to play alongside the New World Symphony Fellows in the annual Side-by-Side Concert (April 22).  
NWS AT THE ARSHT CENTER 
The New World Symphony's residency at the Adrienne Arsht Center kicks off with MTT leading an all-Rachmaninoff concert (October 22). The series continues with pianist Isata Kanneh-Mason and baritone Elliot Madore joining the NWS and vocal ensemble Seraphic Fire and choruses from around the region for a performance of Carl Orff's epic Carmina Burana. The final concert of the series brings David Robertson to the podium leading the NWS and pianist Michelle Cann in Florence Price's Piano Concerto and Beethoven's Symphony No. 2 (March 11). This concert has an encore performance at the Kravis Center for the Performing Arts in Palm Beach (March 13).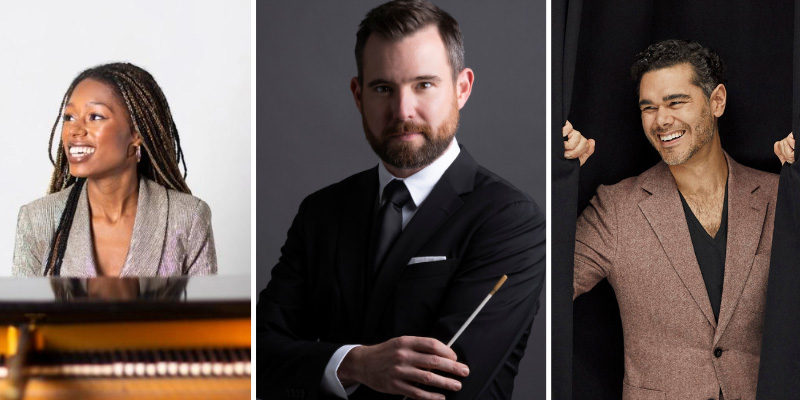 Carmina Burana artists: Isata Kanneh-Mason, Patrick Quigley and Elliot Madore
WALLCAST® CONCERTS AND MOBILE WALLCASTS  
The New World Center's 7,000-square-foot projection wall will be in use during the 2022-2023 season with a selection of concerts projected free to audiences in SoundScape Park. These WALLCAST® concerts allow audiences to experience the glory of the Symphony in an informal setting.  
Additionally, beginning in Fall 2022, the New World Symphony will unveil a 23x13 mobile wall and state-of-the-art sound system. NWS is using the mobile wall to expand audiences in SoundScape Park and across Miami.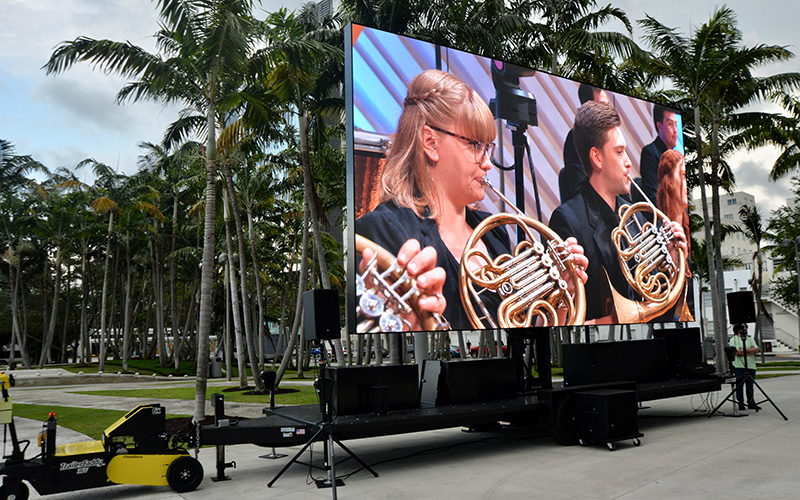 NWS's new mobile wall in SoundScape Park
NWS INSIDE  
Launched in 2021, NWS Inside is an innovative digital membership program that includes unforgettable concerts with thrilling close-up views, behind-the-scenes access to guest artists and Fellows, and bonus content all season long.  
NWS Inside invites audiences across the globe to witness groundbreaking performances, in-depth festivals and collaborations only happening at NWS. The magic of NWS's Frank Gehry-designed campus—the New World Center—will stream into homes worldwide using the performance hall's state-of-the-art video and online connection capabilities.   
NWS Insiders not only witness incredible performances throughout the season, they also have a front-row seat for conversations with NWS Fellows and guest artists in exclusive behind-the-scenes events. NWS Inside, and other innovation activities are supported by the NWS Fund for New Ventures.   
PUBLIC HEALTH AND SAFETY 
The New World Symphony is committed to maintaining a safe environment for Fellows, staff, and audiences. NWS strives to comply with the Miami Beach Standard, a set of enhanced safety measures put in place by the City of Miami Beach. The building is cleaned daily, and high-touch areas are cleaned multiple times daily. In a private study, the New World Center's air flow was comparable to hospital-grade cleanliness, with large spaces like the Performance Hall and Atrium surpassing The American Society of Heating, Refrigerating and Air-Conditioning Engineers' standards for fresh air.  
For more information about the New World Symphony's 2021-2022 season contact Kathleen Drohan, Vice President of Communications and Public Relations, at Kathleen.Drohan@nws.edu or 917-309-3100. All programs and schedule subject to change. 
2022-23 Season Events 
PRE-SEASON STRING ORCHESTRA CONCERT 
Saturday, September 17, 2022 at 7:30 PM
New World Center, Michael Tilson Thomas Performance Hall 
Steven Copes, leader 
Gabriela Ortiz:   La Calaca from Altar de Muertos 
Karl Amadeus Hartmann:  Concerto funebre 
Antonín Dvořák:  Serenade for Strings 
_____ 
PRE-SEASON WOODWIND AND BRASS ENSEMBLE CONCERT.  
Sunday, September 18, 2022 at 2:00 PM 
New World Center, Michael Tilson Thomas Performance Hall 
Timothy Higgins, conductor 
Steven Stucky:  Funeral Music for Queen Mary (after Henry Purcell) 
Igor Stravinsky:  Symphonies of Wind Instruments 
Andrea Tarrodi:  Serenade in Seven Colors 
Ole Schmidt:  Hommage à Stravinsky 
_____ 
PRE-SEASON FULL ORCHESTRA CONCERT 
Saturday, September 24, 2022 at 7:30 PM 
New World Center, Michael Tilson Thomas Performance Hall 
Christopher James Lees, conductor 
Karen Gomyo, violin 
Antonín Dvořák:  The Noonday Witch 
Felix Mendelssohn:  Violin Concerto 
Richard Strauss:  Death and Transfiguration 
Gabriela Ortiz:  Kauyumari 
_____ 
PERCUSSION CONSORT: JUNKESTRA 
Friday, September 30, 2022 at 7:30 PM 
New World Center, Michael Tilson Thomas Performance Hall 
Nathaniel Stookey, musical saw 
Nathaniel Stookey:  Junkestra  
Kenji Bunch:  Concerto for Piano Trio and Percussion 
George Crumb:  Music for a Summer Evening (Makrokosmos III) 
_____ 
CONCERT FOR KIDS 
Sunday, October 2, 2022 at 11:30 AM and 2:30 PM 
New World Center, Michael Tilson Thomas Performance Hall 
Chad Goodman, Conducting Fellow 
_____ 
CHAMBER MUSIC: THE LARK ASCENDING  
Sunday, October 9, 2022 at 2:00 PM 
New World Center, Michael Tilson Thomas Performance Hall 
Jennifer Frautschi, violin 
Kevin Day: Ignition  
Hanns Eisler: Divertimento for Wind Quintet 
Ralph Vaughan Williams: The Lark Ascending 
Felix Mendelssohn: Piano Trio No. 2 
Coleridge-Taylor Perkinson: String Quartet No. 1, "Calvary"  
_____  
35TH ANNIVERSARY SEASON OPENER 
Saturday, October 15, 2022 at 7:30 PM 
Sunday, October 16, 2022 at 2:00 PM 
New World Center, Michael Tilson Thomas Performance Hall 
Christoph Koncz, conductor 
Jeanine De Bique, soprano 
Weber:  Selections from Der Freischütz
R. Strauss:  Till Eulenspiegel's Merry Pranks
S. Koncz:  Fanfares to Uhrovec
Brahms:  Symphony No. 3
Brahms:  Hungarian Dance No. 10
_____ 
MTT + RACHMANINOFF 
Saturday, October 22, 2022 at 8:00 PM 
Adrienne Arsht Center, Knight Concert Hall 
Michael Tilson Thomas, conductor 
Yefim Bronfman, piano 
All-Rachmaninoff program:   
   "Vocalise" 
   Piano Concerto No. 3  
   Symphony No. 2 
_____ 
INSIDE THE MUSIC 
Monday, October 24, 2022 at 7:00 PM 
New World Center, Truist Pavilion 
_____ 
THE CLEVELAND ORCHESTRA + NWS  
Friday, November 4, 2022 at 8:00 PM 
Saturday, November 5, 2022 at 8:00 PM 
Adrienne Arsht Center, Knight Concert Hall 
Michael Tilson Thomas, conductor 
George Li, piano 
Claude Debussy:  Jeux 
Claude Debussy:  Fantaisie for Piano and Orchestra (TCO only) 
Gustav Mahler:  Symphony No. 1 
_____  
CHAMBER MUSIC: WEISS PLAYS MOZART  
Sunday, November 6, 2022 at 2:00 PM 
New World Center, Michael Tilson Thomas Performance Hall 
Orion Weiss, piano  
Albert Roussel:  Divertissment  
Dorothy Hindman:  Untitled I  
Lili Boulanger:  D'un soir triste  
Witold Lutosławski:  Dance Preludes 
Wolfgang Amadeus Mozart:  Piano Quartet No. 1 in G minor, K. 478  
_____ 
MUSICIANS' FORUM 
Monday, November 7, 2022 at 7:00 PM 
New World Center, Michael Tilson Thomas Performance Hall 
_____ 
EL MAÍZ DE MI GENTE 
Saturday, November 12, 2022 at 7:30 PM 
New World Center, Michael Tilson Thomas Performance Hall 
Chad Goodman, conductor 
Arturo Márquez:  Conga del Fuego Nuevo  
Silvestre Revueltas/arr. Limantour:  Mvt. II (Noche de jaranas) from La noche de los mayas 
Carlos Chávez:  Xochipilli  
Federico Ibarra Groth:  Sinfonía No. 2, "Las antesalas del sueño"  
Juventino Rosas:  "Sobre las olas" 
Blas Galindo:  Sones de Mariachi  
_____ 
SOLO SPOTLIGHT 
Monday, November 14, 2022 at 7:00 PM 
New World Center, Truist Pavilion 
_____ 
HANDEL'S WATER MUSIC 
Saturday, November 19, 2022 at 7:30 PM  
Sunday, November 20, 2022 at 2:00 PM 
New World Center, Michael Tilson Thomas Performance Hall 
Jeannette Sorrell, conductor 
Sonya Headlam, soprano 
George Frideric Handel:  Selections from Water Music 
Antonio Vivaldi:  Concerto for Four Violins 
Joseph Boulogne:  Act II, Scene I from L'Amant anonyme 
Wolfgang Amadeus Mozart:  Exsultate, jubilate 
Wolfgang Amadeus Mozart:  Ballet Music from Idomeneo 
_____ 
MUSICIANS' FORUM 
Monday, December 5, 2022 at 7:00 PM 
New World Center, Michael Tilson Thomas Performance Hall 
_____ 
INSIDE THE MUSIC 
Tuesday, December 6, 2022 at 7:00 PM 
New World Center, Truist Pavilion 
_____ 
SPANISH DANCES 
Friday, December 9, 2022 at 7:30 PM  
Saturday, December 10, 2022 at 7:30 PM 
New World Center, Michael Tilson Thomas Performance Hall 
Carlos Miguel Prieto, conductor 
Chad Goodman, Conducting Fellow 
Vocalist and Flamenco Dancers to be announced 
Primous Fountain:  Ritual Dances of the Amak 
Carlos Chavez:  Symphony No. 2, "Sinfonía india" 
Gabriela Ortiz:  Téenek — Invenciones de Territorio 
Manuel de Falla:  The Three-Cornered Hat 
José Pablo Moncayo:  Huapango 
_____ 
SOLO SPOTLIGHT 
Monday, December 12, 2022 at 7:00 PM 
New World Center, Truist Pavilion 
_____ 
SOUNDS OF THE SEASON HOLIDAY CONCERT 
* Friday, December 16, 2022 at 7:30 PM 
Saturday, December 17, 2022 at 7:30 PM  
New World Center, Michael Tilson Thomas Performance Hall 
Chad Goodman, Conducting Fellow 
* December 16 performance presented by the City of Miami Beach for its residents 
_____ 
CHAMBER MUSIC: NORTHERN LIGHTS 
Sunday, December 18, 2022 at 2:00 PM 
New World Center, Michael Tilson Thomas Performance Hall 
Carl Nielsen:  Wind Quintet 
Jean Sibelius:  Serenata 
Jo Kondo:  An Insular Style 
Edvard Grieg:  Two Elegiac Melodies 
Ann Southam:  Quintet  
Mogens Andresen:  Three Norwegian Dances 
_____ 
CARMINA BURANA  
Saturday, January 14, 2023 at 8:00 PM 
Adrienne Arsht Center, Knight Concert Hall 
Patrick Quigley, conductor 
Isata Kanneh-Mason, piano 
Seraphic Fire 
Elliot Madore, baritone 
Choruses: Miami Dade College, Florida International University, Civic Chorale of Greater Miami, University of Miami, Florida Memorial University, Florida Singing Sons 
Ralph Vaughan Williams:  Serenade to Music 
Clara Schumann:  Piano Concerto 
Carl Orff:  Carmina Burana 
_____  
INSIDE THE MUSIC 
Tuesday, January 17, 2023 at 7:00 PM 
New World Center, Truist Pavilion 
_____ 
TCHAIKOVSKY 5 
Saturday, January 21, 2023 at 7:30 PM 
Sunday, January 22, 2023 at 2:00 PM 
New World Center, Michael Tilson Thomas Performance Hall 
Gemma New, conductor 
Alisa Weilerstein, cello 
Chad Goodman, Conducting Fellow 
Valerie Coleman:  Umoja  
Samuel Barber:  Cello Concerto  
Pyotr Ilyich Tchaikovsky:  Symphony No. 5 
_____ 
SOLO SPOTLIGHT 
Monday, January 23, 2023 at 7:00 PM 
New World Center, Truist Pavilion 
_____ 
CHAMBER MUSIC: THE CATALYST QUARTET 
Sunday, January 29, 2023 at 2:00 PM 
New World Center, Michael Tilson Thomas Performance Hall 
Catalyst Quartet 
Frederick C. Tillis:  Mvt. II (Wade in the Water) from Spiritual Fantasy No. 12 
Richard Strauss:  String Sextet from Capriccio 
Roberto Sierra:  Concierto de Camara 
Bright Sheng:  Hot Pepper 
Max Bruch:  Octet  
_____ 
BLACK HISTORY MONTH FESTIVAL  
Thursday, February 2 – Sunday, February 12, 2023 
New World Center, Michael Tilson Thomas Performance Hall 
CABARET 
   Thursday, February 2, 2023 at 7:30 PM 
SYMPHONIC PERSUASION 
   Saturday, February 4, 2023 at 7:30 PM 
   Sunday, February 5, 2023 at 2:00 PM 
   William Eddins, conductor 
   Chad Goodman, Conducting Fellow 
CHAMBER MUSIC 
   Tuesday, February 7, 2023 at 7:30 PM 
KEYBOARD MUSIC 
   Wednesday, February 8 at 7:30 PM 
JOURNEY CONCERT 
   Friday, February 10, 2023 at 7:30 PM 
CONCERT FOR KIDS 
   Sunday, February 12, 2023 at 11:30 AM and 2:30 PM 
_____ 
ABSOLUTE JEST   
Friday, February 17, 2023 at 7:30 PM  
Saturday, February 18, 2023 at 7:30 PM 
New World Center, Michael Tilson Thomas Performance Hall 
Nicholas Collon, conductor 
Randall Goosby, violin 
Chad Goodman, Conducting Fellow 
New York Philharmonic String Principals 
Gabriela Ortiz:  Antrópolis 
Pyotr Ilych Tchaikovsky:  Violin Concerto 
John Adams:  Absolute Jest 
_____ 
PERCUSSION CONSORT: MTT'S ISLAND MUSIC 
Saturday, February 25, 2023 at 7:30 PM 
New World Center, Michael Tilson Thomas Performance Hall 
Svet Stoyanov, percussion 
Michael Tilson Thomas:  Island Music  
Garth Neustadter:  Seaborne  
_____ 
MUSICIANS' FORUM 
Monday, February 27, 2023 at 7:00 PM 
New World Center, Michael Tilson Thomas Performance Hall 
_____ 
35TH ANNIVERSARY GALA 
Saturday, March 4, 2023  
New World Center 
_____ 
PRICE + BEETHOVEN 
Saturday, March 11, 2023 at 8:00 PM 
Adrienne Arsht Center, Knight Concert Hall 
David Robertson, conductor 
Michelle Cann, piano 
Chad Goodman, Conducting Fellow 
Zoltán Kodály:  Dances of Galánta 
Florence Price:  Piano Concerto 
Ludwig van Beethoven:  Symphony No. 2 
_____ 
INSIDE THE MUSIC 
Tuesday, March 14, 2023 at 7:00 PM 
New World Center, Truist Pavilion 
_____ 
WAGNER'S RING: VALKYRIES + VALHALLA 
Saturday, March 18, 2023 at 8:00 PM 
Sunday, March 19, 2023 at 2:00 PM 
New World Center, Michael Tilson Thomas Performance Hall 
Domingo Hindoyan, conductor 
Heidi Melton, soprano 
Chad Goodman, Conducting Fellow 
All-Wagner program: 
   Selections from Der Ring des Nibelungen, including: 
   Entry of the Gods into Valhalla from Das Rheingold 
   Magic Fire Music and Ride of the Valkyries from Die Walküre 
   Forest Murmurs from Siegfried 
   Dawn and Siegfried's Rhine Journey from Götterdämmerung 
   Siegfried's Death and Funeral Music from Götterdämmerung 
   Brünnhilde's Immolation from Götterdämmerung 
_____ 
SOLO SPOTLIGHT 
Monday, March 20, 2023 at 7:00 PM 
New World Center, Truist Pavilion 
_____ 
CHAMBER MUSIC: THIS IS NOW 
Sunday, March 26, 2023 at 2:00 PM 
New World Center, Michael Tilson Thomas Performance Hall 
International Contemporary Ensemble, collaborators/guest artists  
Sofia Rocha:  New work to be announced (world premiere of NWS commission) 
Fernanda Navarro:  String Quartet (world premiere of NWS commission) 
Johannes Brahms/arr. Cox:  Chorale Preludes 
Dmitri Shostakovich: Piano Quintet 
_____ 
MUSICIANS' FORUM 
Monday, March 27, 2023 at 7:00 PM 
New World Center, Michael Tilson Thomas Performance Hall 
_____ 
LATE NIGHT AT NEW WORLD SYMPHONY 
Friday, March 31, 2023 at 9:00 PM 
New World Center, Michael Tilson Thomas Performance Hall 
Matthias Pintscher, conductor 
Ensemble intercontemporain 
Jake Arditti, countertenor 
Olga Neuwirth: Hommage à Klaus Nomi 
_____ 
FROM THE CANYONS TO THE STARS 
Saturday, April 1, 2023 at 7:30 PM 
New World Center, Michael Tilson Thomas Performance Hall 
Matthias Pintscher, conductor 
Ensemble intercontemporain 
Olivier Messiaen:  Des canyons aux étoiles… 
_____ 
FELLOW-DESIGNED CONCERT 
Friday, April 7, 2023 at 7:30 PM 
New World Center 
_____ 
CHAMBER MUSIC: TRANSFORMATIONS
Saturday, April 8, 2023 at 2:00 PM 
New World Center, Michael Tilson Thomas Performance Hall 
Davóne Tines, baritone
Samuel Barber: Dover Beach
Caroline Shaw: By and By
Davóne Tines: Vigil
Traditional/arr. Carlos Simon: "Angels in Heaven"
Antonio Vivaldi: Oboe Sonata
Ann Millikan: Trens Coloridos para Gabriela
Ottorino Respighi: Trittico botticelliano
_____ 
SOLO SPOTLIGHT 
Monday, April 10, 2023 at 7:00 PM 
New World Center, Truist Pavilion 
_____ 
ENIGMA VARIATIONS 
Friday, April 14, 2023 at 7:30 PM 
Saturday, April 15, 2023 at 8:00 PM 
New World Center, Michael Tilson Thomas Performance Hall 
Peter Oundjian, conductor 
Joan Tower: Duets 
Joel Thompson: To Awaken the Sleeper 
Edward Elgar: Enigma Variations 
_____ 
INSIDE THE MUSIC 
Tuesday, April 18, 2023 at 7:00 PM 
New World Center, Truist Pavilion  
_____ 
SIDE-BY-SIDE CONCERT 
Saturday, April 22, 2023 at 8:00 PM 
New World Center, Michael Tilson Thomas Performance Hall 
_____ 
MUSICIANS' FORUM 
Monday, April 24, 2023 at 7:00 PM 
New World Center, Michael Tilson Thomas Performance Hall 
_____
SEASON FINALE: NWS + MIAMI CITY BALLET 
Saturday, May 6, 2023 at 8:00 PM 
Sunday, May 7, 2023 at 2:00 PM 
New World Center, Michael Tilson Thomas Performance Hall 
Michael Tilson Thomas, conductor 
Miami City Ballet 
Posted in: Concerts, Events, Fellows, Guest Artists, MTT, Press
---