News
April 24, 2022
NWS announces new Audience Engagement, Enlightenment and Development Fund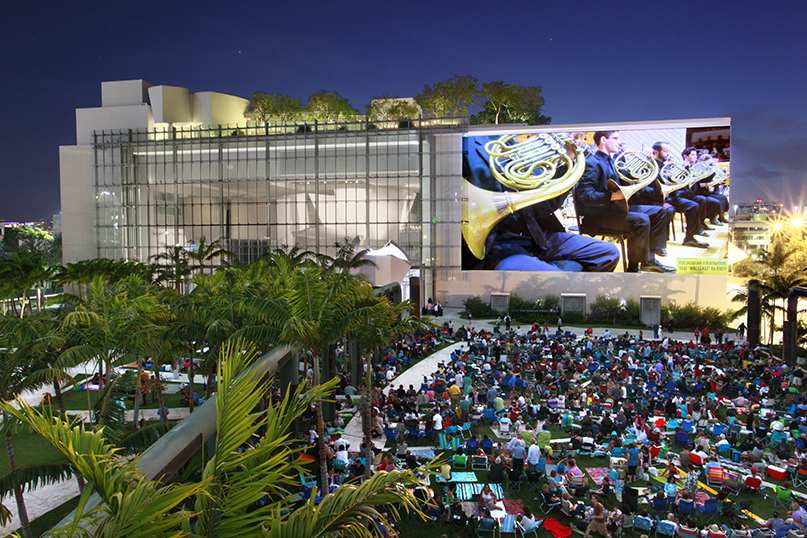 New World Symphony announces a major grant from The Clinton Family Fund and longtime supporters Bruce and Martha Clinton to create the Audience Engagement, Enlightenment and Development (AEED) Fund. NWS has a growing reputation for inventive ways to engage audiences and enhance their experiences. Proceeds from the Fund will further NWS's experiments in this discipline.
Since its founding in 1987, the New World Symphony has been an orchestral laboratory rooted in the middle ground between formal academic training and professional endeavor. NWS has pioneered new concert formats, innovative programming and digital distribution as part of training its Fellows to be the next generation of orchestral leaders. Increasingly, NWS audience engagement work is driven by the Fellows. The AEED Fund will allow NWS to explore new ways for orchestras to lead audiences into deeper relationships with music and richer dialogue between musicians and audience members.
Of the Fund, Bruce Clinton said, "From my first encounters with the New World Symphony, I could see they were intent on engaging audiences through excellent performances and new techniques for connecting everyone involved – composers, musicians and listeners. The breakthrough moment for me was the inaugural WALLCAST® concert. Our intuition that we had created a new audience was confirmed by formal research. Whether it is smart use of digital tools or something as simple and direct as musicians and audience members talking in the atrium of the New World Center, this organization is embracing the community as often as possible. I believe in this art form. I see that the audience can grow, in size and in depth of understanding. I am proud to support this effort going forward."
The establishment of the AEED Fund is also meant to inspire others, both individual and institutional, to join The Clinton Family Fund in investing in this concept, ultimately providing a robust stream of funding to enable audience engagement projects and ideas of significant scale to come to fruition.
---