News
January 27, 2021
NWS announces Spring 2021 Concert Season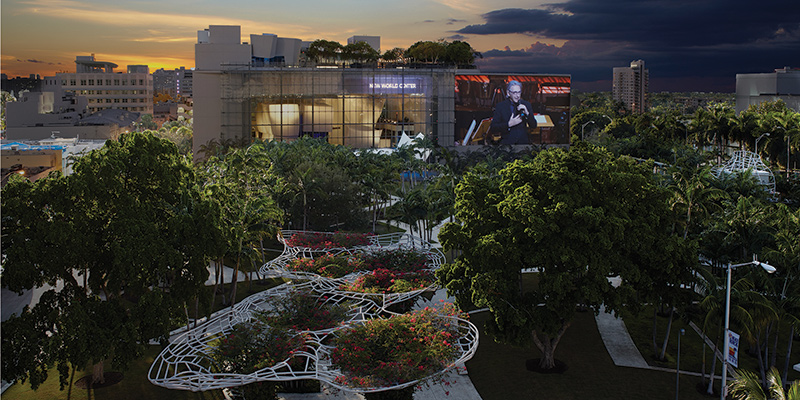 Artistic Director Michael Tilson Thomas and the New World Symphony announce the spring concert season, which will be shared with audiences virtually through the NWS website, YouTube, Facebook, and in partnership with digital streaming partner IDAGIO. 
While 2020 brought unprecedented challenges, the New World Symphony, a laboratory for generating new ideas about how music is taught, presented, and experienced, responded with new concert formats, digital distribution systems, and artist and repertoire choices.   
"We are in the midst of fundamental societal changes," said Howard Herring, NWS President and CEO. "Use of digital capture and distribution of educational and performance content has accelerated. We seek a more equitable society, driven by the tragedies of the past months. New World Symphony is uniquely equipped to respond and lead. Our commitment is evident in the programs for this spring and the distribution systems that will carry our performances to our current and future audiences in Miami and around the world."
NWS Co-Founder and Artistic Director Michael Tilson Thomas added "I am very pleased that we are taking steps to resume our musical program. I have been impressed with the ingenuity shown by many so many of the Fellows in developing their own concert series and other projects during this challenging time. Our online masterclasses and online coachings have allowed us to explore many musical issues at even greater depth. I look forward to the Spring Season and the possibilities of what gradually coming together can mean to our entire community."
NWS is the beneficiary of two funding initiatives established by trustees and in support of innovation.  The Fund for New Ventures, established by long-time supporters of NWS, Robert and Diane Moss, invites philanthropic investment in forward looking strategies for education and musical performance.  The Resilience Fund, established by Judith Rodin, author of The Resilience Dividend: Being Strong in a World Where Things Go Wrong, allows donors to support current and future programs that will make NWS more responsive and inventive.
Resilience at the New World Symphony
The New World Symphony has taken the idea of resilience as a clarion call, establishing a Resilience Fund, created to respond to the Covid-19 Pandemic, the resulting economic crisis, and the issues of systemic racial and social injustice. NWS is committed to creating a culture of innovation which gives the institution and individual staff, Fellows, and the extended community the tools to recover and adapt to challenges. Through increased virtual coaching sessions for Fellows, new formats of community outreach, and digital programming, NWS is striving to ensure a vibrant classical music landscape despite an unknown future. 
This spring, NWS is asking its community to share their stories through the hashtag #IMRESILIENT on social media. From February through May, NWS will share the stories through its social channels and websites, as well as on the exterior wall of New World Center. Those using the hashtag will be included in opportunities to attend virtual concerts and conversations with NWS Fellows and guest artists, have access to special programming, and be entered to win a subscription to the 2021-22 season when it is anticipated in-person concerts will resume. 
New World Center's Tenth Anniversary
In January 2011 the New World Center opened on Miami Beach. With this remarkable building, the New World Symphony established itself as one of the artistic and architectural anchors of Miami and has become a must-visit destination for music lovers and tourists of all types. The result of collaboration between NWS Co-Founder Michael Tilson Thomas and Pritzker Prize-winning architect Frank Gehry, the New World Center features multiple flexible spaces and leading-edge media capabilities. The building features the iconic 7,000 square-foot exterior projection wall to live-stream concerts through the popular WALLCAST® concert series. Upon its opening, the New World Center was hailed by The New York Times for its fulfillment of the belief that "music, like other creative endeavors, should be more than an aesthetic matter. As a shared experience, one that reaches each of us at our emotional core, it helps unite us into a civilized community."
As a musical meetinghouse, the New World Center has welcomed musicians from all musical genres both in person and virtually, including Yo-Yo Ma, Audra McDonald, Gloria Estefan and Pitbull; it has hosted the American Black Film Festival, Big Brothers Big Sisters and the Pritzker Prize; and served as the stage for conversations with Bono, President Bill Clinton and Kehinde Wiley.   
As it enters its second decade, upgrades to the New World Center include 4K capabilities for the exterior wall and performance hall immersive projection and recording.  
Tenth Anniversary WALLCAST® Concert Series
In celebration of the 10th anniversary of the New World Center, NWS will offer a series of WALLCAST® concerts for live audiences in SoundScape Park, beginning on February 19.  More information will be announced in the coming weeks. 
The Thirty-Third Anniversary Gala: Brave New World
The 2021 Gala, taking place virtually on Saturday, February 20, is chaired by Judith Rodin, a member of the NWS Board of Trustees and her husband Paul Verkuil. The Gala honors The John S. and James L. Knight Foundation and its President and CEO Alberto Ibargüen for their support of and investment in the New World Symphony. 
Mr. Ibargüen shares "At Knight Foundation, we search for arts partners with significant opportunity for authentic connection to their communities. In the case of New World Symphony and their digital infrastructure, they serve both local and global communities. The timing of our support is best when it can fuel transformation—of an institution and its communities. Opportunity and transformation define our relationship with New World Symphony. We look forward to their next digital adventures, led by the creative force of Michael Tilson Thomas."
The Gala will feature a virtual VIP Reception including performances and conversation with special guest artists, and, for the first time, a streamed program available to the public at no cost, which will be highlighted by the World Premiere of a new film produced by MTT.
All proceeds from the Thirty-Third Anniversary Virtual Gala will support the Resilience Fund. More information can be found at nwsgala.org.  
Performance Schedule
NWS performances will be recorded live at the New World Center and streamed on platforms including NWS.edu, YouTube, Facebook and the IDAGIO Global Concert Hall. Many programs will allow audiences to remain online following the performance to chat directly with artists and Fellows in a Virtual Green Room, allowing them the opportunity to ask questions and to collectively reflect on the performance. Further interactive features are being developed.
The Spring Season programming reflects NWS's commitment to inclusion. NWS has pledged to ensure that a significant portion of its programming features BIPOC and women composers, artists, and creators. 
A two-week Romanic era mini-festival kicks off the season February 6 and 13 featuring works by Samuel Coleridge-Taylor, Johannes Brahms, William Grant Still and others. The February 13 concert is highlighted with the Virtual Premiere of Florence Price's Piano Quintet performed by Michelle Cann and New World Symphony Fellows.  The season continues with a two-week focus on Stravinsky (February 27 and March 6) and his influences, including American Jazz and his Parisian contemporaries. Matthias Pintscher leads NWS and pianist Inon Barnatan in works by Marcus Balter, Lisa Streich, and the U.S. Premiere of Pintscher's own Piano Concerto, NUR.  MTT leads the orchestra on May 1 in the annual Side-by-Side Concert, a virtual concert that features young instrumentalists playing alongside NWS Fellows, and on May 8 in a concert of American Music with Principal Trumpet of the Metropolitan Opera Orchestra and NWS alumnus Billy Hunter. 
Other season highlights include a Percussion Perspectives festival (April 24) and chamber music featuring oboist Jonathan Fischer (March 21). Pianist Awadagin Pratt makes his New World Symphony debut on April 25 for the World Premiere of Alvin Singleton's Time Past, Time Future for Piano and String Orchestra. 
Additionally, the season features several Fellow-programmed concerts, including the popular Live from our Living Room series created in March 2020 as a direct result of the pandemic. 
Click here to browse NWS's Spring 2021 events.
The Knight New Media Center
The John S. and James L. Knight Foundation is a strong partner in exploring digital networks for fellowship training as well as capture and distribution of NWS performances. Acknowledging their financial commitment and professional encouragement, all NWS digital expression originates in the Knight New Media Center. While NWS leadership has always envisioned an expanding digital presence, the pandemic restrictions have hastened that work. Beyond the pandemic, NWS anticipates that programs of the Knight New Media Center will continue to have high value for Fellows, alumni, music students – local and global, and audiences for classical music.  
The Fellowship
As a laboratory for musical education and expression, New World Symphony offers its Fellows a wide range of performance and instructional activities to develop in them the full complement of skills and qualifications required of musician leaders and agents of change. Under the artistic direction of Michael Tilson Thomas, the program offers in-depth exposure to traditional and modern repertoire with the active involvement of leading guest conductors, soloists, and coaches. Among the Spring 2021 season guests are Robert Spano, Anthony McGill, Kari Docter and Dr. Noa Kageyama. The relationships with these artists are extended through NWS's pioneering experimentation with distance learning via Internet2. NWS provides opportunities for Fellows to create their own performance opportunities and projects.
Public Health and Safety
The New World Symphony is committed to maintaining a safe environment for Fellows, staff, and audiences. NWS strives to comply with the MB Standard, a set of enhanced safety measures put in place by the City of Miami Beach. All NWS Fellows and staff who wish to enter the New World Center must test negative for the Covid-19 virus and must be retested every week. All visitors to the NWS administrative offices must have a temperature check before entering the building. Masks are required in the New World Center at all times. The building is cleaned daily, and high-touch areas are cleaned multiple times daily.
Posted in: Concerts, Events, Fellows, MTT
---