News
February 13, 2019
NWS at SphinxConnect: Leaders Rising
On January 30, NWS Fellows and staff traveled to Detroit to participate in SphinxConnect and the Sphinx Orchestral Partners Auditions. The annual conference, this year titled Leaders Rising, is the epicenter for artists and leaders in diversity, featuring over 30 sessions designed to inspire and ignite action.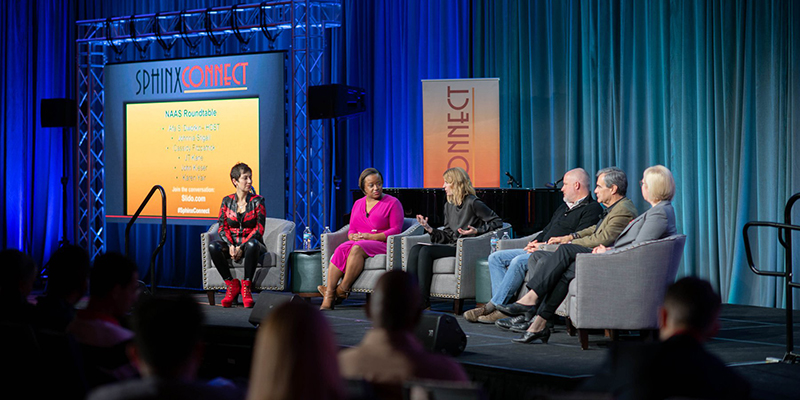 Sphinx and NWS leadership presenting at SphinxConnect, photo by Kevin Kennedy
Violin Fellow Alex Gonzalez shares his conference experience.
Before SphinxConnect begins, they offer the Sphinx Orchestral Partners Auditions (SOPA). This is a program designed to give exposure and experience to musicians of color that are pursuing an orchestral career. At these auditions, representatives from major orchestras from around the country, including the New World Symphony, come to listen to participants play a screened round of auditions. After the auditions are over, the participants receive both verbal and written feedback from the jury, as well as a high-quality recording of your audition. As someone who has participated in this initiative twice, I can say it is an immensely helpful experience. Tracking trends from the comments of so many different ensembles allows us who are auditioning to understand overarching concepts that could be worked on, and enlightens us to the process of orchestral auditions.
My first involvement with the Sphinx Organization was seven years ago as a competitor in their annual competition. Since then, I have attended the conference six times, but in many different roles. I've attended as a competitor, as a member of the Sphinx Symphony Orchestra, as a participant in their Sphinx Orchestral Partners Auditions, and as someone looking to learn from the conference's offerings.
With all of this history, the first day of the conference feels more like a family reunion than anything else. Having longtime friends that I met through the Sphinx Organization, musicians and administration of the New World Symphony, past mentors and teachers, as well as colleagues from the U.S. and abroad all gathering in one place, this conference is always a highlight of my year.
The opening ceremony of this year's conference brought performances from several Sphinx alums, including a fantastic performance by Ifitayo Ali-Landing, a former soloist with the New World Symphony. Another highlight included a performance of an original composition by the fantastic bass player Xavier Foley. He was joined by the brilliant violinist Eunice Kim, a member of the Saint Paul Chamber Orchestra.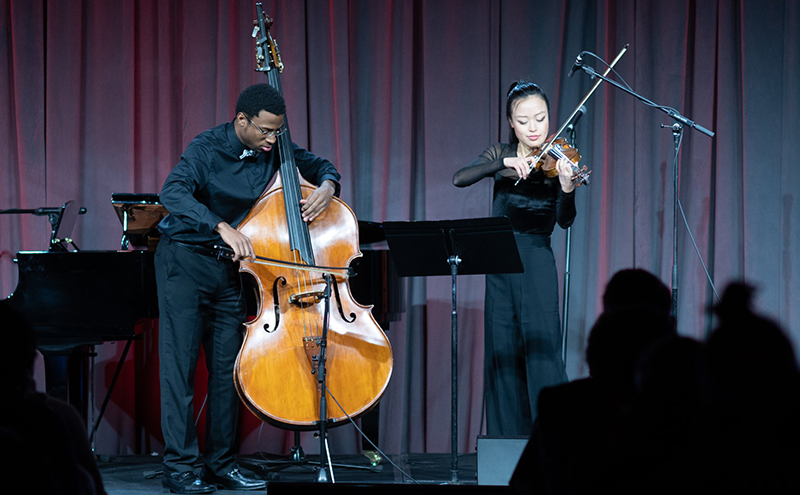 Photo by Kevin Kennedy
The core of the opening ceremony was presented by Earl Lewis, Director of the Center for Social Solutions at the University of Michigan. He delivered a lecture on topics of diversity and inclusion, and discussed how this is applied in both his work and that of the artist. One thing that stuck in my head from this lecture was his view on why he creates. While his work is based in academia rather than the arts, he regularly creates through prose and essays. When asked why he continues to write and publish so much work throughout his career, he stated that he does this so there is a record that he was here when he's gone. This sentiment of leaving something behind that only you can say speaks directly to the authenticity and integrity needed to communicate as a performer, and was a fantastic reminder of what the goal of every performance should be.
Throughout the conference, I attended discussions by many fantastic sessions, one of which revolved around using chamber music as a catalyst for diversifying programming. One great take away from this lecture came from speaker Ashleigh Gordon, Director of the Boston-based chamber music collective Castle of Our Skins. When posed the question of how to present lesser-known works to an audience, she cited the importance of frequency. She mentioned that anything that is standard now became that way because of frequent exposure and urged artists to remember that this is a responsibility we should keep with us at all times. This thought really relates to the fear of audience reception and interest that presenters and musicians take into account when programming a concert. While it is risky to present something unfamiliar to an audience, it is our responsibility to normalize the experience by constantly challenging the audience's perspective of new and diverse works.
A highlight of the conference was the finals concert for the Junior division of the Sphinx Competition. These young musicians, all under the age of 18, came to compete for large cash prizes and countless concerts with orchestras around the country. It was inspiring to hear such young musicians playing with high levels of maturity and commitment. The evening included an elegant performance of Boccherini's Cello Concerto by 16-year-old Maxwell Remmer, followed by a bold rendition of Mozart's Violin Concerto No. 3 by 16-year-old violinist Sophia Ayer. The winning performance was delivered by 17-year-old cellist Nygel Witherspoon, who presented a vivid and personal interpretation of the Boccherini Cello Concerto. The performances of these three artists left a big impression on me, and I look forward to seeing what they bring to the music world in the future.
Winner of the competition's Senior Division is 19-year-old cellist Sterling Elliott, young brother to NWS Violin Fellow Brendon!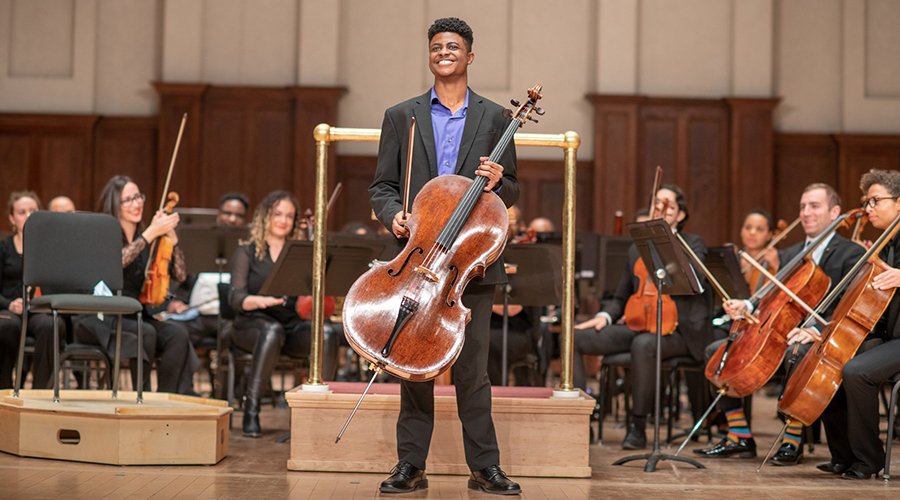 Photo by Kevin Kennedy
---