News
February 13, 2020
NWS at SphinxConnect: Vision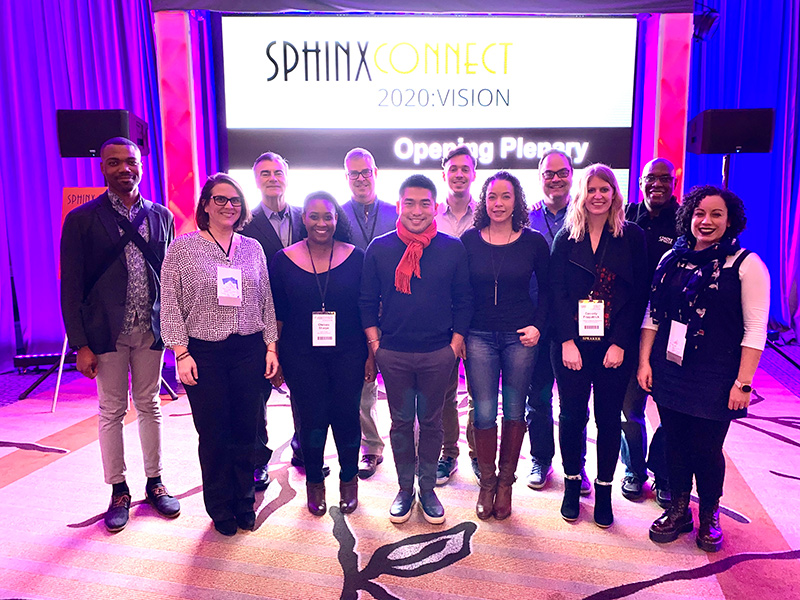 Left to right: Michael Fuller, Yvette Loynaz, John Kieser, Chelsea Sharpe, Tom Hadley, Si-Yan Darren Li, Max Blair, Emilia Mettenbrink, Alberto Suarez, Cassidy Fitzpatrick, Larry Williams, Elyse Marrero
In early February, NWS Fellows, alumni, Trustees and staff traveled to Detroit to participate in SphinxConnect and the Sphinx Orchestral Partners Auditions. The annual conference, this year titled Vision, is the epicenter for artists and leaders in diversity, featuring sessions designed to inspire and ignite action.
NWS is dedicated to the artistic, personal and professional development of outstanding instrumentalists, and recognizes that the viability of the performing arts depends on their being reflective of the communities in which they live. NWS is committed to equity, diversity and inclusion, and proud to be partnering with many organizations to realize the goal of the reflective orchestra.
NWS is leading the conversation
Several sessions led by NWS staff, Trustees and alumni were livestreamed to an international audience. Click here to watch other conference sessions. 
NWS Executive Vice President and Provost John Kieser and Trustee Tracey Robertson Carter led "Rumble to Action"—a crowdsourced discussion on how to initiate actions so a group or institution achieves its goals.
NWS Vice President for Musician Advancement Cassidy Fitzpatrick served as panelist for "OUT (with the) REACH: Meaningful Engagement Strategies," which discussed why traditional outreach models are not effective and gave examples of how to create meaningful relationships with audiences and communities.
Alberto Suarez, NWS alumnus and Principal Horn of the Kansas City Symphony, co-led "Consensus 2.0 = Fuhgetaboutit," a case for facilitating change and making tangible shifts without getting distracted by searching for consensus and finding ways to accommodate preference.
Two NWS alumni – Michael Fuller, bass, and Alex Gonzalez, violin – served as panelists for a roundtable discussion on the National Alliance for Audition Support (NAAS). NWS co-founded NAAS in 2018 with the Sphinx Organization and the League of American Orchestras.
Sphinx LEAD Takeover
NWS's Yvette Loynaz and Elyse Marrero, who are part of the second Sphinx LEAD cohort, did a Instagram takeover to share their conference experience. Follow @nwsymphony on Instagram to see their posts. Here they are pictured with NWS cello alumnus Blake-Anthony Johnson--now the Director of Learning and Community at the Louisville Orchestra and also part of the Sphinx LEAD cohort--and Music Director of the Baltimore Symphony, Marin Alsop.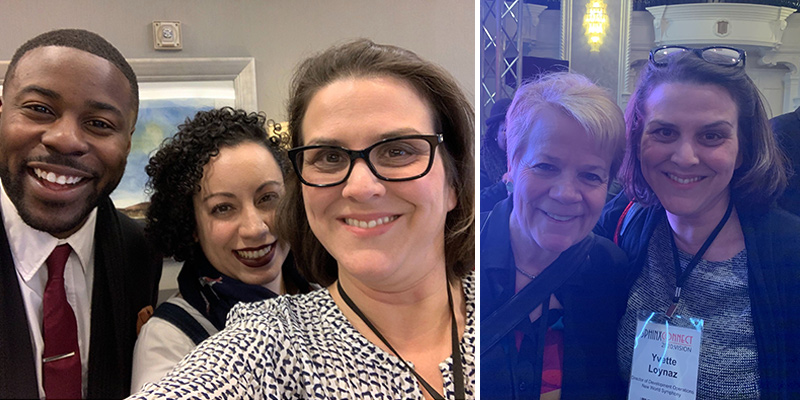 Reflections on SphinxConnect
NWS Dean of Admissions, Alumni and Fellow Services and horn alumnus Tom Hadley shares his conference experience.

Tom Hadley (left) and Alberto Suarez
I am not sure how many years I have been coming to this conference, but I can say for sure that the Sphinx Orchestral Partners Auditions (SOPA) component has grown by leaps and bounds. This year, more than 110 musicians of color applied for the opportunity to play an audition for a panel of judges representing nearly 40 orchestras from across the U.S., including the New York Philharmonic, Philadelphia Orchestra,  Los Angeles Philharmonic, New World Symphony and many more. From this group, the Sphinx Organization chose 51 to audition over the course of two days in the home of the Detroit Symphony.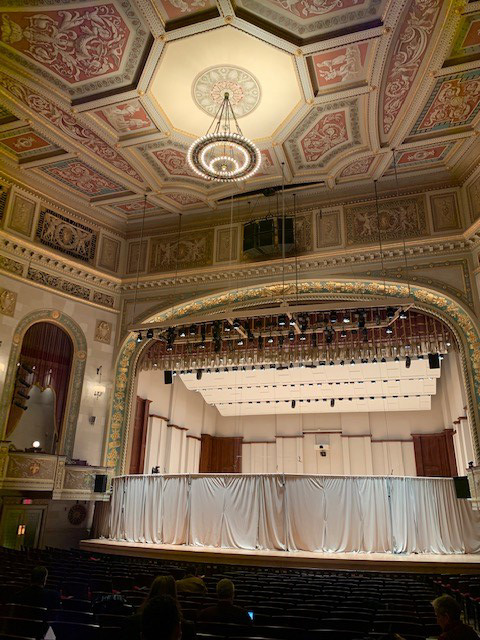 In the photo you can see a large curtain. This curtain is in place so that the panelists (seated in the audience) cannot be influenced in any way by what we see, only by what we hear. This simulates the way many professional orchestras hold their auditions and presents a unique environment on both sides of the curtain. As a result of these auditions, the representatives from the various orchestras can request resumes and audio from whichever auditions they wish and invite these musicians to come to their cities and perform with their orchestras as substitute or supplemental members of their organizations.  As well, these selected musicians may be invited to auditions without having to go through some of the "hoops" which are sometimes required, such as taped rounds or resume pre-screening. Based on these auditions, I look forward to seeing some of these musicians in Miami performing with NWS over the course of the next year and I hope some of them will be interested in becoming Fellows!
Following the auditions, musicians and panelists alike gathered to discuss their impressions and experience. Again, it is thrilling to see so much interest on both sides of the curtain and this is an event I always look forward to attending.
In addition to five NWS alumni who sat on the SOPA panel, more than 25 other current Fellows, staff and alumni are in attendance this year. Experiencing the growth of SOPA, SphinxConnect and the entire Sphinx Organization is a thrill and the total number of attendees is remarkable.  Musicians, administrators, educators and art lovers in general are all here to help empower musicians of color and support diversity and inclusion in classical music for the benefit of all of us. 
---