News
September 12, 2019
NWS celebrates 100th WALLCAST® Concert on Oct. 12

On October 12, Michael Tilson Thomas will officially launch NWS's 32nd season with the 100th WALLCAST® concert—the first of its kind in full 4K Ultra-High-Definition (UHD). The milestone event marks eight years of NWS presenting world's leading classical artists, musical works, films, and cultural content for free to South Florida community via cutting-edge sound and video technology. The unveiling of NWS's 4K upgrade is the result of a three-year, end-to-end upgrade of its infrastructure. The upgrade was made possible in part through the City of Miami Beach's G.O. Bond, voted on by residents of Miami Beach in 2018. Additional partners include Enlighten Digital, FOR-A, Hitachi, and the John S. and James L. Knight Foundation.
The WALLCAST® Concert Series offers free outdoor simulcasts of live concerts performed inside the New World Center. Live video from the concert hall is projected onto the wall of the building and viewed from adjacent SoundScape Park, which is equipped with over 160 Meyer Sound speakers for an immersive sound experience. By reaching a diverse audience from throughout the community, this concert series plays a central role in NWS's broad effort to reach new listeners.
These concerts also reflect the pioneering vision of NWS Co-Founder and Artistic Director Michael Tilson Thomas, whose achievements in re-thinking the classical music experience for the 21st century are celebrated when he receives the 2019 Kennedy Center Honors in December. He conducts the 100th WALLCAST® concert on Saturday, October 12 with a program that includes Sibelius' Finlandia, Scriabin's Piano Concerto with Daniil Trifonov, and selections from Berlioz's Romeo and Juliet.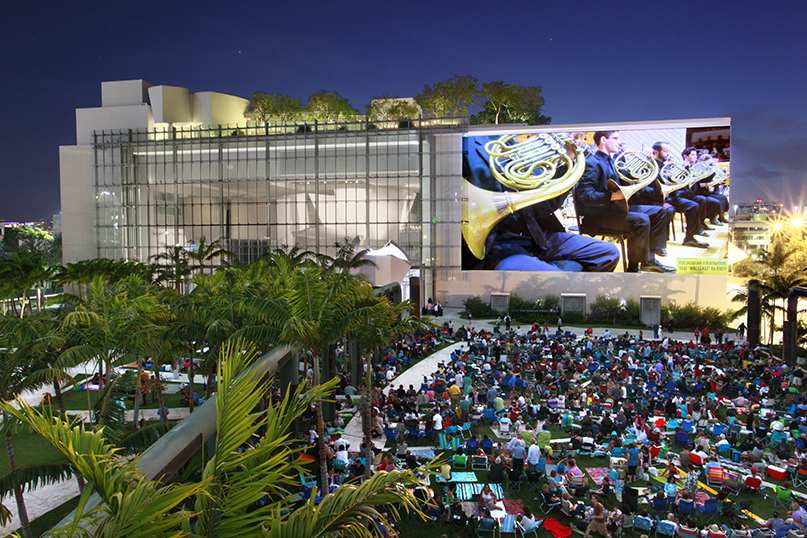 Known for its efforts to integrate state-of-the-art technology with music performance and education, NWS began its transition to 4K UHD in 2016. This video format offers sharper images, more realistic color, and higher frame rates than usually observed even in today's feature films. In transitioning to 4K, NWS not only takes a leading role in bringing this new technology to the world of classical music, but also becomes one of the first cultural institutions in any field to fully adopt the format across all of its major programming. 
The 100th WALLCAST® concert and launch of 4K resolution comes as institutions around the country are launching their own outdoor presentation platforms. Among the nearly one dozen organizations that have launched or will soon launch outdoor systems influenced in part by the New World Center are the Kennedy Center, which this month launches the REACH, an expansion of its campus that includes an outdoor projection wall; The McKnight Center for the Performing Arts at Oklahoma State University, which features an outdoor presentation wall and courtyard and opens in October 2019 with performances by the New York Philharmonic; and the City of Jacksonville, which has approved an outdoor, downtown projection project scheduled to launch in 2020.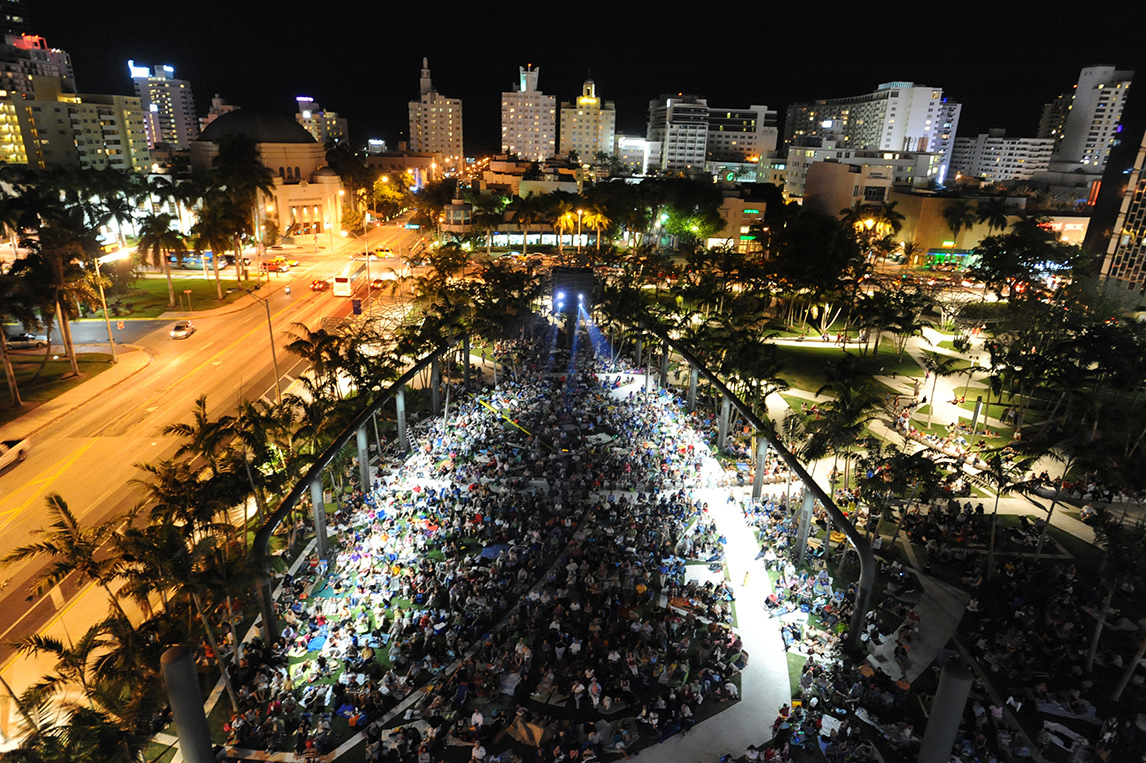 Benefits of outdoor presentation systems and programs include community building, placemaking, social inclusion, and engagement. As revealed in an in-depth, one-year study by independent research firm WolfBrown, WALLCAST® concerts attract diverse audiences, with 34% self-identifying as people of color, compared to 12% of traditional concert attendees; experience balanced attendance among different age groups; and provide social fulfillment and a connection to community. In addition to WALLCAST® concerts, weekly films are shown free-of-charge on the wall as part of the City of Miami Beach's SoundScape Cinema Series. Commissioned video art, video installations from Art Basel Miami Beach, and other cultural content are also shown on the wall for free.
Knight Foundation and New World Symphony: Reimagining Classical Music in the Digital Age.
Posted in: Events, Knight, Wallcast Concerts
---