News
May 7, 2020
NWS cello alum named CEO of Chicago Sinfonietta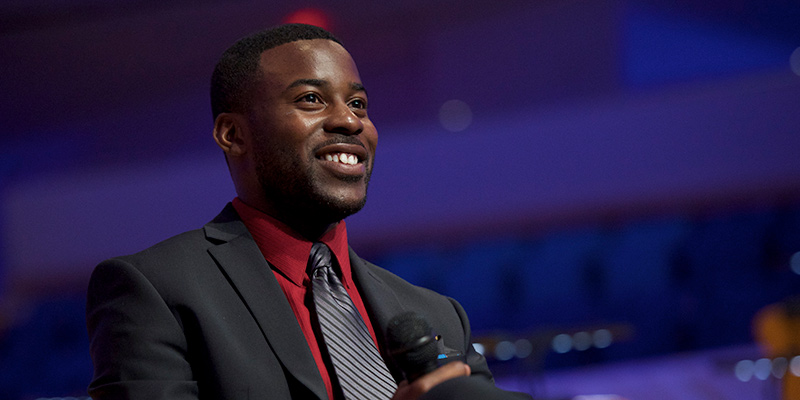 Blake-Anthony Johnson at NWS's 2018 Double Take Concert
Blake-Anthony Johnson (NWS Cello Fellow, 2017-19) has been appointed chief executive officer of the Chicago Sinfonietta effective June 1.
He'll take a position held since 2004 by Jim Hirsch, who will step down on July 1. Hirsch announced his plans last July.
Johnson, most recently the Louisville Orchestra's director of learning & community, previously has worked with the New World Symphony, Cincinnati Symphony Orchestra and other organizations. An alumnus of the Blair School of Music at Vanderbilt University, Cleveland State University and the Manhattan School of Music, Blair is a professional cellist.
"I am thrilled to be part of the Chicago Sinfonietta team," said Johnson, 29, in a statement. "Chicago Sinfonietta is a national treasure that over the past 32 seasons has contributed a great deal to our field and the city of Chicago. The vision of (Sinfonietta founder) maestro Paul Freeman has created an incredible organization that has been unmatched in the representation and celebration of equity, diversity and inclusion in a meaningful way. It is a legacy and tradition that I'm honored to continue with our amazing musicians, staff, board and music director Mei-Ann Chen."
Freeman, who died in 2015 at age 79, created the Sinfonietta as a means for bringing diversity to the symphonic world.
"Throughout the entire search process, I kept thinking about our beloved founder, and who he would pick to be Jim Hirsch's successor as Chicago Sinfonietta's new CEO," said music director Chen in a statement. "I believe maestro Freeman would have been very proud of the choice made by the search committee in selecting Blake-Anthony Johnson, a rising star in the orchestra world. Blake-Anthony's musical journey, from accomplished professional cellist to orchestra administrator, his understanding of both the performance and business sides of an orchestra, and his love for the art, ideally position him to guide this one-of-a-kind ensemble into the next chapter of its history."
The Sinfonietta gave its first concert on Oct. 11, 1987. In 2016 it received a MacArthur Award for Creative and Effective Institutions. Its annual budget is $2.3 million.
"We are excited to welcome Blake-Anthony Johnson to the Chicago Sinfonietta family," said Hirsch in a statement. "There are only a few places where we can come together with all of our differences to celebrate arts and culture and the uniqueness of what we each bring to the community, and the Chicago Sinfonietta has always embraced that notion. I am delighted to pass the baton to Blake-Anthony, as his extensive experience with various orchestral institutions will help continue pushing Chicago Sinfonietta's mission forward."
For more information, visit http://www.chicagosinfonietta.org/.
Posted in: Alumni
---