News
April 8, 2020
NWS Education Concerts now online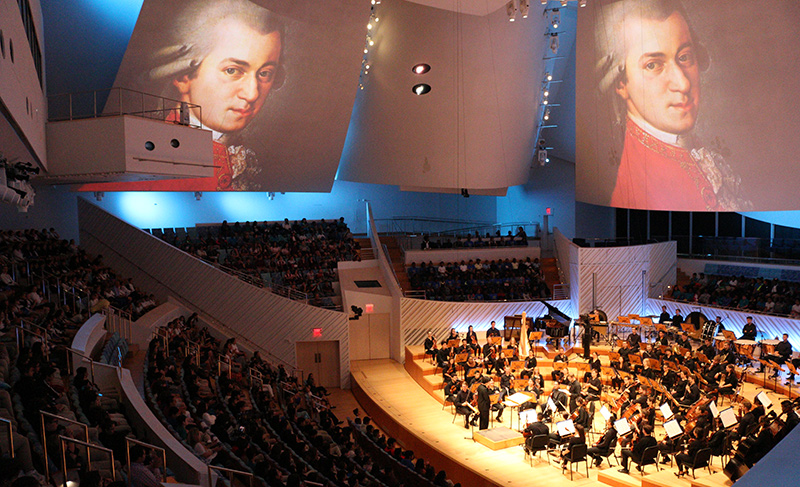 Make NWS part of your home classroom! Five NWS Education Concerts, and their accompanying study materials, are now available for parents and teachers on MUSAIC.
The New World Symphony's Education Concerts are designed to be an inspirational experience outside the classroom for grades 4-10. These thematic concerts introduce major orchestral works and composers to students. Each concert comes equipped with a study guide available for download. These guides enable watchers to learn information about the composers, instruments, historical timelines and other enriching facts about each concert.
NWS Education Concerts are offered worldwide each season as a free, high-quality webcast. Click here to learn more. Currently NWS has five digital concerts archived, each lasting 45-55 minutes.
Dean Whiteside, conductor
Levi Powe, cello
Sometimes composers tell stories through the music that they write. In Stories without Words we learn what techniques composers use to share these stories and how they adapt written words for a symphonic performance. Featuring music by Richard Strauss, Edward Elgar, Camille Saint-Saëns, Pyotr Ilyich Tchaikovsky and Modest Mussorgsky. Original performance at New World Center: January 17, 2019
Dean Whiteside, conductor
Ifetayo Ali-Landing, cello
American Modernism explores classical music in the U.S. in the 20th century. What are the musical and artistic influences that affected composers during this time period? How can we hear those trends reflected in their music? Featuring music by Charles Ives, George Gershwin, Camille Saint-Saëns and John Williams. Original performance at New World Center: November 3, 2017
Dean Whiteside, conductor
Maria Sanderson, violin
In Symphony in 3D we will explore what the word "symphony" means. It can be a group of performing musicians, but also the word has evolved over time as a style of composition employed by composers from the 1600s to today. Featuring music by Gustav Mahler, Giovanni Battista Sammartini, Wolfgang Amadeus Mozart, Ludwig van Beethoven, Hector Berlioz and Pyotr Ilyich Tchaikovsky. Original performance at New World Center: February 24, 2017
Christian Reif, conductor
Sterling Elliott, cello
The Musical Alphabet explores one of the building blocks of music, the scale! Do you like ice cream? If you answered yes, you will understand how scales work. Just like there are many flavors of ice cream, so there are many different "flavors" of scales. You can't taste scales, but you can hear them. Featuring music by Wolfgang Amadeus Mozart, Gustav Mahler, David Popper, Alan Menken and Howard Ashman, and George Gershwin. Original performance at New World Center: October 30, 2014
Joshua Gersen, conductor
Ade Williams, violin
Enjoy this musical adventure that highlights American Music—that is to say, works composed by Americans or influenced by American culture. Featuring music by John Philip Sousa, Aaron Copland, Charles Ives, George Gershwin and Leonard Bernstein. Original performance at New World Center: December 6, 2012
Posted in: Alumni, Community Engagement, Fellows
---