News
March 20, 2020
NWS extends closure through 2019-20 season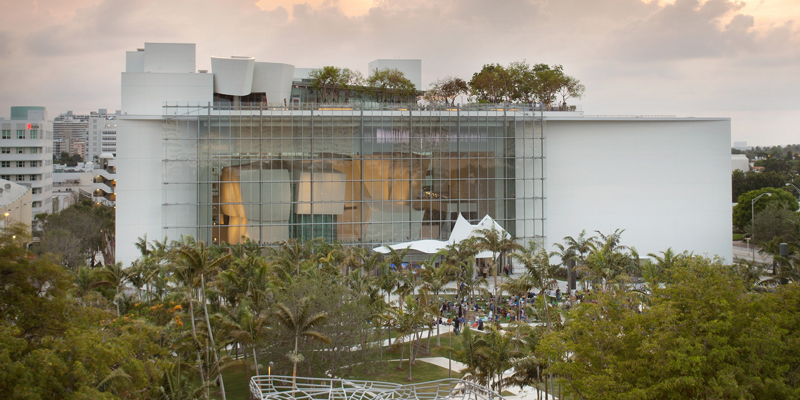 Following the recommendations of the CDC and City of Miami Beach, the New World Center has extended its public closure through the end of May and the New World Symphony, America's Orchestral Academy (NWS), will cancel the remaining concerts of its 2019-2020 season.
NWS, in collaboration with streaming partners IDAGIO and Medici TV, will make available content and curate a series of online performances and other content available from a number of sources. A highlight of the offerings will be the NWS Archive+ series, which will offer recordings from the New World Symphony archive featuring new commentary and behind-the-scenes insights from Co-Founder and Artistic Director Michael Tilson Thomas, NWS Fellows, Alumni, guest artists, and visiting faculty.
NWS President Howard Herring announced the effort saying, "The New World Symphony has, for more than thirty years, offered our listeners individual transformations in communal settings. We hope that our online musical offerings will foster communal transformations in our individual settings."
Michael Tilson Thomas said, "It's been a great season at New World Symphony this year. The orchestra has played with consistent joyous artistry. From the opening Berlioz program right on to the Viola Visions Festival, the Stravinsky collaboration with Miami City Ballet and Schumann Symphony No. 3, we've been in top form. There's a special joy that comes from making music like this, that both players and audience share. I'm so sad that we will not be able to complete the season with performances that would have included Schubert 9, Shostakovich Cello Concerto No. 2 with the inspiring Gautier Capuçon, and our annual Side-by-Side Concert. I wish that all our Fellows, Staff and supporters be safe and productive during these uncertain times. I hope you will have the chance to check out the wonderful archive of old performances and new conversations that we will be making available. I look forward to the gathering of our community again as soon as possible."
THE NWS ARCHIVE+
Beginning the Week of March 22, NWS will debut a web-based series called NWS Archive+. Michael Tilson Thomas will moderate discussions with NWS Fellows, alumni, guest artists and visiting faculty about recorded performances from our archives. Their personal reflections will offer unique insights into the streamed concerts. Performances will be available at www.nws.edu.
NEW WORLD SYMPHONY FELLOWS: LIVE FROM OUR LIVING ROOM
Beginning Friday evening, March 20, at 7:00 PM, NWS Fellows will play live, informal chamber music concerts from their homes in Miami Beach. This series, titled New World Symphony Fellows: Live from our Living Room, will be broadcast via Facebook Live. Follow NWS on Facebook here.
MUSAIC
NWS's ground-breaking online archive allows visitors to explore, engage and excel with NWS performances, master classes, tutorials and town halls. MUSAIC can be found at musaic.nws.edu.
EDUCATIONAL CONCERTS
For the past 10 years, the Fellows have prepared and performed a series of one-hour concerts for local school children. Preparatory materials are shared with schoolteachers who bring their students. In the coming weeks, NWS will make these concerts and preparatory material available free of charge to students and parents in Miami-Dade County and beyond. NWS Educational concerts can be found at musaic.nws.edu.
IDAGIO
NWS has partnered with IDAGIO, the first global streaming service for classical music which was recently announced as the official Audio Streaming Partner of NWS.
Among the first recordings released on IDAGIO is NWS's January performance of Stravinsky Journey with MTT, featuring Stravinsky's Variations: Aldous Huxley in Memoriam, Symphony in Three Movements, Pétrouchka (1947 revision) and Scherzo à la russe. Joining the Stravinsky Journey is a new recording of Schumann's Symphony No. 3 recently recorded live at New World Center. A two-month free trial is available here.
MEDICI TV
The world's leading classical music channel, Medici.TV, has a library of NWS concerts available to stream on demand. Medici will be making some of its content available for free during this challenging time including the NWS broadcast Michael Tilson Thomas Conducts Michael Tilson Thomas.
Additional streaming options will be announced in the coming weeks.
The following events at New World Center have been cancelled:

March 27: Beer and Brass
March 28: Percussion Consort: Junkestra
April 3: PRIDE: Late Night at the New World Symphony
April 5: Concert For Kids: Let's Dance
April 6: Beethoven RECOMPOSED
April 6: Music and Mindfulness
April 8: Virtual Hangout
April 10: Music For Histiocytosis: Playing for a Cure
April 11: Yoga Mornings
April 11: Sounds of the Times: Symphonic Cabaret
April 13: Musicians' Forum
April 14: Inside the Music: The Composers String Quartet Color Palette
April 17-18: Yang Plays Beethoven, including the WALLCAST® concert
April 24: Town Hall Master Class
April 25: Side-by-Side Concert, including the WALLCAST® concert
April 26: Sound the Horn
May 2-3: MTT's Season Finale, including the WALLCAST® concert
May 5-8: National Alliance for Audition Support Intensive for Winds and Brass
May 8: Bravo! The Epstein Family Foundation MusicLab Finale Concert
May 9: Yoga Mornings at the New World Center
May 10-13: National Alliance for Audition Support Intensive for Strings
May 18: NWS Education Concert Webcast: Spark: How Composers Find Inspiration
Additionally, all lessons, visits by faculty, campus tours and public community engagement events during this time will be cancelled. New World Center private events and presentations have also been cancelled or postponed.
Ticket holders should contact the New World Symphony Box Office to:
DONATE TICKETS:  Ticket holders may donate the value of their tickets to NWS as a tax-deductible donation, to help ensure our Fellows achieve the leadership necessary to carry our art form forward in communities worldwide. NWS can provide an acknowledgement letter for tax purposes.
EXCHANGE TICKETS:  Tickets may be exchanged for another NWS performance next season or for a gift certificate valid through June 30, 2021. All exchange fees will be waived in this situation.
RECEIVE A REFUND:  Ticket holders may request a refund of the value of their tickets. The refund will be issued in the same manner as the original payment. 
The NWS Box Office can be reached by emailing tickets@nws.edu.
For press information, please contact Kathleen Drohan, Vice President of Public Relations at 917.309.3100 or Kathleen.Drohan@nws.edu.
Posted in: New World Center
---