News
April 26, 2019
NWS Fellows collaborate with Very Young Composer Jordan Millar

NWS String Fellows with composer Jordan Millar and mentor Justin Hines on Internet2
On Tuesday, April 30, a quartet of NWS string Fellows will perform at the Yamaha Artist Services studio, presenting music by Antonín Dvořák, Jessie Montgomery and a suite of Scandinavian folk songs. The highlight of the program will be its finale, when violinists Alex Gonzalez and Christopher Robinson, violist Stephanie Block and cellist Drew Comstock will give the world premiere The Abandoned Castle, a NWS commission by Jordan Millar.
Join the live stream of The Abandoned Castle and Other Stories on Tuesday, April 30, 2019 starting at 12:30 ET via NWS's Facebook page!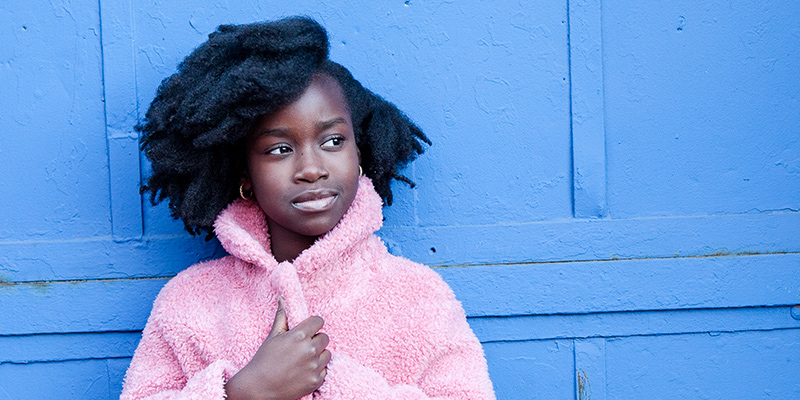 Meet Jordan.
She's a 12-year-old aspiring journalist, pianist, jazz clarinetist and composer whose music has already "wowed the [New York] Philharmonic." Jordan is a participant of the New York Philharmonic Very Young Composer (VYC) program, which pairs public school children of limited musical background with a Teaching Artist to create their own music for the Philharmonic's musicians to play. Developed by composer and bass player Jon Deak in 1995, VYC demonstrates children's innate creativity and provides a glimpse at the future of classical music.
Students are selected for the program based on their enthusiasm for music. Every year, more than 100 new compositions by Very Young Composers are played by ensembles of New York Philharmonic musicians or by the full orchestra at the Young People's Concerts for Schools.
The VYC Teaching Artists, all of whom are professional musicians, help participants tap into their innate creativity, express their musical ideas, clarify their musical options and turn their conceptions into notated, performable compositions. Jordan is paired with Justin Jay Hines, a percussionist, composer and educator who is also a veteran visiting faculty member of NWS's Community Engagement programs.
"NWS is uniquely positioned to collaborate with VYC," said Justin. "Not only do the Fellows have the technique and musical skills required to treat the student composers' pieces as serious works, they also have the capacity to be open to fostering a relationship with the composer through the creative exploration of sounds. All the experiences the Fellows have been gaining in community engagement at NWS come into play in a VYC collaboration: inquiry, sharing, sensitivity, experimentation, relationship building, and the transfer of musical experience. If NWS fosters the orchestral musicians of tomorrow, then VYC is very much literally the music of that future." 
NWS's collaboration with Jordan and the New York Philharmonic began with Cassidy Fitzpatrick, NWS's Vice President for Musician Advancement. "It has been a pleasure to work with Jordan and her teaching artist mentor, Justin, on this commissioning project. Working with a young composer is one of the many ways New World Symphony contributes to a strong and secure future for classical music. As a laboratory, we are pleased to partner with the New York Philharmonic in this experiment and continue our collaboration with Yamaha, which was eager to host this special event."
YOUNG, CREATIVE MINDS AT WORK
For Jordan, learning music has developed her creativity and provided a way for her to convey ideas and feelings through musical expression. "When composing, I create a story line to build off of that takes the audience on a journey. I would describe The Abandoned Castle as a dramatic realization story. The idea of the piece is when you see this beautiful but neglected castle, all the memories of its former glory rush through your head (feasts, parties, knights, coronations, etc.). I think that the sad but beautiful story behind the castle went hand-in-hand with the dramatic and moving sound of the piece."


Left to right: Justin Hines, Jordan Millar, Drew Comstock and Christopher Robinson
In creating The Abandoned Castle, Jordan and Justin met with the NWS Fellows twice over Internet2 to workshop what she had written and experiment with new ideas and different techniques. The Fellows provided feedback and collaborated with Jordan and Justin to bring her work to life.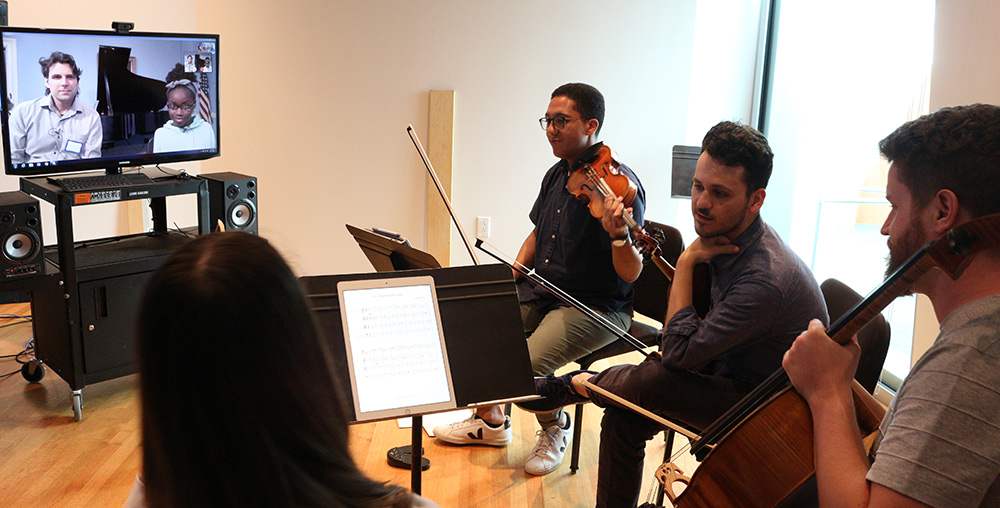 "It has been great working with the New World Symphony," said Jordan. "I feel like our meetings have been very helpful and eye opening. I have learned how to notate so many other things for pieces by having the NWS Fellows guide and teach me how to correctly notate things that I am looking for. Most importantly, I have learned from them that all ideas are acceptable, and to continue to pursue my ideas and not limit them based on difficulty. I think it's amazing having the opportunity to write a piece with no limitations or themes, because it was a good chance for me to get creative."
Second-year Violin Fellow Christopher Robinson says it has been a blast to work with Jordan and feels honored to be giving the work's first performance. "I've never workshopped a new composition with someone so young before and it's incredibly exciting. I'm surprised with how sure she is of artistic choices in her piece. When I was her age, I definitely did not have such a clear vision in my head of what I wanted musically." 

"It was interesting to see how Fellows found their own way of communicating musical concepts through instrument demonstration—trying multiple ways of articulating and phrasing different musical ideas— without adding personal preference to those ideas," said Justin. "In general, it is rare that musicians get to work with a living composer as they are creating and writing the music; even more rare that the composer is in the sixth grade."
Jordan's mom Lauren couldn't be prouder. "The VYC program has been an amazing experience. It's exposed to Jordan to areas of music beyond what we could have ever imagined. Although Jordan studied piano, composing was something she had not been exposed to. It's amazing to see how much she has matured musically from composing and notating scores to collaborating with musicians and conductors. Over the last several years she's created a true collection of work and found her style as a composer. VYC has provided an avenue for her to do what she loves—telling stories through music. She's also gotten to meet and learn from fellow students, teaching artists, composers and musicians from all over New York City and the world. What's wonderful is that children are given a voice and that voice is respected and nurtured. From program founder Jon Deak to manager Jessica Mays and teaching artists like Justin Hines, everyone at VYC is so passionate about what they do and so supportive of the students. VYC has helped Jordan mature as a musician and most importantly it's taught her that being an artist is not just something she can aspire to, it's something she already is. Working with the New York Philharmonic and New World Symphony are opportunities of a lifetime."
THE ABANDONED CASTLE AND OTHER STORIES
Tuesday, April 30, 2019 at 12:00 PM Eastern Time
Yamaha Artist Services Studio
WATCH LIVE: Join the live stream of The Abandoned Castle and Other Stories on Tuesday, April 30, 2019 starting at 12:30 ET via NWS's Facebook page!
The New World Symphony would like to recognize the following donors for their support of its 2019 tour to New York City and Carnegie Hall: Bruce and Suzie Kovner / The Kovner Foundation, The Wilhelmina Harrell Fund, Bruce and Martha Clinton / The Clinton Family Fund, Susan and David Edelstein, Mr. and Mrs. Louis K. Meisel, Melanie and David Niemiec, Stuart Subotnick, Mr. and Mrs. Jeffrey Akin, Alan and Jayusia Bernstein, The Andrea & Charles Bronfman Philanthropies, Dr. Matthew Budd and Ms. Rosalind E. Gorin, Jim and Jean Crystal, Peter and Sue Gottsegen, The Hite Foundation, Jorge and Amanda Mejia, Jerry and Adrianne Cohen, Betty and Joseph Z. Fleming, Susan and John Freund, Saul and Jane Gross, The Jeffrey Solomon Fund of the Jewish Community Foundation, Janet Shein, Koniver Stern Group, Mr. and Mrs. Robert Hertzberg, David J. Phillips and Denis J. Jacobs, and Coregami.
Posted in: 2019 Carnegie Tour, Community Engagement, Fellows, Technology
---