News
January 11, 2019
NWS hosts two NAAS Audition Intensives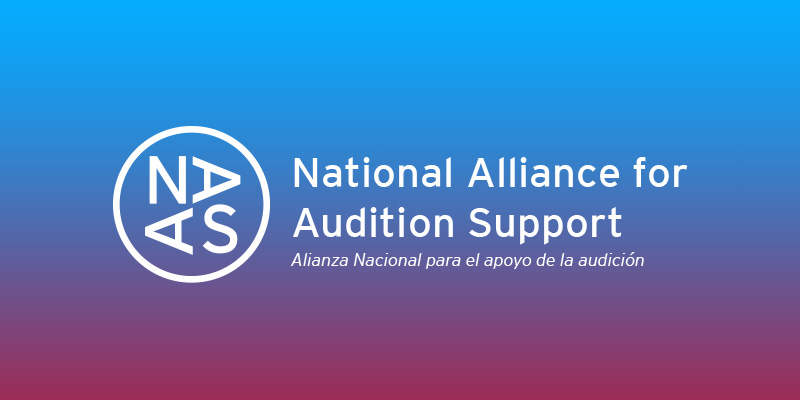 In December NWS hosted two Audition Intensive seminars as part of the National Alliance for Audition Support (NAAS). With the Sphinx Organization and the League of American Orchestras, NWS is a founding member of NAAS, a field-wide initiative with the long-term goal of increasing diversity in American orchestras.
Audition Intensives give participants the opportunity to work in group and individual settings with professional musicians who understand the audition process. Sessions include peak-performance psychology training, mock auditions, individual lessons and a faculty panel to discuss the audition process and the faculty's own career paths. Participants are selected through a competitive application process open to a range of musicians—from recent conservatory graduates to early- and mid-career professionals seeking to advance their careers.
These marked the second and third NAAS Audition Intensives and were geared toward musicians playing low string and woodwind/brass instruments, respectively. The first NAAS Audition Intensive took place at the New World Center in summer 2018.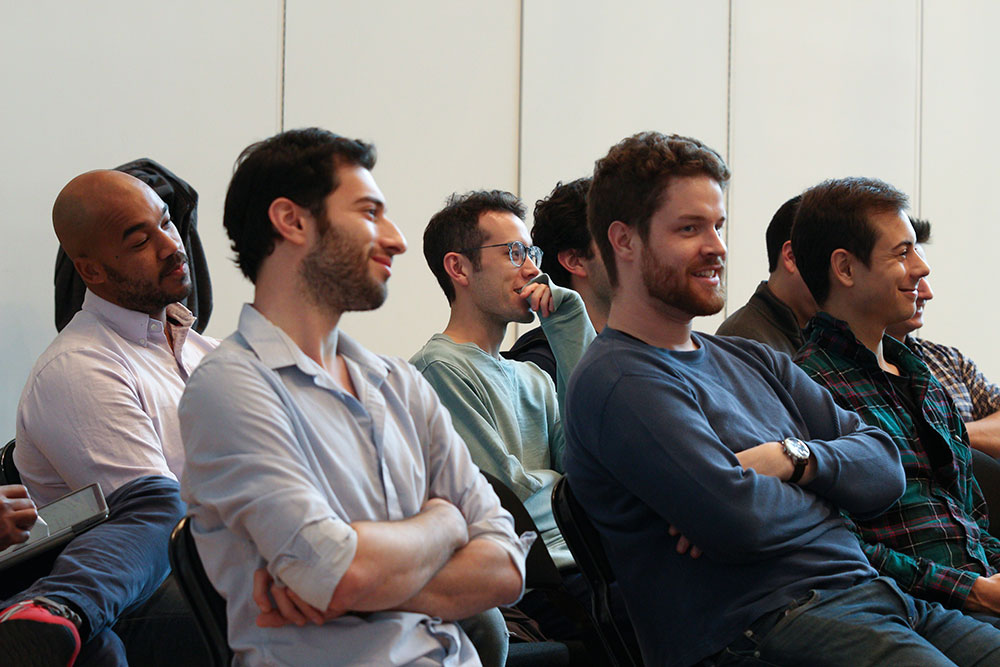 NAAS Participants with NWS Fellows, photo by Siggi Bachmann
On December 9, four NAAS participants from around the country joined NWS Fellows for four days of training with guest faculty, including leading members of the Houston Symphony Joan DerHovsepian (Associate Principal Viola) and Brinton Averil Smith (Principal Cello), Rice University Shepherd School of Music's Professor of Bass Timothy Pitts and performance psychologist Dr. Noa Kageyama, author and founder of The Bulletproof Musician.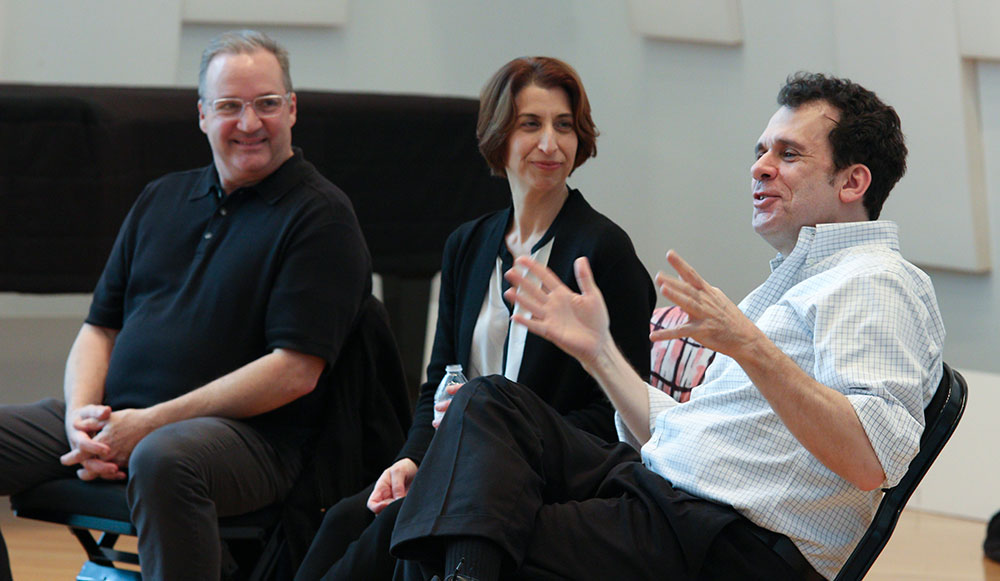 NAAS Faculty Timothy Pitts, Joan DerHovsepian and Brinton Averil Smith, photo by Siggi Bachmann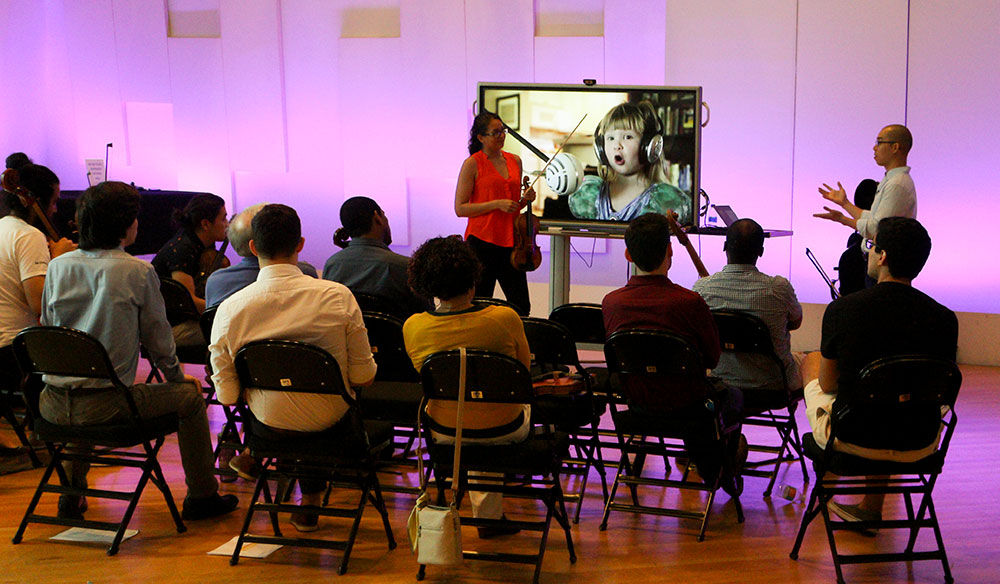 Noa Kageyama leads a session for NAAS participants, photo by Siggi Bachmann
The second Audition Intensive took place December 17-20 and featured 14 woodwind and brass participants. Faculty for this seminar included two NWS alumni Alberto Suarez (Principal Horn, Kansas City Symphony) and Alexander Laing (Principal Clarinet, Phoenix Symphony), Demarre McGill (Principal Flute, Seattle Symphony), Megumi Kanda (Principal Trombone, Milwaukee Symphony) and a return visit from Dr. Kageyama.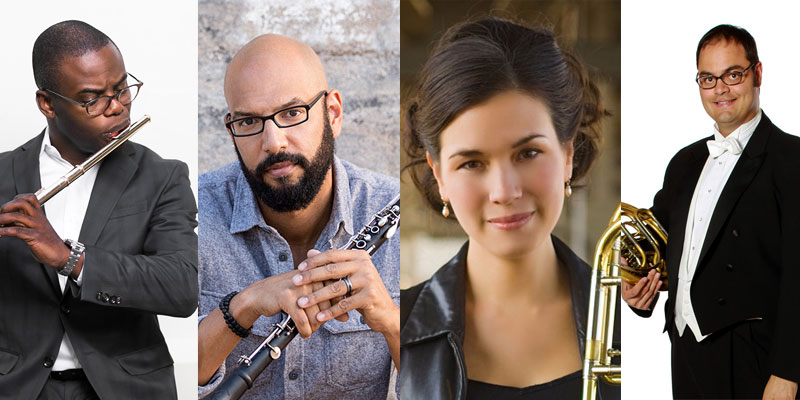 NAAS Faculty Demarre McGill, Alexander Laing, Megumi Kanda and Alberto Suarez
Upcoming NAAS events:
Sphinx Orchestral Partners Auditions (SOPA): January 30, 2019 in Detroit
SOPA provides musicians of color with the unique opportunity to play an audition for a panel representing several orchestras seeking to identify musicians for invitation to auditions, pre-advancement at auditions and/or placement on substitute player lists. This year, representatives from over 30 NAAS-partner orchestras will listen to over 50 musicians. Click here for a list of participating orchestras.
SphinxConnect: January 31-February 2, 2019 in Detroit
On Friday, February 1 NAAS will host a round-table discussion for all SphinxConnect conference attendees. The 2019 conference, titled Leaders Rising, is the epicenter for artists and leaders in diversity, featuring over 30 sessions designed to inspire and ignite action. Click here to learn more.
Follow the Audition Intensive on social media using #AuditionAlliance.
Click here to learn more about NAAS.
What others are saying about NAAS:

               Seeking orchestras in tune with their diverse communities – The New York Times
               Initiative announces new support for musicians of color – The Washington Post
               Groups partner to increase lagging US orchestra diversity – ABC News
               Classical music orgs launch initiative to diversify orchestras – ColorLines
               Holistic Support: An ambitious plan to boost diversity in American orchestras – InsidePhilanthropy
---