News
November 21, 2020
NWS hosts virtual residency with LSO musicians
From November 10-20, NWS hosted 13 musicians from the London Symphony Orchestra for a virtual visiting faculty residency. NWS Fellows—whose fellowship activities have been remote this fall—joined their colleagues and coaches on Zoom for 20 classes across the 10-day residency.
"Due to COVID-19, the NWS coaching activities have been entirely virtual, with coaches giving individual lessons and group classes on Zoom from all over the world," said NWS Dean of Visiting Faculty and Orchestra Manager JT Kane. "By being virtual, we have the opportunity to host over 800 coaches this season! The distance learning technology at NWS has made it so that our Fellows can continue to take lessons from our amazing list of visiting faculty, as well as take a lesson from a coach that they would not normally be able to study with. The opportunities are endless!"
By engaging several members of the same orchestra for a coaching residency, NWS allows Fellows to study a particular musical style, both as individual musicians and as an entire orchestra.
"NWS has always been a leader in distance learning and technology, but after going fully virtual this season we've had the opportunity to get creative and use our online platforms to curate unique opportunities for specialized instruction," said NWS Manager of Visiting Faculty and Assistant to the Deans Heather Osowiecki. "The LSO virtual residency gave our Fellows valuable insights into the musical style and sensibilities of not just singular performers but of an entire orchestra and will hopefully lead to meaningful discussions within the fellowship as they digest the feedback they've received through a British lens. The London Symphony musicians put an incredible amount of thought and care into the educational experiences they provided to the Fellows, and we are grateful for how actively they engaged with our academy from thousands of miles away. This cohesive curriculum will serve us well as the Fellows move forward into preparing for future auditions. NWS couldn't have asked for a better orchestral partner than the London Symphony Orchestra, an ensemble with a decades-long history under MTT's artistic leadership that began the same year NWS was founded. We may be in varying levels of lockdown in our respective corners of the world, but that hasn't put a damper on our mission to be a laboratory of musical learning at the highest levels!"
2020 London Symphony Virtual Faculty Residency


Violin Fellows with Clare Duckworth and David Alberman


Viola Fellows with Edward Vanderspar and Bass Fellows with Joe Melvin


Trumpet Fellows with David Elton and Cello Fellows with Rebecca Gilliver

Flute Fellows with Gareth Davies and Clarinet Fellows with Andrew Marriner


Bassoon Fellows with Joost Bosdijk and Oboe Fellows with Olivier Stankiewicz


Low Brass Fellows with Ben Thomson and Horn Fellows with Angela Barnes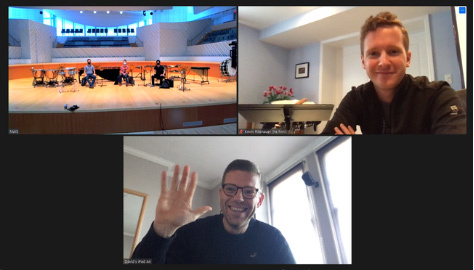 Percussion Fellows with David Jackson
Posted in: Coaches and Coaching, Fellows
---