News
January 11, 2016
NWS in the News: January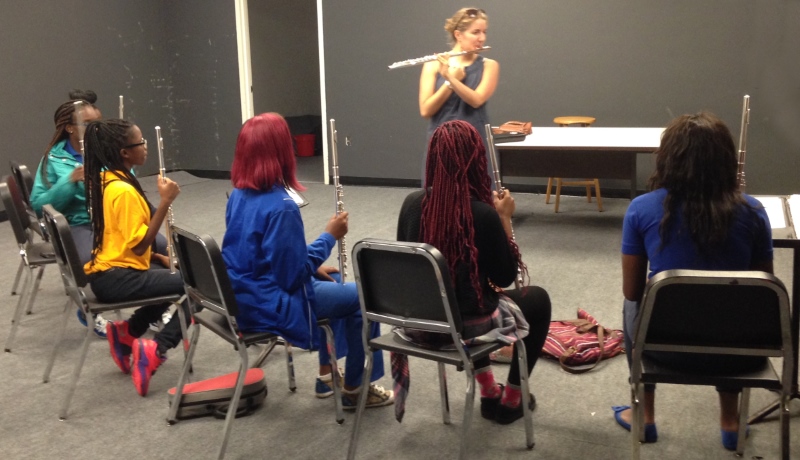 In Legacy Magazine's independent supplement to today's (January 11) Miami Herald, author Asanyah Davidson writes about the New World Symphony's musical mentoring program at Miami Northwestern Senior High School. As part of the NWS MusicLab Community Engagement program, NWS Fellows teach at four schools/programs in the Miami area.

Click here to read the article (p.14)
Click here to read about the program
This past weekend's concert "Gil Shaham Plays Tchaikovsky" as led by guest conductor Cristian Măcelaru, received an excellent review from the South Florida Classical Review. Here are some selected excerpts:

"Shaham always manages to infuse the most oft-played works with new life and his reading of the Tchaikovsky was no exception. With exceptionally strong teamwork with guest conductor Cristian Măcelaru, the result was a freshly conceived and exciting performance… He and the orchestra followed Shaham through all his shifts of tempo and melodic line, turning on a dime.

"The final hymn of thanksgiving emerged broad and lyrical, the unanimity and richness of the violins standing out in a splendidly played performance."
Click here to read the entire review
And Monday's version of the same concert, performed at the Kravis Center in West Palm Beach, with guest violinist Arnaud Sussman, garnered an equally effusive review from the Palm Beach Daily News.

"A South Florida treasure performed a program of masterworks at the Kravis Center on Monday night: the New World Symphony... And, yes, they are every bit as fine as expected. Glorious sound in each of the sections, amazing precision, magnificent soloists, a wide range of dynamic and timbral control; it's surely Florida's finest orchestra.

"Macelaru and the New World Symphony have the spirit of this music. It was a beautiful, balanced warm performance, one that restored faith in mankind and our world. And that's the magic of great music."
Click here to read the entire review
A South Florida treasure performed a program of masterworks at the Kravis Center on Monday night: - See more at: http://www.palmbeachdailynews.com/news/entertainment/arts-theater/new-world-symphony-soloist-prove-elite-status-in-k/np3yR/#sthash.6SfRK6U1.dpuf
A South Florida treasure performed a program of masterworks at the Kravis Center on Monday night: - See more at: http://www.palmbeachdailynews.com/news/entertainment/arts-theater/new-world-symphony-soloist-prove-elite-status-in-k/np3yR/#sthash.6SfRK6U1.dpuf
A South Florida treasure performed a program of masterworks at the Kravis Center on Monday night: - See more at: http://www.palmbeachdailynews.com/news/entertainment/arts-theater/new-world-symphony-soloist-prove-elite-status-in-k/np3yR/#sthash.6SfRK6U1.dpuf
21CM.org is an "online, professional resource created expressly to help serious musicians thrive, not just survive, in today's modern musical landscape." This month NWS President and CEO Howard Herring is their 'guest curator' for 21CM's "POP Picks" selecting "innovative People, Organizations and Projects advancing our art form." Each monthly curator's picks can be voted on to eventually select the winners for 2016.

Most of Herrings picks have NWS connections. NWS alumni are Executive Director and a musician in The Knights, an innovative chamber ensemble. The Kansas City Symphony has worked with NWS on new concert formats, and more than two dozen NWS alumni play for the orchestra. Teddy Abrams, Music Director of the Louisville Orchestra, was NWS Conducting Fellow from 2008 to 2011. And Katie Wyatt, a 2004-2006 NWS Viola Fellow, is co-founder and Executive Director of the El Sistema inspired Kidznotes, serving Raleigh and Durham, NC.

Click here to read and vote for the "POP Picks"
And in the current The New Tropic, Herring is one of a group of Miami arts leaders called upon to describe their hopes for the arts in the city for 2016. "Miami Resolutions: Art" covers the local arts scene "from the symphony to the street."

Click here to read the article
Posted in: Community Engagement, Concerts, In the News
---