News
March 30, 2016
NWS in the News: March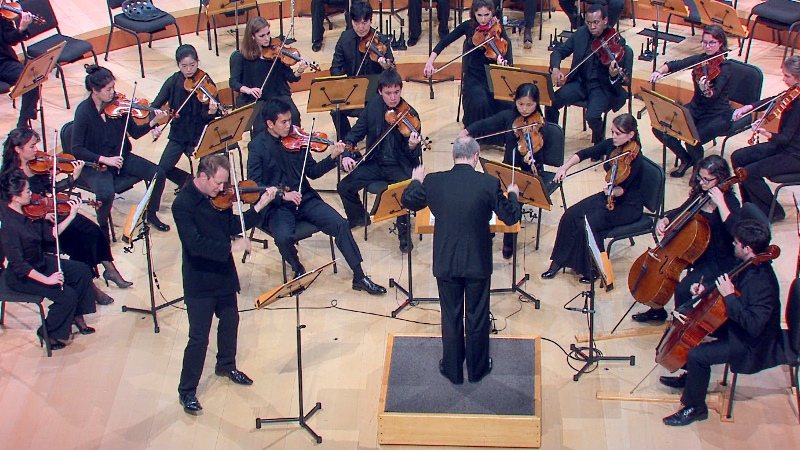 This past weekend's Sounds of the Times concert, as led by guest conductor Stefan Asbury and Conducting Fellow Christian Reif, with guest violinist Anthony Marwood, received much praise from the South Florida Classical Review. And Horn Fellow Anthony Delivanis was also singled out for his performance. Here are some selected excerpts:

"… the symphony… had undeniable power, and Asbury deserves our gratitude for bringing it [Symphony No. 4 by Michael Tippett] to South Florida."

"Marwood plunged into the virtuosic first movement - an embroidery of rapid arpeggios and almost impossibly high passages - with a hard-driving, fearless momentum that he kept up to the end."

Click here to read the entire review

The previous week's Chamber Music concert won a similar rave from the SFCR.

"The New World musicians' performance gave it crystalline textures, achieving a rich wind tone in the melodic passages, with particularly evocative playing by flutists Masha Popova and Allison Emerick."

"The New World guest artist [pianist Inon Barnatan] gave a performance that was riveting throughout, playing with hard-edged authority in brittle octave passages and smooth grace when accompanying the string players."

"[Violin Fellow] Michael McCarthy achieved a real Shostakovich tone in his high, bleak solos in the Intermezzo and Finale, intense and never sentimental."

Click here to read the entire review

SFCR also previews the New World Symphony's 2016-2017 season.

Click here to read all about it
---
El Nuevo Herald reported on the NWS Gala held on March 12, in an article entitled "Gala de la New World Symphony, de las mejores de la temporada" glowingly referring to the event as "una de las veladas más elegantes de nuestra ciudad y a la que suele acudir toda la "crema y nata" de la sociedad no sólo local, sino de esa élite internacional de melómanos."

Click here to read it (en español)

And speaking of non-English language coverage, the French version of the online magazine Slate published a profile of New World Symphony entitled "Bienvenue dans le laboratoire de la culture du future" which describes NWS' digital programs such as the Wallcast™, video concert recordings, and Internet2, before the article veers off to other digital programs in a variety of cultural institutions.

Click here to read it (en français)
Click here to read the Google English translation

A more travel-oriented short piece was posted in the blog of the Joie de Vivre hotel chain - they own The Hall on Collins Ave. It touted the free events available at New World Center and SoundScape Park including Wallcast™ concerts, the weekly SoundScape Cinema movies, and the monthly Yoga in the Park. And there are a lot of great photos.
---
Last week, the New World Symphony co-hosted the 13th Annual Network Performing Arts Production Workshop (NPAPW) - a technology conference exploring long distance artistic and educational collaborations. On Tuesday March 22, musicians in three locations – University of California, Davis, SFJAZZ in San Francisco, and New World Symphony in Miami Beach – performed together simultaneously, coast to coast, in an extraordinary live musical event, thanks to Yamaha Disklavier Remote Lesson technology.

As pianist Geri Allen performed at UC Davis, her performance was reproduced in the other two locations as Yamaha's internet-connected piano duplicated her playing precisely for all the different audiences.

Click here to read all about it
And click here to read about the technology involved
---
Finally, there is a fascinating article by NWS alumna Kallie Ciechomski (viola 2012-2014) at From the Top. "From the Top is America's largest national platform dedicated to celebrating the stories, talents, and character of classically-trained young musicians. Through live events, NPR and YouTube broadcasts, scholarships, and leadership programs, we empower these extraordinary young people to engage and inspire music lovers of all ages."

Kallie was a From the Top recipient of the Jack Kent Cooke Young Artist Award in 2006. She describes her experiences as a freelance musician in New York and all the opportunities she has had recently for performing, teaching, technology, and travel.

Click here to read Kallie's story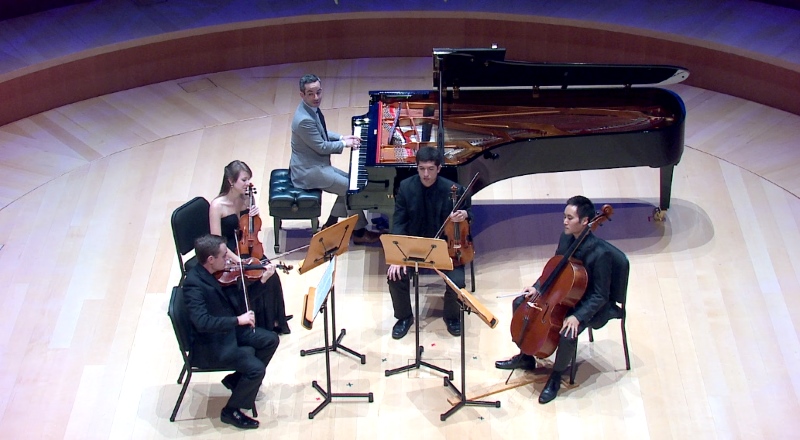 Posted in: Alumni, Concerts, In the News, Technology
---