News
December 28, 2015
NWS Is Tops In SFL Classical Top Ten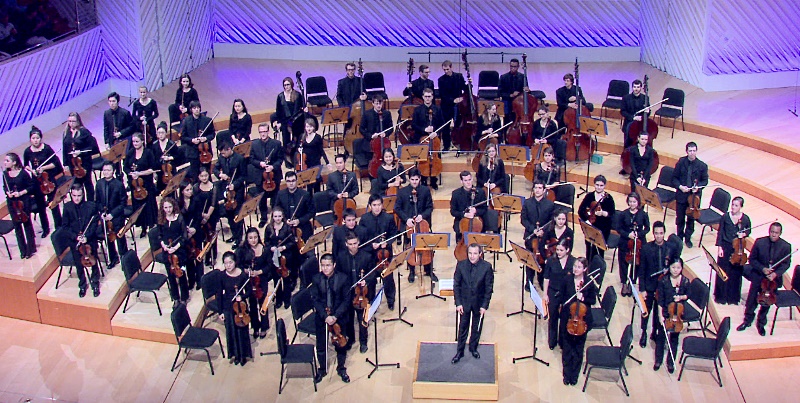 Among the top ten clas­si­cal per­for­mances of the year in South Florida, as judged by the writ­ers at South Florida Clas­si­cal Review, were three by the New World Symphony.


Anne-Sophie Mutter with Michael Tilson Thomas and the New World Symphony
"At the New World Symphony's final concert of the season..., Mutter, one of the music world's most refined and deeply probing artists, made her first Miami appearance in two decades. Mutter's spacious phrasing and impeccable technique drew out layers of emotion in Berg's elegiac Violin Concerto. Her purity of tone enhanced the striking fragments of melody and color in Norbert Moret's En réve with Michael Tilson Thomas and the orchestra richly supportive."

James Ehnes with James Conlon and the New World Symphony
"The prospect of another performance of the Mendelssohn Violin Concerto may not quicken the pulse of anyone who regularly attends concerts. Yet the violinist James Ehnes, who appears frequently on South Florida stages, showed what a great performance of this popular work could achieve. With a light, graceful style and unquestionable mastery of the notes, he brought a winsome vulnerability and a keen sense of drama to the performance, investing new life in one of the world's most frequently played concert works."

Jeannette Sorrell and the New World Symphony: Bach, Handel and Vivaldi
"A concert that attempts to evoke the atmosphere of a Leipzig coffeehouse during Bach's time might have seemed gimmicky had the music and the performances not been on such a high level. The early music specialist Jeannette Sorrell led members of the New World Symphony in performances of Bach, Handel and Vivaldi that sizzled with energy, leavened by the interpretive and historically informed intelligence she brought to the concert."
---
NWS received multiple honorable mentions as well, for flutist Paula Robison's performances with New World in February; MTT conducting Aaron Copland's Symphony No. 3 in October (at New World Center & Arsht Center); Jeffrey Milarsky conducting John Luther Adams' Become Ocean on December 5; and Mark Wigglesworth conducting works by Brahms and Schoenberg on December 12/13. Additionally, SFCR recognized NWS' performance of Become Ocean on the list's Best New Works category.

Finally, lauded as Most Promising New Group is the Nu Deco Ensemble, co-led by co-founder and NWS alumnus Sam Hyken (trumpet 2006-2009).

CLICK HERE TO READ THE COMPLETE TOP TEN LIST
Posted in: Concerts, Guest Artists, In the News, MTT
---