News
November 3, 2022
NWS mourns death of longtime supporter Judy Weiser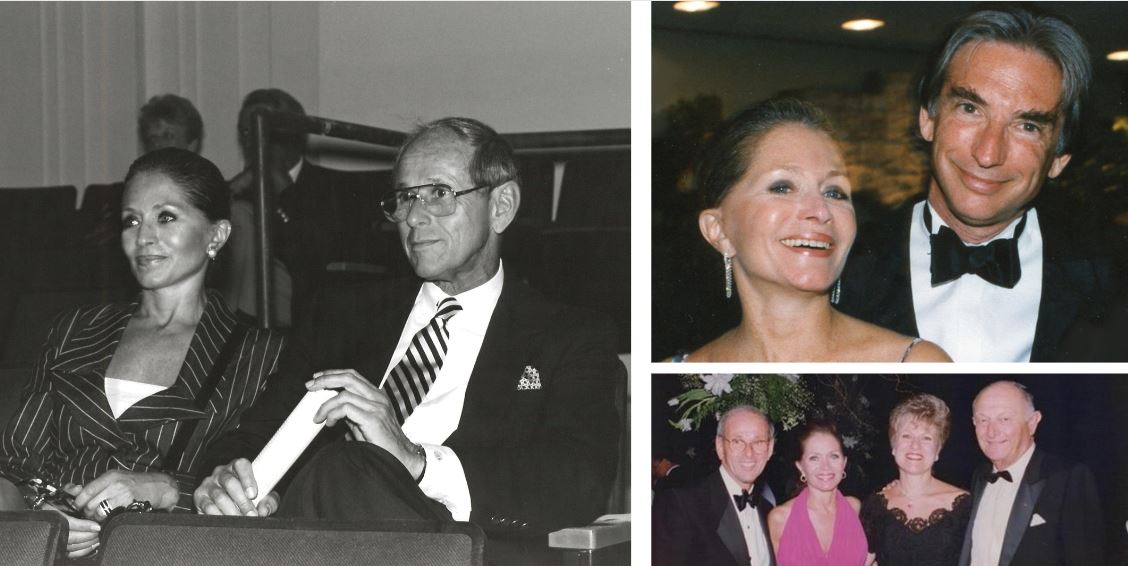 Judy and Woody Weiser at opening of the Lincoln Theatre and with NWS Co-Founders MTT and Ted and Lin Arison
New World Symphony mourns the loss of Trustee Emeritus Judy Weiser, a stalwart supporter of NWS from its inception. Judy and her late husband Sherwood ("Woody") both served as Chair of NWS's Board of Trustees and oversaw early tours of Europe and South America, recording contracts and galas, including NWS's 1992 "Night in Harmony" with Gloria Estefan and the Miami Sound Machine.
Judy was also instrumental in the development and grassroots support of MTT's idea of a "Magic Box," what later became plans for the New World Center.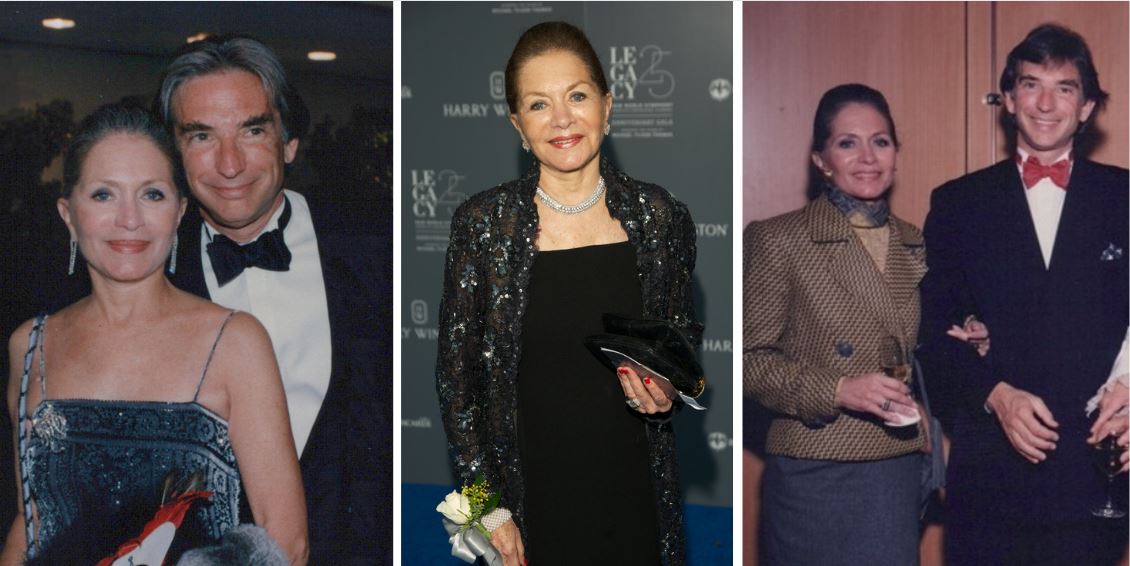 Judy Weiser and MTT
"When we think of Judy Weiser the first thoughts that come into our minds are the memories of her beauty, elegance and generosity of spirit. Judy was an exemplar of how empowering, encouraging and uniting a Board member can be. She made people feel special. She had savvy and a great sense of humor and knew exactly the right moment to bring them forth. She and her husband Woody were, from the very beginning of the New World Symphony, essential partners whose warmth and caring were vital to making the NWS what it has become. She was a dear and trusted friend."
                -- Michael Tilson Thomas and Joshua Robison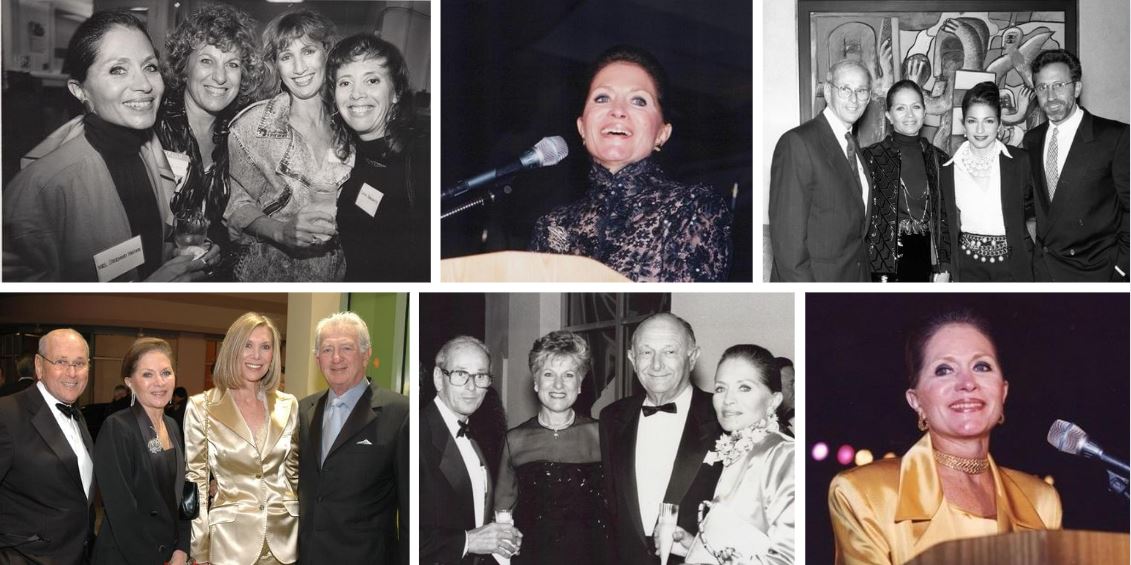 Judy Weiser at NWS events with husband Woody, Ted and Lin Arison, Gloria and Emilio Estefan, and Gala and Stanley Cohen, among others. 

Not only did Judy understand the need to build the New World Center, she also understood the importance of sharing culture without barriers. Judy knew Miami before there was an Arsht Center, a New World Center and a PAMM. Today, Miamians are living in her vision.
                -- Howard Herring, NWS CEO and President


I'm so sad to hear about her passing. Judy was a giant in Miami. She did so much for this city. Judy followed me as chairman of the NWS. She was such a delight to work with. Her contributions to the NWS and of course the founding of the Arsht Center are immeasurable. She will be really missed.
                -- Sheldon Schneider, NWS Trustee Emeritus
Final Interview
NWS Archivist Joseph Monticello recently sat down with Judy to reflect on her many years with NWS and as a cultural changemaker for Miami.
by Amanda Rosa
Judy Weiser, a Miami arts patron who supported and organized for the city's most important arts institutions, died Friday morning, October 28, 2022, after complications from a surgery. She was 89.
Family, friends and colleagues remember Judy Weiser as a quiet yet forceful woman who helped shape Miami's cultural landscape into the thriving ecosystem it is today. Judy and her late husband, hotel developer and civic leader Sherwood "Woody" Weiser, are credited as key players in establishing and championing the city's performing arts center.
She sat on the board of trustees for and contributed to several Miami organizations, including, but not limited to, the Adrienne Arsht Center for the Performing Arts, the Pérez Art Museum Miami, the New World Symphony, the Coconut Grove Playhouse, Miami Children's Hospital and the Miami City Ballet.
"If you think who really made a difference in Miami becoming a great place for arts and culture, Judy Weiser should come to mind. She was good and gracious, blending that with a personality of enough intensity to make a difference," said David Lawrence Jr., retired publisher of the Miami Herald and chair of The Children's Movement of Florida.
Judy's family was by her side when she died, said her son Brad Weiser. She is survived by her three adult children, Doug, Warren and Brad; seven grandchildren and two great-grandchildren. Her husband died of cancer in 2011.
Judy was born in Cleveland, Ohio, in 1933. She graduated from Ohio State University and married her husband, who worked as a real estate attorney. The couple and their children moved to Miami in the late 1960s. Sherwood gave up his law practice, bought a Miami Beach hotel and grew the business into the country's third-largest independent hotel management company, their son said.
Brad Weiser said he remembers her as a painter, a loving mother and an active member of the Jewish community. As dedicated as she was to promoting the arts in Miami, "family was absolutely the most important thing to her," he said.
"They were so passionate about Miami and said this is an amazing city, but it really needs to have some world class cultural arts," he said. "They never stopped working on that in the community."
Adrienne Arsht witnessed Judy's passion for the arts in Miami firsthand. The two met in the '80s through mutual friends Ted and Lin Arison, the philanthropists who founded YoungArts and funded the New World Symphony.
"I got to know them when a performing arts center was a dream, but they were both working on it very, very diligently," Arsht, who served on the board, recalled.
One night out at dinner stands out, Arsht said. Some local officials had just told the board that the performing arts center should downsize to only have one building, not two, to save costs. Judy wasn't having it.
"I remember sitting at the restaurant and Judy just saying, 'It will not happen. There must be two buildings. There must be two buildings,'" Arsht said. "I think if it weren't for her, well, there might be a building and a tent."
In the fall of 2007, Arsht said, the performing arts center was "teetering on bankruptcy," so she called Woody and Judy to ask what she could do to help. That's when they negotiated the $30 million gift that turned a floundering Carnival Center into the Adrienne Arsht Center for the Performing Arts.
"It was only because of Woody and Judy that I did what I did," Arsht said. "And it's only because of Judy and Woody that we even have a performing arts center, which now is the core and the heart of the county."
Gerald Katcher, longtime banker and civic contributor, said Judy and Woody worked closely to develop every detail of the Arsht Center, down to the interior fabrics.
"The two of them were a wonderful team for our county," Katcher said.
Katcher and Judy were both heavily involved with the New World Symphony and collaborated on galas together. He handled the fundraising, and Judy produced the galas to be fun and never boring, he said. Though organizing all of the food, speeches, music, invitations, seating and decor was a stressful workload, Judy handled it all with calm, class and her "mild, Midwestern charm," he said.
When Arsht thinks of her longtime friend Judy, one word comes to mind: "Elegant, elegant, elegant," Arsht said.
Howard Herring, the New World Symphony president, described Judy in the same way. As a longstanding trustee, she was one of the first people he met when he joined the symphony in 2001. Not only did she understand the need to build the New World Center, she also understood the importance of sharing culture without barriers, Herring said.
Judy knew Miami before there was an Arsht Center, a New World Center and a PAMM. Today, Miamians are living in her vision, Herring said.
"Her voice was a primary voice in leading the community to a new understanding of themselves," Herring said. "To be the community we wanted to be, we had to think beyond."
While many of her colleagues remember Judy as a visionary, Aaron Podhurst remembers her as a friend of 50 years. They were neighbors.
Podhurst first met the Weisers when he worked as an attorney for Woody's company. He lauded Judy as a loving mother, a devoted wife and an amazing person to spend time with. He remembers the good times: going to tennis tournaments in Key Biscayne back when Woody owned the Sheraton near the airport.
"She was loved by many people, known by many people," Podhurst said. "Judy had a great impact on Miami-Dade County and its development after all those years."
This story was produced with financial support from The Pérez Family Foundation, in partnership with Journalism Funding Partners, as part of an independent journalism fellowship program.
Photos from the NWS Archives
---