News
May 6, 2020
NWS partners with Iberacademy online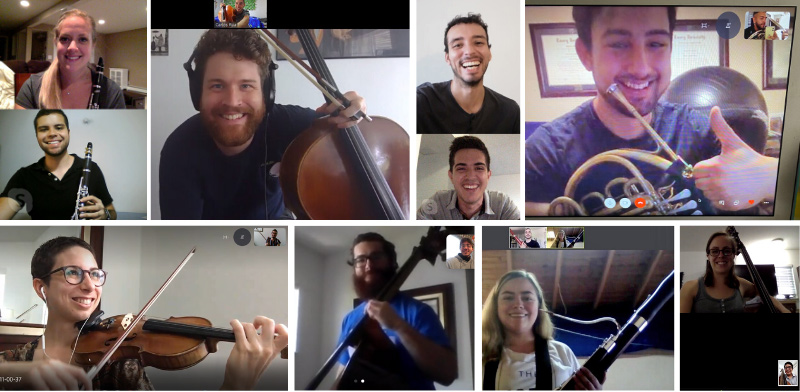 When the coronavirus pandemic reached the Americas, Fellows connected with students across Latin America through NWS's partnership with Iberacademy. Fellows gave 130 hours of free virtual lessons to others sheltering at home, away from their orchestras and colleagues. 
"Especially during these hard and uncertain days, it's really nice to have music to share," said NWS Violin Fellow Margeaux Maloney.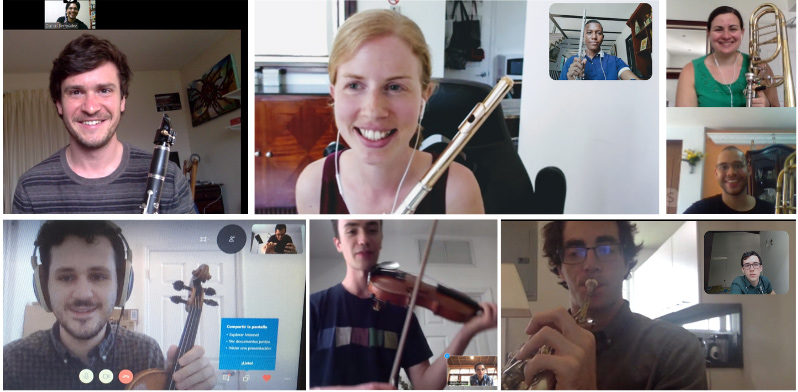 Iberacademy Founder and Artistic Director Alejandro Posada and Co-Founder and Executive Director Maria Helena Tamayo-Tobón said in a joint statement:
On behalf of Iberacademy, we would like to express our heartful gratitude for joining and supporting this collaborative project that will signal a new stage in bringing educational opportunities to young talented musicians in Colombia and Latin America.
This unprecedented situation has given us the opportunity to find additional ways to strengthen ties with NWS, an institution that has believed in our dream from the very beginning and has helped us consolidate our purpose from different fronts during these years. NWS continues to be a great inspiration to our organization, both for our students and for those of us who work with them daily. May this be the opportunity to once again exalt the determined support NWS has given us.
In response to the challenging situation we are facing, we understood it was necessary for us to adapt and keep making music to bring hope and relief to young musicians in any way we could. It fills us with pride and joy knowing that New World Symphony and all their Fellows think the same way and are giving their best. These classes have allowed our young talented musicians to enrich their growth, expand their artistic horizon, and inspire them to accomplish their dreams and build a better world.
Thank you for making this possible and supporting us as you always have!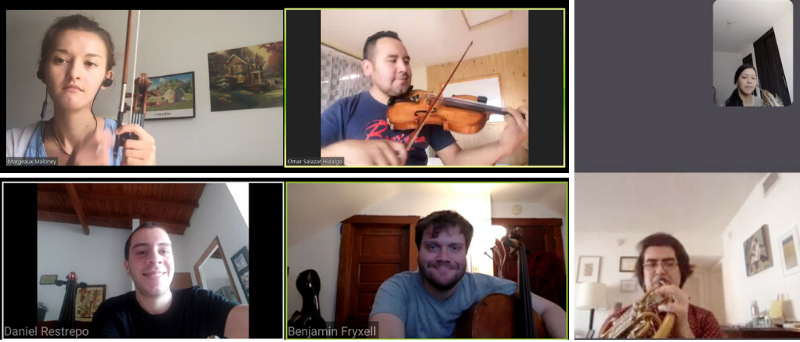 About the Medellín Musician Exchange
During the 2011-12 season, the New World Symphony in partnership with Fundación SaludArte and former NWS Board Member Tanya Brillembourg, inaugurated a unique collaboration with the Academia Filarmónica de Medellín, now called Iberacademy. NWS Fellows travel to Medellín, Colombia to offer instrumental coaching, private lessons, master classes and side-by-side performances with the young musicians of Iberacademy. Multiple times during the season, Iberacademy musicians travel to the New World Center for several days of additional coachings, lessons, chamber music sessions and performances with NWS Fellows. With the support of Skype and Internet2 connectivity, supplemental work with the Medellín musicians occurs throughout the season.Click here to learn more.
Click here to read about the Fellows most recent trip to Colombia in February 2020.
Posted in: Community Engagement, Fellows
---